12 Sweet and Savory Pumpkin Recipes! In our minds, the best way to ensure that you're eating the freshest food is to eat what's in season. September through December is all about gourds. The pumpkin being the queen of them all. We love it in savory dishes or sweet dishes, they're all good. We're pretty sure that you love pumpkin too, and we thought that you'd love to see all of our favorites in one mouthwatering post. Pick one, two, or all of them and start cooking. You won't be disappointed. 
ONE DOZEN DELICIOUS VEGAN RECIPES MADE WITH PUMPKIN
BAKED VEGAN PUMPKIN SPICE DOUGHNUTS WITH CHOCOLATE CINNAMON ICING
CLICK HERE FOR THE RECIPE
We're going to start with one of our most popular pumpkin recipes. These delicious doughnuts are baked, not fried, so they're healthier than what you'll find at your local doughnut shop. They have just the right amount of cinnamon, nutmeg, ginger, and cloves to give them a warm and savory flavor. The sweet decadent chocolate & cinnamon frosting compliments the savoriness of the cake. This is a fun weekend morning breakfast recipe and it's perfect for a dessert.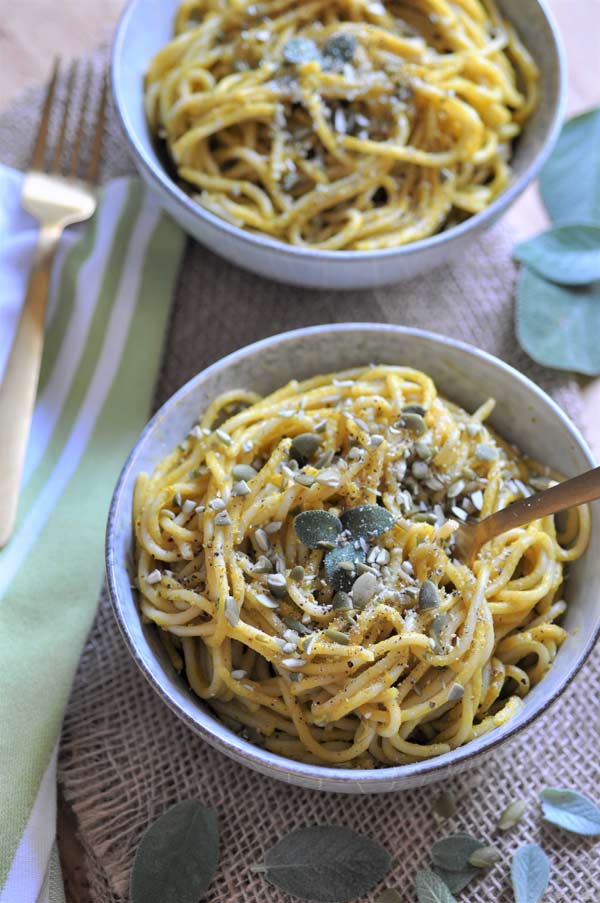 SPAGHETTI WITH PUMPKIN SAGE CREAM SAUCE
CLICK HERE FOR THE RECIPE
Creamy, rich, savory, and delicious, that's what you'll find in a bowl of this cozy and comforting pasta. Smothered in the creamy pumpkin Alfredo sauce with fresh sage, this is the ultimate fall dinner recipe.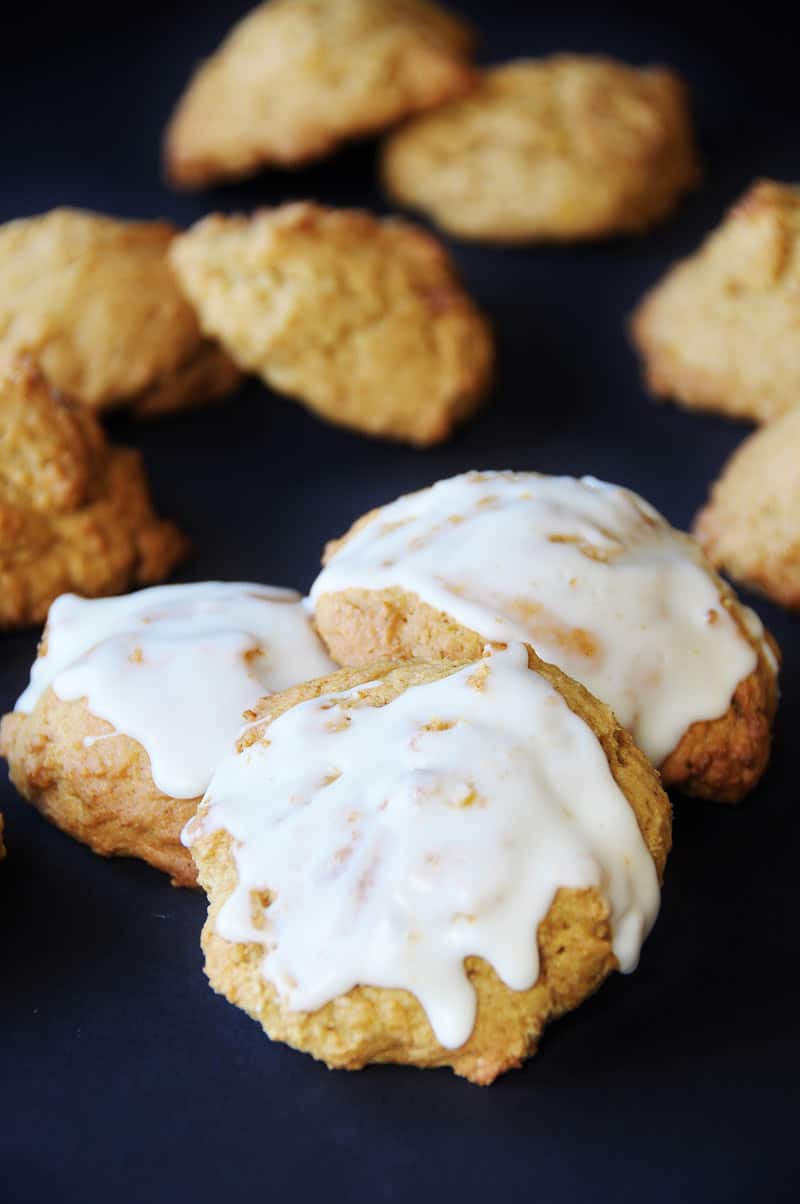 VEGAN PUMPKIN SPICE COOKIES
CLICK HERE FOR THE RECIPE
Delightful cookies that are so chewy and puffy, and so darn good! The simple sugar icing is the perfect way to finish off this cookie that has wonderful hints of cinnamon, nutmeg, and other fall spices.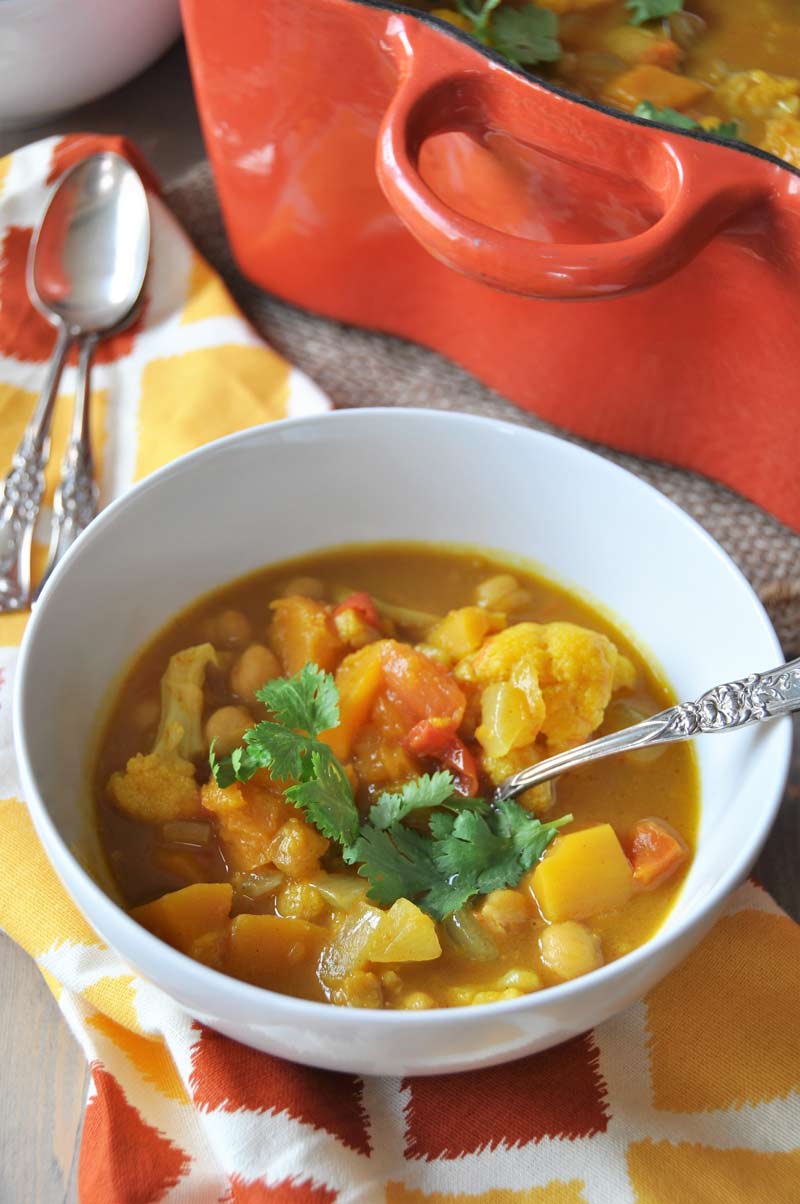 CURRIED PUMPKIN & BUTTERNUT SQUASH STEW
CLICK HERE FOR THE RECIPE
This healthy and hearty stew is filed with antioxidant super foods! This soup is made with our favorite gourd, plus butternut squash, cauliflower, tomato, onion, garlic, and a bunch of  warm and fragrant spices. The broth is made with vegetable broth,  and coconut milk. YUM!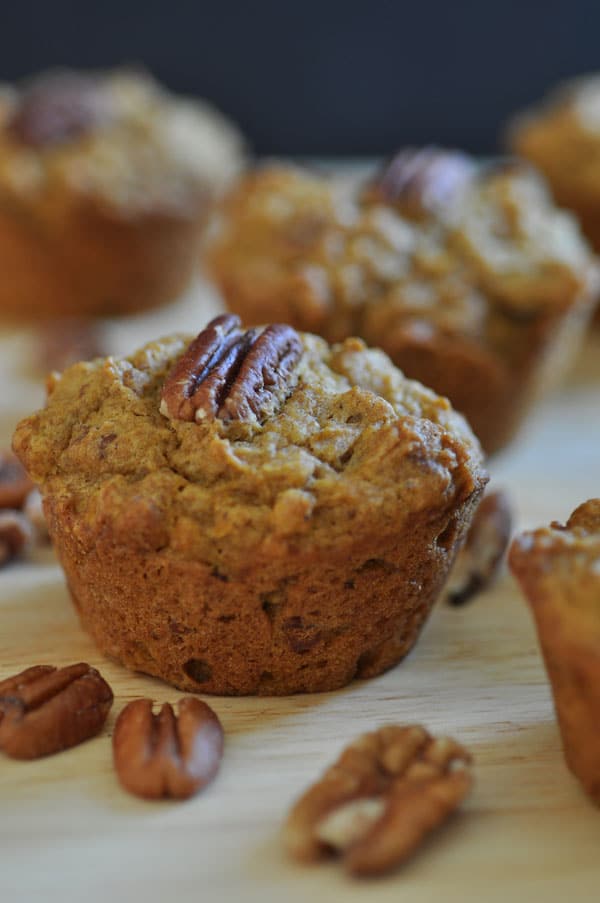 THE BEST VEGAN PUMPKIN PECAN MUFFINS
CLICK HERE FOR THE RECIPE
These perfectly spiced muffins are the best we've ever had. We've found that often times when we order a vegan muffin in a store they are either overly sweet and/or too dry. Not ours! They're tender and just right. The pecans are an added bonus.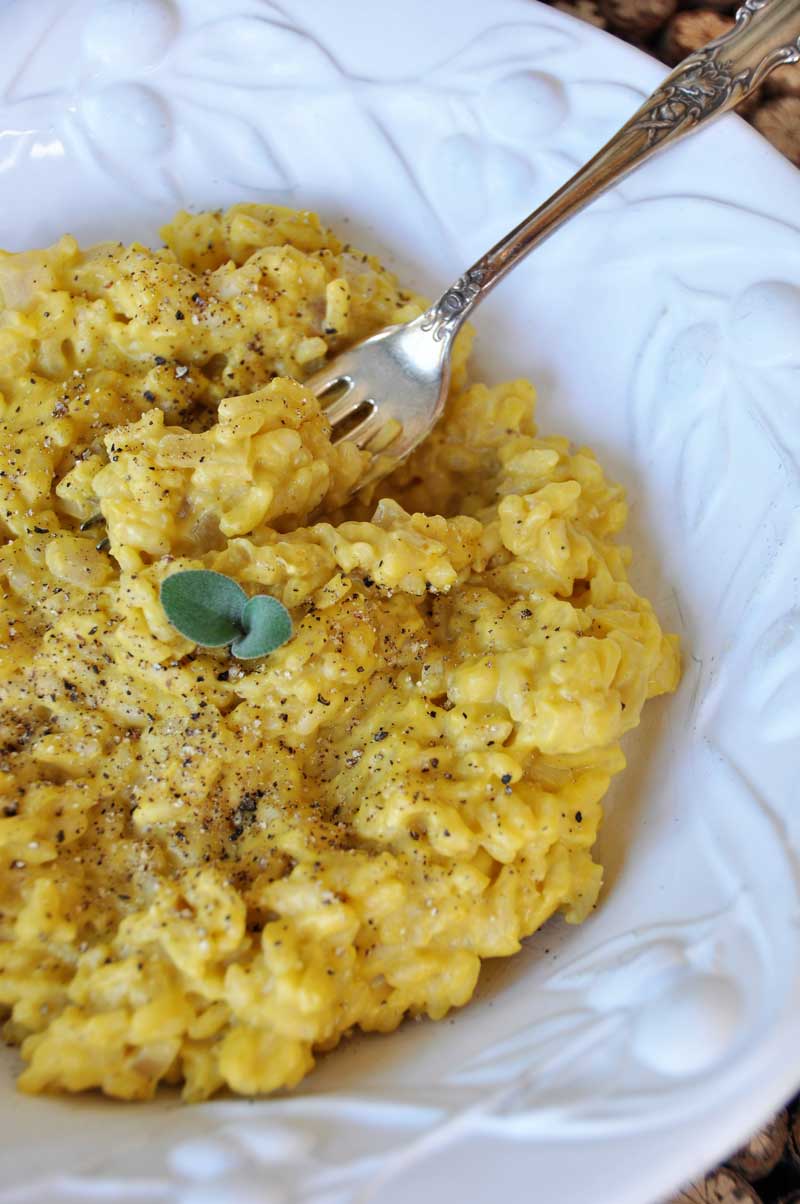 VEGAN PUMPKIN SAGE RISOTTO
CLICK HERE FOR THE RECIPE
Rich, creamy, and tantalizing risotto with a creamy pumpkin and sage sauce. This is one of the coziest fall meals ever! It takes a little time, but it's truly easy to make. Pour yourself a glass of wine and start stirring, you'll be happy you did.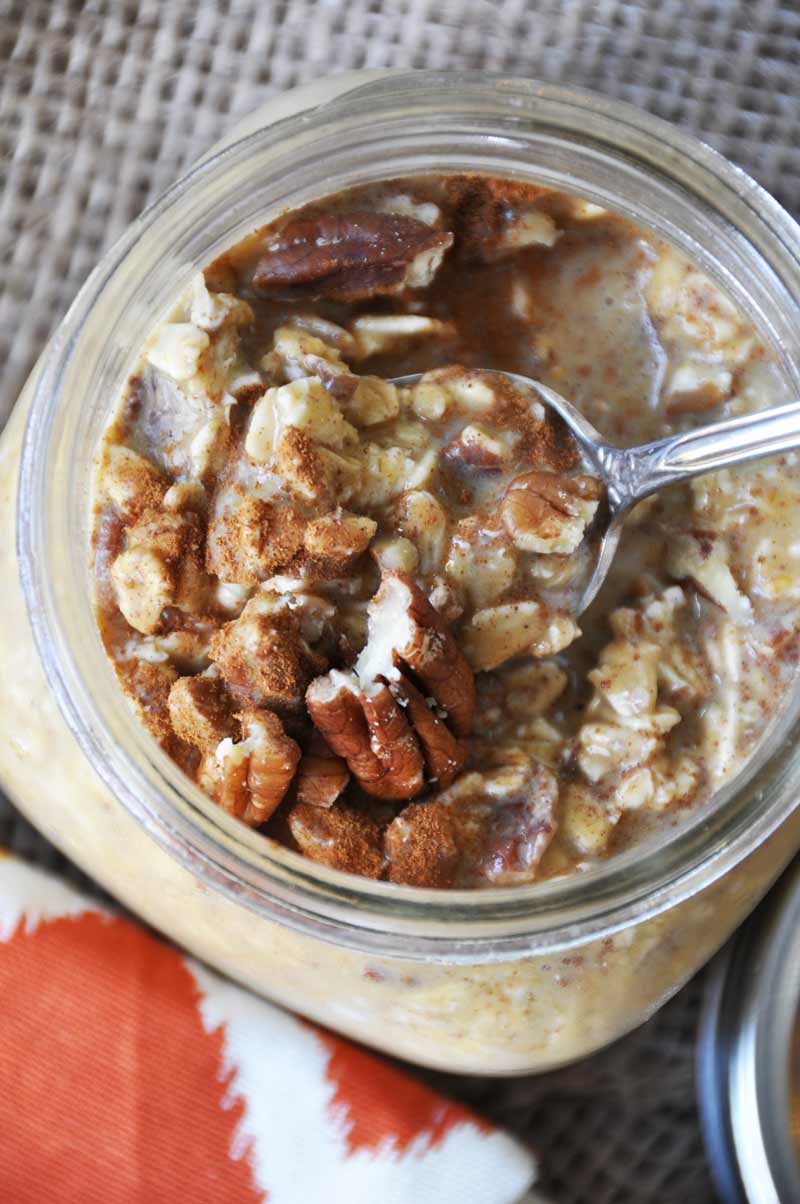 PUMPKIN PIE OVERNIGHT OATS
CLICK HERE FOR THE RECIPE
Breakfast just got easier and tastier. Healthy pumpkin overnight oats that taste like you're eating dessert for breakfast. Need I say more?
VEGAN PUMPKIN RAVIOLI
CLICK HERE FOR THE RECIPE
You can make your own ravioli from scratch. It's fun and it's easy! Fill it with our creamy and savory pumpkin filling and smother it with browned butter, sage, and pecans. Delicious!
PUMPKIN SPICE MARTINI
CLICK HERE FOR THE RECIPE
This is  a favorite cocktail in my neighborhood. My friends LOVE it, and so will you. It's so rich and creamy, slightly sweet, savory, and delicious. If you don't drink, make it a virgin.
SPICY ROASTED PUMPKIN SEEDS
CLICK HERE FOR THE RECIPE
Don't throw away the pumpkin seeds when you're carving your Halloween Jack-O-Lantern! Save them and turn them into a spicy, salty, crunchy, healthy, and delicious fall snack! This is an easy pumpkin seed recipe that you and your family are going to love.
VEGAN PUMPKIN PIE
CLICK HERE FOR THE RECIPE
We're serious about pumpkin pie. For real, we live for this time of year because pumpkin pie is life. When we went vegan we were worried that we'd never get to partake in sitting down to a slice of this delicious creamy pie again. Then we created this recipe and all was right with the world. Don't let the idea of chickpeas freak you out, this pie is amazing, and approved by the biggest pumpkin pie snobs in the world. Us.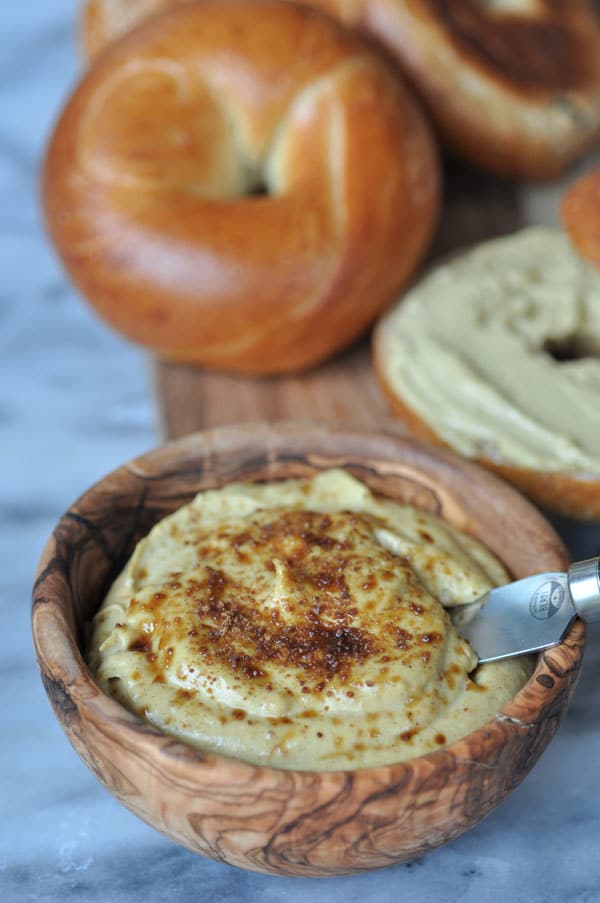 CREAMY VEGAN PUMPKIN SPREAD
CLICK HERE FOR THE RECIPE
This is the newest pumpkin recipe on our site and it's getting rave reviews from our readers. It's kind of like cream cheese, kind of like a pumpkin butter, and kind of super delicious! Spread on a bagel or toast, dip your apples or crackers in it, do whatever you want, just make sure you make some before pumpkin season is over.
We hope you enjoy these recipes as much as we do. They're all reader tested and approved, and of course, our family and friends love them too. Make some and come back and let us know what you think. We love to hear from you!
Let's connect! Hop on over to our Facebook page and give it a like, and follow us on Instagram and Twitter, and follow us and share this and other Veganosity recipes on Pinterest. We'd be so grateful if you did. If you like this recipe and can't wait to see what we're going to share next, subscribe to Veganosity. Just fill in the subscription box above our picture in the top right corner of the page. And, Alex and I love hearing from you, please leave a comment and let us know what you think of our recipes.