The sugar in this recipe was changed from coconut sugar to light brown sugar. After baking this doughnut numerous times and getting mixed results, we discovered that coconut sugar yields different results depending on the brand. For the sake of consistency and best results, we recommend using light brown sugar, not coconut sugar.
Sweet mother of all things pumpkin, remove this tray before I eat every last one of these Baked Vegan Pumpkin Spice Doughnuts with Chocolate Cinnamon Icing.
You guys, these bad boys are dangerously good. As someone who prides myself on not having a sweet tooth, I'm feeling like I don't even know who I am anymore. Maybe it's the pumpkin and the spice in the moist and cake like baked doughnuts that are making me weak. Or it could be the dark chocolate and cinnamon icing? Why am I even wondering out loud? It's the pumpkin spice doughnut and the wickedly good frosting that's brought me to my knees.
A doughnut literally brought me to my knees.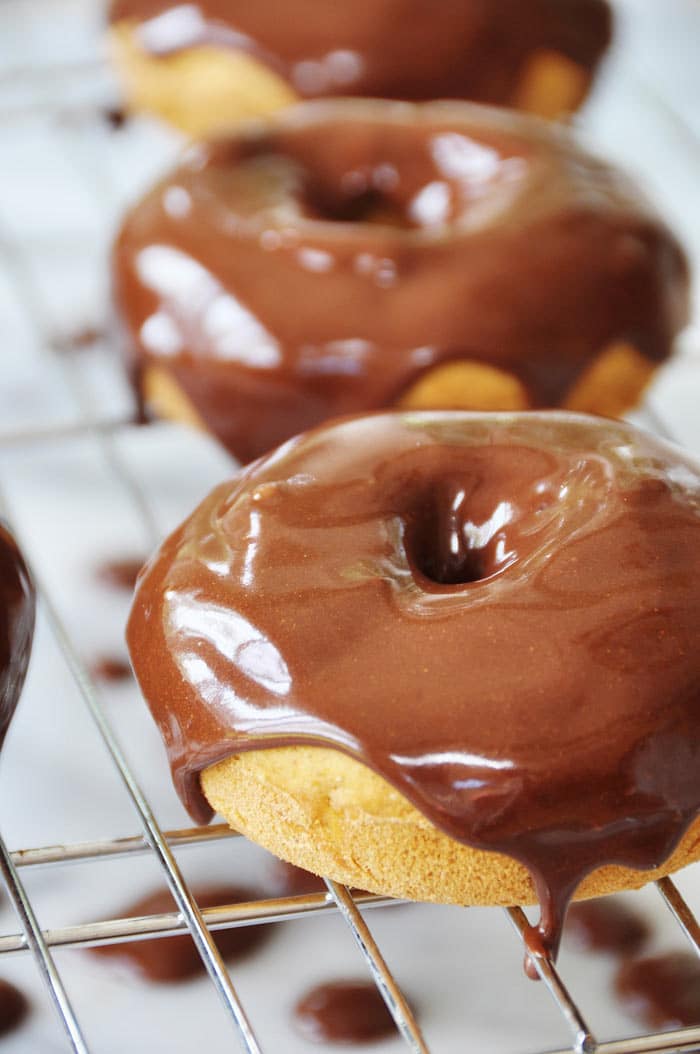 As I was shoving the last piece of a pumpkin spice doughnut into my mouth a large crumb fell to the floor and I went down. My knees hit the marble and I found myself frantically sweeping my hand under the kitchen cabinet to retrieve it, as I wondered if the three second rule applied to crumbs that fall under the cabinet.  Houston, I have a problem.
I'd like to think that I was just trying to prevent my sweet little Coco from eating the dark chocolate frosting–it's bad for dogs in case you didn't know—but that would be a lie. I wanted it for myself, my pumpkin spice loving, gluttonous self.
Don't judge. When you taste these vegan baked pumpkin spice doughnuts you'll understand. First, the doughnut. It's exactly what a doughnut should be. It's firm, a little spongy, cake like, and moist. If I didn't know that it was baked I'd swear it was fried. And the pumpkin, nutmeg, cinnamon, ginger, and cloves……  Cue the trumpets and angels singing.
And if the pumpkin spice flavors aren't enough to make you swoon, there's the dark chocolate and cinnamon icing that covers the top and drips down the sides. Just thinking about that delectably not too sweet, but just sweet enough, frosting makes me feel like I did when I used to stare at my Leif Garrett poster hanging on my bedroom wall when I was thirteen. Too good to be true.
Whoa, wow, where did that cobweb of a memory come from? Cray-cray!
Anyway, I'm going to go out on a limb and guess that you're going to want to make these doughnuts for yourself? Of course you do. How could you possibly resist these fabulously delicious treats of autumn?
You'll love how easy they are to make, and they'll make you the most popular kid on the block if you can stand to share them.
The first thing you're going to need is a doughnut pan. You'll also want a mixer or a heavy duty whisk.
Once you have those things you'll need to gather some flour, baking powder, cinnamon, nutmeg, ginger, vanilla, pumpkin puree, applesauce, almond milk, light brown sugar, and finely ground sea salt.
Combine the dry ingredients, then the wet (instructions are at the bottom of this page), then both, and you're ready to spoon the pumpkin batter into the doughnut pan and bake up these gorgeous pillow rings of yum.
While the doughnuts are cooling you can make the chocolate cinnamon icing. If you're able to hold back from licking the spoon I'm going to crown you as the king or queen of self-control. You will rule the land of all things boring.
Don't be the king or queen of self-control. At least when it comes to vegan baked pumpkin spice doughnuts with chocolate cinnamon icing.
Make these on a Saturday morning and enjoy them throughout the weekend. If they last that long.
Tell me:
Are you ready for the pumpkin spice season?
What is your favorite doughnut?
Have the leaves started changing color where you live?
If you don't have a doughnut pan, a mixer, or a good whisk, click on the photos below to purchase.
Veganosity is a participant in the Amazon Services LLC Associates Program, an affiliate advertising program designed to provide a means for sites to earn advertising fees by advertising and linking to amazon.com. We make a small commission when you order from Amazon. It helps us afford the groceries to develop all of our recipes, and to pay for the maintenance of our site. We thank you in advance for your consideration.

Linda and Alex at Veganosity
Yields 6
Baked Vegan Pumpkin Spice Doughnuts with Chocolate Cinnamon Icing
Savory pumpkin spice doughnuts with a dark chocolate cinnamon icing. The perfect fall treat.
20 minPrep Time
25 minCook Time
45 minTotal Time
Ingredients
Dry ingredients
1 and 1/4 cup all-purpose flour
1 teaspoon baking powder (this is separate from the tsp used in the applesauce)
1 teaspoon ground cinnamon
1/2 teaspoon ground nutmeg
1/2 teaspoon finely ground sea salt
1/8 teaspoon of ground ginger
1/8 teaspoon of ground cloves
Wet ingredients
1/4 cup of applesauce + 1 teaspoon of baking powder – combine in a bowl (egg replacer)
1/3 cup light brown sugar
1 tablespoon of maple syrup
1 teaspoon of vanilla extract
1/2 cup up pumpkin puree
1/4 cup of almond milk
Icing
1 cup of confectioner's sugar
3 tablespoons of cocoa powder
3 tablespoons of almond milk – add more or less to get the desired consistency
1 teaspoon of cinnamon
Instructions
Preheat the oven to 350° and grease the doughnut pan if it's not a non-stick pan
In a large mixing bowl whisk the dry ingredients together and set aside.
In a small bowl add the applesauce and 1 tsp baking powder and whisk until it bubbles and becomes frothy. Add the brown sugar and mix until well combined. Add the pumpkin puree, vanilla, milk, and the maple syrup and mix until well combined.
Pour the wet ingredients into the dry and stir until just combined. Don't overwork it or you'll get a tough doughnut. Add more milk if the batter is too stiff. It should be firm but not difficult to stir.
Bake for approximately 20 to 25 minutes or until a toothpick comes out clean. Cool on a wire rack for 10 minutes and then remove from the pan and place on the rack until completely cool
For the icing:
In a medium bowl stir the confectioner's sugar, cocoa, cinnamon, and milk together until smooth and creamy. The texture should be between frosting and a glaze. Add more milk if needed.
When the doughnuts are completely cool frost the doughnuts.
Enjoy!
7.8.1.2
193
https://www.veganosity.com/baked-vegan-pumpkin-spice-doughnuts-with-chocolate-cinnamon-icing/