You guys, it really doesn't get any better than this.
If you love the chewy and creamy texture of Arborio rice, otherwise known as risotto, then you're going to love it even more with this vegan pumpkin sauce with fresh sage leaves. It's what fall dreams are made of; savory, earthy, stuff yourself silly, coziest of the coziest, fall dreams. Ahhh…..
So this little dish was inspired by an open can of pumpkin puree that was sitting in my refrigerator—the Breakfast King made his magical pumpkin spice muffins on Sunday—and a wicked craving for risotto. I'm still pretending to be recovering from Saturday's marathon (recap coming on Friday), therefore, high carb meals are still on the menu. I've made pumpkin cream sauce before, and fell in love ♥, but I still have a bunch of herbs in my garden beds so I decided to dress it up with some pretty fresh sage leaves. Brilliant move. Absolutely brilliant!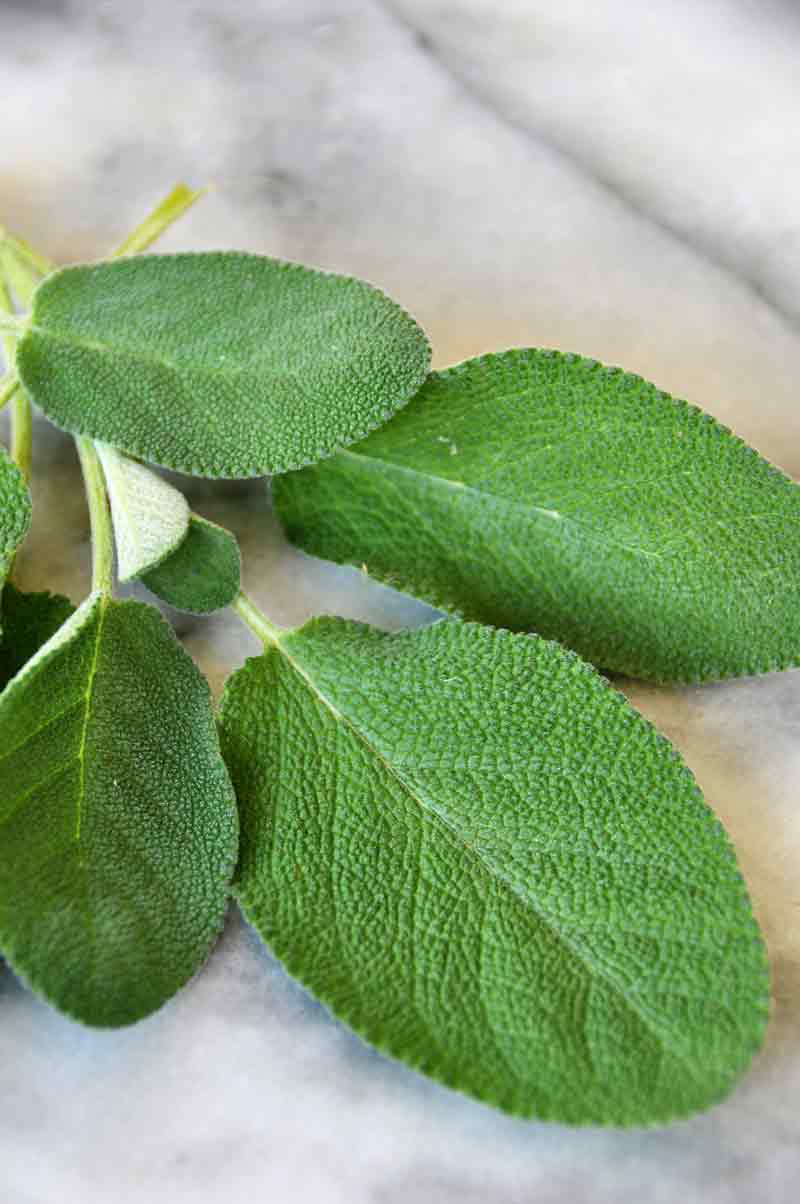 Sage and pumpkin go together like lattes and pumpkin spice. It works! The earthy flavor of the pumpkin and the warmth of the sage make the most beautiful vegan cream sauce ever. E.V.E.R.
It's so easy to make too. All you'll need to do is soak some raw cashews in boiling water, rinse them, put them in a high powered blender
, add the pumpkin puree, sage leaves, sea salt, and almond milk, then turn on the blender and whip it into a frenzy until the ingredients are thick and creamy. Once that's done, pour it into the cooked rice and mix it all up.
Mmmmmm……the aroma is so lovely, and the taste is so satisfying. It's one of those foods that you just want to eat slowly so you can enjoy the chewiness of the rice and the delicate taste of the cream sauce.
Yes, I said delicate.
This vegan sage and pumpkin cream sauce is not slap  your face with the taste of a fall gourd strong, there's just an essence of the pumpkin and sage. It's soft, like fall leaves floating through the air. Like silk against your cheek. Like puppy fur. Like…..
Okay, I'll stop.
If you haven't attempted to make risotto because you think it's hard, you're wrong. It's really not difficult at all. If you can heat up some olive oil or vegetable broth and sauté a diced onion, and then add rice to the pan and stir in some vegetable broth, then you can make risotto. Yes, it's really that easy.
This creamy pumpkin risotto would make a great meal for Halloween, or a side dish for Thanksgiving or Christmas. It also makes one heck of a mid-week treat.
Do yourself a favor and make this, then come back and let me know how much you loved it.
Comfort food, it's what's for dinner.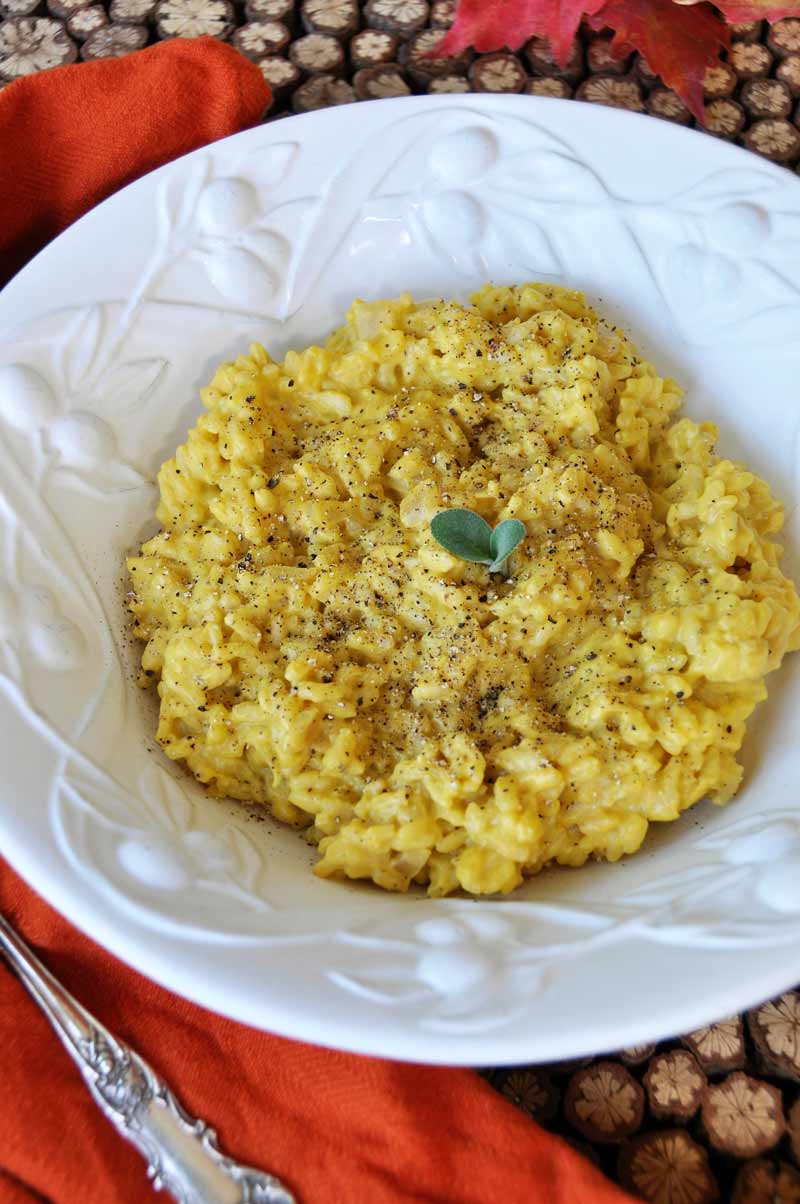 Notes on the Vegan Pumpkin Sage Cream Sauce - If you don't have a high powered blender, such as a Blendtec
(what I use) or a Vitamix
(what Alex uses), make sure to soak the raw cashews for at least four hours so they will break down into a smooth and creamy sauce. You don't want to have pieces of nuts in your sauce. 
Notes on the Sage - I used large fresh sage leaves. If you can't find large (approximately 3 inches long) leaves like the ones pictured above, then add 6 to 8 smaller leaves. Don't use dried sage if you want the same results as this recipe. 
This post may contain affiliate links which won't change your price but will share some commission.
Let's Connect! Hop on over to our Facebook page and give it a like, and follow us on Instagram and Twitter, and follow us and share this and other Veganosity recipes on Pinterest. We'd be so grateful if you did. If you like this recipe and can't wait to see what we're going to share next, subscribe to Veganosity. Just fill in the subscription box above our picture in the top right corner of the page. And, Alex and I love hearing from you, please leave a comment and let us know what you think of our recipes.
Vegan Pumpkin Sage Risotto
Chewy risotto with a creamy and delicate vegan pumpkin sage cream sauce. Perfect for a cozy fall dinner, Halloween, Thanksgiving, or Christmas!
Print
Pin
Rate
Ingredients
For the Risotto
2

teaspoons

extra virgin olive oil or 2 tablespoons of vegetable broth

1

small red onion – finely diced

1 ½

cups

Arborio rice

6

cups

vegetable broth
For the Pumpkin Sage Cream Sauce
½

cup

raw cashews

boiled in water for 10 minutes.

4

large

approximately 3 inches long sage leaves or 6 smaller leaves (for best results use fresh leaves, you won't get the same results if you use dried)

½

cup

of pumpkin puree

½

cup

of unsweetened almond milk

1

teaspoon

of ground sea salt

Ground black pepper to taste
Instructions
For the Sauce
Boil the cashews in water for 10 minutes, or until they're soft and puffy.

Drain and rinse the cashews and put them in the blender. Add the sage leaves, pumpkin, almond milk, salt, and black pepper, and blend on a high setting for two minutes or until the sauce is smooth and creamy. You shouldn't see any pieces of the cashews.
For the Risotto
Warm the vegetable broth in a sauce pan.

Heat the olive oil or 2 tablespoons of vegetable broth in a risotto pan or a large sauce pan on medium heat. When the oil or broth is hot add the onion and cook until it looks translucent (approximately 5 minutes), add the rice and stir to coat. Turn the heat down to medium-low and add two ladles of vegetable broth and stir to combine with the rice. When the broth is almost completely evaporated add two more ladles of broth and stir. Keep stirring! Keep adding more broth as it evaporates and keep stirring until all of the broth has been added to the rice and the rice is twice the size it was when you started. It should be chewy and firm, but not hard. If you feel like it needs more cooking time add more broth or hot water to the rice and continue to cook. It should take approximately 30 minutes to cook.

When the rice is ready add the cream sauce and stir until it's completely combined.

Serve with some vegan parmesan and cracked black pepper on top.

Enjoy!
Notes
Store in an airtight container for up to 4 days.
Freeze in a freezer safe container for up to 2 months. Thaw in the refrigerator. 
Nutrition Disclaimer
Nutrition
Serving:
1
cup
|
Calories:
302
kcal
|
Carbohydrates:
53
g
|
Protein:
7
g
|
Fat:
7
g
|
Saturated Fat:
1
g
|
Polyunsaturated Fat:
1
g
|
Monounsaturated Fat:
4
g
|
Sodium:
419
mg
|
Potassium:
190
mg
|
Fiber:
4
g
|
Sugar:
3
g
|
Vitamin A:
3178
IU
|
Vitamin C:
2
mg
|
Calcium:
41
mg
|
Iron:
3
mg