We love apples, and this is the season to eat them as often as possible. This collection of apple recipes starts with a simple Healthy Apple Pie Smoothie  and ends with delicious Apple Spice Cookies. You'll also find Cuban Black Bean Dip, chutney, doughnuts, and more! 
We love apples! Sweet, tart, crunchy, healthy, delicious apples make fall even better. Because everyone goes crazy for pumpkin the minute the calendar flips to September, we feel like apples get overlooked. That's why we decided to celebrate our favorite fall fruit and put together a collection of our favorite apple recipes. We hope you enjoy it as much as we do.
WHY YOU SHOULD EAT AN APPLE A DAY
Apples Support Gut Health.
Apples have phytonutrients that can balance and support the bacteria in the lower digestive tract. "[S]tudies have now provided us with evidence that apple polyphenols can increase bacterial populations in the broad group of bacteria known as Actinobacteria.
Among other reasons, this finding is important because this broad group of bacteria contains the Bifidobacteria species that are so well-known for the metabolic benefits that they can provide for our digestive tract.
In addition, these same studies have shown that our gut bacteria can interact with the polyphenols from apples and convert them into related phytonutrients that provide us with additional health benefits." whfoods.org
Apples are Beneficial to Cardiovascular Health
The antioxidants in apples protect blood vessels and are linked to the decrease of LDL cholesterol.
Apples are a Good Source of Fiber
One medium apple contains approximately 4.4 grams of dietary fiber.
Apples are Thought to Stabilize Blood Sugar
Phloretin, found in apples, is thought to stabilize blood sugar.
Apples May Help to Prevent Colon Cancer
Click this link to learn more about apples and health.
TEN DIFFERENT WAYS TO EAT AN APPLE
NUMBER ONE
Let's start with our awesome Healthy Apple Pie Smoothie!
Our healthy smoothie is made with a whole apple, apple cider, a bit of maple syrup, cinnamon, and hemp seeds. Just core the apple (peel it if you want, but the peel is so good for you), toss it in a blender with the rest of the ingredients, and blend it until it's smooth and creamy.
NUMBER TWO
Baked Apple Cider Doughnuts! Okay, we're not going to try and pretend that these are healthy. They are made with flour and sugar, so no, not something that you want to eat often. But, come on, YOLO!!!!
If you're in the mood for a doughnut, in the fall, then our vegan apple cider doughnuts are for you. Besides, they're baked, not fried, so they're healthier than your average doughnut. 😉
Baked Vegan Apple Cider Doughnuts
NUMBER THREE
Our Caramel Apple Overnight Oats are perfect for busy weekday mornings. Just prepare them before you go to bed and you'll have a delicious apple oatmeal breakfast waiting for you in the morning.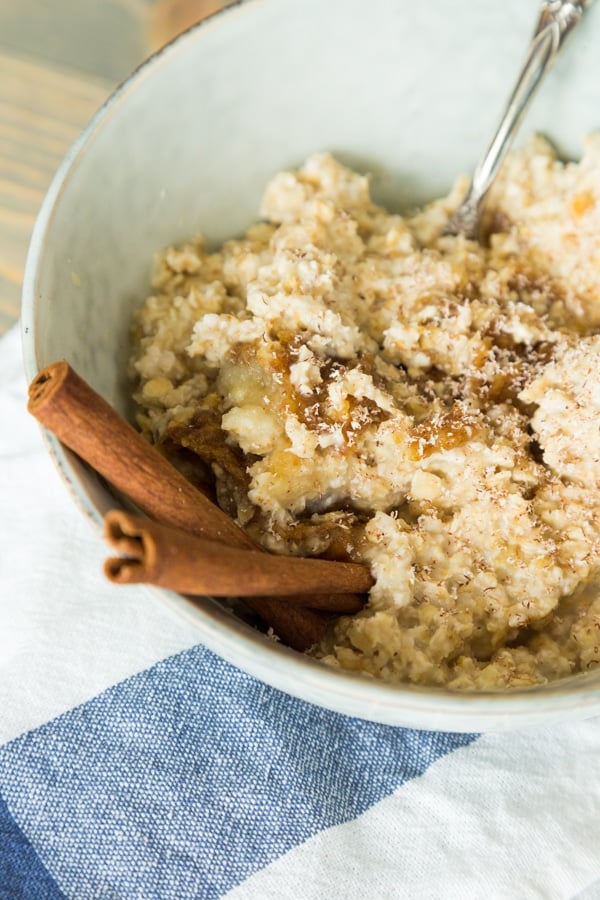 NUMBER FOUR
Raw Apple Cinnamon Energy Bites are a quick and easy way to snack healthy. These are made with dried apples, dates, pepitas, sunflower seeds, chia seeds, and warm spices that taste so good! They're great for an on-the-go breakfast or a pre or post workout treat.
RAW APPLE CINNAMON ENERGY BITES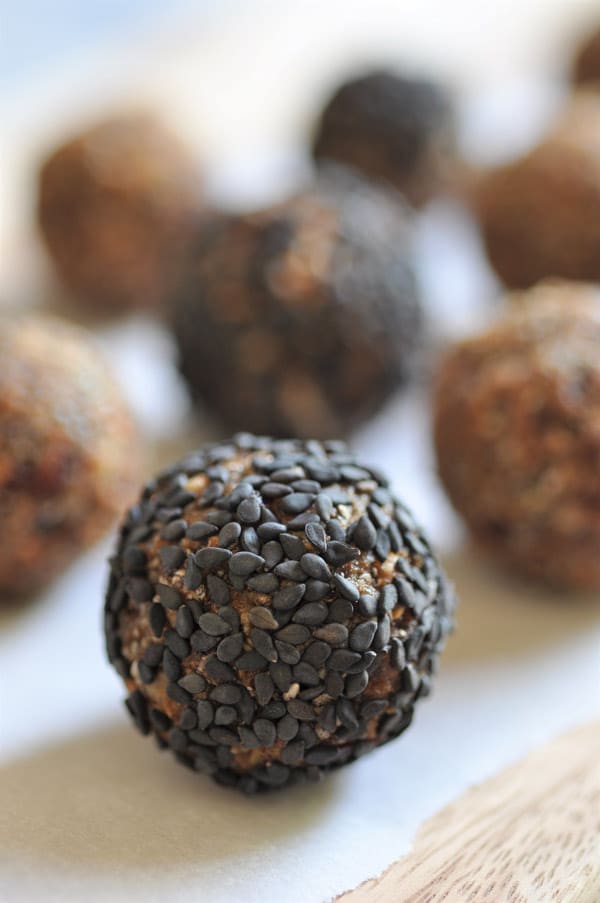 NUMBER FIVE
If you're not in the mood to bake, and you're craving apple pie, our deconstructed Raw Apple Pie is perfect! It's made with juicy apples, sweet dates, cinnamon, and chopped walnuts. It's as delicious as it is healthy.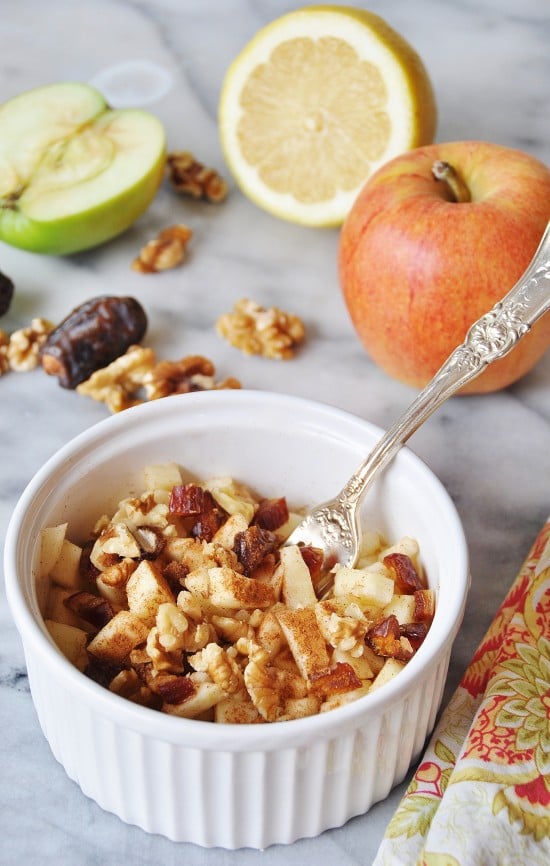 NUMBER SIX
Apples in a savory dish? YES! Our Cuban Black Bean Dip with Roasted Corn, Apples, and Kale is spicy with a little sweetness mixed in. It's so easy to put together and goes well with corn chips. The perfect game-day appetizer.
CUBAN BLACK BEAN DIP WITH ROASTED CORN, APPLES, AND KALE
NUMBER SEVEN
Bruschetta doesn't always have to be savory. We created a sweet dessert bruschetta with fresh apples, warm spices, and buttery pecans. This is an easy and quick way to make an unusual and delicious dessert.
APPLE CINNAMON DESSERT BRUSCHETTA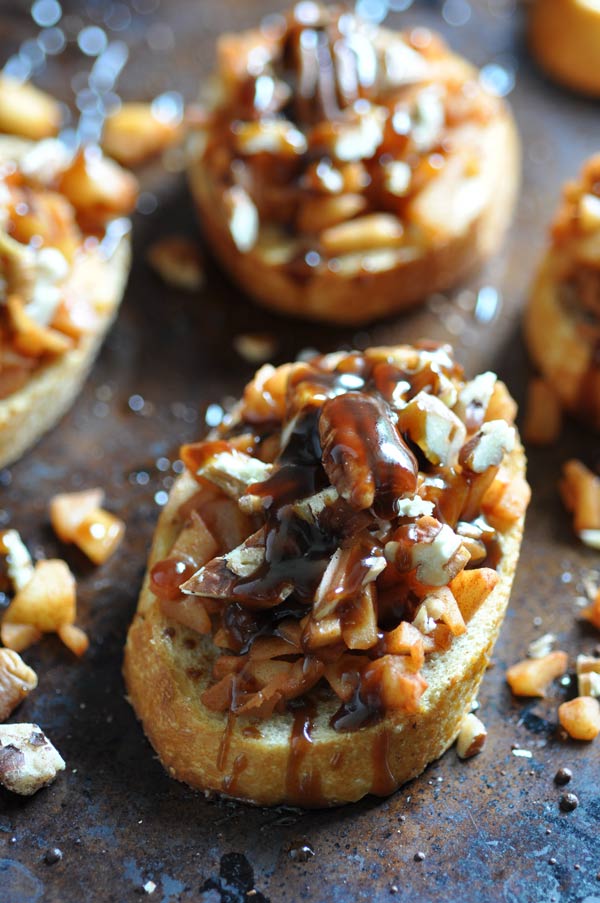 NUMBER EIGHT
There's no need for added sugar in our outstanding Sugar-Free Stuffed Baked Apples. The fruit gives this lovely apple recipe all of the sweetness it needs. Stuffed with rolled oats, walnuts, dried cranberries, and warm spices, it's a healthy decadent treat.
SUGAR-FREE STUFFED BAKED APPLES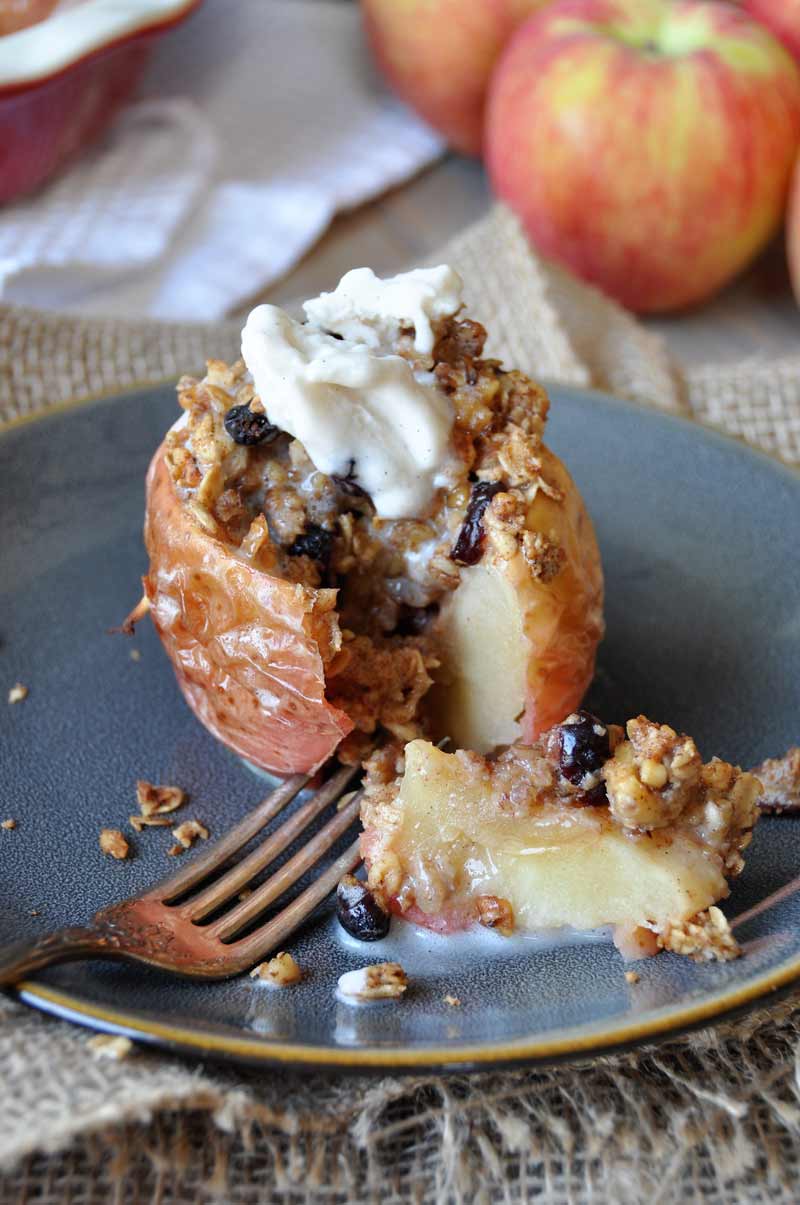 NUMBER NINE
Apples go so well with curry, ginger, cumin, and salt. Our apple relish with curry and other spices is incredibly delicious. Spread it on crackers or dip carrot sticks into it. You're going to love this!
NUMBER TEN
Our gluten-free Frosted Spiced Apple Oat Cookies are life. They're easy to make and even easier to eat. Made with unsweetened apple sauce, warm spices, and topped with a maple frosting, these are going to become your favorite fall cookie.
FROSTED SPICED APPLE OAT COOKIES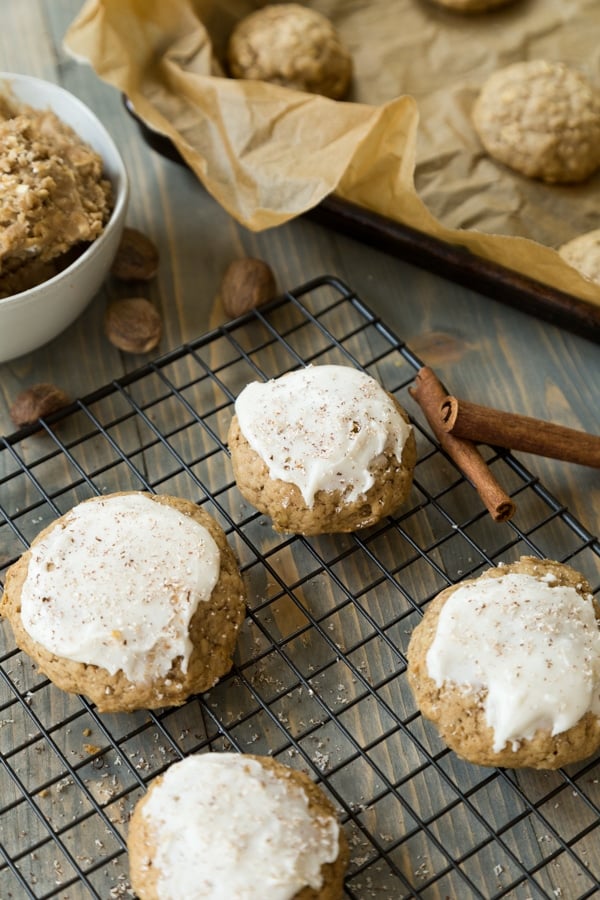 Make this and let us know what you think. We love to hear from you! And, don't forget to take a picture of your gorgeous creation and tag us @veganosity on Instagram.
Let's connect! Hop on over to our Facebook page and give it a like, and follow us on Instagram and Twitter, and follow us and share this and other Veganosity recipes on Pinterest. We'd be so grateful if you did. If you like this recipe and can't wait to see what we're going to share next, subscribe to Veganosity. Just fill in the subscription box above our picture in the top right corner of the page. And, Alex and I love hearing from you, please leave a comment and let us know what you think of our recipes.
TEN DIFFERENT WAYS TO COOK WITH APPLES
We hope you enjoyed seeing all of the different ways you can cook with apples. You can eat them in sweet or savory recipes, they're good both ways. If you're interested in more of our apple recipes, check out the following posts:
OLD FASHIONED FLUFFY VEGAN PANCAKES WITH APPLE COMPOTE




The above links are affiliate links. Any Amazon purchases made through these links help support Veganosity.com at no additional cost to you.
.