Apple Cinnamon Dessert Bruschetta! This easy and fun treat is made with cinnamon toast, savory apples, and refined sugar-free vegan salted caramel.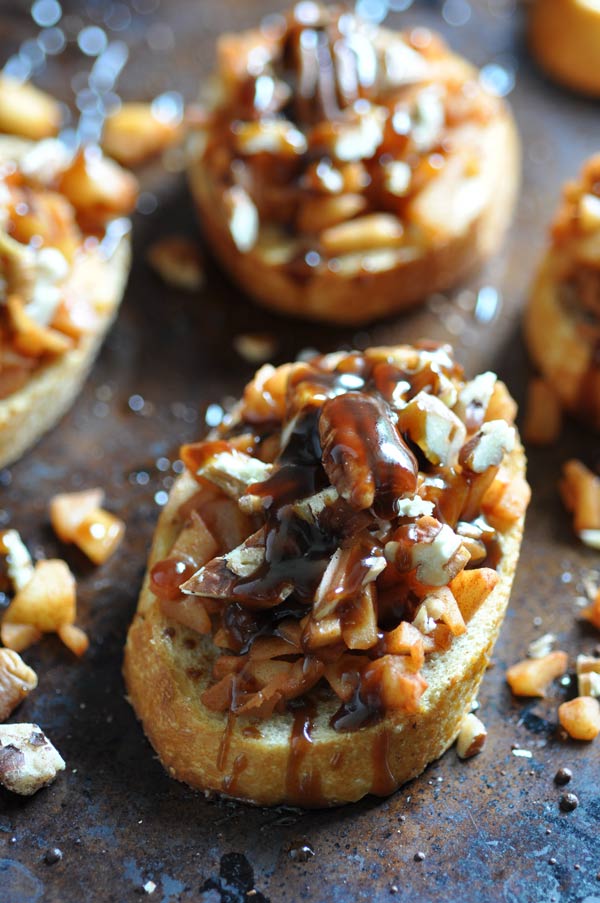 Hi! So you know how I've told you in the past that I'm not a sweets kind of person? That I'd rather stuff my face with savory food? That's still true, and I ate five of these at one sitting, because these little beauties are just as savory as they are sweet. So yeah, I don't care if you're raising your eyebrows about that admission. I mean let's be real, I'm training for a marathon, and I'm HUNGRY! So. I. Eat. A lot.
Now that you know that I can be an oinker from time to time, let's move along and talk about these amazing little apple dessert bruschettas.
The idea was all Alex's. Can you say, THANK YOU, ALEX?! Really, you're going to be thanking her during and after every single bite of this sweet and savory treat.
We were in the middle of our last long run, and as we always do, we were brainstorming for the blog. We have some big plans coming up for the New Year, so stay tuned. We were also creating recipes in our heads when she came up with this genius idea.
You see, we are a bruschetta loving family. She grew up on the stuff. Every party, every weekend, many dinners revolved around garlicky toasted slices of bread and chopped and/or pureed veggies, beans, nuts, herbs, or whatever we could think of to pile on top of the bread. However, we never made bruschetta for dessert. ??
WHY YOU SHOULD MAKE A SWEET BRUSCHETTA FOR DESSERT
If you love homemade applesauce, and you love cinnamon toast, you're going to LOVE this apple cinnamon bruschetta recipe.
It's not super sweet, it's made with coconut sugar so it's refined sugar-free, and thanks to the cinnamon, it's savory too. And the vegan salted caramel sauce is to die for. It's not your typical light colored caramel sauce, because it too is made with coconut sugar. It's dark, rich, and eat it with a spoon delicious.
Additionally, it's apple season! Before we get ahead of ourselves and go all in with the pumpkin spice, let us celebrate the beautiful apple. It deserves that.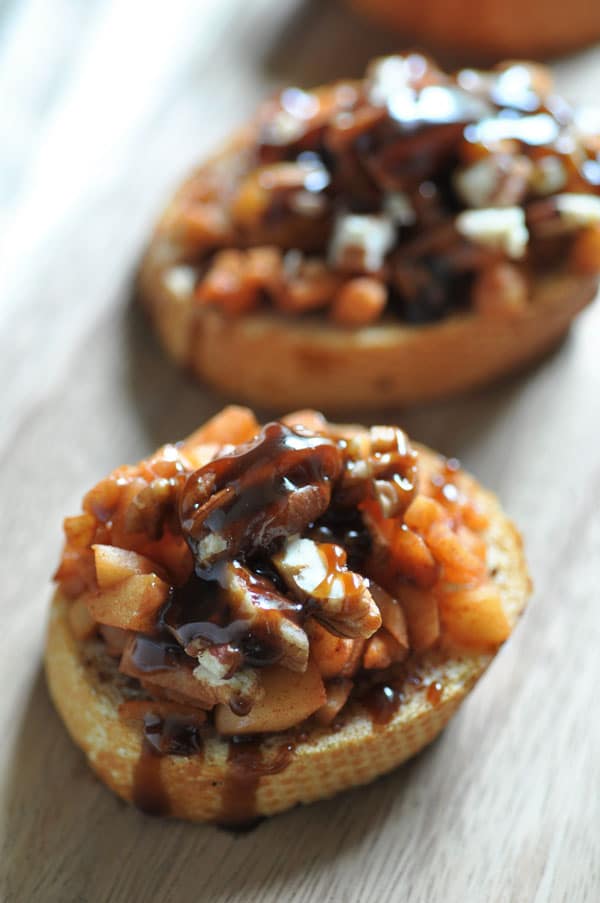 HOW TO MAKE APPLE CINNAMON DESSERT BRUSCHETTA WITH VEGAN SALTED CARAMEL SAUCE
This is an easy and fun dessert (or breakfast) to make with the kids. Serve it already constructed at your next party for an elegant presentation, or let your guests build their own. Either way you'll be showered with compliments for sharing this wonderful apple dessert.
STEP ONE– Melt some vegan butter and mix up some coconut sugar and cinnamon. Brush the butter on sliced bread (a simple baguette works best) and sprinkle on a thin layer of cinnamon sugar, then toast until the bread is a light golden brown.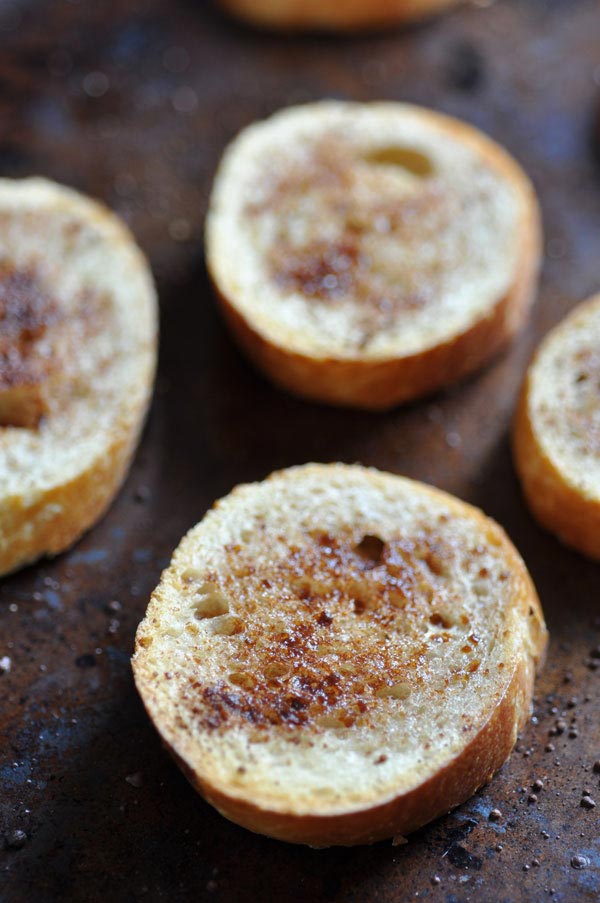 STEP TWO – Toast the pecans until they release their oil and are lightly toasted and crispy.
STEP THREE – Sauté the diced apples in a bit of vegan butter and cinnamon until they're fork tender.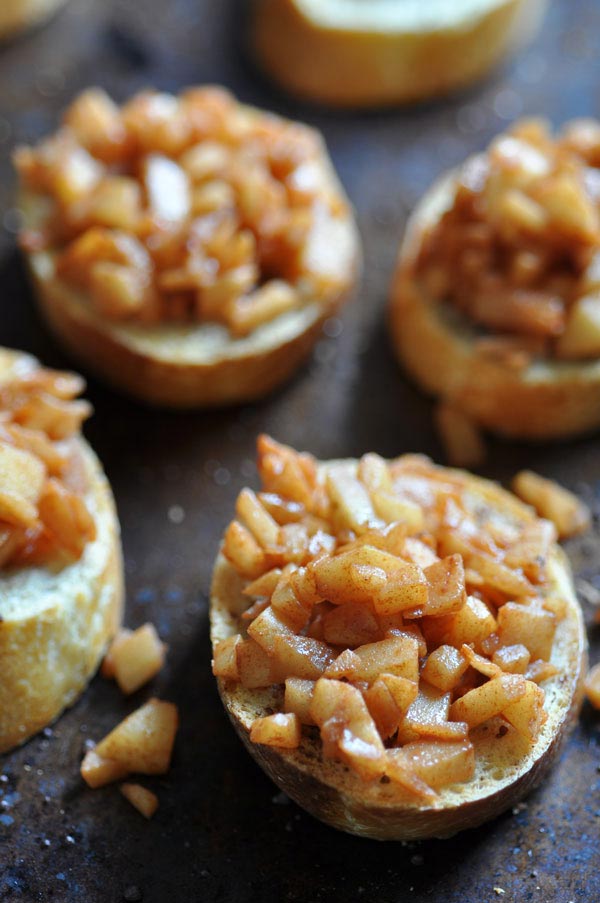 STEP FOUR– Make the vegan salted caramel sauce.
STEP FIVE – Spoon a pile of apples on the toast, sprinkle some chopped pecans over the apples, then drizzle the caramel sauce on top.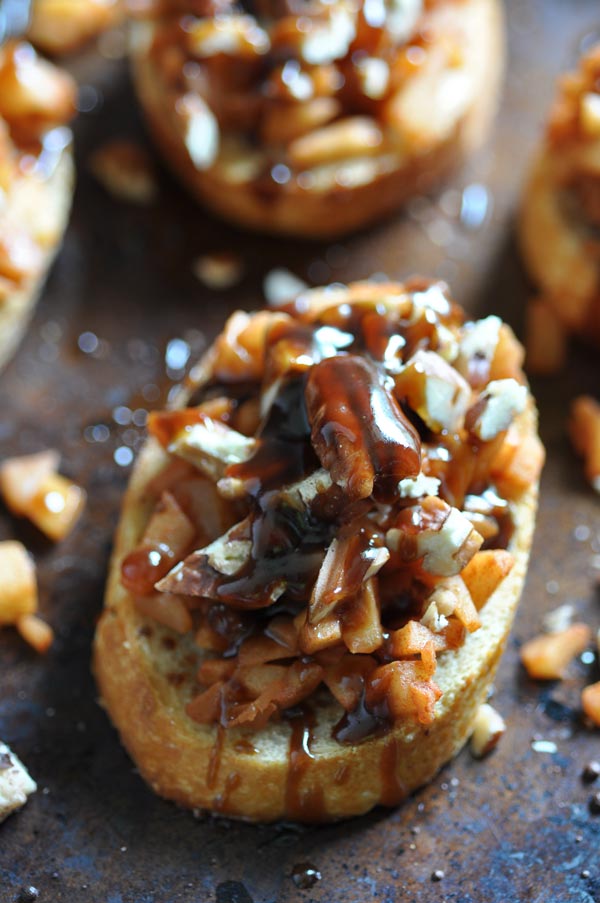 You're going to love, love, love all of the flavors and textures going on in this dessert. From the crispy bread, to the soft apples, and the crunchy pecans, there is a surprise in every bite. Then there's the slightly sweet apple, the savory cinnamon, and the salty sweet caramel sauce. It's the best.
Make this and let us know what you think. We love to hear from you! And, don't forget to take a picture of your gorgeous creation and tag us @veganosity on Instagram.
Let's connect! Hop on over to our Facebook page and give it a like, and follow us on Instagram and Twitter, and follow us and share this and other Veganosity recipes on Pinterest. We'd be so grateful if you did. If you like this recipe and can't wait to see what we're going to share next, subscribe to Veganosity. Just fill in the subscription box above our picture in the top right corner of the page. And, Alex and I love hearing from you, please leave a comment and let us know what you think of our recipes.
APPLE CINNAMON DESSERT BRUSCHETTA
An easy, fun, and delicious dessert bruschetta. Made with fresh apples, cinnamon, pecans, and a wonderful vegan salted caramel sauce that's refined sugar-free.
Print
Pin
Rate
Ingredients
For the Cinnamon Toast
1

small baguette

thinly sliced

4

tablespoon

vegan butter

3

tablespoon

coconut sugar

2

teaspoon

ground cinnamon
For the Apples
3

large Fuji or Granny Smith apples

peeled, cored, finely diced

2

teaspoon

ground cinnamon

2

tablespoon

water

1

tablespoon

vegan butter
For the Salted Caramel Sauce
1

cup

coconut sugar

3

tablespoon

water

6

tablespoon

vegan butter

½

cup

culinary coconut milk

not regular canned coconut milk or every day drinkable coconut milk

¼

teaspoon

ground sea salt

1

cup

toasted pecans

chopped
Instructions
Preheat the oven to 350°F (662°C)
For the Cinnamon Toast
Melt the butter. Mix the coconut sugar and cinnamon in a small bowl. Place the sliced bread on a baking sheet and brush a thin layer of butter over the entire top. Sprinkle a thin layer of the coconut sugar/cinnamon mixture on top and bake for approximately 10 minutes, or until lightly golden brown.

Toast the pecans now if they're not already toasted. Place on a baking sheet and roast for 6 to 8 minutes or until they release their oil and are lightly browned. When cool, coarsely chop.
For the Apples
In a medium sauce pan, cook the apples, water, butter, and cinnamon on medium heat until the apples are fork tender, approximately 15 minutes. Make sure to stir the ingredients together until well combined and stir frequently to prevent scorching. Add more water if needed.
For the Salted Caramel Sauce
In a small sauce pan, heat the sugar on medium-low heat, stirring constantly, until the sugar begins to melt, approximately 5 to 8 minutes. Coconut sugar doesn't dissolve like refined white sugar. The sugar will begin to show small streaks of bubbling liquefied sugar, this is when you add the water and whisk constantly until it completely dissolves and bubbles. Add the butter and whisk constantly until combined. Add the culinary coconut milk and whisk constantly until it thickens, approximately 5 to 7 minutes. It won't be so thick that it clings to the spoon, it will have the consistency of molasses.
To Construct the Bruschetta
Spoon the apples on top of the cinnamon toast, sprinkle the chopped pecans on the apples, and drizzle the salted caramel sauce over the top.

Grab a napkin or two and enjoy!
Notes
The Nutrition Facts are an estimate only.
Notes For the salted caramel sauce, make sure that you use CULINARY coconut milk. You can find it in the baking section of most grocery stores. It will not work if you use canned milk or the kind you find in the refrigerated section. Also, you won't taste the coconut in this sauce, so don't worry if you don't like the taste of coconut.
Nutrition
Calories:
290
kcal
|
Carbohydrates:
33
g
|
Protein:
2
g
|
Fat:
17
g
|
Saturated Fat:
4
g
|
Cholesterol:
0
mg
|
Sodium:
293
mg
|
Potassium:
131
mg
|
Fiber:
3
g
|
Sugar:
16
g
|
Vitamin A:
520
IU
|
Vitamin C:
2.5
mg
|
Calcium:
35
mg
|
Iron:
1.1
mg