Healthy, easy, and delicious Raw Apple Cinnamon Energy Bites. Made with whole foods that will energize you and keep you going.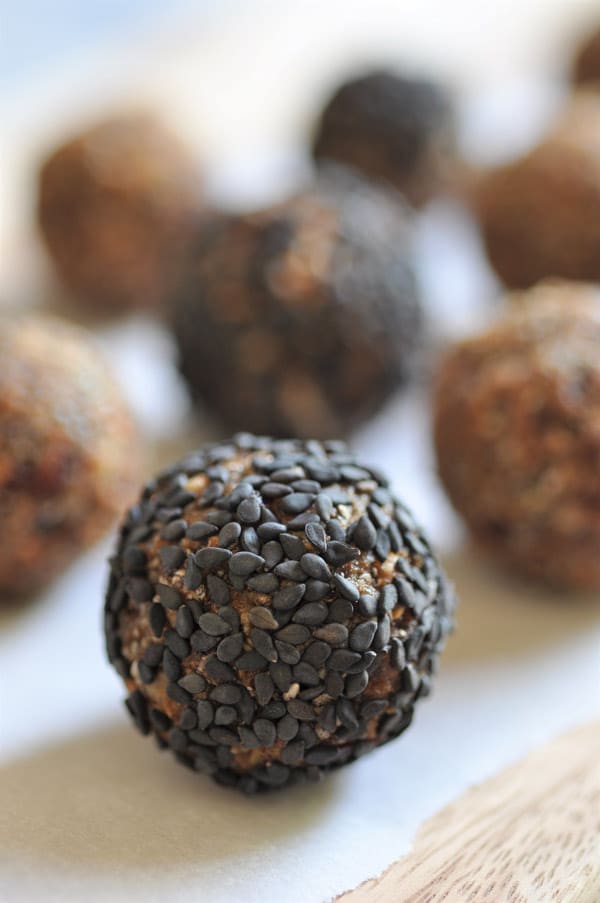 Have you heard of Figgy Pops? They're organic unbaked energy balls that you can buy in the healthy snack food section of many supermarkets. My friend brought some over to try at our last happy hour and I loved them. She brought mango Figgy Pops, which were perfect for the end of summer, and I was determined to make my own fall version of them to help get me and Alex through the last weeks of marathon training.
I'm one of those people who would rather make my own (within reason, I kind of draw the line at vegan yogurt, or fancy cheeses that take a lot of time and steps) food, rather than spending more money than necessary and finding things that I don't want in my food, such as excess oil.
That was the one thing I didn't like about the ingredients in Figgy Pops. They contained sunflower and coconut oil, which I just didn't find necessary. Energy balls don't need to be oily, they don't need added fats that are stripped of all of the things that make sunflowers and coconut so good for you, which is what you get when you consume oil. Fat and no nutritional benefits. Don't get me wrong, I do cook with oil when I find it necessary, so I leave it out when it's not.
My version of Figgy Pops is oil-free and filled with healthy whole foods that you can feel good about putting in your body. They're also refined sugar-free and gluten-free. So feel free to eat them without worry.
So how do you make these delicious homemade apple cinnamon energy bites? It's super easy!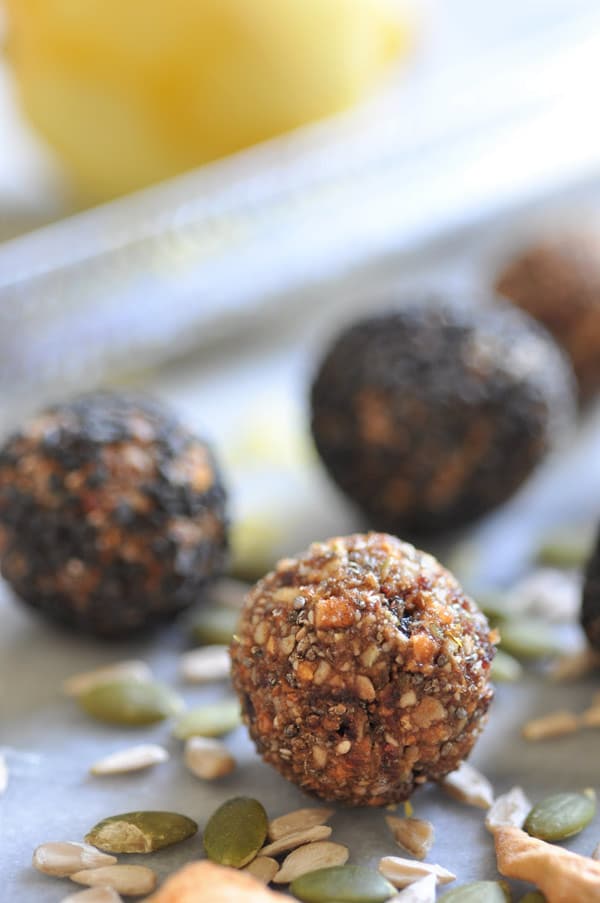 HOW TO MAKE HOMEMADE ENERGY SNACKS
You're going to need a food processor for this recipe. Sorry, but there's no way of getting around it. The dried apples, dates, and seeds need to be ground up, and this is the best way to do it. You could try and use a high-powered blender, but I can't guarantee that it will work out. Let me know if it does.
First – Toast the pepita and hulled raw sunflower seeds until they release their oils and give off a nice toasty aroma. Shake the pan often so they don't scorch.
Second – Put the ingredients in a food processor, including the toasted seeds, and grind until it forms a solid sticky ball.
Third – Scoop out a heaping teaspoon, or tablespoon if you want large bites, and roll into balls.
Fourth – If you want to add extra crunch and nutrition, roll them in black sesame seeds.
That's all. These are so easy to make and so delicious. They're perfect for a pre or post-workout treat because they're filled with so many nutritious, high energy ingredients. Just check it out. Click the ingredient names to go to the links for more information.
Dried Apples –  A great source of fiber, good for cardiovascular health, and an anti-inflammatory.
Cinnamon – Can lower bad (LDL) cholesterol, anti-inflammatory, has anti-fungal, anti-bacterial, and even anti-viral properties.
Dates – Natural energy booster, prevents and relieves constipation (shouldn't be a problem if you eat a whole food plant-based diet), lowers cholesterol, good for bone health.
Dried Cranberries – Anti-inflammatory, cardiovascular benefits,             antioxidants, digestive tract benefits.
Pepitas – An excellent source of zinc and other minerals, antimicrobial benefits, high in antioxidants.
Raw Hulled Sunflower Seeds – Anti-inflammatory, good for cardiovascular health, helps lower cholesterol, excellent source of important minerals, such as folate, selenium, vitamin E, and more.
Chia Seeds – An excellent source of fiber, good fat, good carbohydrate (ENERGY), lots of protein, important minerals.
Sesame Seeds – These little seeds are the B.O.M.B.! If you only click on one link, this is the one. Great source of protein, reduces blood pressure, lowers cholesterol, helps with digestion, good for skin and heart health, and so much more.
These little balls of apple cinnamon goodness not only taste great, they're so good for you, and they provide you with the energy that their name promises. One batch makes approximately two dozen apple energy balls, so if you're in need of a boost, pop one or two of these in your mouth and you'll feel ready to get things done in no time.
Remember, these are oil-free, gluten-free, and refined sugar-free energy balls. So much better than you can get from store bought bites.
Come back and let me know what you think once you try these. We love hearing from you.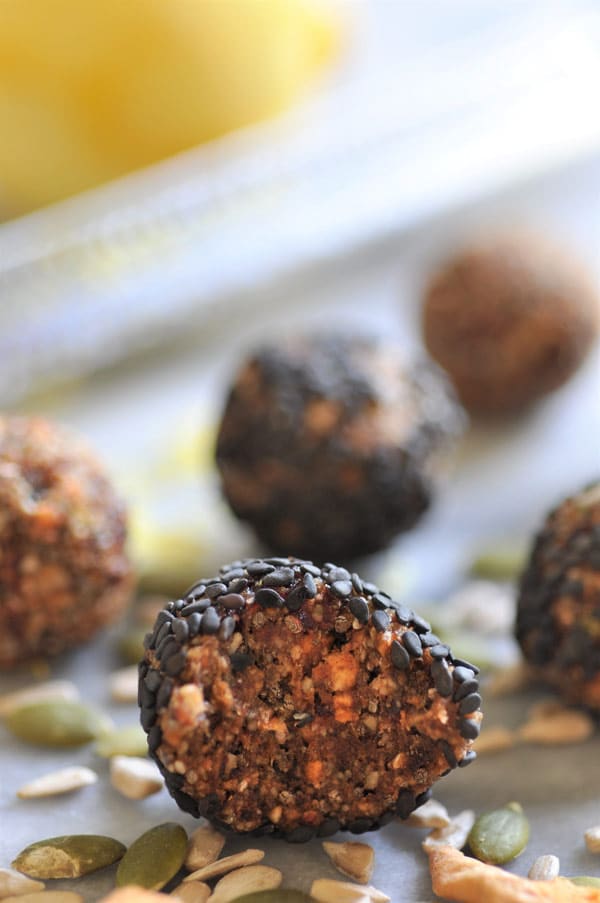 Let's connect! Hop on over to our Facebook page and give it a like, and follow us on Instagram and Twitter, and follow us and share this and other Veganosity recipes on Pinterest. We'd be so grateful if you did. If you like this recipe and can't wait to see what we're going to share next, subscribe to Veganosity. Just fill in the subscription box above our picture in the top right corner of the page. And, Alex and I love hearing from you, please leave a comment and let us know what you think of our recipes.
Yields Approximately 2 dozen
Raw Apple Cinnamon Energy Bites
Easy to make, delicious, and healthy homemade apple cinnamon energy balls!
15 minPrep Time
15 minTotal Time
Ingredients
1 cup (91 g) dried apples
10 large dates, pits removed
½ cup (38 g) dried cranberries
¼ cup (32 g) pepitas
¼ cup (32 g) raw hulled sunflower seeds
3 tbsp (45 g) chia seeds
1 tbsp (15 g) lemon zest
2 tsp (5 g) ground cinnamon
¼ tsp ground sea salt
¼ tsp ground ginger
1/8 tsp ground cardamom
½ cup (81 g) black sesame seeds
Instructions
In a medium pan, toast (shake the pan frequently to prevent scorching) the pepitas and sunflower seeds on medium heat until they release their oil and give off a nice toasty aroma. Approximately 5 to 8 minutes. Remove from heat.
Put all (except the sesame seeds) of the ingredients, including the toasted seeds, in a food processer and process until the dried fruit and seeds are ground up and the mixture turns into a sticky solid ball.
Scoop out 1 heaping tsp (5 g), or if you want larger balls, 1 tbsp (14 g) and roll into balls. Put the sesame seeds on a flat surface and roll the balls in the seeds to cover.
Refrigerate in an air tight container for up to a week or freeze for up to 3 months.
7.8.1.2
450
https://www.veganosity.com/raw-apple-cinnamon-energy-bites/