Raw apple pie! Low calorie, high flavor, and so easy to make. Take the guilt out of vegan dessert.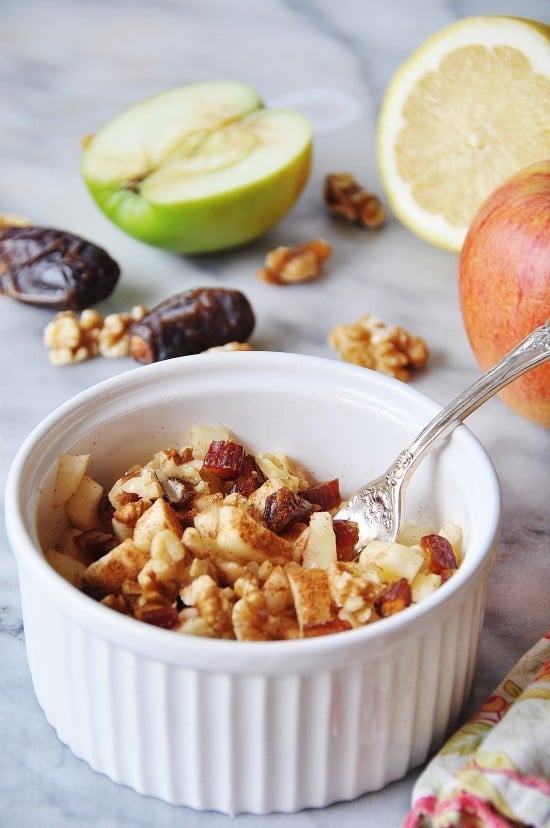 My daughter Alex, the co-founder of Veganosity, is an apple pie making genius. Her homemade pie is the best I've ever tasted. She has perfected the amount of spice, sugar, the tenderness of the apples, and the flaky crust like nobody's business. So you can only imagine that I was quite skeptical when she told me to try her raw apple pie recipe.
Raw apple pie? My first thought, Sacré bleu! Then I made it, and I was like, ooh la la!!! Why am I using French phrases to describe the all-American apple pie? I'm not sure, just call me Sybil.
Like I said, I made Alex's raw apple pie, and damn it was good! The apples were finely chopped and marinated in fresh lemon juice and cinnamon for a sweet and sour, with a splash of savory flavor. Then there were chopped up dates sprinkled in for a deeper sweetness and a chewy texture. To finish this delicious dish, chopped walnuts.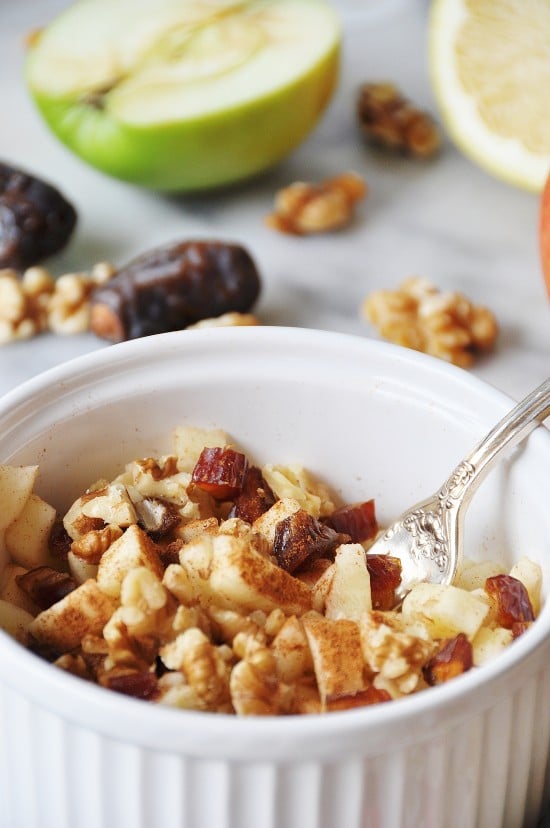 You can make this for breakfast, for a snack, or, of course, for dessert, without the guilt of actually eating a piece of pie. There isn't a sliver of processed sugar, shortening, or flour in this raw apple pie, because let's be honest, the crust and added sugar in the apples is what makes a traditional apple pie so high in calories.
Another great thing about this recipe is that because the apples are mixed up in lemon juice so they won't brown. That means that you can take it to work or school and it will look and taste as good as it did when you packed it.
Try this and come back and let me know what you think. But don't tell me that it's NOT the same as dear old mom's apple pie. I know that. 😉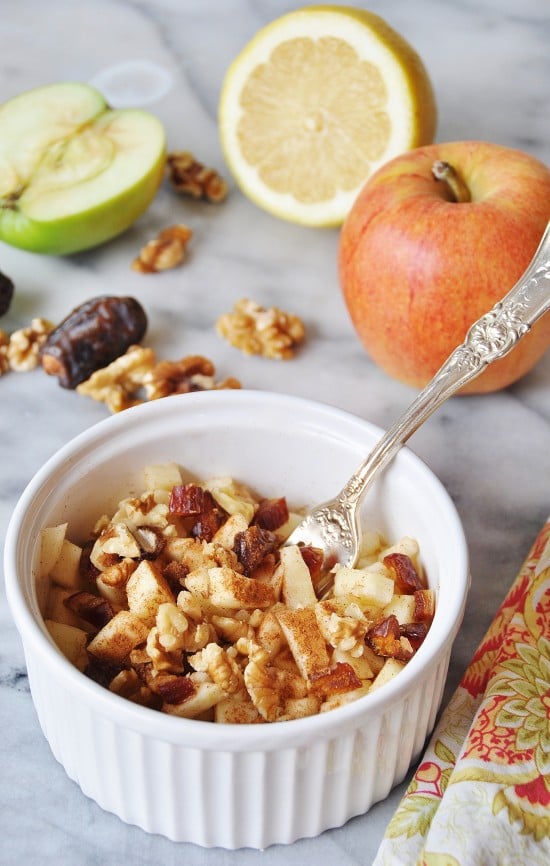 Linda and Alex at Veganosity
Yields 1
Raw Apple Pie
A low calorie, high flavor version of the all-American apple pie.
10 minPrep Time
10 minTotal Time
Ingredients
1 apple – peeled, cored, and finely diced
2 tablespoons of fresh lemon juice
1 and 1/2 teaspoons of cinnamon
1 large date - pitted and chopped
2 tablespoons of chopped walnuts
Instructions
Mix the apple, lemon juice, and cinnamon in a small bowl and let sit for thirty minutes. Top with the walnuts and enjoy!
7.8.1.2
120
https://www.veganosity.com/raw-apple-pie/