Light and fluffy vegan blueberry pancakes. These delicious hot cakes are filled with warm blueberries and smothered with maple syrup. Perfect for a lazy Sunday morning breakfast. 
Blueberries + Pancakes = Sunday Morning.
My husband is the master pancake maker in our house. I don't even try and compete with his fluffy, delicious cakes. They're always perfectly golden on the outside and light and moist on the inside. Every time.
The Mr. loves to make breakfast on Sunday morning, and last Sunday we had a box of beautiful organic blueberries in our fridge, which led him to ask the question – pancakes or waffles? You can see what my answer was.
They're gorgeous aren't they? Mr. Master Pancake Maker has obviously mastered the art of making vegan blueberry pancakes, wouldn't you say? I'm so happy that I married him.
On this Sunday morning the light was good, and I was pumped, because it meant that I could finally take pictures of these beautiful works of food art. While he whipped up the batter, and made the cakes, I sipped on a big mug of java, wrote down the recipe, and took the pictures. I also relished in watching him cook. There is something very sexy about watching a man make food; do you hear that guys?
Making a good pancake is not as easy as it looks. If you don't flip it at the right time it can splatter and drip all over the pan. If you don't let it cook long enough on both sides it can look done on the outside but still be raw on the inside. I know this because I've had epic fails in this department. But somehow, my guy knows when those light and fluffy cakes are done cooking. So today, he's sharing his pancake making skills with you.
The first key to making a good pancake is to not over whisk the batter. If you do, the cakes will be tough and flat. Whisk the batter until just moistened and then add the blueberries and gently fold them into the mixture to finish blending.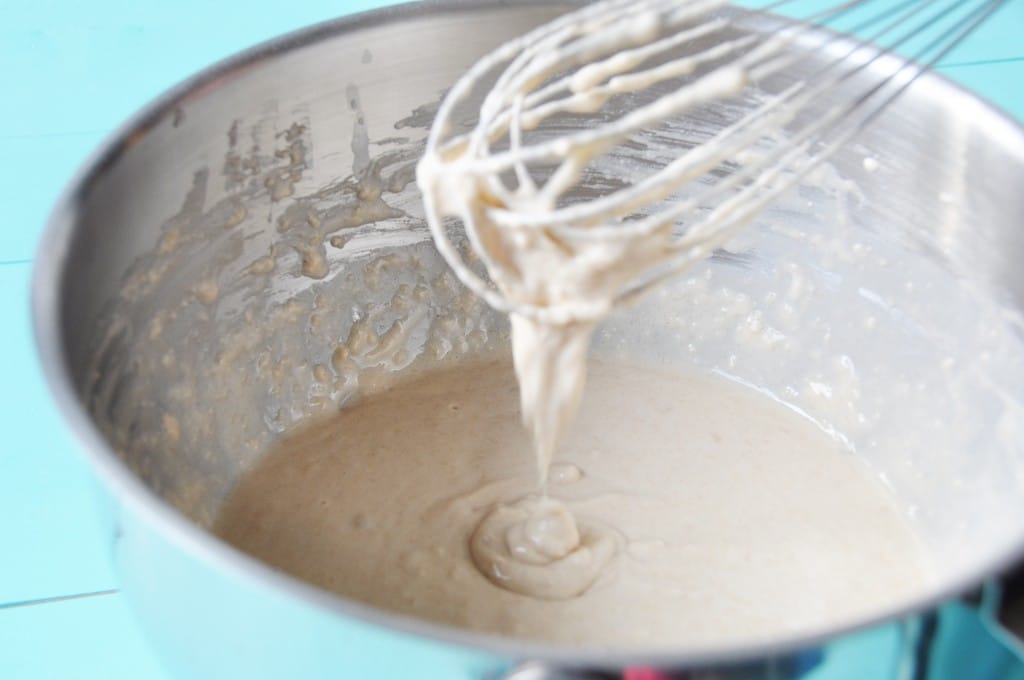 The next thing you need to do to get a perfect pancake is spread the batter evenly on a HOT griddle. Heat it while you're making the batter and do a water test (sprinkle a few drops of water on the griddle, if they sizzle, it's hot enough) on it before you put that first ladle of batter on the pan.
As the cakes cook they'll start to bubble. When they're bubbling in the center, and the edges dry up, it's time to flip the cake. If you try and flip it before the edges are dry you're going to have a mess on your hands. Once flipped, cook for approximately three minutes or until both sides are golden brown and the pancake is firm. If you see any wet batter on the edges, keep cooking until they're dry.
Cutting the fork through those blueberry filled cakes was so exciting, and that first bite, ahhh… The warm and juicy blueberries burst in my mouth, and the sweet maple syrup tasted like liquid gold. Well, actually, I don't know what liquid gold tastes like, but the description works, so let's go with it. The cakes were light, fluffy, and slightly crispy on the outside. We ate until we couldn't eat any more.
We made a double batch so that I could photograph some, and eat a lot of them. My husband patiently waited for me to finish taking pictures so we could sit together and eat, sip coffee, and talk about how proud I was that he had become such a fabulous vegan cook. He really has embraced my new lifestyle, and he, as always, supports me wholeheartedly. Together, we make a pretty good team.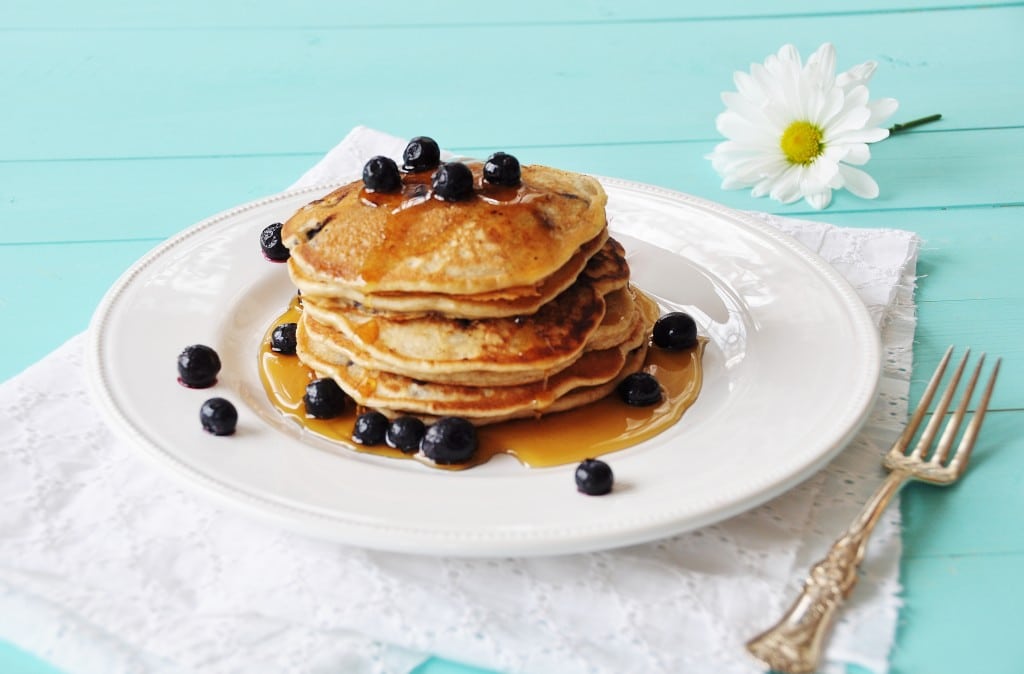 Easy Vegan Blueberry Pancakes
Light, fluffy, vegan blueberry pancakes. Perfect for a lazy Sunday morning breakfast.
Print
Pin
Rate
Equipment
1 Stand Mixer

1 griddle

1 stove
Ingredients
2

teaspoons

vegetable oil

2

cups

all purpose unbleached flour

2

tablespoons

sugar

2

teaspoons

baking powder

⅙

teaspoon

ground sea salt

1

teaspoon

cinnamon

1

mashed ripe banana

1

teaspoon

of vanilla

1

tablespoon

lemon juice

2

cups

plant-based milk

mix the lemon juice in the milk

1

cup

blueberries
Instructions
Heat a griddle to medium-high heat.

Spread one teaspoon of avocado oil evenly on the griddle.

In a large bowl whisk the dry ingredients together.

Mash the banana in a mixer with a paddle until pureed or mash with a hand held masher.

Mix the lemon juice in the almond milk and then add the wet ingredients and the banana to the dry ingredients and gently whisk until just combined. Do not over whisk. Gently fold in the blueberries.

Sprinkle a few drops of water on the griddle to test to make sure it's hot enough. If the water sizzles it's ready.

Use a ladle or a ½ cup measuring cup to spread the batter in an even circle on the hot griddle. Cook until the pancake bubbles and the edges are dry. Approximately three minutes. Flip and cook until the edges are completely dry and both sides are golden brown and the pancake is firm.

Heat the oven to 275° and place the pancakes on a pan in the oven to keep warm.
Notes
One serving is approximately 3 pancakes. 
Store covered in the refrigerator. 
Freeze in a freezer safe container for up to 2 months. 
Nutrition Disclaimer
Nutrition
Serving:
15
oz
|
Calories:
357
kcal
|
Carbohydrates:
71
g
|
Protein:
11
g
|
Fat:
3
g
|
Saturated Fat:
1
g
|
Polyunsaturated Fat:
2
g
|
Monounsaturated Fat:
1
g
|
Sodium:
160
mg
|
Potassium:
575
mg
|
Fiber:
4
g
|
Sugar:
17
g
|
Vitamin A:
504
IU
|
Vitamin C:
16
mg
|
Calcium:
265
mg
|
Iron:
4
mg