This red cabbage and lentil soup is light, mild, and beautifully simple. It's filled with vitamins and nutrients and it's low in calories. It makes a perfect springtime meal. 
Winter isn't ready to release its grip on the Chicago area quite yet. Even though the calendar says that it's spring, the nip in the air and the snow flurries that are dancing around tell a different story. I hate the cold, I hate the ugliness of the gray landscape outside of my windows. I need color, and heat. So I made soup.
This beautiful red cabbage and green lentil soup reminds me of how bright and bold my gardens will look in a few months. The purple cabbage, the red broth, and the green lentils smile back at me from the pristine white bowl and reassure me that the world as I see it will soon be alive and vibrant again.
There's really nothing funny about the prolonged teasing that Mother Nature does to us "hardy" Midwestern folk. Spring is especially cruel if you live next to the giant air conditioner called Lake Michigan. While our neighbors to the west enjoy 70 degree temperatures, we shiver from that icy lake breeze. To me, there's nothing worse than the dreaded "cooler near the lake" forecast.
So I made soup. A light, mild, delicious bowl of red cabbage and green lentil soup. The colors are intense and beautiful. They remind me of the gorgeous purple iris and red tulips that will soon be showcasing the borders of my yard, and the lentils are like the green grass that is so valiantly trying to make its way back from the frozen earth.
The flavor of the cabbage is subtle, there's a hint of celery mixed with onion and garlic, and the yellow tomato brightens the taste of this soft, delicious soup.
A soft soup you ask? That's really the best way that I can describe how lovely and light my red cabbage and green lentil soup tastes. It's not a hardy wintery soup, and it's not a slap your taste buds bold soup. It's a soft and gentle kind of flavor that you'll want to linger over. It's the kind of soup that won't make you feel guilty about having seconds, or even thirds.
And you should eat as much as want, because it's healthy. Red cabbage is loaded with Vitamin A, C, and B-6, as well as potassium and fiber. And the lentils provide you with folate, magnesium, fiber, and protein. One head of cabbage has approximately 261 calories, which is similar to the calories in one cup of cooked lentils, so you could eat the whole pot if you wanted to.
The gray world outside of my window is now blanketed in white, and there's a peaceful silence that comes with the snow that has changed my mood yet again. As desperate as I am for green grass, fragrant lilacs, and warm breezes, I will embrace this last bit of winter and look at it as a gift rather than a punishment, because it has reminded me to focus on the beauty that surrounds me, whether it be the craggy bare trees that will soon be bursting with green foliage, or the clean white snow that's covering them.
Today is National Puppy Day! I know it has nothing to do with soup, and it's totally random, but I had to share. If you follow us on Instagram then you know that two weeks ago the husband and I rescued a sweet little (5 pounds little!) min-pin/chihuahua mix from our local no kill shelter. She has brought so much joy and laughter to our home, and she's keeping Gizmo busy. There is something indescribably special about rescuing a pet. She really seems to be thankful for having a safe and happy home, and a loving family. If you're thinking about adding a pet to your family, please consider adopting from a shelter. You'll be so happy that you did.
Meet Coco! She's so happy to have a cozy, warm place to nap after chasing Gizmo through the house.
 Gizmo is wiped out after running around with his cute new friend.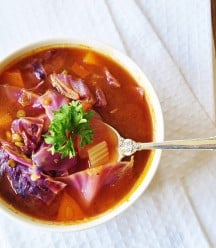 Red Cabbage and Green Lentil Soup
An easy, delicious and super healthy soup. It's packed full of vitamins and antioxidants, thanks to the cabbage, celery, garlic and lentils.
Course:
Entree, Main Course, Soup
Keyword:
cabbage soup, healthy soup, vegan soup
Ingredients
2

tsp

avocado oil

1

red onion

diced

2

celery stalks

diced

1

red cabbage

remove the outer leaves, wash, core, and coarsely chop

2

garlic cloves

minced

8

cups

vegetable stock

4

cups

water

1

cup

dry red wine

1

cup

lentils

rinsed well

2

medium yellow tomatoes

cored and diced

1

tsp

dried sage

1

tsp

dried oregano

2

tsps

sea salt

or to taste

1/2

tsp

ground black pepper

or to taste
Instructions
In a large soup pot heat the oil on medium heat and then add the onions and celery. Cook until the onions begin to sweat and become translucent. Stir frequently. Add the cabbage, tomatoes and garlic and cook for one minute. Add the broth, water, wine, and seasonings and bring to a boil. Reduce the heat to low and add the lentils. Cook at a low boil for 30 minutes or until the lentils are tender.
Recipe Notes
The Nutrition Facts are an estimate only.
Nutrition Facts
Red Cabbage and Green Lentil Soup
Amount Per Serving
Calories 172
Calories from Fat 9
% Daily Value*
Fat 1g2%
Sodium 1566mg68%
Potassium 530mg15%
Carbohydrates 27g9%
Protein 8g16%
Vitamin A 1725IU35%
Vitamin C 62.4mg76%
Calcium 75mg8%
Iron 2.7mg15%
* Percent Daily Values are based on a 2000 calorie diet.