Our healthy and delicious cabbage soup is so easy to make, and it's filled with nutritious winter vegetables. It's a great St. Patrick's Day soup and there's nothing better than a steamy bowl of this satisfying soup on a cold winter day. 
WHY CABBAGE SOUP IS GOOD FOR YOU
Red or green, cabbage is nutritional dynamite! We like nothing more than food that tastes good and does your body good. It's a total win-win.
Cabbage is known for it's anti-inflammatory benefits and antioxidants. It's also thought to help prevent type 2 diabetes and certain types of cancer, such as bladder, colon, and prostate cancers. You can read all about it here.
Cabbage is also a great source of fiber, which is vital to keeping your digestive system healthy.
There have been so many cabbage soup diets in the past years, as you probably know. However, we don't believe in or promote trendy diets, so we won't be talking about that.
We're all about eating as healthy as you can, moving and exercising, drinking enough water, getting enough sleep, and laughing and enjoying life every single day.
So let's make this cabbage and winter vegetable soup so you can slurp it up and boost your immune system!
HOW TO MAKE CABBAGE SOUP
This is so easy to make. If you can chop vegetables, add liquid, and simmer, and we know that you can, then you can make this soup.
FIRST
Saute the onions, celery, carrots, and garlic in a large soup pot.
SECOND
Add the broth and water, then add the potatoes and tomatoes and stir until all of the vegetables are combined. Bring to a boil, then reduce the heat to a simmer and cook for 20 minutes.
THIRD
Add the cabbage, kale, and spices and cook for another 15 minutes or until the potatoes are fork tender.
That's all there is to it. It's so easy!
WHAT KIND OF HERBS SHOULD YOU USE TO SEASON IRISH CABBAGE SOUP?
There are several herbs that you can use in traditional Irish foods, for this soup we chose dried sage, thyme, and caraway seeds. The three herbs marry beautifully and create a subtle, yet flavorful, soup.
Of course, sea salt and freshly cracked black pepper are also an important component in this soup. We like to suggest adding these two to suit your own tastes. We added 3 teaspoons of sea salt to this pot of soup.
The potatoes and cabbage absorb a lot of the salt, so for a tasty dish, we suggest adding, then tasting, then adding again until you get the exact amount of salt for your taste buds.
Why apple cider vinegar? Acid.
The tomatoes add acid, but we felt like it needed more, so we added a tablespoon of apple cider vinegar to give a boost to the broth.
HOW TO SERVE CABBAGE SOUP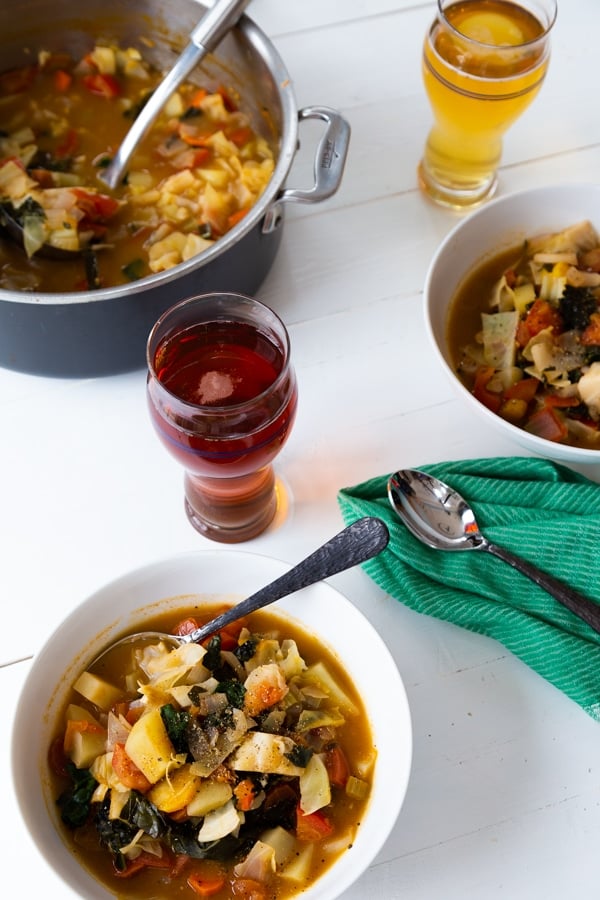 This soup is filling, so you really don't need to serve it with anything else. If you feel like you need more, then we suggest a hearty whole grain seed bread that's warmed in the oven right before serving.
You could also make our homemade biscuits if you're really feeling like you want more time in the kitchen.
CAN YOU FREEZE CABBAGE SOUP? 
Yes! You can freeze this in a freezer safe bag once the soup has cooled. You don't want it to melt the bag.
Freeze it for up to 3 months. You can put the frozen soup in a warm pan and let it heat up slowly on a low heat setting. Make sure to stir frequently.
You can also keep it refrigerated for up to 5 days.
Make our simple cabbage soup and let us know what you think. We love to hear from you! And, don't forget to take a picture of your gorgeous creation and tag us @veganosity on Instagram.
Let's connect! Hop on over to our Facebook page and give it a like, and follow us on Instagram and Twitter, and follow us and share this and other Veganosity recipes on Pinterest. We'd be so grateful if you did. If you like this recipe and can't wait to see what we're going to share next, subscribe to Veganosity. Just fill in the subscription box above our picture in the top right corner of the page. And, Alex and I love hearing from you, please leave a comment and let us know what you think of our recipes.


The above links are affiliate links. Any Amazon purchases made through these links help support Veganosity.com at no additional cost to you.
Vegan Irish Cabbage Soup
A simple and healthy soup with the flavors of sage and caraway that's sure to satisfy your entire family.
Print
Pin
Rate
Ingredients
2

tsp

extra-virgin olive oil

or 3 tbsp vegetable broth if you don't cook with oil

2 ½

cups

onion

diced

1

cup

celery

chopped

2

cups

carrots

sliced into thin coins

2

garlic cloves

minced

3

cups

potatoes

diced

2 ½

cups

tomatoes

chopped

5

cups

green cabbage

chopped

3

cups

kale

chopped (we used lacinato, aka dinosaur, kale)

32

oz

vegetable broth

2

cups

water

1

tbsp

apple cider vinegar

2

tsp

dried sage

1

tsp

ground caraway seeds

Salt and pepper to taste
Instructions
Heat a large soup pot on medium-high heat. When the pan is hot, add the olive oil or broth, then add the onions. Stir and cook for approximately 3 minutes, or until they begin to turn translucent and sweat.

Add the celery and carrots and stir well. Cook for 5 minutes, stirring occasionally. Add the garlic and stir. Cook for 3 minutes, stirring occasionally.

Add the broth and water, then add the potatoes and tomatoes and bring to a boil. Once the broth is boiling, reduce the heat to simmer and cook for 20 minutes.

Stir in apple cider vinegar, spices, and salt and pepper, then stir in the cabbage and kale and cook for another 15 minutes, or until the potatoes are fork tender.
Notes
The Nutrition Facts are an estimate only.