Vegan Weeknight Dinner Planner! Five healthy and scrumptious vegan meals that you can prep ahead of time to make your weeknight dinners healthier and easier.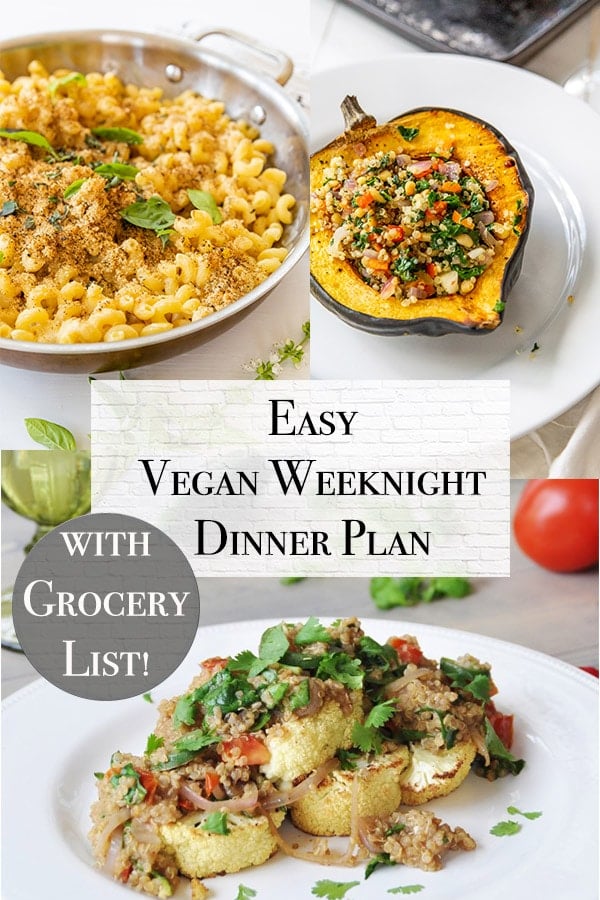 Have you been enjoying the meal plans that we've been sharing with you over the past few weeks? If you're using them, we hope they're making your weeknight dinners easier, healthier, and better than ever. A little planning goes a long way when it comes to eating healthy dinners that are easy and quick to make. That's why we've been putting these vegan meal plans together, because we want you to feel good and have more time to spend doing the things that you love.
THIS WEEK'S MAIN INGREDIENTS
This week's meal plan focuses on the following main ingredients:
Each week we try to focus on two to four of the same ingredients so you can shop easy and prep fast. We also try and mix up the flavors and styles of the recipes so you get a variety of dishes during the week, because dinner should be exciting.
PLANNING YOUR MEALS FOR THE WEEK
Making dinner during the week will be a breeze if you take some time on Sunday to get some things ready to go.
What to prep for the week:
Cut the acorn squash in half, scoop out the seeds, put a pat of vegan butter in each one (optional), salt and pepper them, wrap in foil and store in the refrigerator.
Make the quinoa for the recipes that require it. Store in an airtight container in the refrigerator.
Make the cheese for the mac n' cheese, or better yet, make the mac n' cheese and cover and store in the refrigerator for Monday night's dinner.
Slice the cauliflower for the steaks.
VEGAN MEAL PLAN FOR THE WEEK
MONDAY
Our baked Fresh Herb Vegan Mac n' Cheese is such a delicious way to start your dinners for the rest of the week! This is such a hearty and flavorful macaroni and cheese. Made with fresh herbs and topped with crunchy bread crumbs, it's the perfect cozy Monday night dinner recipe. Serve it with a simple spinach and tomato salad with a drizzle of balsamic vinegar.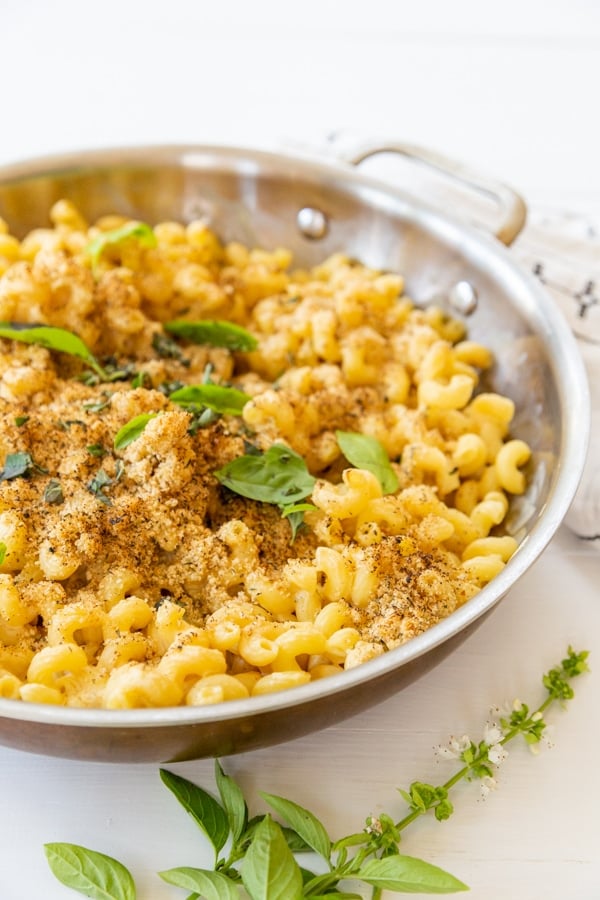 TUESDAY
Roasted Cauliflower Steaks with Spicy Quinoa
Cauliflower is so healthy, and when it's prepared like a steak, it's so delicious. You'll love the meaty texture of this recipe, and the spicy protein filled quinoa and veggies are the icing on the cake. Serve it with our sautéed Rainbow Swiss Chard!
WEDNESDAY
A caramelized roasted acorn squash filled with quinoa, sautéed veggies, and pine nuts. The different textures in this gorgeous recipe are so satisfying. NOTE: If you have any fresh herbs left over from the mac n' cheese you made on Monday, add them to the pan when you're sautéing the vegetables for extra flavor.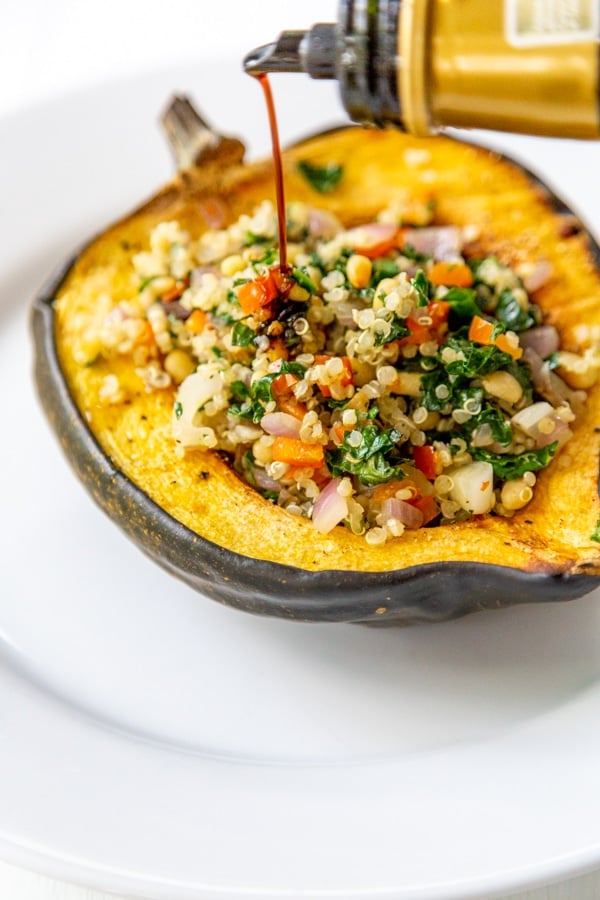 THURSDAY
Easy and so good! This soup is not the ramen soup you remember from childhood. This is healthy, full of vegetables, and so tasty. Serve it with a hearty salad, like this one. Ingredients for the salad are not included in the shopping list, you'll need to add them to the list if you're going to make it.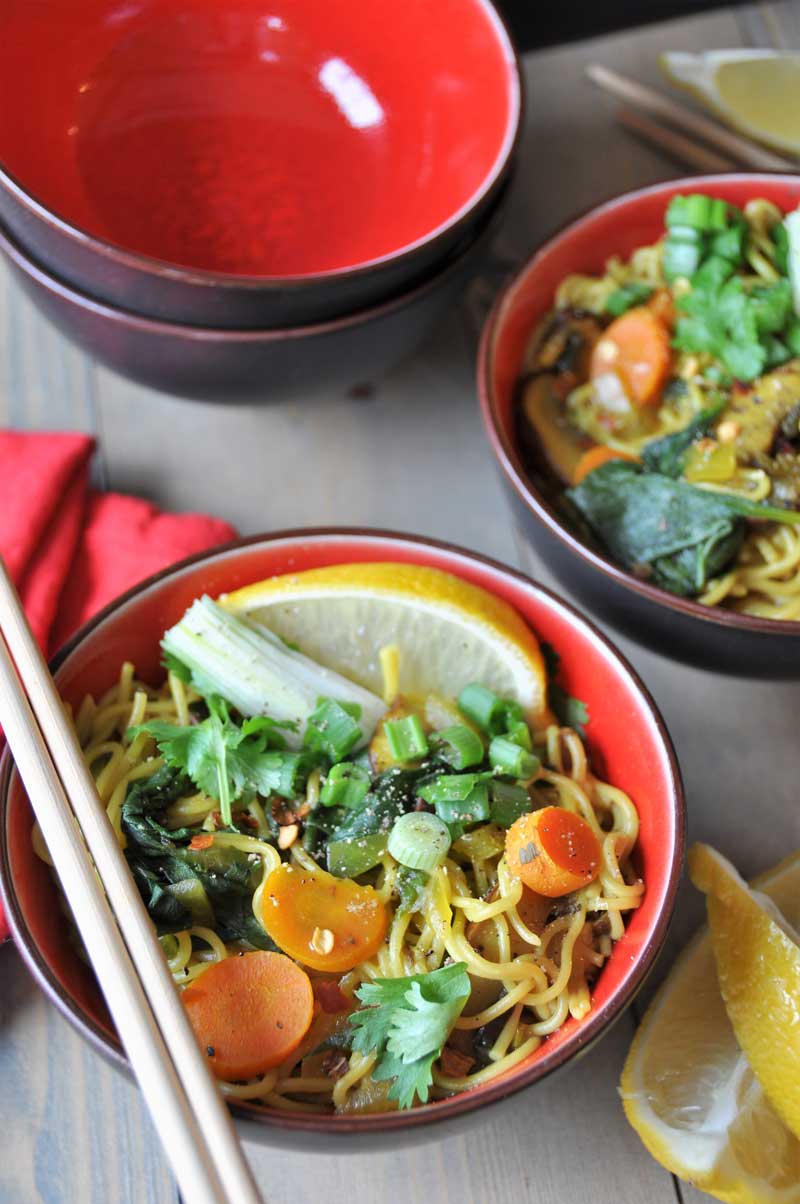 FRIDAY
These spicy quesadillas are the perfect way to end the week and start the weekend. Chop up a small spinach and tomato salad to serve next to it, and whip up a batch of margaritas to celebrate another successful week.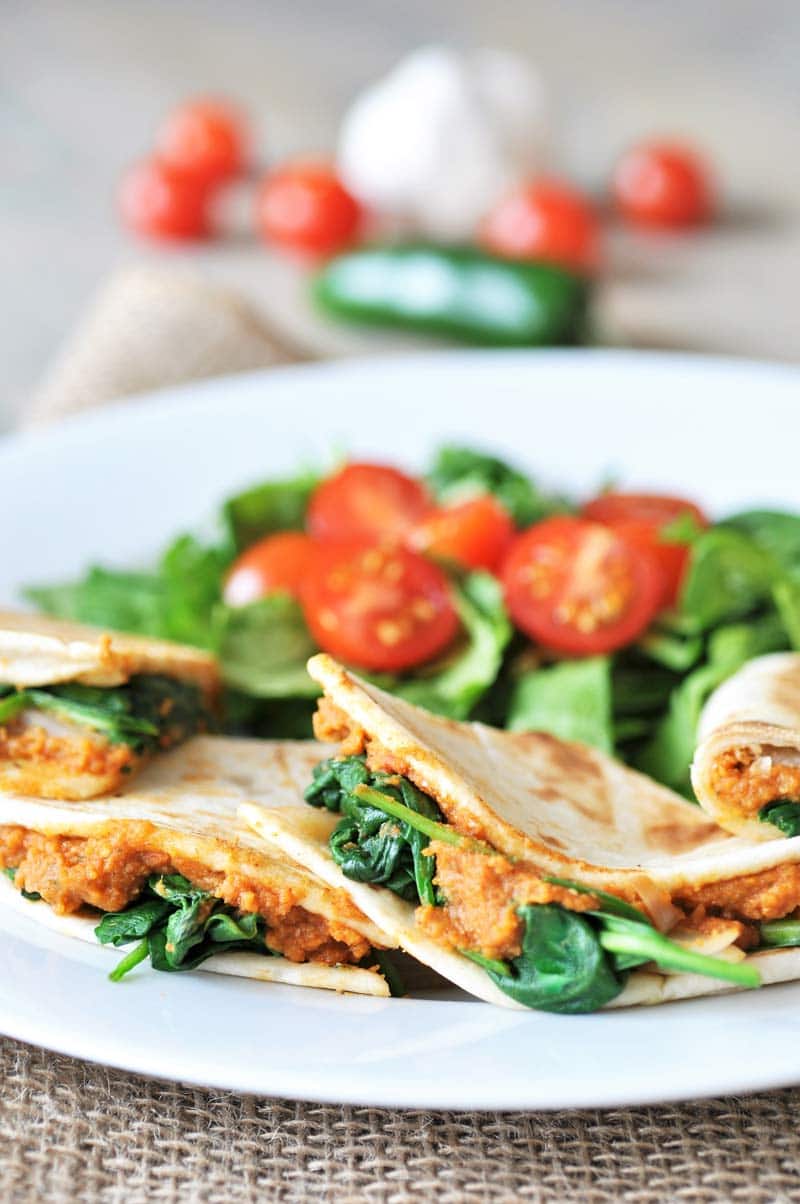 Make sure you check out our other weekly meal plans, here and here.
WEEKLY MEAL PLAN SHOPPING LIST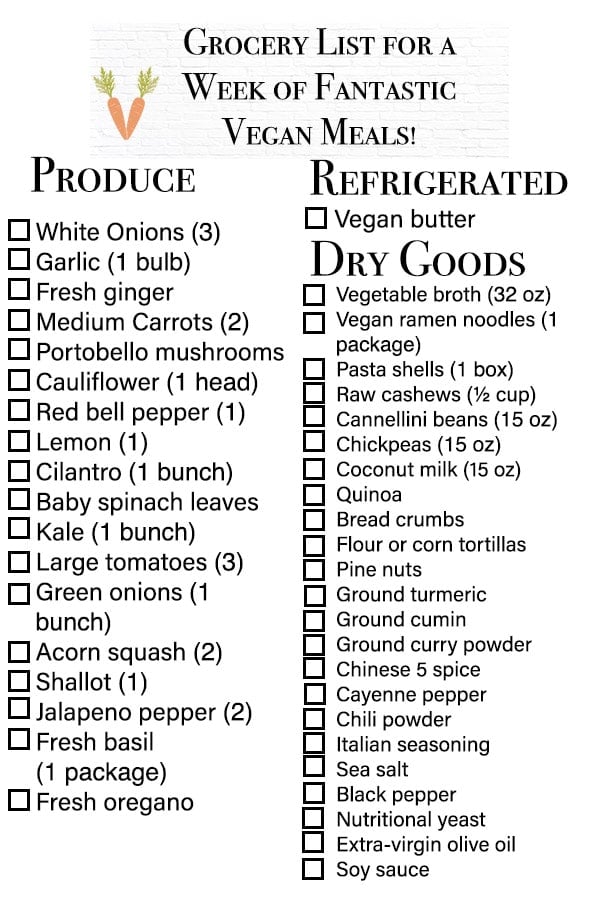 Have a wonderful weekend!
Let's connect! Hop on over to our Facebook page and give it a like, and follow us on Instagram and Twitter, and follow us and share this and other Veganosity recipes on Pinterest. We'd be so grateful if you did. If you like this recipe and can't wait to see what we're going to share next, subscribe to Veganosity. Just fill in the subscription box above our picture in the top right corner of the page. And, Alex and I love hearing from you, please leave a comment and let us know what you think of our recipes.