Lovely lemony cake like cookies that are reminiscent of Starbucks' Lemon Knot Cookies that we used to love.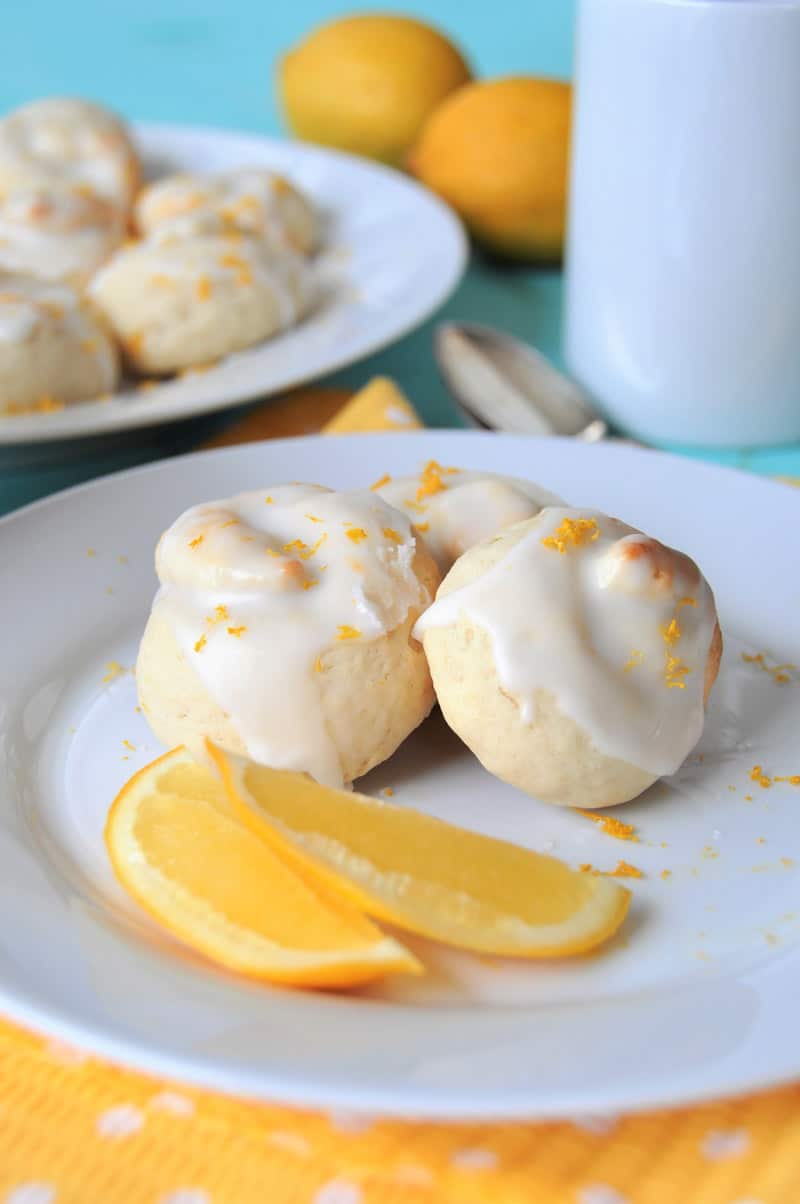 When Alex was a toddler she fell in love with Starbucks' lemon knot cookies. Who could blame her? They were thick and chewy, kind of part doughnut and part cookie. The lemon flavor was fresh, but not overpowering. The glaze was perfectly spread on the top, not too sweet, not too thin, and not too thick. They were stored next to the registers in a glass cookie jar that only added to their charm, and her desire to get one every time we paid for my afternoon latte. Sadly, the stores in our area stopped selling them, and I'm not exaggerating when I say that I mourned the loss of those cookies for years.
I've written before about how food is more than sustenance, it's emotional. Food is part of who we are and where we come from. Think about it, you could be minding your own business, and then suddenly you catch a whiff of an aroma that instantly takes you to earlier times. Memories come flooding back, and for a moment you feel like you've been transported to the past.
That's what the fragrance of coffee and lemon do to me.
I had another recipe scheduled for this morning, but I decided to share this one with you instead. Saturday morning I woke up and made some coffee before drinking my usual glass of lemon water. While the coffee was brewing, I cut into a Meyer lemon, and the aroma of those two things combined immediately took me back twenty-three years. Instead of standing in my kitchen, I was standing in Starbucks and Alex was sitting in her mint green stroller. I saw two sweet blonde pigtails, a tiny hand reaching up toward a cookie jar, and the feeling of complete joy as I watched the crumbs of a lemon knot fall into her lap as she smiled at me with a mouth full of cookie. One perfect little memory, all because of food.
After I allowed myself a bit of time to reflect, I snapped out of it and decided to attempt to make my own perfect lemon knot cookies. Alex may not wear pigtails anymore, but she's still that sweet little blonde beauty that she's always been, and I knew that if I could figure out a way to bring her favorite cookie back into her life, she'd be the happiest lady ever.
It took me two tries to get the texture and the lemon flavor as I remembered them. Not bad, considering these are not a typical cookie. I used fresh Meyer lemon juice, some lemon extract, aquafaba, vegan butter, flour, sugar, and almond milk to make the dough. They turned out perfectly puffy and light, yet dense and chewy. The lemon flavor was bright and lovely. I was in love, but that wasn't what mattered, the true litmus test was what Alex thought of them.
She and her boyfriend loved them!
The Perfect Valentine's Day Cookie
When I got two thumbs up from both of them, I decided that I had to share this recipe with you all today. Valentine's Day is just around the corner, and what could be better than making your favorite people pretty lemon love knot cookies? There's nothing better than homemade, and even though these don't have a hint of red, and they're not heart shaped, they will bring a smile to that special someone's face. I promise.
Don't be intimidated by the look of these little cookies, they're actually easy to make. All you need to do is mix up the dough and let it chill in the refrigerator for fifteen minutes, then scoop up a tablespoon of dough, roll it into a six-inch log, and twist it into a knot.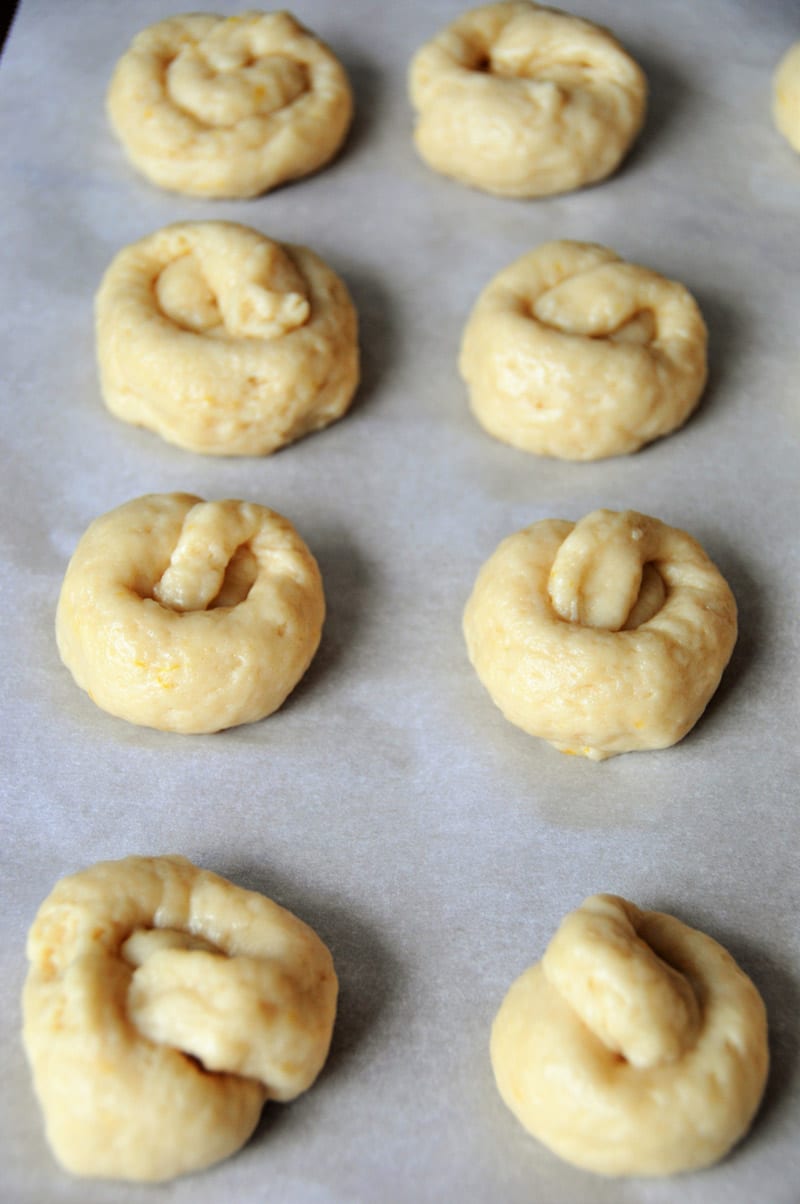 Bake them for approximately fifteen minutes and let them cool. When the cookies are completely cool, drizzle the glaze on top and let it dry. The last step is eating them. I dare you to eat just one.
If you were a fan of the lemon knot cookies Starbucks used to sell, you need to make these. I really want to hear what you think. Hopefully you'll love them as much as Alex and Max do.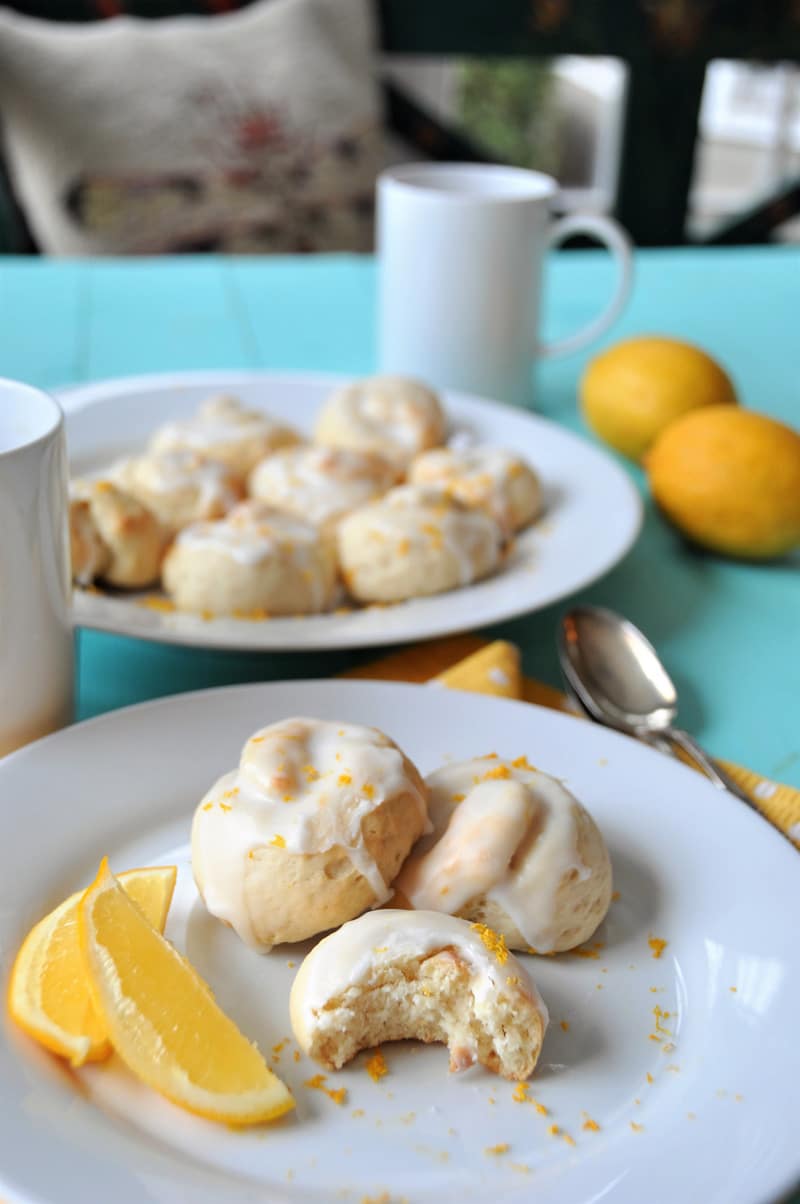 Let's connect! Hop on over to our Facebook page and give it a like, and follow us on Instagram and Twitter, and follow us and share this and other Veganosity recipes on Pinterest. We'd be so grateful if you did. If you like this recipe and can't wait to see what we're going to share next, subscribe to Veganosity. Just fill in the subscription box above our picture in the top right corner of the page. And, Alex and I love hearing from you, please leave a comment and let us know what you think of our recipes.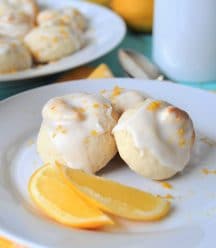 VEGAN LEMON KNOT COOKIES – EGG-FREE AND DAIRY-FREE
Lemon knot cookies like Starbucks used to sell!
Ingredients
2

cups

all-purpose flour

2

teaspoons

baking powder

1/8

teaspoon

finely ground sea salt

½

cup

sugar

4

tablespoons

1/4 cup of melted vegan butter

4

tablespoons

aquafaba

liquid from a can of chickpeas

Juice from one large

1/4 cup Meyer lemon

2 ½

teaspoons

pure lemon extract

Zest from one lemon

½

cup

almond milk
For the Glaze:
1/3

cup

confectioner's sugar

1

tablespoon

water

¼

teaspoon

lemon extract
Instructions
Preheat oven to 350° and line a cookie sheet with parchment paper or a silpat

In a medium bowl whisk the flour, baking powder, and salt together until well combined

In a large mixing bowl whip the butter and sugar together until combined. Scrape the sides to make sure that all of the sugar is blended with the butter. Add the aquafaba and blend until just combined. Add the lemon juice, zest, and lemon extract, mix until well blended. Slowly add 1/3 of the flour and 1/3 of the almond milk, one at a time and continue until all of the flour and milk until just combined with the sugar and butter mixture. Let the dough rest in the refrigerator for 15 minutes.

Scoop out a heaping tablespoon of dough, on the cookie sheet, roll it into a 6-inch log (pat your hands with flour to make it easier) and take one end and wind it into a circle and tuck the end into the center to form a knot. Continue with the rest of the dough and bake for approximately 15 minutes or until the cookies are puffy and beginning to turn a light golden brown. Let them cool completely on a wire rack.
For the glaze:
Mix the confectioner's sugar, water, and lemon extract together until if forms a thick glaze. Dollop on the cookies and let the glaze spread out and run down the cookies.

Enjoy!
Recipe Notes
The Nutrition Facts are an estimate only.
Baking time may vary depending on your oven. We used a convection oven to bake these. A conventional oven may require a few minutes longer baking time.
Nutrition Facts
VEGAN LEMON KNOT COOKIES – EGG-FREE AND DAIRY-FREE
Amount Per Serving
Calories 156
Calories from Fat 36
% Daily Value*
Total Fat 4g 6%
Sodium 83mg 3%
Potassium 89mg 3%
Total Carbohydrates 27g 9%
Protein 2g 4%
* Percent Daily Values are based on a 2000 calorie diet.