Easy vegan meal plan: 5 healthy recipes to eat for the week. Don't eat out, eat well and save money with this vegan meal plan.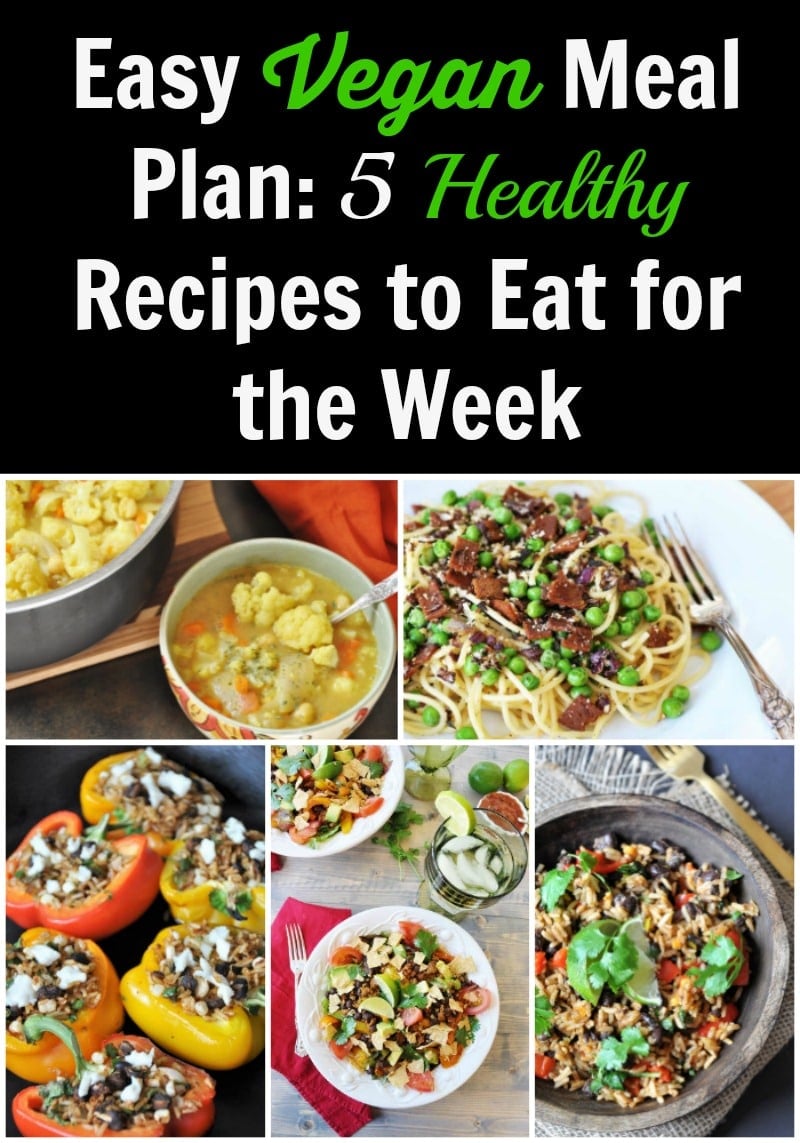 5 MEALS
3 MAIN INGREDIENTS - BLACK BEANS, BELL PEPPERS, BROWN RICE
FEEDS 2 TO 3 ADULTS OR 2 ADULTS AND 2 CHILDREN
I'm back with another delicious meal plan. This week the main ingredients are black beans, bell peppers, and brown rice. They will ensure that you get your protein and healthy carbs. You'll also get your fill of colorful vegetables, and we all know how important color is in regards to a healthy diet. Unless you consider Skittles as a colorful food group, then not so much.
My motto is, eat the rainbow, because a colorful, vibrant diet is a varied and well balanced diet. Take a look at the pictures above, and you'll see red, yellow, green, orange, and gold. If you eat berries, fruit, and more veggies throughout the day, you'll  feel like a shiny pot of gold and have the energy of a leprechaun, or a unicorn, take your pick.
---
Planning Your Meals for the Week
Make Ahead of Time:
Make the black beans for the stuffed peppers, taco salad, and beans and rice ahead of time. Store in the refrigerator in an airtight container.
Make enough brown rice for the stuffed peppers and black beans and rice ahead of time. Store in the refrigerator in an airtight container.
Prepare the bell peppers for the stuffed peppers, the taco salad, and the beans and rice and store in the refrigerator until you're ready to use them.
Chop the cauliflower and carrots for the curry and store in the refrigerator in an airtight container.
Sunday is a great day to prepare the beans and rice so you can speed up the cooking time during the week.
---
 Weekly Meal Plan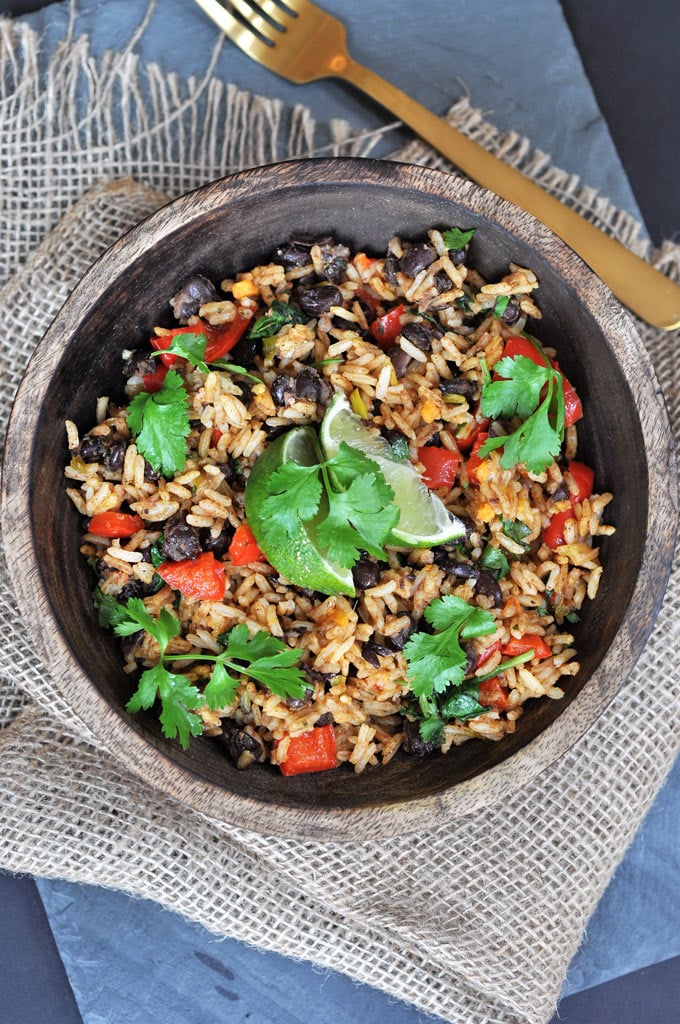 MONDAY
VEGGIE LOADED BLACK BEANS AND RICE
This is the total package. It has protein, smart carbs, veggies, lots of savory spices, and it's delicious. It's also filling, so you'll feel satisfied eating a one bowl meal. Make your night easier by preparing the rice and beans on Sunday so all you'll have to do is cook the veggies and heat it up. Click here for the recipe.
---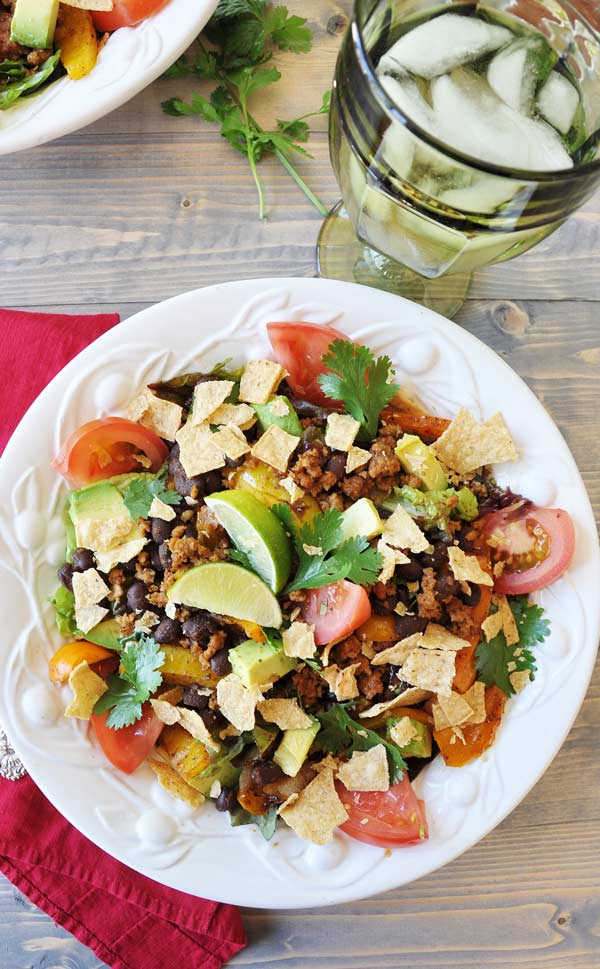 TUESDAY
EASY MEATLESS MONDAY TACO SALAD
Okay, it's not Meatless Monday, but it is Taco Tuesday, so go with it. This is another easy one bowl meal. You've got your veggies, your protein, and your healthy fats, not to mention, a whole lot of yum. Speed up the cooking process by preparing the beans on Sunday, then all you'll need to do is heat (or you could eat them cold) them, chop the veggies, and build it. Click here for the recipe.
---
WEDNESDAY
GRILLED VEGAN DIRTY RICE STUFFED PEPPERS
Delicious, beautiful, and healthy, these gorgeous stuffed peppers are the total package. Like the previous recipes, make the rice and beans on Sunday so all you'll have to do is stuff, saute, and roast. Click here for the recipe.
---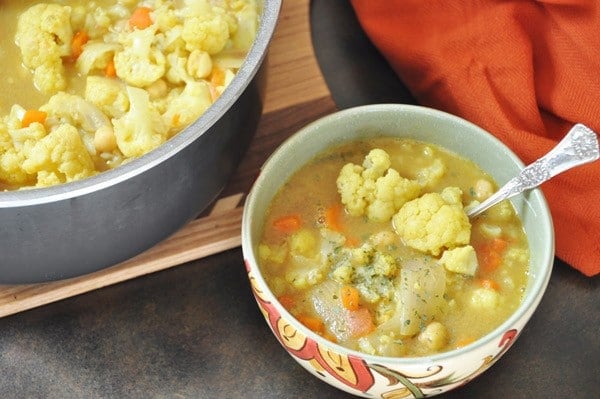 THURSDAY
INDIAN SPICE CAULIFLOWER CURRY SOUP
It's time to take a break from the rice and beans and switch to heartwarming curry. Filled with healthy cauliflower, carrots, chickpeas, and Indian spices, and it's so easy to make. Serve it with a simple spinach and tomato salad with a drizzle of balsamic vinegar. Click here for the recipe.
---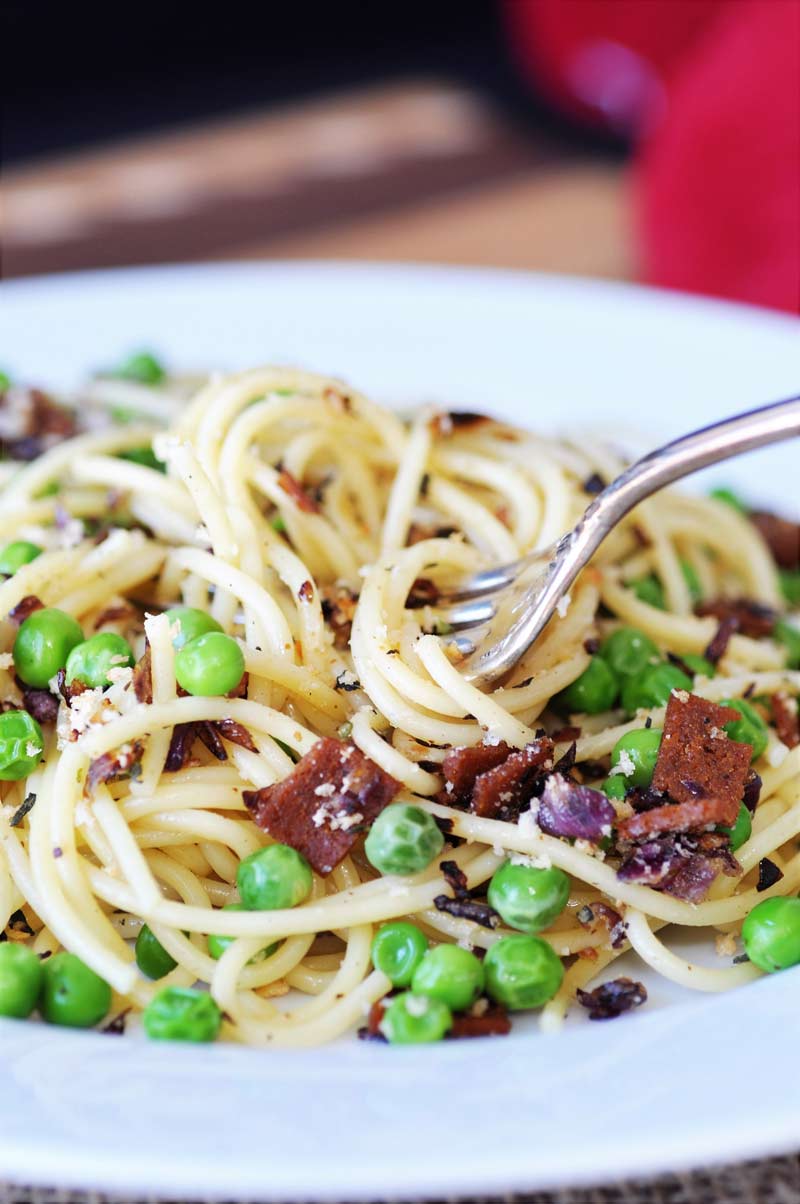 FRIDAY
EASY AND FAST SPAGHETTI WITH PEAS AND VEGAN BACON
Friday calls for cozy pasta and peas, and a glass of wine. Don't forget the vino! This is one of the easiest pasta recipes ever. You can make it gluten-free pasta if you wish, and the peas add a ton of protein. The vegan bacon is optional. Serve this salad (ingredients not included in shopping list) with it for extra greens. Click here for the recipe.
---
SHOPPING LIST FOR THE WEEK
Produce
2 medium red onions
2 large yellow onion
1 bulb of garlic
1 large carrot
1 head of cauliflower
1 head of romaine lettuce
1 large bunch of spinach
1 small bunch of fresh cilantro
7 large bell peppers – red, yellow, or orange (Use any color regardless of the color the recipe calls for)
2 ears of fresh corn or 1 small bag of frozen corn
1 to 2 jalapeno peppers (1 if you don't like a lot of heat, 2 if you do)
3 large green onions or one large white onion
½ cup of cilantro leaves - chopped
2 large tomatoes
1 avocado
3 medium limes (optional)
Dry Goods
1 small package of panko bread crumbs
1 package of spaghetti
1 (15 ounce) can of chickpeas
3 (15 ounce) cans of black beans
2 (15 ounce) cans of light coconut milk
1 small package of brown basmati rice or plain brown rice
1 large container of vegetable broth
1 small bag of corn chips
1 jar of salsa
Frozen/Refrigerated
1 small bag of frozen peas
1 small bag of frozen corn if fresh isn't available.
1 package of vegan bacon (optional)
1 package of shredded vegan white cheese (optional)
Beyond Meat crumbles (optional)
Pantry Staples (Things you should have, but may need to purchase.)
Extra-virgin olive oil (EVOO)
Avocado oil (you can use EVOO in place of this if you don't have both)
Liquid smoke
Italian seasoning
Turmeric
Cumin
Curry
Chili powder
Chipotle chili powder
Coriander
White pepper
Nutmeg
Cinnamon
Sea salt
Black pepper
---
Cooking doesn't have to be hard and monotonous, and eating healthy doesn't have to be boring. Every one of the meals in this post are full of flavor and have a variety of plant-based foods and wonderful spices. Turn on some music, pour yourself a beverage, and enjoy the process of cooking a delicious meal for you and your family. If you're cooking for one or two, cut the recipes in half or pick two or three and eat leftovers a few times a week.
Have a wonderful weekend and eat well!
Let's connect! Hop on over to our Facebook page and give it a like, and follow us on Instagram and Twitter, and follow us and share this and other Veganosity recipes on Pinterest. We'd be so grateful if you did. If you like this recipe and can't wait to see what we're going to share next, subscribe to Veganosity. Just fill in the subscription box above our picture in the top right corner of the page. And, Alex and I love hearing from you, please leave a comment and let us know what you think of our recipes.
This post may contain affiliate links which won't change your price but will share some commission.