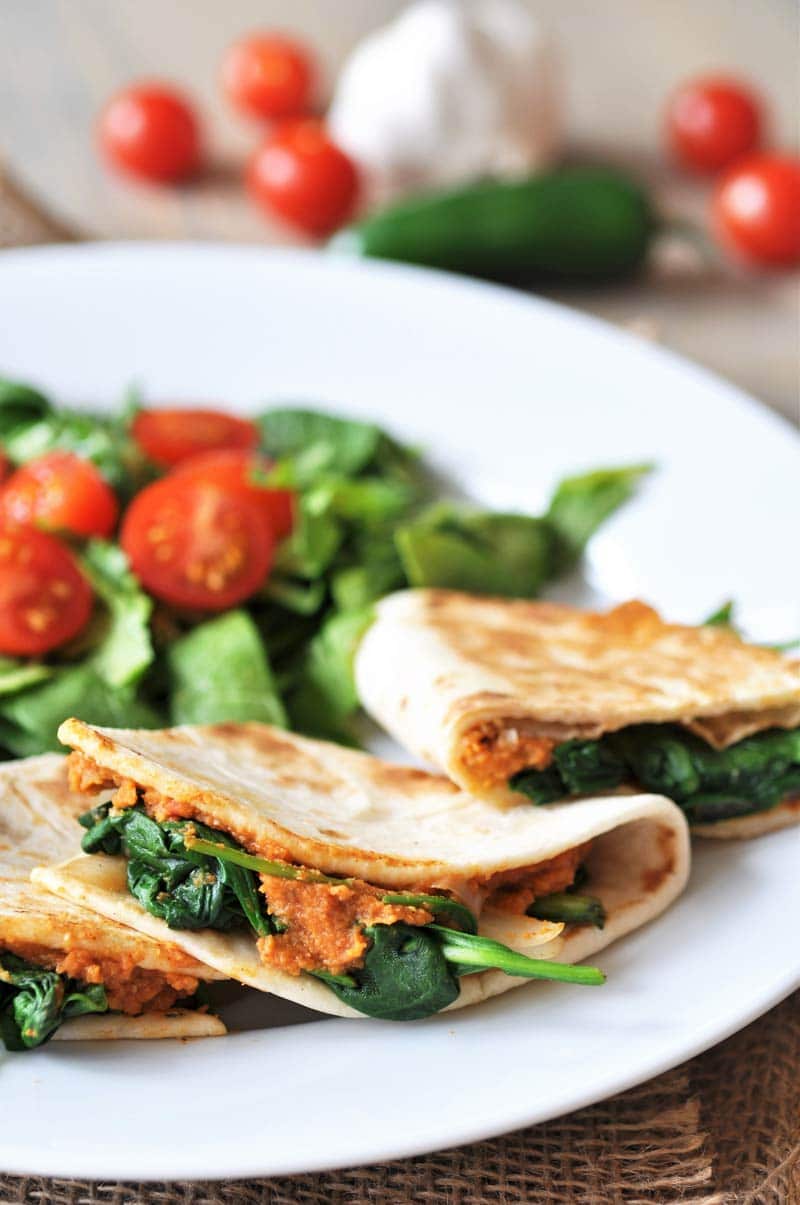 Sink your pearly whites into one of these bad boys, and before you know it, your plate will be empty and you'll be crying for more.
That's what happened to me, and I know it's going to happen to you, because it just doesn't get much better than Spicy Mexican Hummus Quesadillas.
Why is this recipe so good?
Spicy.
Hummus.
Mexican.
Spinach.
Onions.
Easy.
Fast.
Healthy.
Vegan.
That's right, you get all of that in one little tortilla sandwich of yum. Cue the drool!

Just hours after I posted my spicy Mexican hummus recipe on Monday, I received a comment from one of my readers, letting me know how much she loved the hummus. Then I got another one. People didn't tuck this one away for a rainy day. They made it and they loved it, so much so that they took the time to let me know.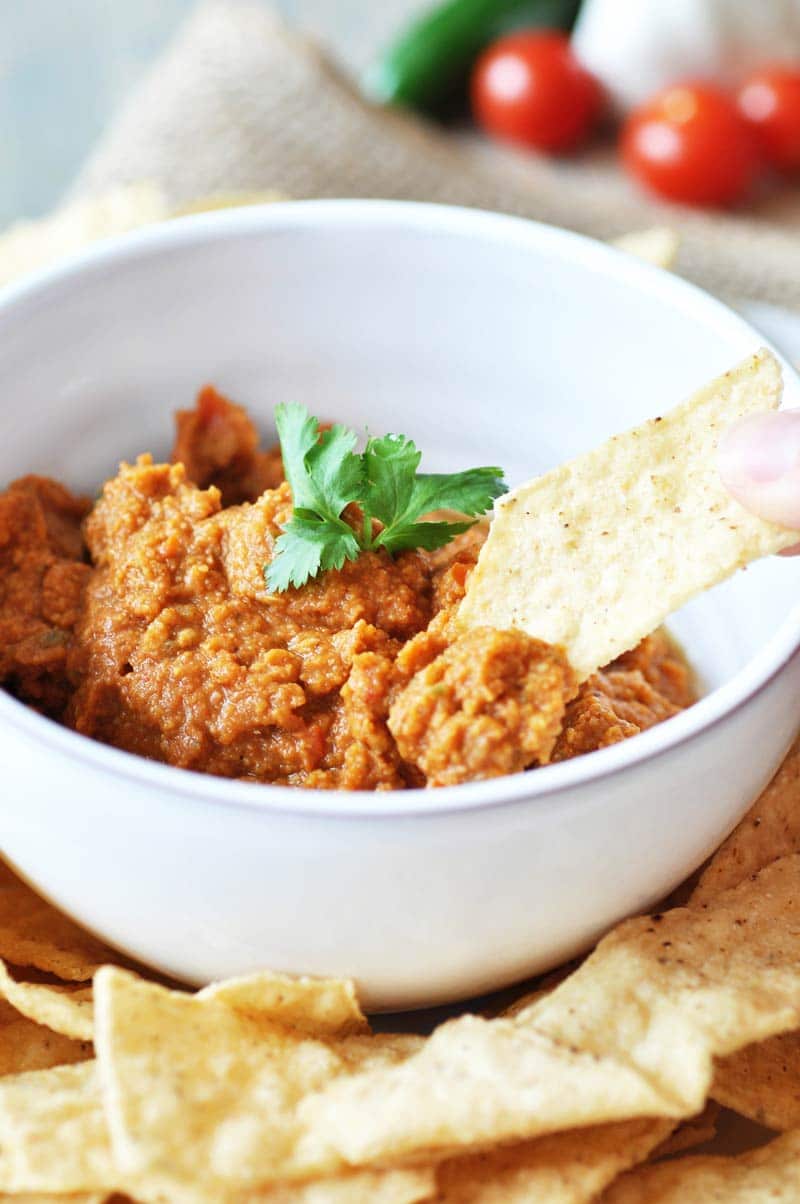 This flavorful and comfy spicy Mexican hummus quesadilla recipe gives you an excuse to make a big batch so you can double your pleasure. You can dip things in it and then fill tortillas with it. Yay, yay, yay!
Wednesdays are always tough days for me to get motivated to make dinner. Do you feel the same way? I don't know if it's because it's the middle of the week and I feel like I need a break? Or, is it because it's the middle of the week and I definitely need a break?
If you're feeling like I'm will tonight, this hummus quesadilla recipe is for you. All you'll need to do is whip up a batch of spicy Mexican hummus, sauté an onion—any type you like—and some spinach, fill half of a flour or corn tortilla with the hummus, spinach, and onions, fold the unfilled half of the tortilla over the filled half, drop it in a hot pan, and cook it for three to five minutes on each side.
Boom! Dinner is served!
You're welcome.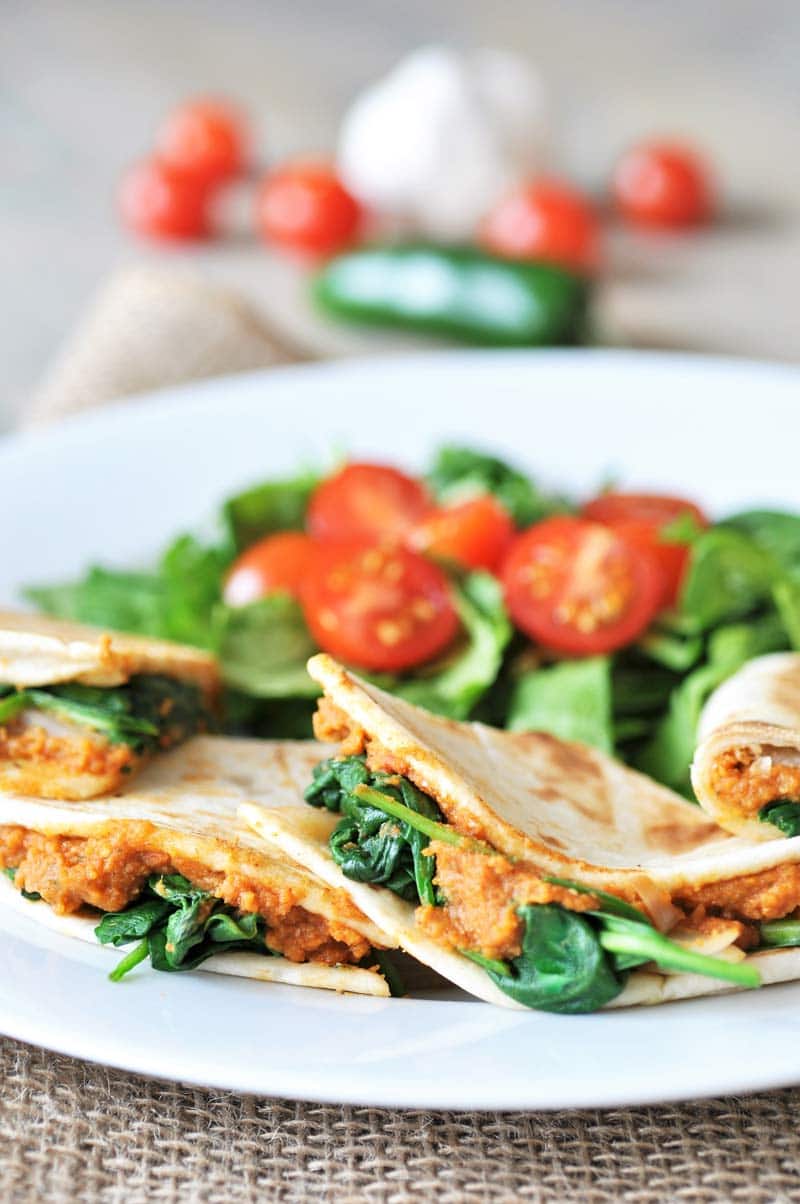 Just in case you missed us on Instagram yesterday.
Did you know that yesterday was National Pig Day? If you missed it and you want to celebrate our intelligent friends today, tomorrow, or every day, you have to make our pulled BBQ carrots. This dish has become one of our most popular and revered recipes on the blog. Check it out here. Make them for your friends and family and show them how good plants can taste.
Tell me:
Have you tried my spicy Mexican hummus yet?
Did you celebrate National Pig Day?
Are you going to make Spicy Mexican Hummus Quesadillas for dinner tonight?
If you like this recipe and can't wait to see what we're going to share next, subscribe to Veganosity. Just fill in the subscription box above our picture in the top right corner of the page. Alex and I love hearing from you. Please leave a comment and let us know what you think of our recipes. And let's connect! Hop on over to Facebook page and give it a like, or follow us on Instagram or Twitter, and follow us and share this and other Veganosity recipes on Pinterest. We'd be so grateful if you did.
This post may contain affiliate links which won't change your price but will share some commission.

Spicy Mexican Hummus Quesadillas
A spicy, savory, healthy Mexican hummus filled quesadilla that's quick and easy to make.
Print
Pin
Rate
Ingredients
Click here for the hummus recipe

1

teaspoon

of avocado oil or whatever vegetable oil you prefer or 2 tablespoons of water

1

large onion

red, white, or yellow – peel the skin and slice into thin slivers

10

cups

of fresh baby spinach

Salt and pepper to taste

4 8

" flour or corn tortillas
Instructions
Heat a large cast-iron skillet or a large pan on medium-high heat. When the pan is hot (sprinkle a few drops of water in the pan, if it sizzles the pan is ready) add the oil or water and spread evenly in the pan. Add the onion slices and spread them evenly in the pan. Stir frequently until they begin to caramelize or their edges turn brown. Approximately 5 to 8 minutes. Add the spinach and spread evenly in the pan. Stir frequently. Cook until the spinach is wilted. Approximately 5 minutes. Salt and pepper to taste.

Remove the onion and spinach mixture from the pan.

Lay the tortillas flat and spread a half inch to an inch thick layer of hummus on half of the tortilla. Put an even layer of the onion and spinach mixture on top of the hummus and fold the unfilled layer over the filled part of the tortilla. Transfer to the hot skillet and cook until the tortilla begins to crisp up and turn a light golden brown. Carefully flip the quesadilla and cook until that side turns a light golden brown. Approximately 3 to 5 minutes per side depending on how hot your pan is.

Cut into triangles and enjoy!