Holy guacamole you just HAVE to try this spicy oil-free Mexican hummus! If you're a chili powder, cumin, garlic, jalapeno, and chickpea loving kind of person, then this is for you.
This fusion dip was inspired by the multiple personality cravings that I was having a few days ago. The left side of my brain was telling me that I wanted a traditional hummus. The right side of my brain was saying, wait a minute, not so fast, let's make something exciting and out of the box.
The creative side won and I'm so happy it did.
My love of all things spicy is no secret to those who know me. Give me all of the chili peppers and sriracha. All day. Every day. This oil-free Mexican hummus is all that, and it makes me oh so very happy.
Another wonderful thing about this red hot dip is how easy it is to make. The only thing that you'll need to cook is the garlic. And that really doesn't count as cooking, because you only have to blanch the garlic in boiling water for two minutes. Why not add raw garlic? You can if you want your hummus to have a sharp raw garlic flavor, and you don't mind people crossing the street to get away from the pungent aroma oozing from your pores. If that sort of thing bothers you, blanch the garlic.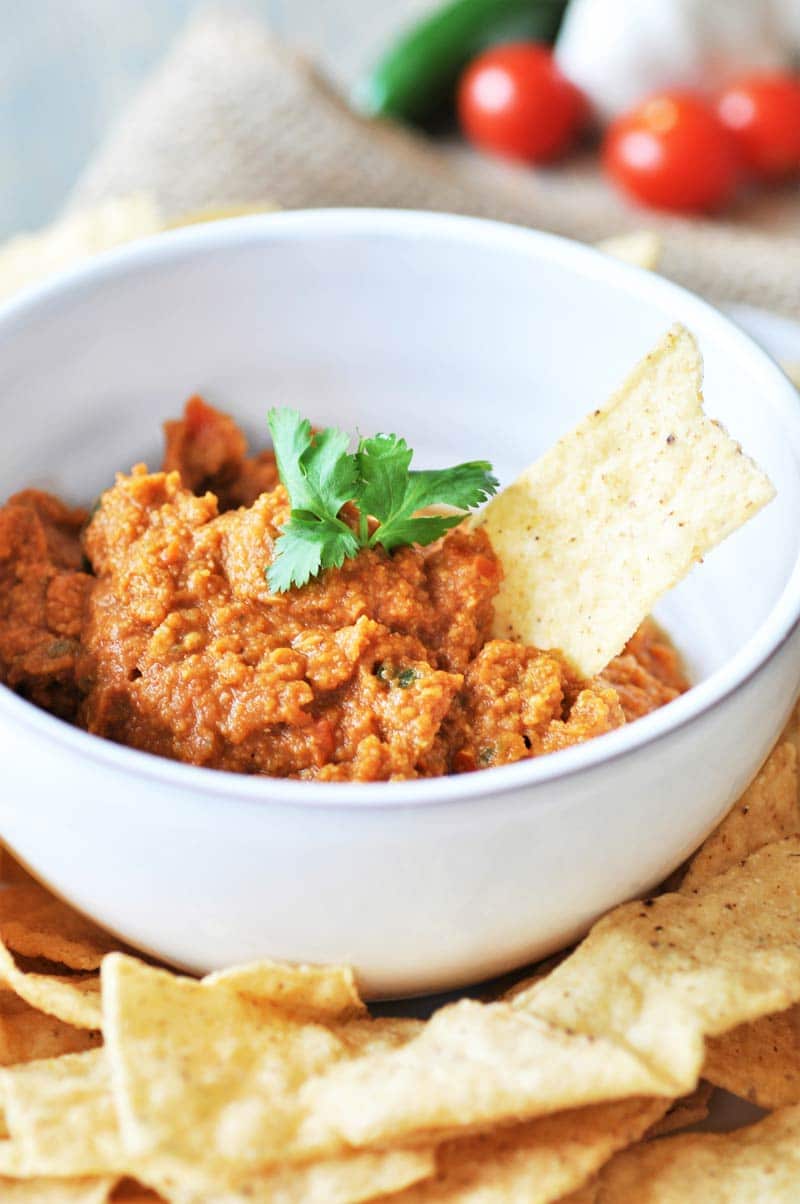 It's Monday, we had beautiful weather in Chicago over the weekend, and I spent a lot of time outside. Today I'm playing catch up in the house and on the blog. The good news for you is that I won't take up a lot of space in this post with my babble. YAY! Let's get to the recipe, shall we?
You're going to need a food processor to get the chickpeas, garlic, jalapeno, and tomato to break down into a nice and creamy texture. I've tried making hummus with a mixer and it just doesn't have enough oomph to get the job done. A paddle doesn't do what a blade can do.
Drain and rinse your chickpeas and put them in the processor. Blanch the garlic and put it in the processor. Add the seeded jalapeno (if you like super spicy you can leave the seeds), the tomato, and the spices, and start to blend. You'll want to add the water to the mix slowly as the tomato will add water as well, and you don't want watery hummus.
Most people are used to adding quite a bit of oil to hummus, and if that's your jam, feel free to add oil instead of water. Just know this, water will reduce the caloric and fat count significantly, and, water makes the chickpeas fluffier. Oil makes a heavy and dense hummus, water makes it lighter and airier. It's your call.
If you love spicy food, and you love hummus, you're going to LOVE this recipe. I've combined the best of both worlds in one flavorful, healthy, and easy to make dip. What more could you ask for on a Monday morning?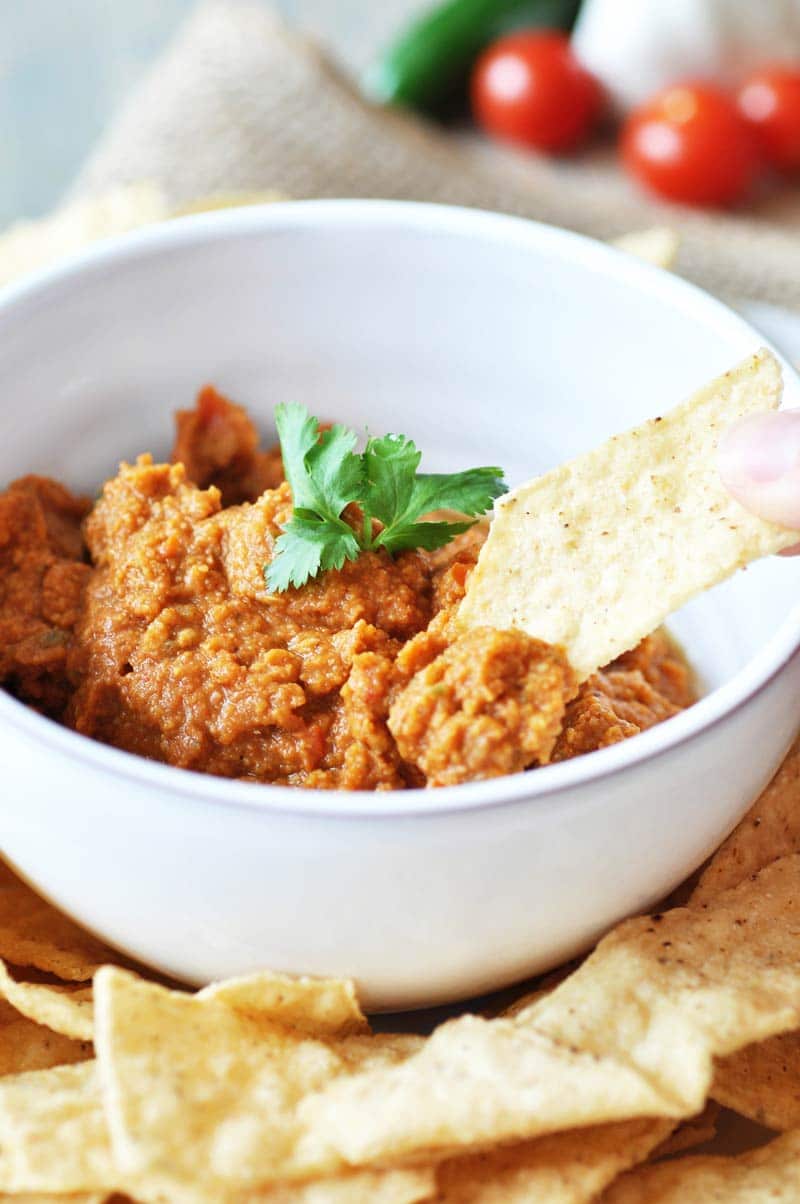 On Wednesday I'm going to share a delicious recipe that requires this spicy oil-free Mexican hummus. If you haven't subscribed to the blog make sure that you do now so you don't miss it. Sign up in the subscription box above our picture in the upper right column.
Tell me:
How was your weekend?
Are you ready for spring?
Are you a spicy person?
Alex and I love hearing from you. Please leave a comment and let us know what you think of our recipes. And let's connect! Hop on over to Facebook page and give it a like, or follow us on Instagram or Twitter, and follow us and share this and other Veganosity recipes on Pinterest. We'd be so grateful if you did.
This post may contain affiliate links which won't change your price but will share some commission.

Spicy Oil-Free Mexican Hummus
Kick up the flavor of your hummus. This spicy, oil-free, Mexican hummus brings the tastes of Mexico to the creaminess of hummus. A fun alternative to guacamole.
Print
Pin
Rate
Ingredients
1 15

ounce

can of chickpeas – drained and rinsed well

2

cloves

of garlic – blanched

1

jalapeno pepper – seeded

1

tablespoon

of chili powder

1

teaspoon

of cumin

1

teaspoon

of finely ground sea salt

¼

cup

of seeded and chopped tomato

½

cup

of water
Instructions
Boil two cups of water in a small sauce pan and add the garlic cloves. Turn off the heat and let the garlic sit for two minutes. Remove the garlic and put in the food processor.

Add the chickpeas, jalapeno, chili powder, cumin, salt, and tomato and begin processing. SLOWLY add the water. When the hummus is thick and creamy stop adding the water.

NOTE: If you like super spicy food you can leave the seeds in the jalapeno.

Enjoy!