Five dinners that you can whip up in an hour or less! They're healthy, they're easy, and they're delicious. We also give you prep tips and a shopping list to make eating healthy even easier.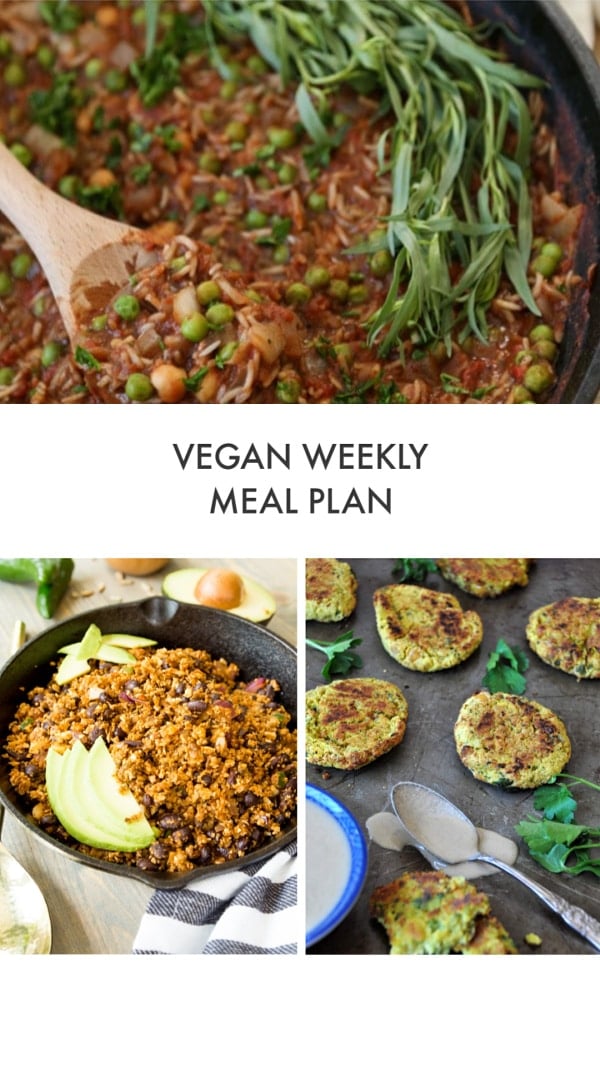 "Before anything else, preparation is the key to success." ― Alexander Graham Bell, inventor
WHY PLANNING YOUR MEALS WILL HELP YOU EAT HEALTHIER
If your goal is to eat healthier, save money, and spend quality time with loved ones, then our meal plans are for you. We hand picked five dinner recipes that use similar ingredients, so you can prep ahead and spend less time cooking and more time doing the things that you love to do. Like eating.
Our weekly meal plan works for one to four people. If you're making food for one, pick two or three of the recipes and you'll have enough leftover from each meal to feed yourself throughout the week.
Following a meal plan will prevent you from eating fast food or tearing open a box of prepared food that's most likely filled with sugar, sodium, and saturated fat. Our meals are made with whole foods that taste great and are good for you. A much better choice.
You'll also save money, because eating out and buying prepared foods is much more expensive than buying whole foods.
OUR FREE MEAL PLANS ARE EASY TO FOLLOW AND HEALTHY
We love helping people eat healthier foods that are good for everyone. Our vegan meal plans are good for you, animals, and the environment.
They are also easy to follow and our prepping tips will make your weeknights even easier. We show you how to prepare the bulk of the meals on Sunday so you can whip up a meal in no time on Monday, Tuesday, Wednesday, Thursday, and Friday.
PREPARING YOUR MEALS FOR THE WEEK
This week's meal plan is built around our Healthy Vegan Taco Filling. You're going make a double batch and use it for three of the five meals.
Please keep in mind that the shopping list doesn't include spices, oil, or pantry/refrigerator staples. Please check over the ingredients in the recipes and add what you need to the shopping list. 
SUNDAY
FIRST – Make two batches of the vegan taco meat. Click here to go to the recipe. Store it in an air-tight container in the refrigerator.
NOTE: Don't double the spices in the recipe, especially the cayenne. You'll want to add the amount of spice called for, then add more slowly to taste.
SECOND – Make the Chili  Con Carne today (this takes more than an hour, and that's why you want to make it while you're prepping for the week).
NOTE: Skip the cauliflower in the chili recipe, because you're going to add 3 cups of the taco filling instead.
OPTIONAL: If you have the time, make the falafel today and then all you'll have to do is heat them when you're ready to eat them.
MONDAY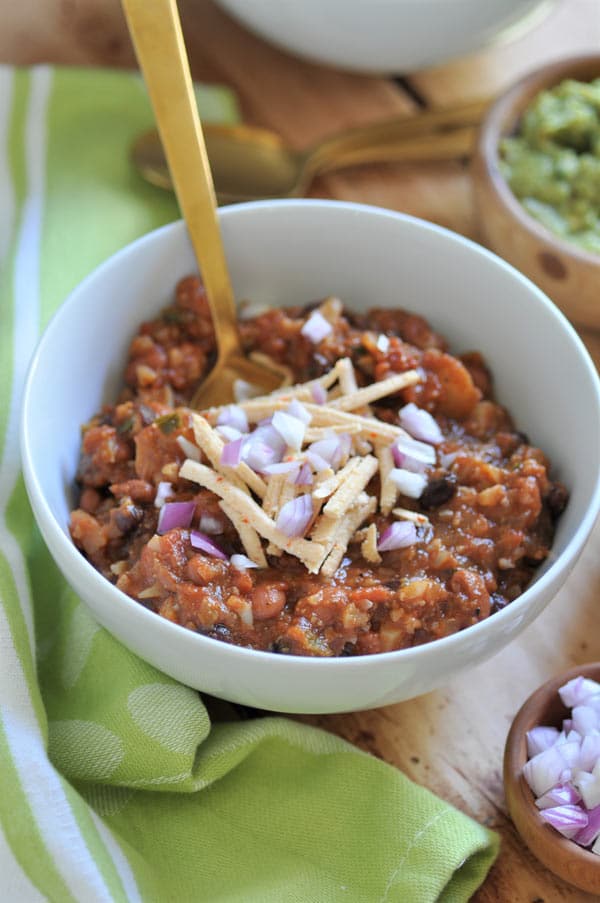 If your Mondays are like ours, this is the day that tempts us to order take out. That's why we chose chili for Monday's meal.
You're going to be so happy that you prepped the chili on Sunday because all you'll need to do is heat it up, whip up the cornbread, and enjoy.
NOTE: If you're not a fan of spicy food, you can leave the jalapeno pepper out of the cornbread.
"
Add a side salad so you get your daily allowance of greens in.
TUESDAY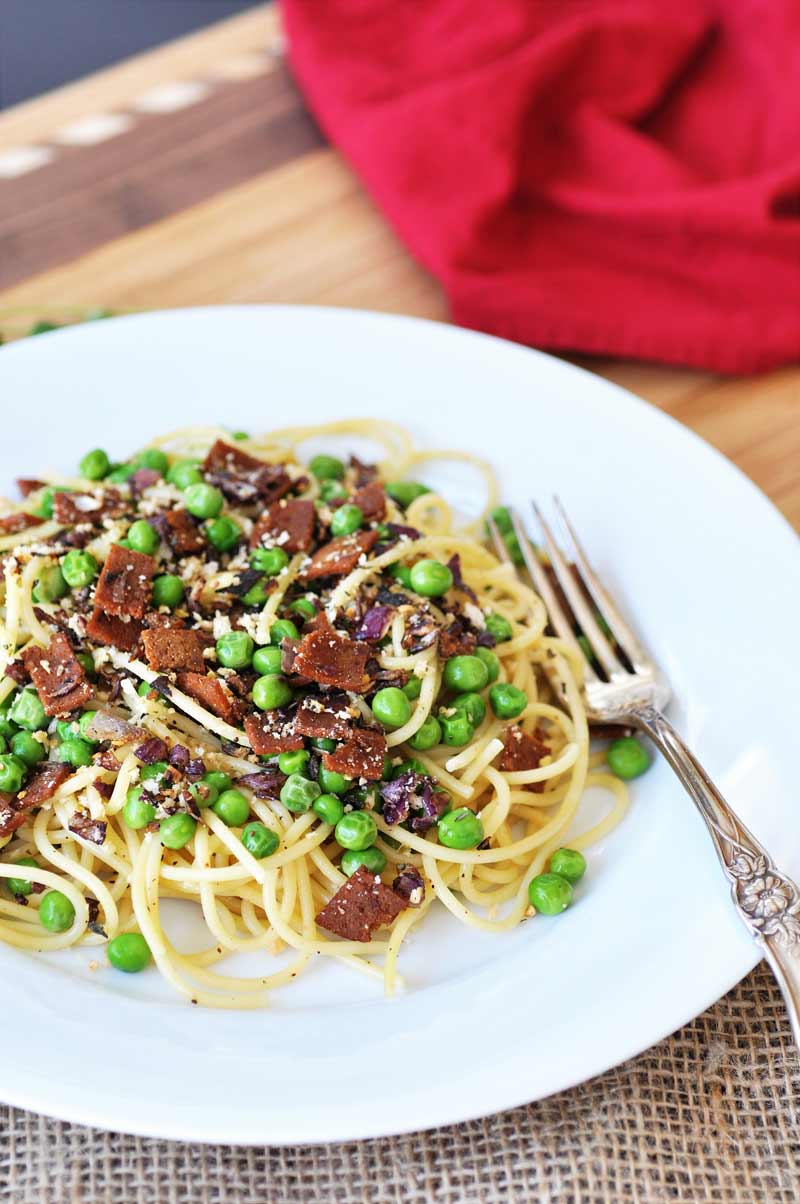 Spaghetti with Peas and Healthy Taco Meat Filling
Okay, there is a variation in this recipe. You're going to substitute the vegan bacon for the Healthy Vegan Taco Filling. Add a few cups to the pan when you're heating the peas with the onion and garlic until it's warmed through.
Serve with a salad if you want more veggies.
WEDNESDAY
We love this simple and tasty recipe, and we're amping it up with our Healthy Taco Filling, which adds more texture and flavor.
Make the recipe as is and heat up some of the taco filling and add it to the tortillas when you're filling them. Delicious!
Add some fresh cilantro to the top for added flavor!
THURSDAY
Indian Spiced Tomato and Rice Stew
This is a super easy and flavorful one pot meal. It has so many healthy ingredients in it. All you'll need to do is get it started, then let it simmer while you prepare a crsip side salad to go with it.
NOTE: If you can't find or afford to buy the fresh herbs, you can use dried herbs. Add by the 1/2 tsp until the flavor suits your taste.
FRIDAY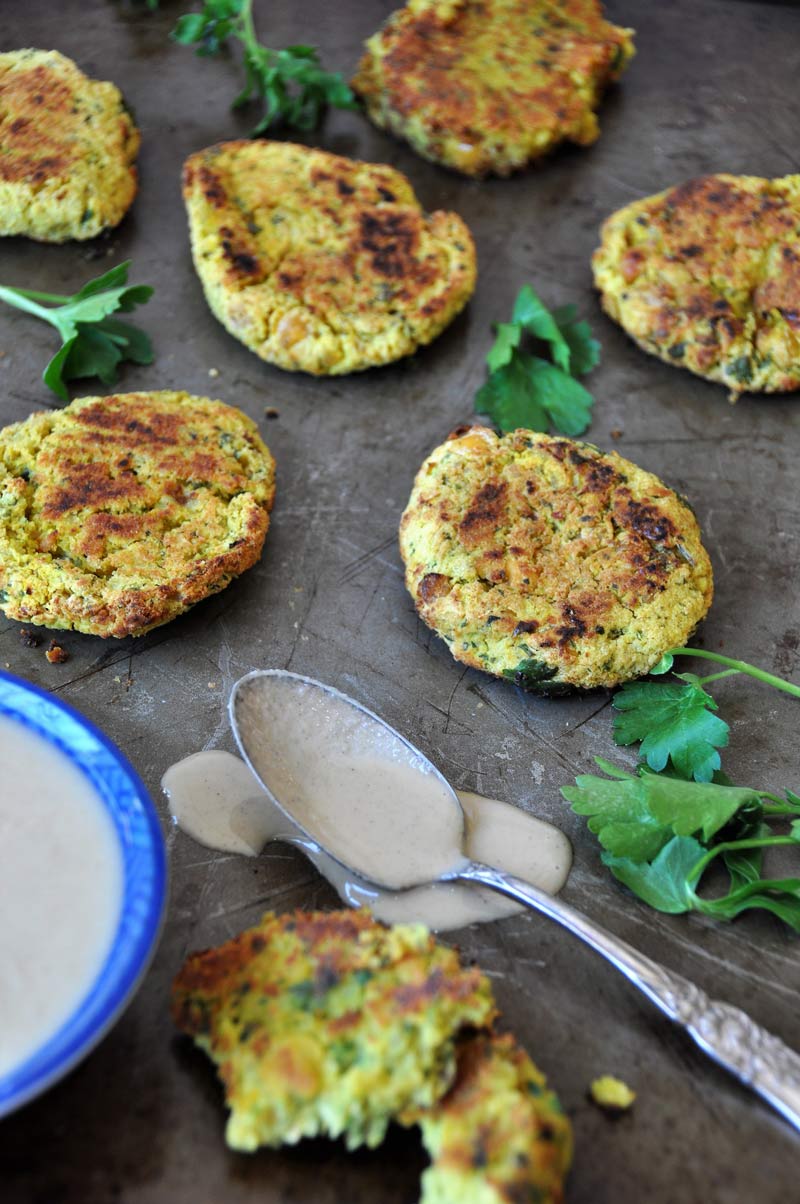 CUCUMBER TOMATO CILANTRO SALAD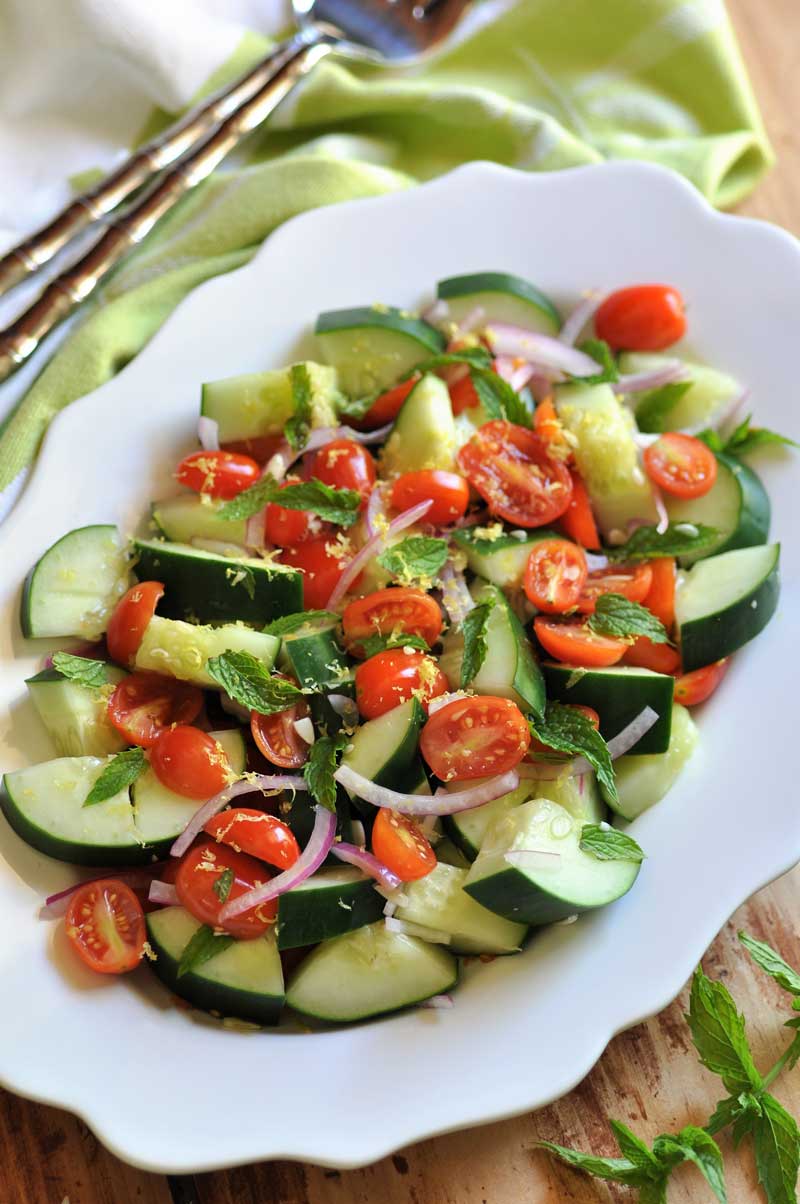 The warm and savory spices in the falafel go so well with the fresh crips cucumbers and juicy tomatoes in this salad. I
NOTE: Instead of adding mint to this salad, we suggest swapping it for cilantro to go with the falafel.
Add some warm pita bread for a complete meal.
We hope that this makes your week a lot easier and more delicious. If you have any questions, always feel free to email us. We're here for you.
Make this and let us know what you think. We love to hear from you! And, don't forget to take a picture of your gorgeous creation and tag us @veganosity on Instagram.
Let's connect! Hop on over to our Facebook page and give it a like, and follow us on Instagram and Twitter, and follow us and share this and other Veganosity recipes on Pinterest. We'd be so grateful if you did. If you like this recipe and can't wait to see what we're going to share next, subscribe to Veganosity. Just fill in the subscription box above our picture in the top right corner of the page. And, Alex and I love hearing from you, please leave a comment and let us know what you think of our recipes.
START YOU DAY WITH A HEALTHY BREAKFAST
We want you to be the rock star we know you are, and help you slay the day!
When you're prepping for the week, make one of our overnight oats recipes so you can have a delicious and healthy breakfast option at the ready.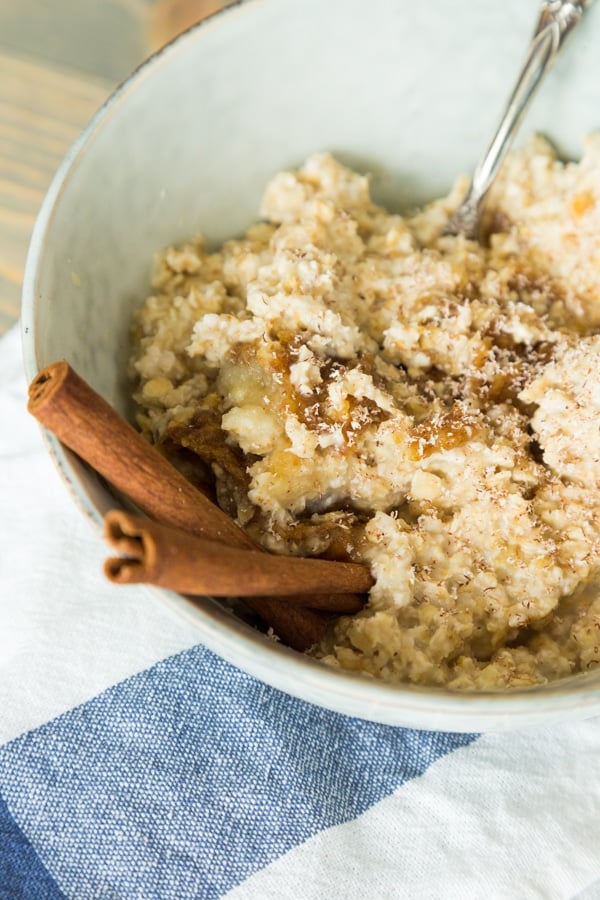 SHOPPING LIST
Please keep in mind that the shopping list doesn't include spices, oil, or pantry/refrigerator staples. Please check over the ingredients in the recipes and add what you need to the shopping list.

Course:
Entree, Main Course
Keyword:
vegan meal plan, weekly meal plan
Ingredients
Produce
1

cauliflower

2 to

matoes

2

cups

cherry tomatoes

Small head of romaine lettuce

2

large cucumbers

4

white onions

3

red onion

1

avocado

3

cups

fingerling potatoes

5

jalapeno peppers

if you don't like spicy food, you may want to limit this ingredient

3

heads of garlic

1

bunch cilantro

you will use this for several meals so buy a super fresh bunch and store it in the refrigerator

3

limes

4

lemons

1

tbsp

fresh tarragon

½

cup

fresh basil

½

cup

fresh parsley
Refrigerated/Frozen
1

bag of frozen peas

1

small cup of vegan PLAIN unsweetened yogurt

not coconut
Dry Goods
1

cup

sunflower seeds

30

oz

black beans

15

oz

dark red kidney beans

15

oz

light red kidney beans

45

oz

chickpeas

2

26 oz cans crushed tomatoes

32

oz

vegetable broth

Finely ground yellow cornmeal

Basmati rice

16

oz

package of spaghetti

Harissa

small jar

6

medium tortillas
Recipe Notes
The Nutrition Facts are an estimate only and are calculated for the ingredients on the shopping list for the entire meal plan.
Nutrition Facts
SHOPPING LIST
Amount Per Serving
Calories 2130
Calories from Fat 360
% Daily Value*
Fat 40g62%
Sodium 1571mg68%
Potassium 4687mg134%
Carbohydrates 362g121%
Protein 97g194%
Vitamin A 2225IU45%
Vitamin C 186.9mg227%
Calcium 540mg54%
Iron 27mg150%
* Percent Daily Values are based on a 2000 calorie diet.