This delicious vegan recovery smoothie tastes as good as it looks. This dairy-free smoothie is easy to make and delicious. It's filled with protein, vitamins, amino acids, and omegas that will help your body recover from a hard workout. If smoothies aren't your thing, try our Strawberry Shortcake Smoothie Bowl.

This post may contain affiliate links which won't change your price but will share some commission.
Hi there! We're Linda and Alex, the mother daughter duo and creators of Veganosity. Thanks for visiting us, we're so happy you're here. If you're looking for Southern inspired vegan comfort food recipes, you've come to the right place.
We love vegan comfort food and we're really good at making it. Take a tour through our site and you'll find all of the recipes that scream, stretchy pants required!
The good news, they're all plant-based recipes, so you don't need to feel guilty eating them. Now sit back, relax, and eat happy. 🙂
Also, in case you didn't know, we're published cookbook authors. We've written two vegan cookbooks that will help you make amazing vegan BBQ (you don't even need a grill) and everyday meals, from breakfast to dessert.
Click on the titles to check them out. GREAT VEGAN BBQ WITHOUT A GRILL
and THE ULTIMATE VEGAN COOKBOOK
.
Vegan Protein Bars are a Smoothie Alternative
Homemade Protein Breakfast Bars
Vegan Vanilla Brownie Protein Bars
Skip the Protein Powder
If protein powders aren't your thing, then you should try making a smoothie that's made with foods that are high in protein.
This dairy-free smoothie is made with almond milk (protein), peanut butter (protein), hemp hearts (protein and omegas), and a frozen banana and pineapple to make it smooth and creamy, and to add vitamins and antioxidants.
It's also super easy to make. All you have to do is put the ingredients in the blender and blend until the pineapple and banana are broken down into a smooth and creamy smoothie.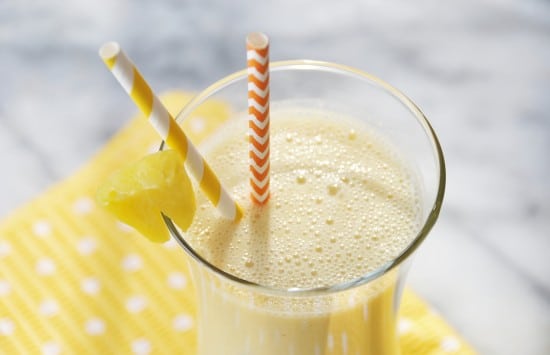 Tips to Make the Best Smoothie Recipe
Whether you make this vegan smoothie recipe or a different flavor, here are some tips that will help you get it right every time.
Add the liquid first. This will make it easier for your blender to break down the solids.
Use frozen fruit instead of ice. Ice melts, and that means a watered down smoothie. Frozen fruit will ensure that your drink is delicious until the last sip.
Add just the right amount of liquid; not enough and you'll end up with a smoothie bowl, too much and you'll get juice.
Include spinach and/or kale to add extra vitamins and nutrients.
More Vegan Smoothies You'll Love
Vegan Carrot Turmeric Ginger Smoothie
Make our vegan recovery smoothie and let us know what you think. We love to hear from you! And, don't forget to take a picture of your gorgeous creation and tag us @veganosity on Instagram.
Let's connect on Instagram and Twitter. You'll get a peek into our everyday lives in our stories and see what we're sharing in our feed.