Easy Homemade Vegan French Onion Soup that tastes like traditional French onion soup, only this is made with vegetable stock and vegan mozzarella cheese. It has a rich and flavorful broth and gooey melted vegan mozzarella on top. SO GOOD! If you love caramelized onions as much as we do, this soup is going to rock your vegan life. So will our Onion Confit Tartlets and our Baked Onions with Fennel Breadcrumbs recipe.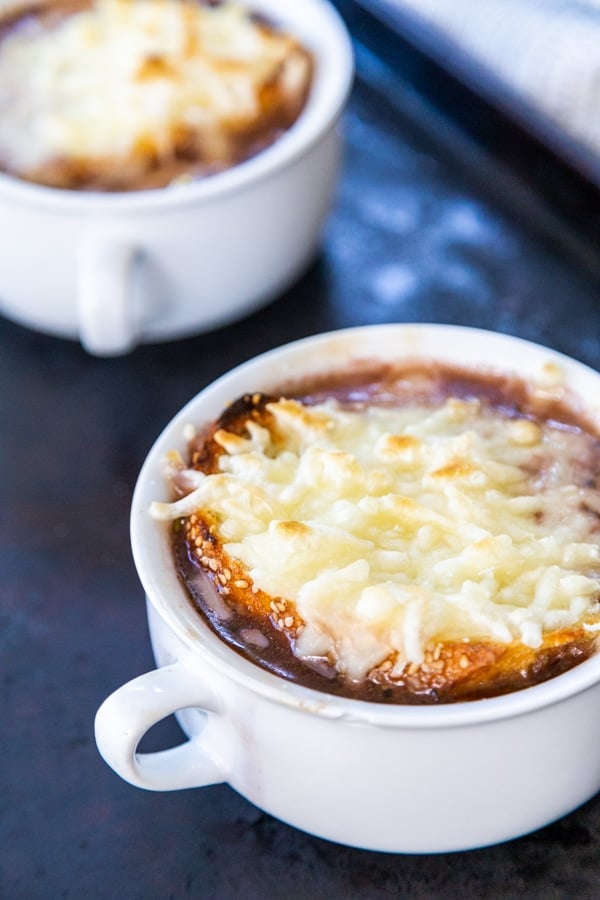 This recipe was originally published on October 15, 2014 and updated on August 25, 2019.
This post may contain affiliate links which won't change your price but will share some commission.
Hi there! We're Linda and Alex, the mother daughter duo and creators of Veganosity. Thanks for visiting us, we're so happy you're here. If you're looking for Southern inspired vegan comfort food recipes, you've come to the right place.
We love vegan comfort food and we're really good at making it. Take a tour through our site and you'll find all of the recipes that scream, stretchy pants required!
The good news, they're all plant-based recipes, so you don't need to feel guilty eating them. Now sit back, relax, and eat happy. 🙂
Also, in case you didn't know, we're published cookbook authors. We've written two vegan cookbooks that will help you make amazing vegan BBQ (you don't even need a grill) and everyday meals, from breakfast to dessert.
Click on the titles to check them out. GREAT VEGAN BBQ WITHOUT A GRILL
and THE ULTIMATE VEGAN COOKBOOK
.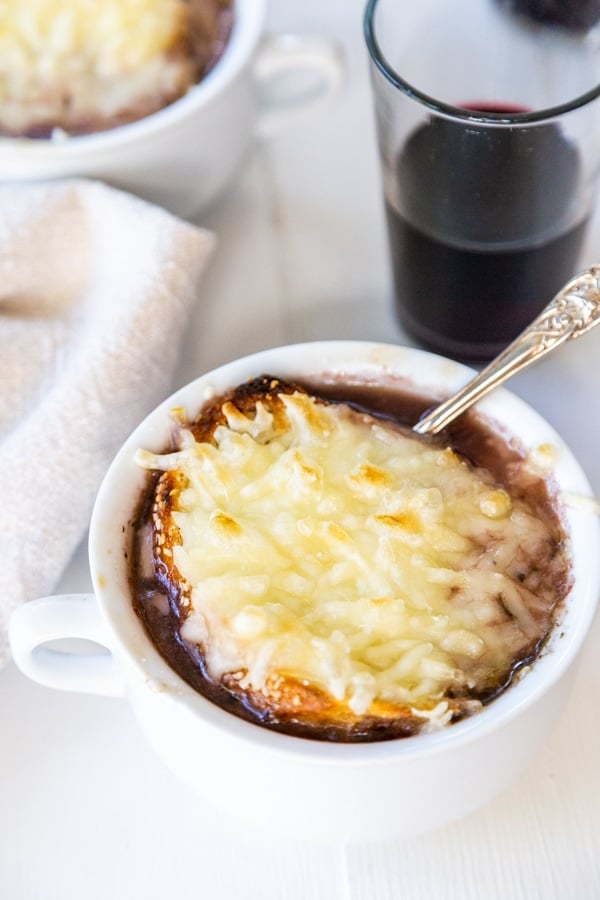 DAIRY-FREE FRENCH ONION SOUP
We're not going to lie, when we went vegan (almost 6 years ago), we thought the days of making French onion soup were over.
Although we had used vegetable stock to make ours, because we didn't eat beef or pork, we never thought that we could find a vegan mozzarella to layer over the soup and toasted bread.
Then we discovered that we could make our own plant-based mozzarella cheese and our lives were changed.
We're so excited to share this easy French onion soup recipe with you, and can't wait to hear what you think about it.
QUICK FRENCH ONION SOUP RECIPE
Add the word, French, to a recipe and people shy away. The French are known for creating complex and fancy foods that most home cooks are afraid to make.
Here's the thing, this onion soup is SO easy to make!
The most time-consuming part is caramelizing the onions, but that only takes about 15 minutes, and the way they'll make your kitchen smell is totally worth it.
Once the onions are ready, it's all about adding ingredients and stirring. EASY!
WHAT INGREDIENTS DO I NEED TO MAKE FRENCH ONION SOUP?
The ingredients in this homemade French onion soup recipe are super basic.
You'll need:
White onions – they need to be thinly sliced. Make sure you slice them evenly so they cook evenly.
Vegan butter - we use Miyoko's or Earth Balance
Extra-virgin olive oil – use the best quality oil you can find because flavor matters.
Garlic
Red wine or balsamic vinegar if you don't cook with wine.
Flour – this will give the soup body.
Vegetable stock or no beef broth
Bay leaves
Thyme
Sea salt and black pepper to taste
TOPPINGS
Sliced and toasted French bread
Vegan mozzarella cheese – there are several brands we like. Violife shredded or Miyoko's Mozz are our favorites.
Toppings are optional. Feel free to eat the soup without if you want.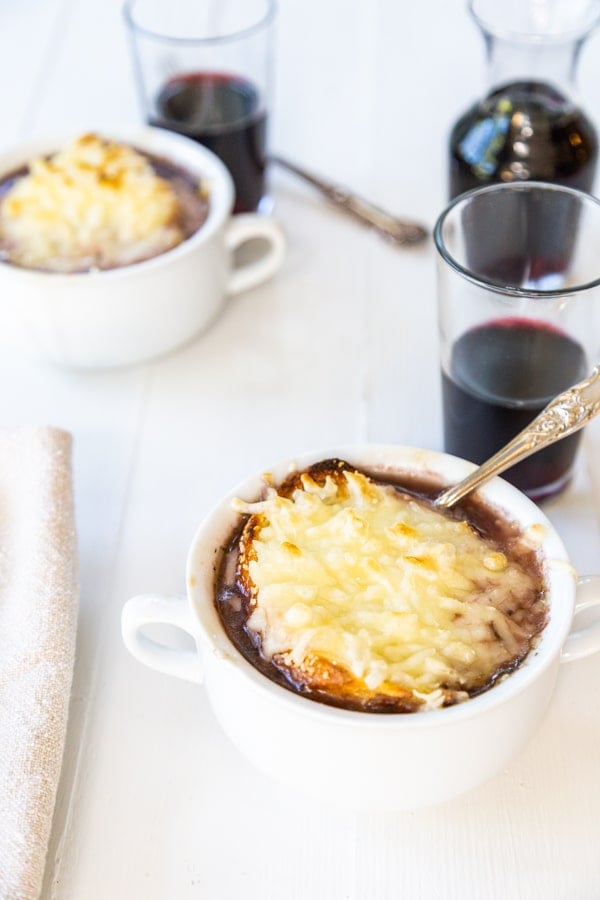 HOW DO YOU MAKE VEGAN FRENCH ONION SOUP?
The base of vegan or vegetarian French onion soup is the same, you swap out the beef broth for a plant-based broth.
To make it more flavorful we buy vegetable stock. Stock is richer than broth and works best for this soup.
You can also buy a no-beef bouillon if you like. Just follow the instructions to make 64 ounces of broth.
STEP ONE
Caramelize the onions in the butter and olive oil.
This will take approximately 15 minutes and you'll need to stir the onions often to prevent them from burning.
STEP TWO
Add the wine or vinegar and stir. Cook until it reduces to a thick gravy like consistency.
STEP THREE
Sprinkle the flour over the onions and stir to coat.
The flour adds body to the soup.
STEP FOUR
Add the garlic and cook for 1 minute, then add the stock/broth, thyme, and salt and pepper and bring it to a boil.
Reduce the heat and simmer for 15 minutes.
STEP FIVE
Fill the bowls with the soup and put a piece of toasted bread on top and then cover with shredded vegan mozzarella cheese.
Put the bowls under the broiler and let the cheese melt and bubble.
Make sure to watch the soup carefully when broiling so it doesn't burn.
HOW TO MAKE QUICK CARAMELIZED ONIONS
There isn't a way to hurry up caramelized onions. They need time.
If you turn the heat up, you'll burn them. It's just reality, my friend.
Having said that, it only takes 15 minutes to caramelize onions for French onion soup because you want them to be lightly caramelized.
If you're caramelizing onions until they're completely caramelized and a deep golden brown, you'll need to set aside approximately 20 minutes.
STEP ONE
Heat the vegan butter and olive oil over medium heat until the butter is just beginning to bubble.
Add the thinly sliced onions and stir to coat in the butter and oil.
NOTE: Make sure you slice the onions evenly so they cook evenly.
STEP TWO
Cook the onions on medium heat until they soften then reduce the heat to medium-low and cook for approximately 15 to 20 minutes, depending on how brown you want them to be.
Stir often.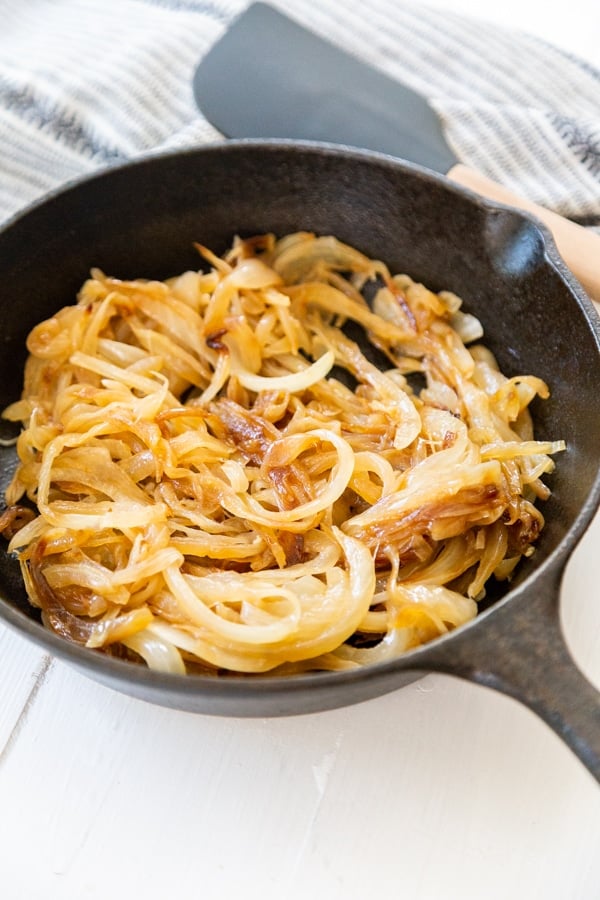 CAN YOU MAKE FRENCH ONION SOUP WITHOUT WINE?
Yes, you absolutely can.
If you don't cook with alcohol, you can substitute a good balsamic vinegar for this recipe.
The wine adds a lovely flavor and acid to the soup, and although the flavor of balsamic isn't quite like wine, it gets the job done.
You can also caramelize onions with balsamic vinegar whenever a recipe calls for wine.
ARE ONIONS HEALTHY? 
Yes! Here are some of the nutrients they provide:
Vitamin C
Fiber
Calcium
Iron
Protein
They're also low in sodium and are fat free. To read more about this amazing plant food, click HERE.
MORE VEGAN SOUP RECIPES YOU'LL LIKE
ITALIAN LEMON ROSEMARY BARLEY SOUP 
SPICY GREEN CAULIFLOWER AND BRUSSELS SPROUTS SOUP 
CREAMY ROASTED CARROT, GARLIC, AND ROSEMARY SOUP 
VEGAN MINESTRONE SOUP WITH ARUGULA 
Make our homemade easy vegan French onion soup and let us know what you think. We love to hear from you! And, don't forget to take a picture of your gorgeous creation and tag us @veganosity on Instagram.
Let's connect on Instagram and Twitter. You'll get a peek into our everyday lives in our stories and see what we're sharing in our feed.
And, don't forget to SUBSCRIBE to the blog so you never miss a recipe. Scroll below the recipe or in our side bar to become a Veganosity subscriber.

PIN ME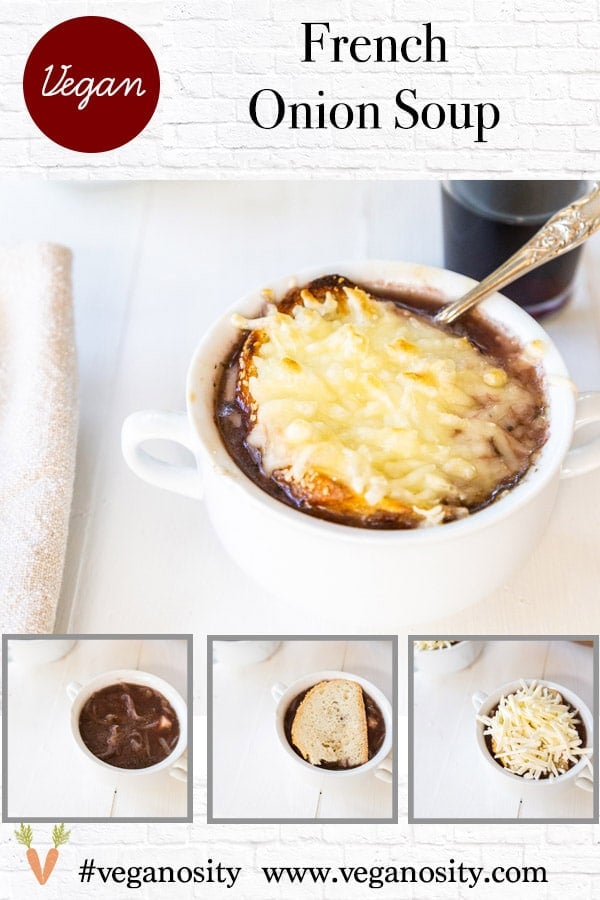 EASY HOMEMADE VEGAN FRENCH ONION SOUP
A French onion soup recipe that's made with a vegetable stock and vegan butter and mozzarella cheese. It has all of the flavor and none of the cholesterol that you'd find in a traditional onion soup recipe.
Print
Pin
Rate
Ingredients
4

tablespoon

vegan butter

we use Miyoko's or Earth Balance

2

tablespoon

extra-virgin olive oil

6

cups

white onion

thinly sliced

3

garlic cloves

minced

1

cup

red wine

(or 1 tbs red wine vinegar if you don't drink wine)

2

tablespoon

flour

64

ounce

vegetable stock

2

bay leaves

2

teaspoon

dried ground thyme

sea salt and black pepper to taste

TOPPINGS

Sliced and toasted French bread

Vegan mozzarella cheese

see note
Instructions
Heat the 4 tablespoon butter and 2 tablespoon olive oil in a stock pot over medium-high heat.

When the butter is melted and beginning to bubble, add the onions and stir to coat in the butter and oil.

Stir the onions often, and once they soften (approximately 5 minutes), reduce the temperature to medium-low heat and continue to stir until they lightly caramelize, approximately 10 to 15 minutes. They should be a light golden color.

Add the 1 cup of wine or 1 tablespoon of balsamic vinegar to the onions and stir to coat. Cook for approximately 5 minutes, or until the liquid is reduced.

Add the 2 tablespoon flour and stir to coat the onions. Cook for one minute.

Add the garlic and cook for one more minute.

Pour in the 64 oz of vegetable broth, 2 teaspoon dried thyme, 2 bay leaves, and salt and pepper to taste. Bring to a boil and then reduce the heat to a simmer for 15 minutes.

Fill 6 to 8 bowls with the soup and then place one slice of toasted bread on top of the soup and sprinkle a liberal amount of the vegan mozzarella on top of the bread and broil until the cheese is melted and browned on the edges. Keep your eyes on it the ENTIRE time it's under the broiler so it doesn't burn.
Notes
NUTRITION DISCLAIMER
We use Violife shredded vegan mozzarella or we shred Miyoko's vegan mozz. You can also make your own. Click HERE for the recipe. 
Nutrition
Serving:
1
cup
|
Calories:
166
kcal
|
Carbohydrates:
17
g
|
Protein:
2
g
|
Fat:
8
g
|
Saturated Fat:
2
g
|
Sodium:
959
mg
|
Potassium:
218
mg
|
Fiber:
2
g
|
Sugar:
7
g
|
Vitamin A:
760
IU
|
Vitamin C:
9
mg
|
Calcium:
37
mg
|
Iron:
1
mg
PIN ME