Happy Monday friends! Did you have a great weekend? I did, then it wasn't so good, and then it was again. Especially once I took a big spicy spoonful of Chef Gregory's vegan tortilla soup. Mmmm, mmmm, good!
Actually, my weekend was fantastic. I spent it with family and friends. It started on Thursday with a girls' happy hour at my friend, Valerie's house. You ladies know how much fun it is when women and wine meet. Unless you're a cast mate on a Real Housewives episode. Then it usually turns into a fire storm. But I digress.
On Friday I spent the afternoon perfecting a gluten-free Christmas cookie that I'm going to share with you on Wednesday, along with fourteen other delicious gluten-free cookies from some of my favorite vegan bloggers. You're going to LOVE the cookie roundup!
Saturday was game day. Chef Gregory and I went to Alex and Max's apartment in Chicago to watch the Crimson Tide beat the Florida Gators. It was so much fun, we had Alex's yummy guacamole and vegan Rueben sandwiches from Chicago Diner, and champagne to toast the win. Next up was the Big Ten Championship game. We were bleeding gold and black, but the Hawkeyes lost to Michigan State by three measly points in the last minute of the game. Boo!
Sunday was amazing. We learned that even though the Hawkeyes weren't moving on to the NCAA playoffs, they did make it to the Rose Bowl! Honestly, that made us all just as happy as if they had made it to the Cotton Bowl. Why? Because they would have had to have played Alabama, and that would have been so hard for this mama bear. Who would I root for?
After we all did a little happy dance for Iowa, Greg and I went for a nice long run in our local forest preserve and then put more lights up in our front yard. Christmas! 🙂
To end the day, Chef Gregory made his famous—in our house anyway—vegan tortilla soup.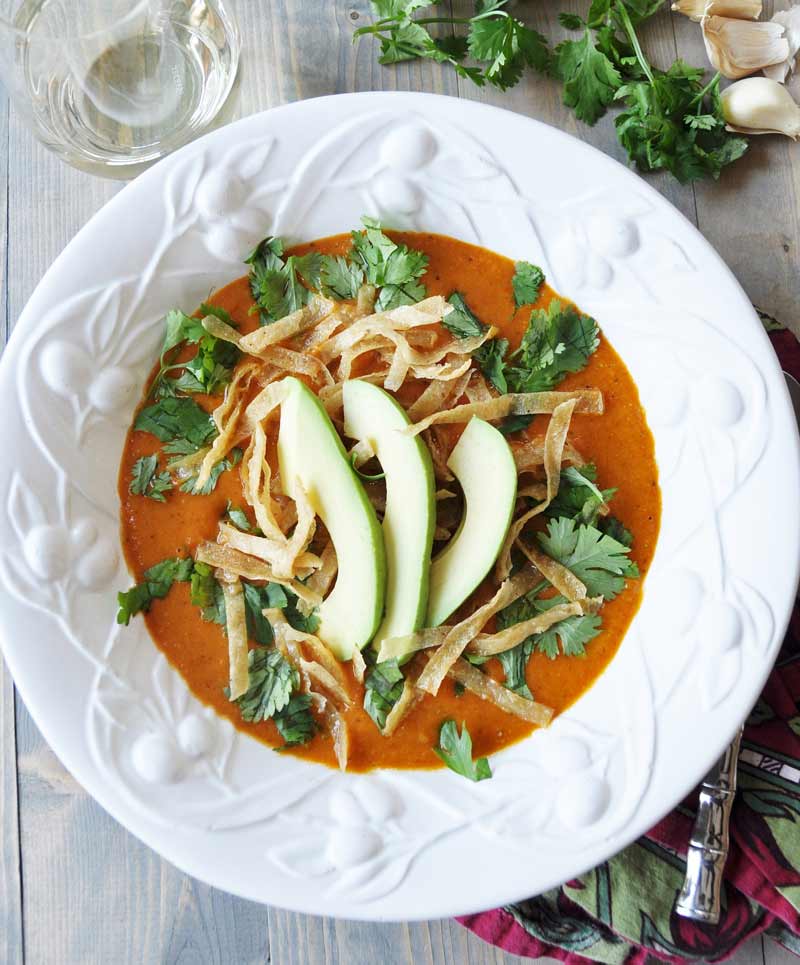 Fire roasted jalapeno peppers, fresh tomato, onion, garlic, carrot, bell pepper, white wine, smoked paprika, cumin, and oregano comingle in this delicious and easy soup to create a flavor that's so heavenly.
The smell of the cumin, smoked paprika, and oregano when they're stirred into the sautéed onion, carrot, and bell pepper is out of this world amazing. It's my favorite part of the soup. Almost.
Instead of using flour to thicken the soup, we used one corn tortilla chopped up into cubes. It breaks apart in the hot broth and makes the soup nice and creamy. And to make your vegan tortilla soup even creamier you'll want to use an immersion blender or a free standing blender to break down the chunks of bell pepper, onion, and carrot.
To make the fresh and crispy tortilla strips, we sliced a few corn tortillas into match sticks and then flash fried them in canola oil. They're so light and perfect. But if you don't have the time or desire to fry your own you can crumble tortilla chips in the soup. That will work too.
Top it with some cool slices of avocado and fresh cilantro and dinner is served.
Tell me:
Have you ever made your own tortilla soup?
What's your favorite soup?
Are you a college football fan? Who do you cheer for?
This post may contain affiliate links which won't change your price but will share some commission.
Do you like what you've seen so far? We sure hope so! Do us a favor, take a trip over to our Facebook page and give it a like, or follow us on Instagram or Twitter, and follow us and share this and other Veganosity recipes on Pinterest. We'd be so grateful if you did.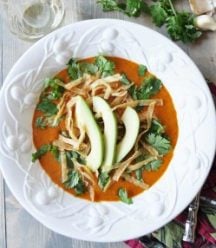 Vegan Tortilla Soup
A delicious, easy, savory homemade tortilla soup that your entire family will love.
Print
Pin
Rate
Ingredients
1

tablespoon

of avocado oil

or any oil with a high smoke point

1

large Vidalia or yellow onion – peeled and diced

1

medium carrot – peeled and finely diced

2

bell peppers

use red, orange, or yellow, or any combination of the three – remove the seeds and finely dice

3

cloves

of garlic – peeled and minced

1

jalapeno pepper – roasted and steamed – scrape the skin off and remove the seeds

and dice. Note: Test the pepper before you put it in the soup. If it's really spicy you will want to add according to your taste.

1

and ½ tablespoons of cumin

1

tablespoon

of smoked paprika

1

teaspoon

of dried oregano

1

and ½ teaspoons of ground sea salt

Ground black pepper to taste

½

cup

of white wine or vegetable broth to deglaze

the wine adds a nice flavor

3

cups

of vegetable broth

1

teaspoon

of lime juice

1

corn tortilla cut into 2 inch squares

1

medium tomato – seeded and chopped

1

tablespoon

of fresh cilantro – chopped

For the tortillas

3

corn tortillas cut into matchsticks

1

cup

of canola oil
Instructions
Roast the jalapeno over an open flame or in a 400° oven until the skin is blackened and blistered. Put on a plate and cover with a bowl to steam. Set aside.

Heat the avocado oil in a large soup pot on medium heat. When the oil is hot add the onion and carrot and cook for five minutes. Stir occasionally.

Add the bell peppers to the onion and carrots and cook for approximately five minutes or until the onion begins to caramelize. Stir occasionally to avoid scorching.

Turn the heat to medium low and add the garlic. Stir. Add the cumin, smoked paprika, and oregano and stir well.

Add the wine or vegetable broth to deglaze and stir well. Add the vegetable broth and stir to combine. Add the lime juice.

Scrape the blistered skin off of the jalapeno pepper and remove the seeds. Taste the pepper before adding it to the soup and add as much or as little as you want according to your heat tolerance.

Add the tomato and stir in the salt and pepper.

Add the tortilla squares and stir to combine.

For the tortilla crisps

Heat the canola oil in a small sauté pan on medium heat. Test the oil with a small piece of tortilla. When it sizzles you're ready to make the tortilla crisps.

Carefully add one third of the tortilla matchsticks to the oil and gently stir to separate. When they have curled and are golden brown remove them from the oil and place on a plate lined with paper towel. Repeat the process until all of the tortilla matchsticks are fried.

Note: You can use ready-made tortilla chips if you don't want to make your own. Just crumble them into the soup.

Once the tortilla crisps are done use and immersion blender or free standing blender to blend the soup until it's thick and creamy.

Garnish with the tortilla crisps, avocado slices, and fresh cilantro.

Enjoy!