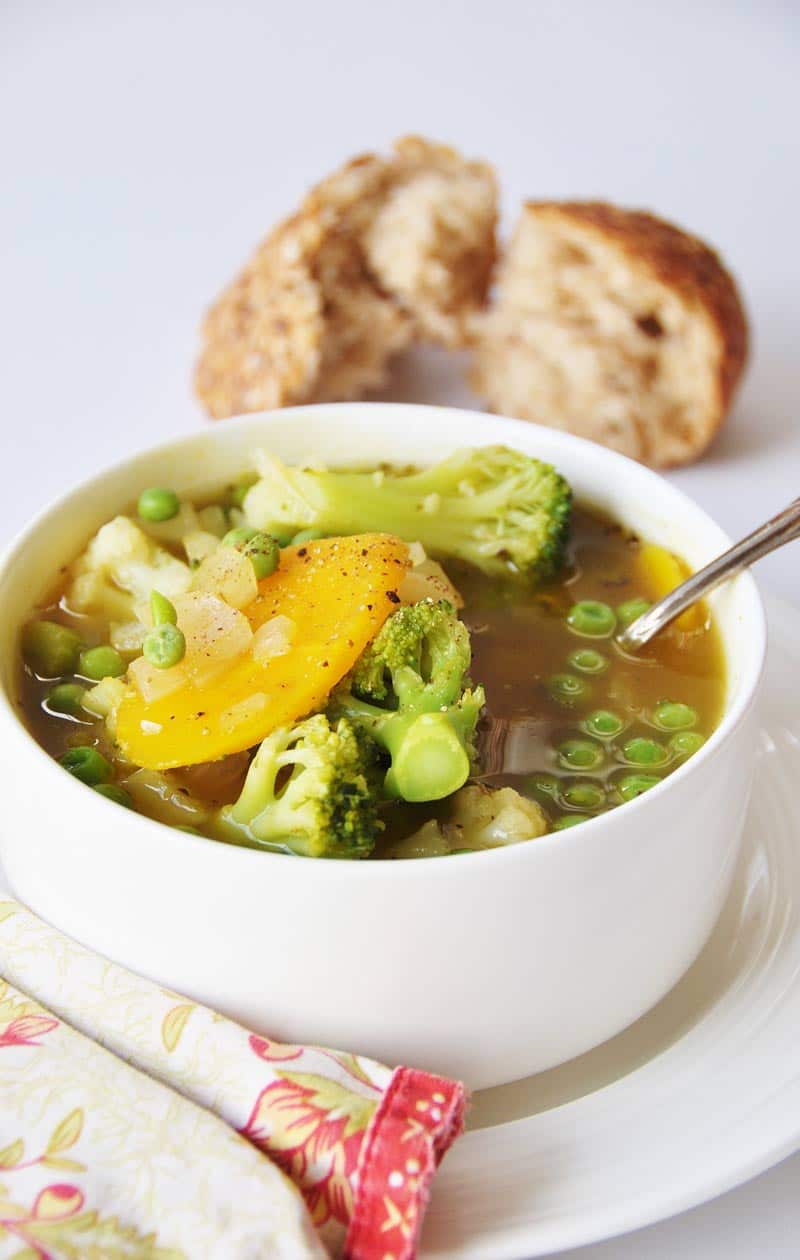 You worked an eight, nine, maybe ten hour day. You have one hour to make dinner and feed the family before the next event of the evening. You're tempted to pull your car into the drive-thru and call it a day, but the healthy angel sitting on your right shoulder is whispering, noooooo. She's right, keep on driving, go home, and make this simple, healthy, delicious, vegan 7 ingredient 30 minute vegetable soup. It will make you feel good.
It will make you feel good because you and your family will have a hot homemade meal, instead of the garbage you could have eaten had you given in to the fast-food devil sitting on your left shoulder. It will also make you feel good physically because it's filled with healthy vitamins and nutrients, fiber, and protein. And finally, it will make you feel good because it's so easy and quick to make. This my friend, is a feel good dinner.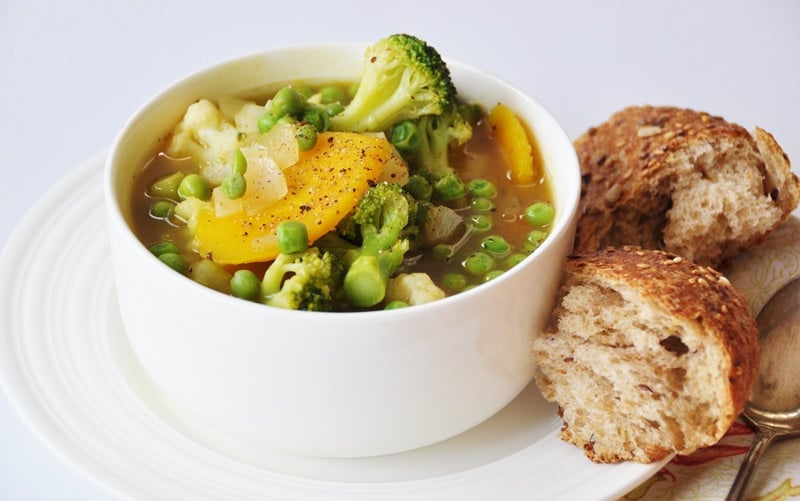 This simple recipe was inspired by Christmas decorating and this blog. Decking my halls takes at least two days, and twenty-four hours is not enough time to do it all, especially since there's only a sliver of daylight during the winter months to photograph my recipes, and that's only if the sun cooperates.
My fast and easy vegetable soup was also inspired by the beautiful snow that graced my back yard yesterday morning. If this doesn't make you crave a steaming hot bowl of veggie goodness, nothing will.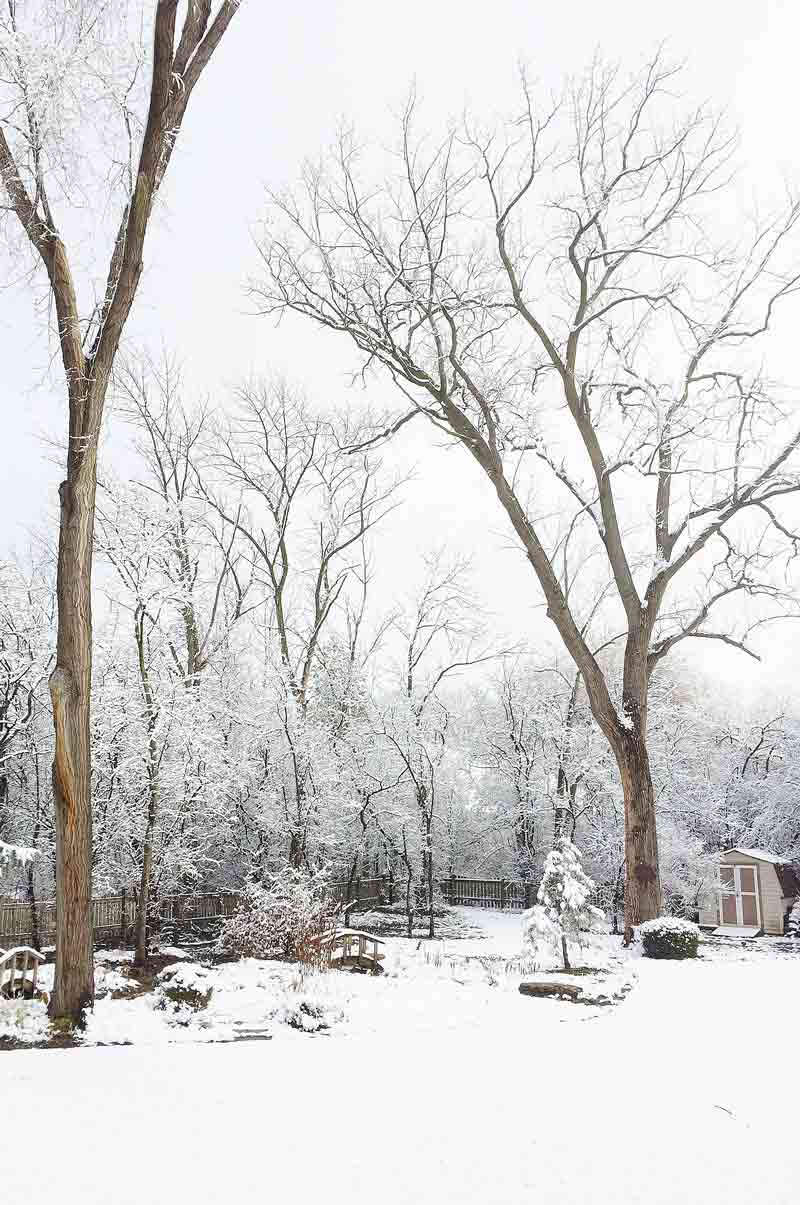 It might also make you want to crawl under a blanket and nap. Only if your name is Coco.
The last two days have been a whirlwind. I've been hanging the holly and mistletoe, the wreaths, decorating the trees (yes I have more than one tree), and decorating the outside of my house. All of that while trying to develop recipes, photograph them, and stay on top of marketing and other blog things.
I was so tempted to cave and order something in for dinner, but then that Christmas angel on my shoulder made me think better of it. So I whipped up this 7 ingredient 30 minute vegetable soup. Actually, it practically makes itself. If you can chop an onion and celery, pour vegetable broth, and defrost frozen vegetables, and wait for everything to come to a boil, then you can make this. Better yet, your older kids or your husband can make this.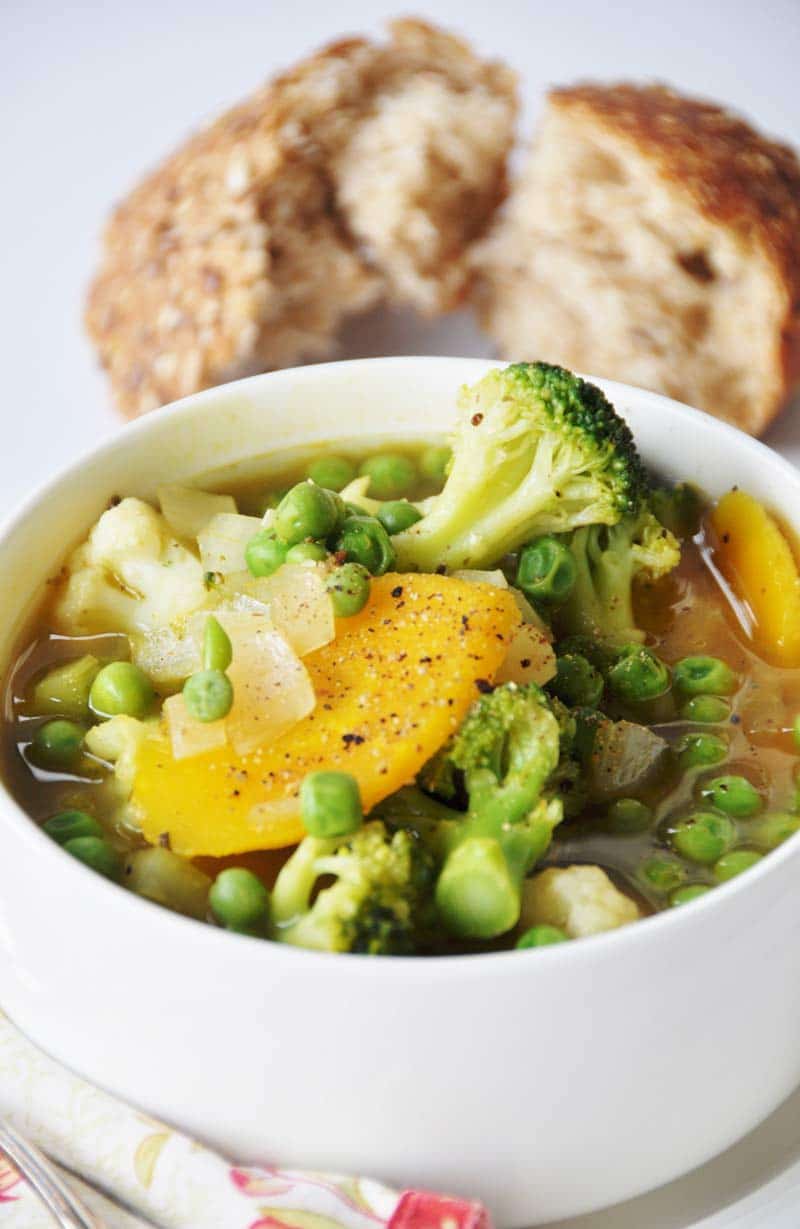 Frozen mixed vegetables are a healthy cook's best friend in the winter. If it's hard to find fresh produce where you live, frozen is the next best thing. And don't forget, that veggies that are flash frozen just after being picked often times retain more nutrients than those that are picked and shipped thousands of miles away. Plus, a bag of mixed veggies will save you time. No washing and chopping, just pour from the bag.
To make this easy vegetable soup take out two cups of frozen peas and eight to ten cups of frozen mixed vegetables (my mix had yellow and orange carrots, broccoli, and cauliflower – a nutrition powerhouse mix), put them in a large bowl and cover with cool water to defrost.
While the frozen veggies are defrosting chop your onion and celery and sauté them in the soup pot for three minutes or until they start to soften. If you don't like to cook with oil you can sauté them in a few tablespoons of vegetable broth.  Add the minced garlic and sauté for one minute and pour the broth and water into the pot, add the Italian seasoning, salt and pepper, and bring to a boil.
When the broth starts to boil drain the water from the vegetables and carefully add them to the broth. Bring back to a boil then simmer for ten to fifteen minutes or until the veggies are soft enough to pierce with a fork.
This is your soup. Season it as you wish. If you like salt, go for it. If you don't like salt, then don't add any. I wouldn't skip the Italian seasoning though, that would just be boring. Serve it with a warm loaf of whole grain bread and enjoy.
Right now I'm going to have a bowl for breakfast, because that's how I roll.
Tell me:
Do you like soup for breakfast?
Do you rely on frozen vegetables in the winter?
Have you registered for the beautiful Canopy Verde handbag GIVEAWAY? No? Then click here and do it now. 
Do you like what you've seen so far? We sure hope so! Do us a favor, take a trip over to our Facebook page and give it a like, or follow us on Instagram or Twitter, and follow us and share this and other Veganosity recipes on Pinterest. We'd be so grateful if you did.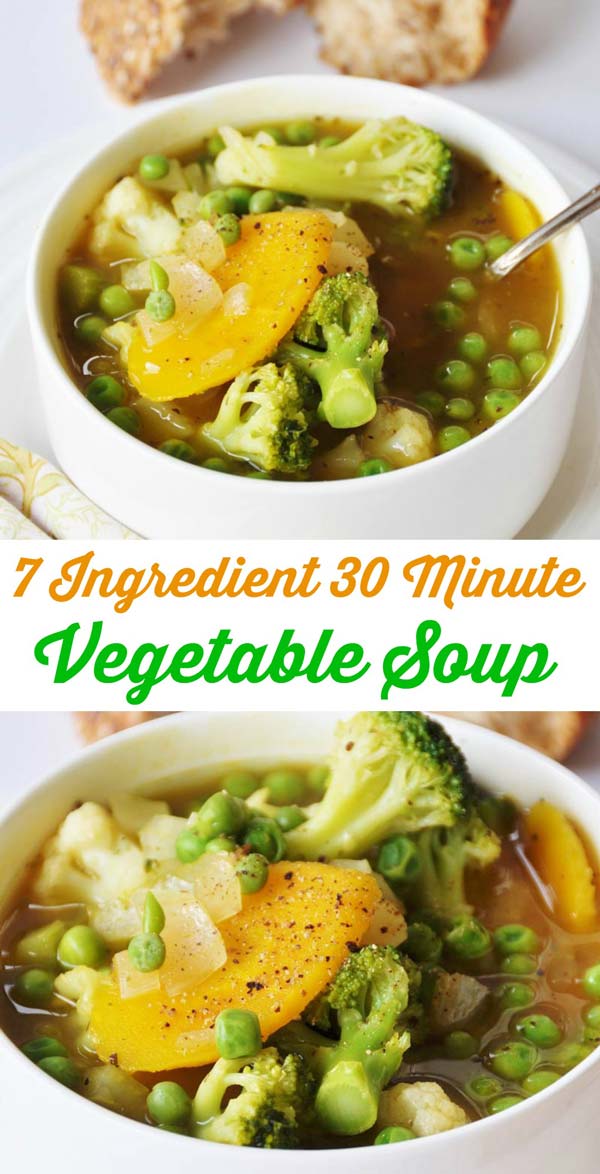 Linda and Alex at Veganosity
Yields 6-8
7 Ingredient 30 Minute Vegetable Soup
An easy and quick vegetable soup that's as delicious as it is healthy.
5 minPrep Time
30 minCook Time
35 minTotal Time
Ingredients
1 teaspoon of avocado oil (optional)
1 white onion – peeled and chopped
2 stalks of celery – chopped
2 cloves of garlic – peeled and minced
2 cups of frozen peas
8-10 cups of frozen mixed vegetables (I used a carrot, broccoli, cauliflower blend)
2 32 ounce containers of vegetable broth
2 cups of water
2 teaspoons of Italian seasoning
Salt and pepper to taste (optional)
Instructions
Defrost the frozen peas and vegetable mix in a large bowl and cover with cool water until the broth is boiling.
Sauté the onion and celery in a large soup pot with the oil or a few tablespoons of vegetable broth on medium heat. Approximately three minutes. Add the garlic and sauté for one minute. Add the broth, water, Italian seasoning, and salt and pepper to the pot and increase the heat to high and bring to a boil.
When the broth is boiling drain the water from the peas and mixed vegetables and add to the pot. Bring back to a boil and reduce the heat to medium and cook for approximately fifteen minutes or until the carrots are easily pierced with a fork.
Enjoy!
7.6.7
215
https://www.veganosity.com/7-ingredient-30-minute-vegetable-soup/
Veganosity is a participant in the Amazon Services LLC Associates Program, an affiliate advertising program designed to provide a means for sites to earn advertising fees by advertising and linking to amazon.com. We make a small commission when you order from Amazon. It helps us afford the groceries to develop all of our recipes, and to pay for the maintenance of our site. We thank you in advance for your consideration.