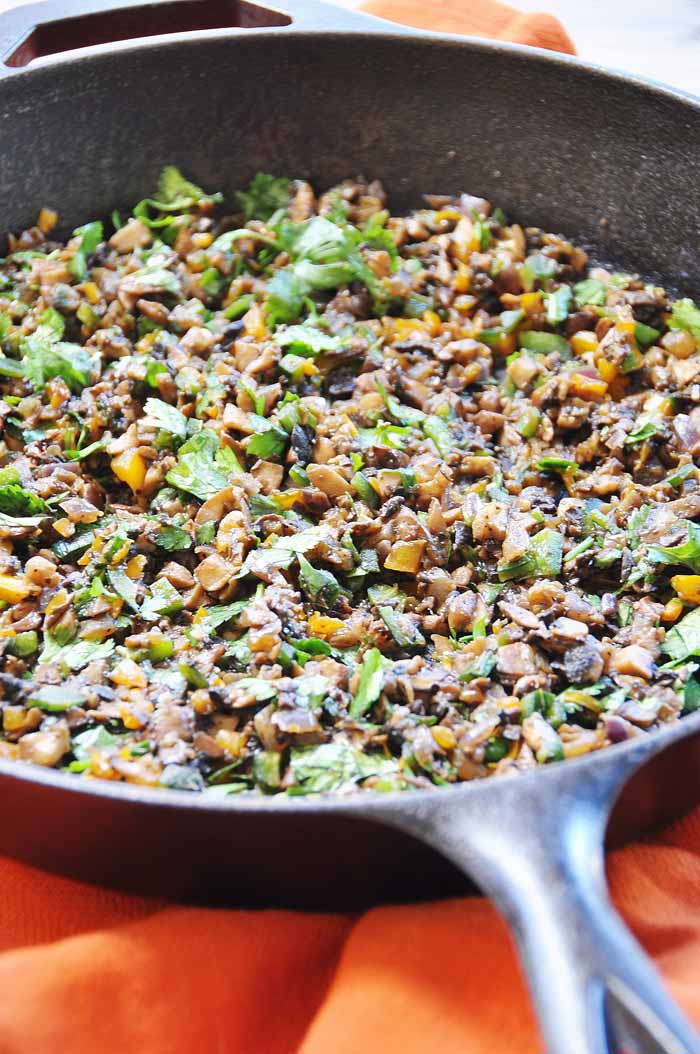 If you're craving something smoky, with an umami flavor and a meaty texture, then this smoky mushroom tinga is exactly what you're looking for.
Traditional tinga is made with shredded chicken, pork, or beef, with a tomato base. I don't mind the tomato base, but I prefer my tinga without dead animals. Mushrooms are so much better.
My husband created this healthy recipe soon after he stopped eating chicken. We were in the mood for tacos—shocker—and he was craving something meaty. Being the smart man that he is, he knew that the box of baby bellas sitting in our fridge would make the perfect vegan tinga, because mushrooms have a meaty texture.
You have to chop the mushrooms super fine, and saute them in a skillet until they release their water and are nice and brown. When they're done push them over to the side of the pan and add the finely chopped onion and cook until they begin to release their water. Add an orange or a yellow bell pepper and saute until they are soft.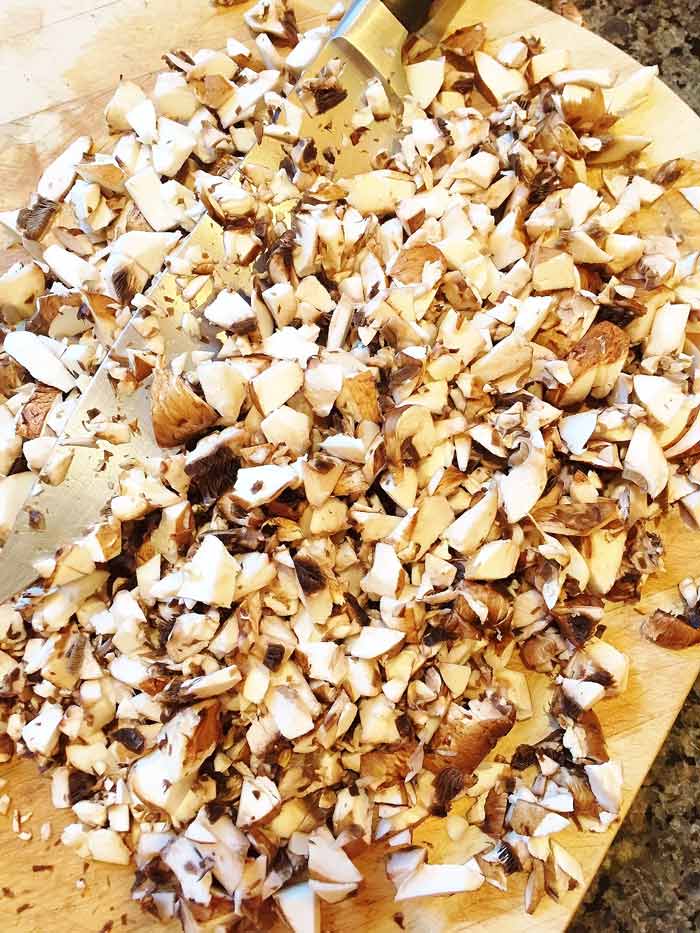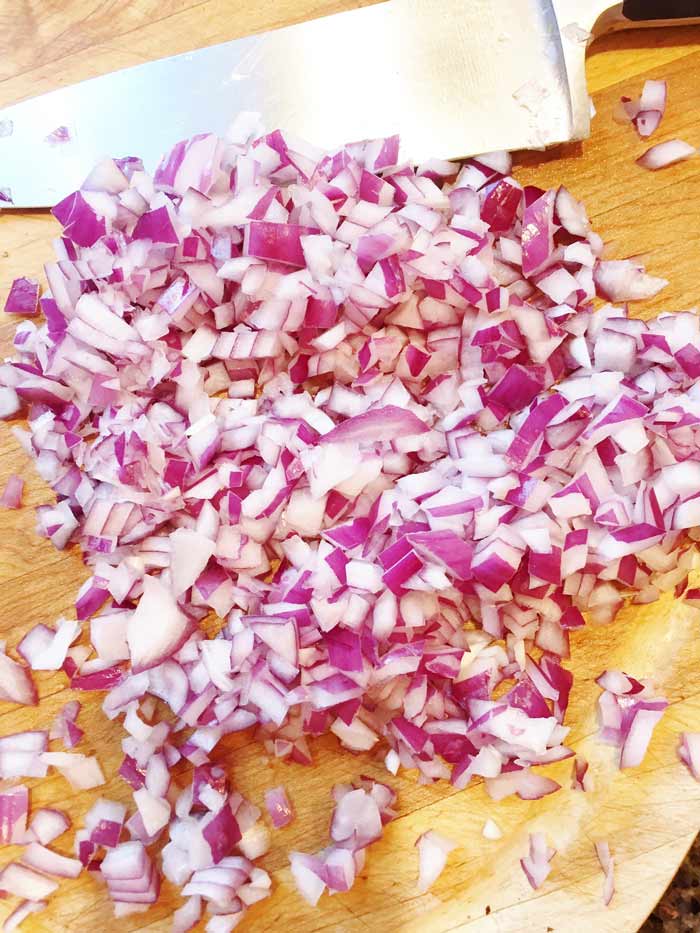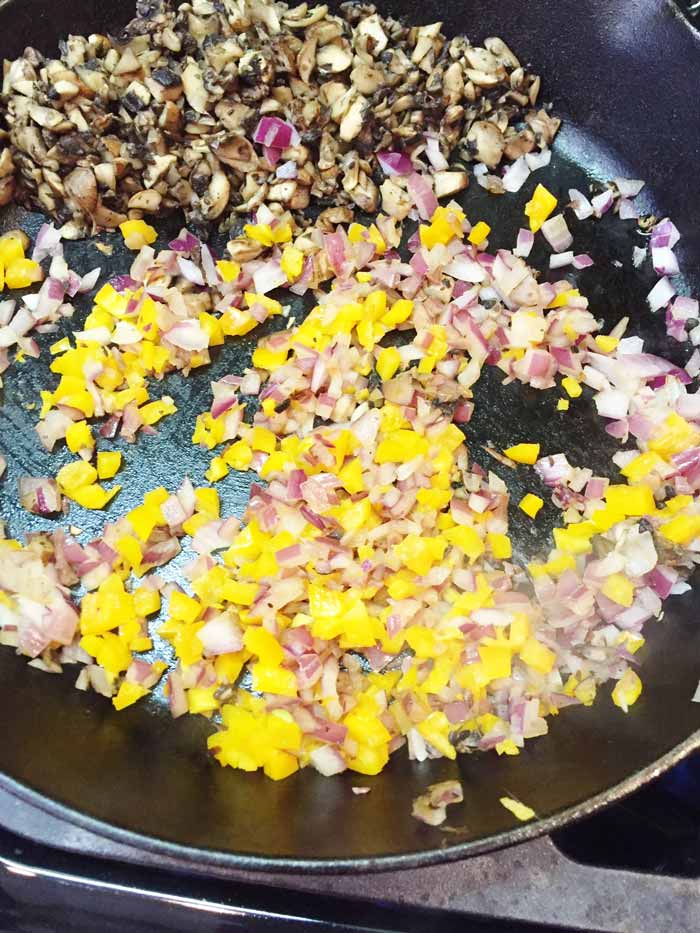 While you're cooking the mushrooms, onion, and peppers, roast a poblano chili pepper on the gas burner next to the pan with the tinga, or in the oven if you don't have a gas stove. Once the skin is blistered and blackened let the pepper steam on a plate covered with a bowl for about ten minutes. Then scrape the skin off, remove the seeds, finely dice it, and add it to the tinga.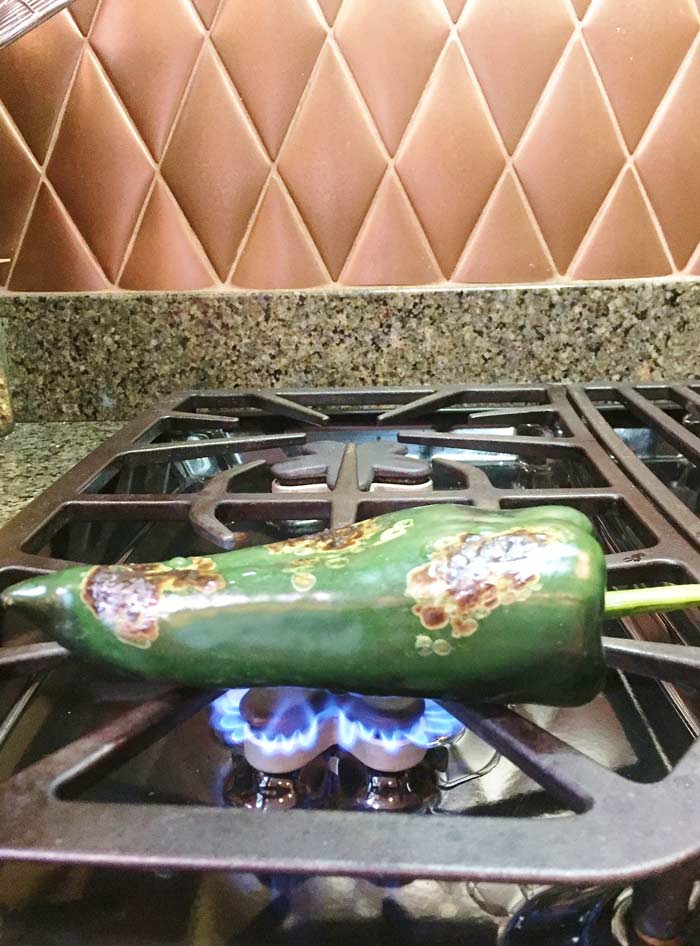 When the mushrooms, onion, and peppers are done, deglaze the pan with a half of a cup of water and add the salt, chili powder, cumin, smoky paprika, and black pepper and stir until they coat the tinga mixture.
Now you're going to mash and grind the mixture with a potato masher until it looks like crumbles. Turn the heat down to a low simmer and let the spices soak in for about ten minutes. Add a cup of coarsely chopped cilantro at the end and stir to combine.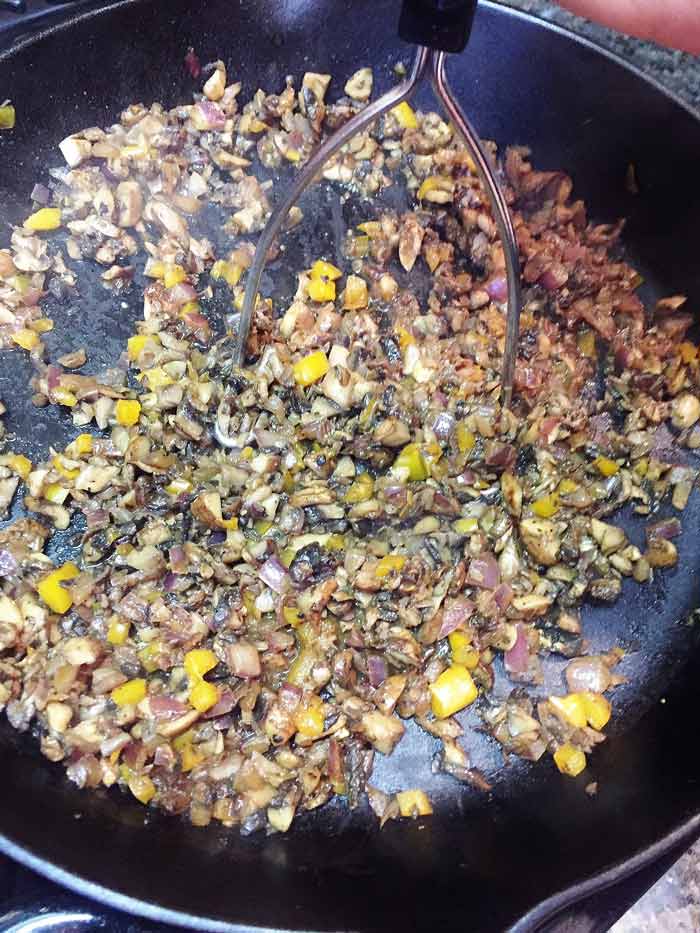 Smoky mushroom tinga is perfect for tacos, burritos, enchiladas, quesadillas, or tamales. If you want you can leave out the spices and add the mushrooms, onions, and peppers to a marinara sauce to give it a nice meaty texture.
You're going to love the texture and flavor of this vegan smoky mushroom tinga. It's not too spicy, it's perfectly seasoned, and it makes the best filler for your favorite Mexican dish.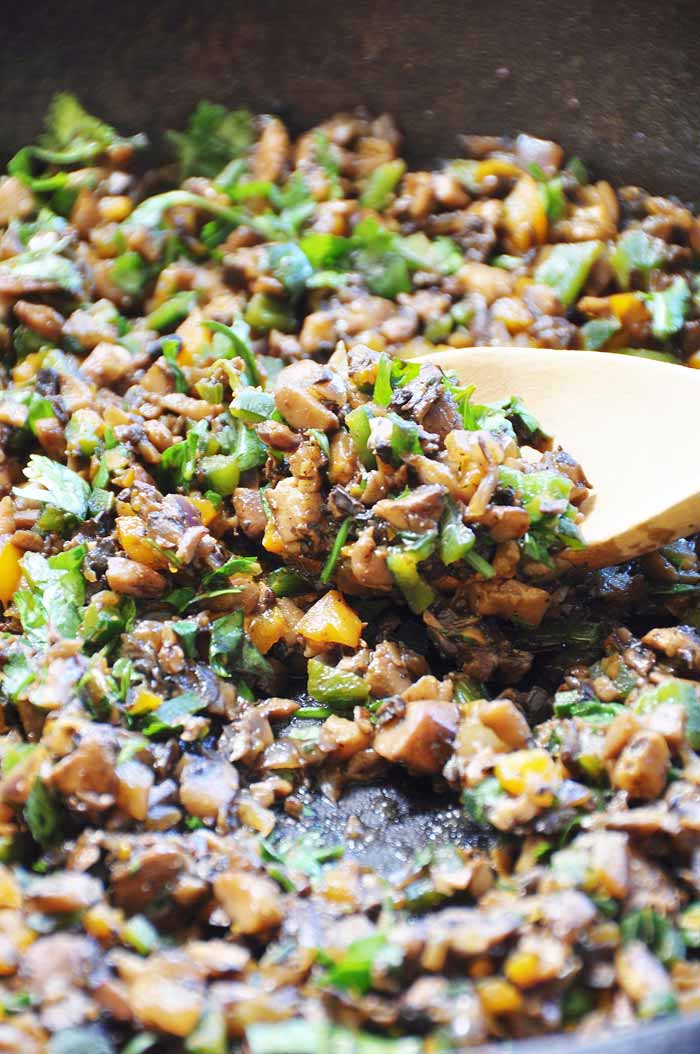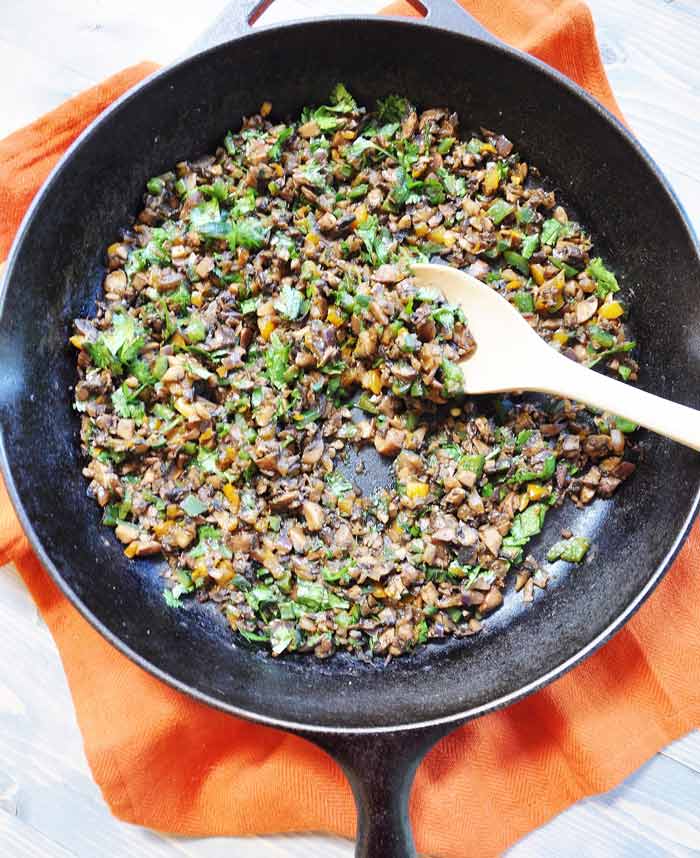 On a totally unrelated topic:
My friends, Levan and Amrita over at Crazy Vegan Kitchen have created some of the best vegan t-shirts that I've ever seen. Nothing militant or bossy, just funny and light hearted, while getting the message across. Check them out at Crazy Vegan Threads. Their stock is limited so don't wait, BUY NOW!
Tell me:
Have you ever tried tinga?
What's your favorite Mexican food?
Which t-shirt are you ordering? 
Some of the things I used to make this delicious smoky mushroom tinga recipe. Just click on the pictures to purchase.


Veganosity is a participant in the Amazon Services LLC Associates Program, an affiliate advertising program designed to provide a means for sites to earn advertising fees by advertising and linking to amazon.com. We make a small commission when you order from Amazon. It helps us afford the groceries to develop all of our recipes, and to pay for the maintenance of our site. We thank you in advance for your consideration.
Do you like what you've seen so far? I sure hope so! Do me a favor, take a trip over to my Facebook page and give it a like, or follow me on Instagram or Twitter, and follow me and share this and other Veganosity recipes on Pinterest. I'd be so grateful if you did.

Linda and Alex at Vetanosity
Yields 4
Smoky Mushroom Tinga (Vegan and Gluten-Free)
This savory, meaty, vegetable tinga is perfect for any one of your favorite Mexican dishes.
25 minPrep Time
25 minCook Time
50 minTotal Time
Ingredients
2 teaspoons of avocado oil
24 ounce package of mushroom caps (I used Portobello) – stems removed and finely chopped
1 small red onion – peeled and finely chopped
1 small orange or yellow bell pepper- seeds removed and finely chopped
1 poblano chili pepper – roasted, skin removed, seeds removed, finely chopped
1 cup of cilantro leaves coarsely chopped
1/2 cup of water
1 teaspoon of chili powder
1/2 teaspoon of smoked paprika
1/2 teaspoon of ground sea salt
1/2 teaspoon of cumin
Black pepper to taste
Instructions
Roast the poblano pepper on an open gas flame or in a 400° oven until the skin is blackened and blistered. Place on a plate and cover with a bowl to steam for approximately ten minutes. Scrape off the skin and remove the seeds and finely chop.
Heat one teaspoon of the oil in an iron skillet on medium heat. When the oil is hot add the mushrooms and cook until the water is released and they are nicely browned. Push them to the side and add the second teaspoon of oil to the pan and add the onions and bell pepper. Cook until they are soft and lightly browned. Add the pablano pepper.
Deglaze the pan with the water and scrape the bottom of the pan with a spatula to remove the pieces of vegetable that are stuck to the pan.
Add the spices and stir to coat well. When the water is evaporated mash and grind the mixture until it looks like crumbles. Turn the heat down to a low simmer and cook for ten minutes. Stir frequently.
Add to your favorite Mexican dish and enjoy!
7.6.6
203
https://www.veganosity.com/smoky-mushroom-tinga-vegan-and-gluten-free/