Sweet, savory, crispy, melt in your mouth baked onions with fennel bread crumbs. This is total comfort food. 
"There is no such thing as a new idea. It is impossible. We simply take a lot of old ideas and put them into a sort of mental kaleidoscope. We give them a turn and they make new and curious combinations. We keep on turning and making new combinations indefinitely; but they are the same old pieces of colored glass that have been in use through all the ages." Mark Twain
Yeah, I have to agree with Mr. Twain, but that shouldn't stop us from trying, or from putting our own special twist on something that we like. Sometimes, it's even okay to just go with another idea, as long as you give credit to the person who inspired or taught you how to make or do something. That's what I'm doing with these baked onions with fennel bread crumbs that I saw in the January 2015 edition of Food and Wine magazine.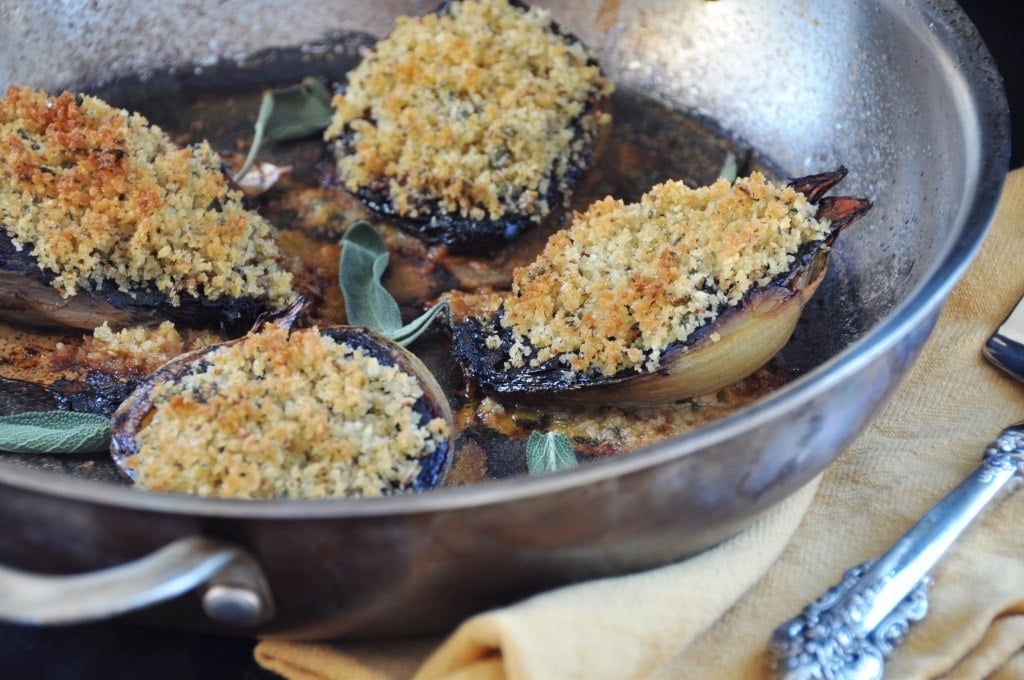 This recipe belongs to Nancy Silverton (I wonder who inspired her to make this dish?), and it looked so delicious that I had to try it for myself and share it with you, just in case you didn't see it.  I tweaked it ever so slightly to make it vegan, but make no mistake, this is her recipe, I'm just sharing it with you.  I substituted vegetable broth in place of the chicken broth, but other than that, the credit belongs to Ms. Silverton.
To say that these are delicious would be a huge understatement. The onions are roasted face down and they become caramelized, and crispy while the center turns into a sweet, soft, melt in your mouth awesome treat. But that's not all that's going on with these incredible bulbs, there's also the crunchy, savory fennel breadcrumb topping.
If only you could have smelled how fragrant my kitchen was when I was making these gorgeous onions. Toasted fennel seeds are incredibly aromatic – plus you get to have fun using a mortar and pestle to crush the seeds.  Combine that with the smell of the onions and it was like being in a kitchen in the middle of Tuscany. Not that I would know, because I haven't been to Tuscany. Damn it!
I seriously couldn't wait for these little darlings to finish cooking so I could try one, and let me tell you, they were soooo worth the wait. The onions roasted to a sweet, caramel perfection and the fennel bread crumbs were toasted, savory, and fabulous. The flavors and textures that were going on with these gems were pure bliss.
My husband and I ate them with the carrot and ginger soup that I made yesterday, along with a crusty baguette and a glass of cranberry blush wine from the Cedar Creek Winery. My brother gave us the wine and it was fabulous with the food. Thank you bro!
This recipe was easy to follow, but I would make one change to ensure that you don't have issues with the onions sticking to the pan like I did. Silverton's recipe called for a ½ cup of chicken stock, obviously I used vegetable stock, but I would have put ¾ of a cup of stock in the pan. Even though it was covered tightly with aluminum foil, the stock evaporated and turned the bottom of the pan to molten lava. The onions stuck and the pan was a bitch to clean. FYI, if you fill a pan with hot water and put a dryer sheet in it and leave it to soak overnight it will be easy to scrub the next day. Don't ask me why this works, but it does.
One of the things I loved about Silverton's interview in Food & Wine was her statement about how she loved to cook "simply." That's how I like to cook as well. What about you? Do you like simple recipes or do you like to go all gourmet and fancy? Tell me.
Some of the things I used to make this dish. Click on the image to purchase.
Veganosity is a participant in the Amazon Services LLC Associates Program, an affiliate advertising program designed to provide a means for sites to earn advertising fees by advertising and linking to amazon.com. We make a small commission when you order from Amazon. It helps us afford the groceries to develop all of our recipes, and to pay for the maintenance of our site. We thank you in advance for your consideration.

Linda and Alex at Veganosity
Yields 4-6
Baked Onions with Fennel Bread Crumbs
Savory, sweet, tender, melt in your mouth onions with a crispy panko topping.
30 minPrep Time
1 hr, 45 Cook Time
2 hr, 15 Total Time
Ingredients
3 medium onions – peeled and halved lengthwise, root ends left intact
2 tablespoons of extra-virgin olive oil plus more fro brushing
3/4 cups of vegetable stock
6 bay leaves
1 teaspoon of fennel seeds
1/4 cup panko
1 and 1/2 teaspoons of minced sage
Instructions
Preheat the oven to 425°.
Brush the onion halves with olive oil, season with salt, and arrange cut side down in an ovenproof medium skillet. Add the vegetable stock and scatter the bay leaves around the onions. Cover tightly with foil and bake for approximately 1 and 1/2 hours or until the onions are very tender.
While the onions are baking, toast the fennel seeds in a small skillet over moderate heat until fragrant. Approximately 3 minutes. Transfer to a work surface and let cool. Use a morter and pestle to coarsely crush the seeds. Transfer to a small bowl and add the panko, sage, and the 2 tablespoons of olive oil. Season with salt and toss to combine.
Carefully turn the onions cut side up in the skillet. Spoon the fennel bread crumbs on top and bake for about 15 minutes longer or until the crumbs are lightly browned on top. Discard the bay leaves and serve hot or warm.
Make ahead – The baked onions can be refrigerated overnight. Let them return to room temperature and top with the bread crumbs before baking.
Recipe adapted from Nancy Silverton in Food & Wine magazine.
7.8.1.2
73
https://www.veganosity.com/baked-onions-fennel-bread-crumbs/