Who's ready to get their orange on? Let's strengthen our eyes with tons of beta carotene while we nourish our bodies with antioxidants, all while we ooh and aah our way to the bottom of the bowl of this delicious creamy roasted carrot, garlic, and rosemary soup recipe.
I bought a humongous bag of organic carrots at Costco a few weeks ago and I've been eating carrots faster than Bugs in a cartoon marathon. I've made my popular BBQ pulled carrot recipe for game day, my sumptuous mushroom bourguignon, and this yummy and super easy roasted carrot soup.
My dogs are in heaven because they love carrots as much as I do. They stand next to the sink waiting for the peels to fly off of the peeler and onto the floor. They're so smart.
You're going to love this savory and garlicky soup. First of all, roasted carrots. Roasting brings out the sweetness and they get all caramelized and sticky. Then there's the roasted garlic. Joy! And the roasted rosemary is so fragrant and slightly bitter and it complements the sweetness of the carrots and garlic so beautifully.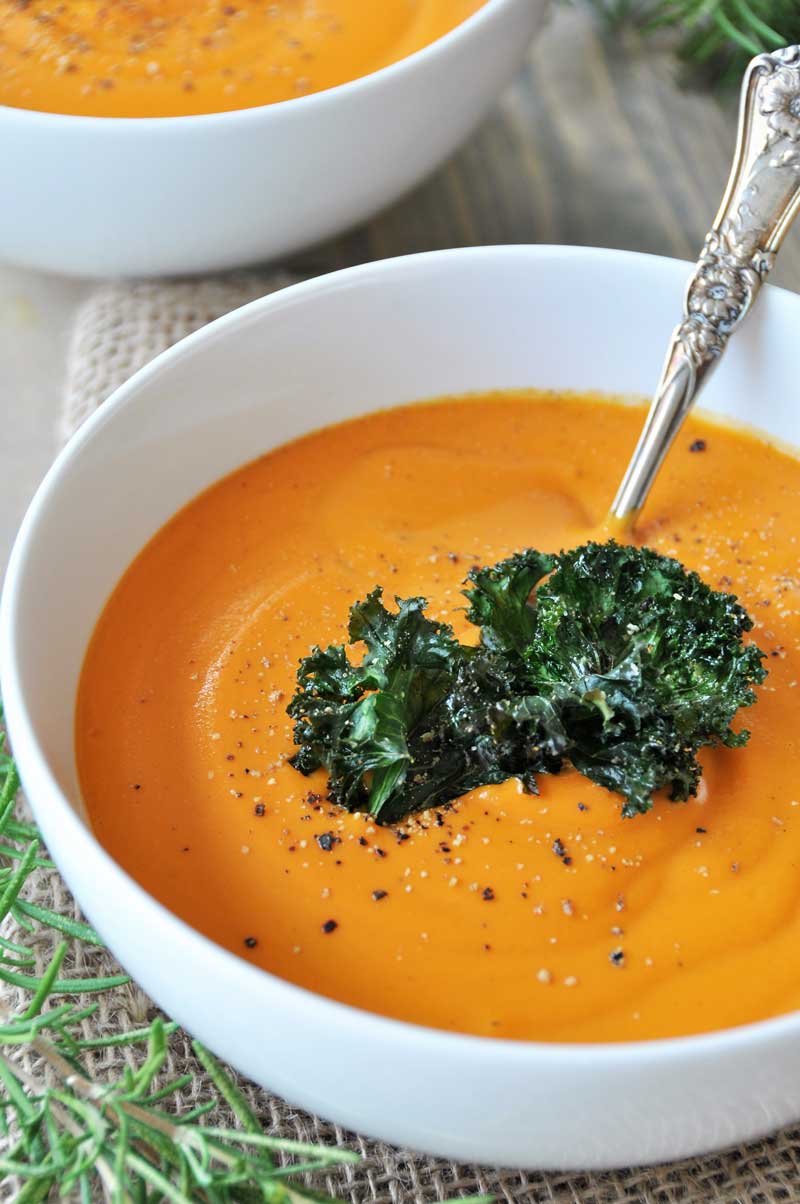 How to Make Roasted Carrot, Garlic, and Rosemary Soup
Did I mention that this soup is easy to make? SO. EASY.
All you'll need to do is peel your carrots and garlic cloves, and pull the rosemary leaves off of their stems. Toss them with a teeny tiny bit of olive oil, sprinkle with salt and pepper, toss, and roast them until they're tender and browned to perfection. Then put them in a high powered blender with some unsweetened almond milk (I use Silk brand) and whip them up into a creamy soup. Put the soup in a pan and add a bit more milk, salt and pepper, and heat it up. That's it.
Now that the temperature is getting cooler and it's getting darker earlier, soup is such a cozy thing to make for dinner. Heat up a loaf of whole grain bread, pour yourself a glass of red wine, and cuddle up with a big bowl of this creamy vegan carrot, garlic, and rosemary soup.
If you can't do that because you have kids to shuffle off to sporting events, then put the soup in a thermos, wrap up the bread, and bring it with you. Who says you can't have dinner as a family? It doesn't matter where you eat, it just matters that you eat together. Right?
This would also make a wonderful lunch, or if you're a weirdo like I am, you might want to eat it for breakfast. Just make sure you don't go straight to an exercise or yoga class, because, garlic.
I topped my soup with garlicky roasted kale chips. That recipe is coming soon. If you have any fall recipe requests, hit me up. I love a challenge.
Notes on the Rosemary  and Garlic – For the best flavor and results make sure that you use fresh rosemary and garlic. Dried will not turn out the way that this recipe was intended. 
Notes on the Almond Milk – You must use unsweetened to get the best flavor. I love Silk brand original unsweetened for my soup recipes.
Notes on the Blender – For the creamiest soup you should use a high powered blender like this Blendtec
or this Vitamix
. 
Do us a favor, we want to show the world that plant-based foods are delicious and exciting. So let's connect and share all of this awesomeness with the world. Hop on over to our Facebook page and give it a like, and follow us on Instagram and Twitter, and follow us and share this and other Veganosity recipes on Pinterest. We'd be so grateful if you did. If you like this recipe and can't wait to see what we're going to share next, subscribe to Veganosity. Just fill in the subscription box above our picture in the top right corner of the page. And, Alex and I love hearing from you, please leave a comment and let us know what you think of our recipes.
Veganosity is a participant in the Amazon Services LLC Associates Program, an affiliate advertising program designed to provide a means for sites to earn advertising fees by advertising and linking to amazon.com. We make a small commission when you order from Amazon. It helps us afford the groceries to develop all of our recipes, and to pay for the maintenance of our site. We thank you in advance for your consideration.
Yields Approximately 8 cups
Creamy Roasted Carrot, Garlic, and Rosemary Soup -Vegan and Gluten-Free
Creamy vegan roasted carrot soup with garlic and fresh rosemary. Only five ingredients!
10 minPrep Time
35 minCook Time
45 minTotal Time
Ingredients
12 large carrots – peeled and cut ends off and cut in half
4 cloves of garlic – skins removed
2 tablespoons of fresh rosemary leaves (removed from the stem)
2 teaspoons of extra virgin olive oil
Salt and pepper to taste
3 cups of unsweetened almond milk (I use Silk original unsweetened)
Instructions
Preheat oven to 400°
Put the carrots on a lined baking sheet and drizzle the olive oil on top. Grind a bit of sea salt and black pepper on top and toss so the olive oil coats the carrots. Roast for ten minutes.
Reduce the temperature to 375° and add the garlic cloves. Shake the pan so the carrots turn over and the garlic is covered in the olive oil. Roast for ten minutes.
Shake the pan to turn the carrots and garlic and roast for ten minutes.
Add the rosemary leaves and shake the pan. Roast for five minutes.
Remove and let the carrots, garlic, and rosemary cool for five minutes.
Place the carrots, garlic, and rosemary in a high powered blender with one and a half cups of almond milk and blend until smooth and creamy. You shouldn't see any whole pieces of any of the ingredients.
Pour the soup into a medium sauce pan and add the remaining one and a half cups of almond milk and stir to blend. Heat on medium-low heat and add ground sea salt and pepper to taste.
Enjoy!
Notes
Make sure you use fresh rosemary and garlic for the best results.
7.8.1.2
356
https://www.veganosity.com/creamy-roasted-carrot-garlic-rosemary-soup-vegan-gluten-free/