Our easy veggie loaded black beans and rice recipe is made with staple foods that can be found at any supermarket. It has so much flavor and the beans and brown rice provide essential amino acids, fiber, and other health benefits; it truly is the perfect vegan meal that the whole family will love it!  Serve it as a main course or as a side dish with the best vegan seitan chicken.
Published Jan. 25, 2017 and updated March 14, 2021.

We're all about helping you cook the best vegan comfort food and making healthy recipes for you and your family.
Beans recipes are awesome because they are full of complete protein, amino acids, and fiber, and nutrients. They're also versatile and delicious!
Try all of our vegan bean recipes, you won't be sorry.
More vegan bean recipes you'll love
SPICY BLACK BEAN & SHIITAKE MUSHROOM STREET TACOS
VEGAN WHITE BEAN "CHICKEN" CHILI
HOMEMADE VEGAN SWEET POTATO AND BLACK BEAN EMPANADAS
SIMPLE VEGAN BLACK BEAN "MEATBALLS"
VEGAN SPICY BLACK BEAN QUINOA BURGERS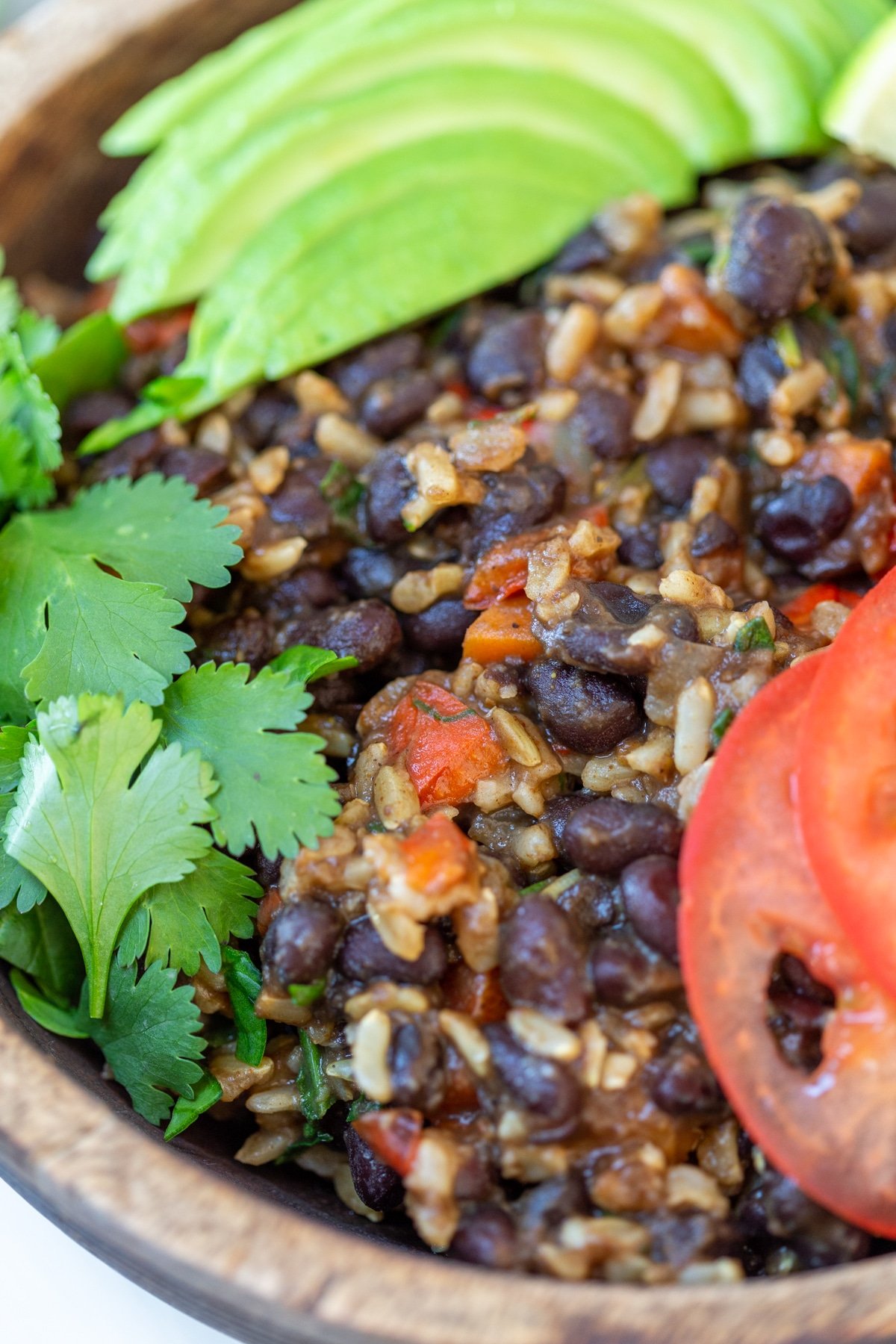 Simple ingredients and substitutions and additions
Beans and rice is a popular dish in so many different cultures.
Depending on the region, the spices and ingredients will vary.
Spanish rice and beans is different than Mexican rice and beans, and Caribbean rice and beans isn't the same as Cajun rice and beans that you'll find in the U.S. during Mardi Gras.
This is what makes the recipe so unique, cultures and individuals make it their own.
Here's what we use in our version.
RICE – For this recipe, we used brown rice, although you can use your favorite rice, whether it's basmati rice, long grain, short grain, quick cooking white rice, or jasmine rice. All rice is good rice.
BEANS – The kind of beans you use for this recipe really doesn't matter, they're all good.You can use black beans, red kidney beans, pinto beans, or whatever you have on hand. Feel free to soak and cook dry beans as well.
VEGETABLES – Onion, garlic, jalapeno pepper, red bell pepper (feel free to use a green bell pepper), spinach, and cilantro. We like the flavor of this veggie combo. Feel free to add any other vegetable that you want.
SPICES – Chili powder, cumin, smoked paprika, salt and pepper. The chili powder adds some heat, the cumin is earthy and warm, and the smoked paprika adds a lovely smokey flavor.
If you like a lot of heat in your food, you can always add hot sauce, a pinch of cayenne pepper, or pepper flakes.
ACID – A well balanced dish should have a little acid. Freshly squeezed lime juice brightens this dish so the flavors of the spices don't become too heavy.
VEGETABLE BROTH – We believe in layering flavor, so we cook the rice in vegetable broth. You can certainly cook it in water, it just won't have as much flavor.
ADDITIONS – Some beans and rice recipes include andouille sausage. If you want to add vegan sausage, do it. We recommend cooking the sausage separately, then slice it and add to the finished dish.
How to make it
STEP ONE
Open a can of black or red beans and drain and rinse them. Cover with water and bring to a boil, then add the spices and simmer for 20 minutes.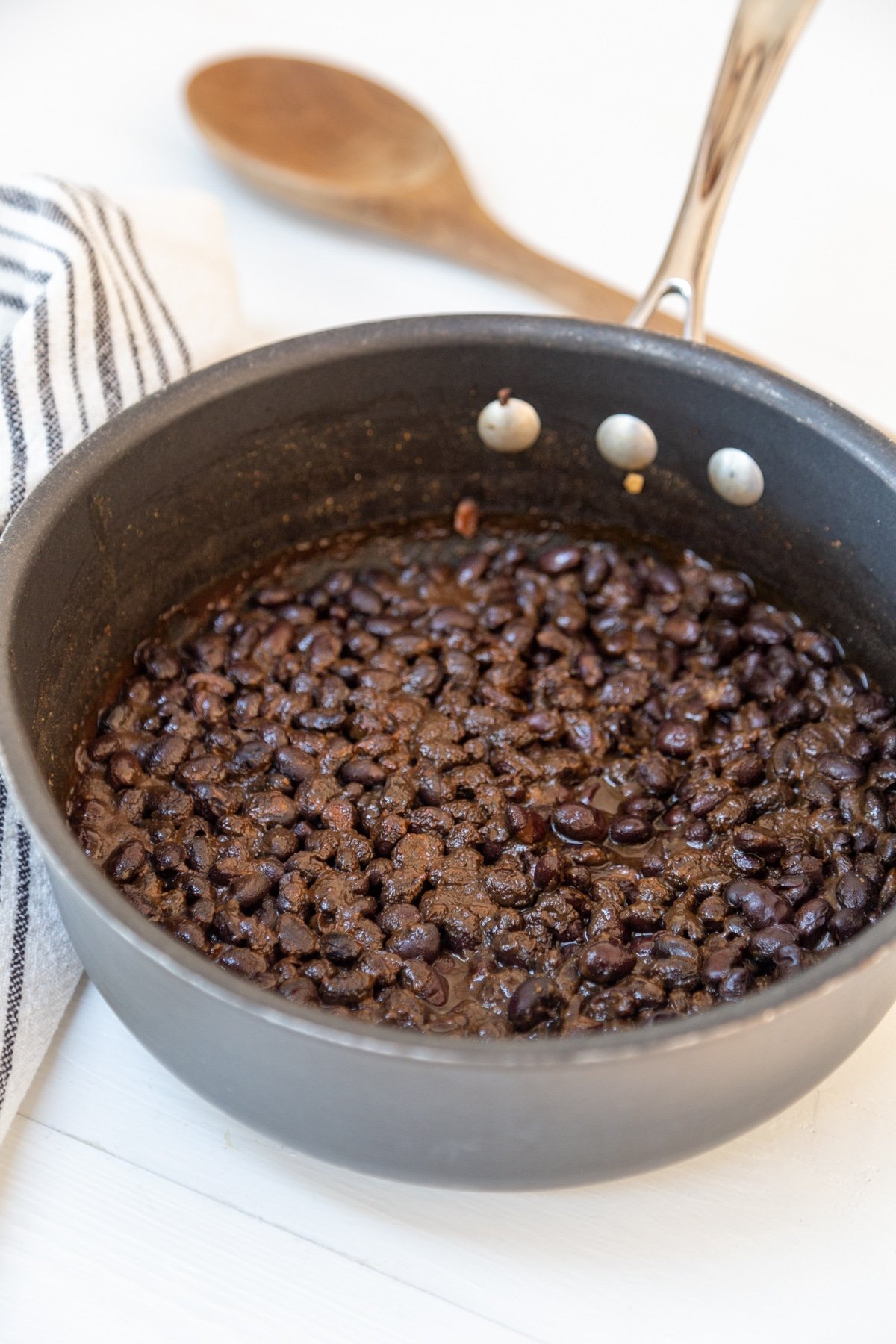 STEP TWO
Finely dice the onion, jalapeno and bell pepper, and mince the garlic. Sauté in olive oil or broth until they're tender. Add the vegetable broth and rice to the veggies, cover, and simmer until done.
NOTE: Try and dice the vegetables so that they're the same size. This will ensure that they cook evenly.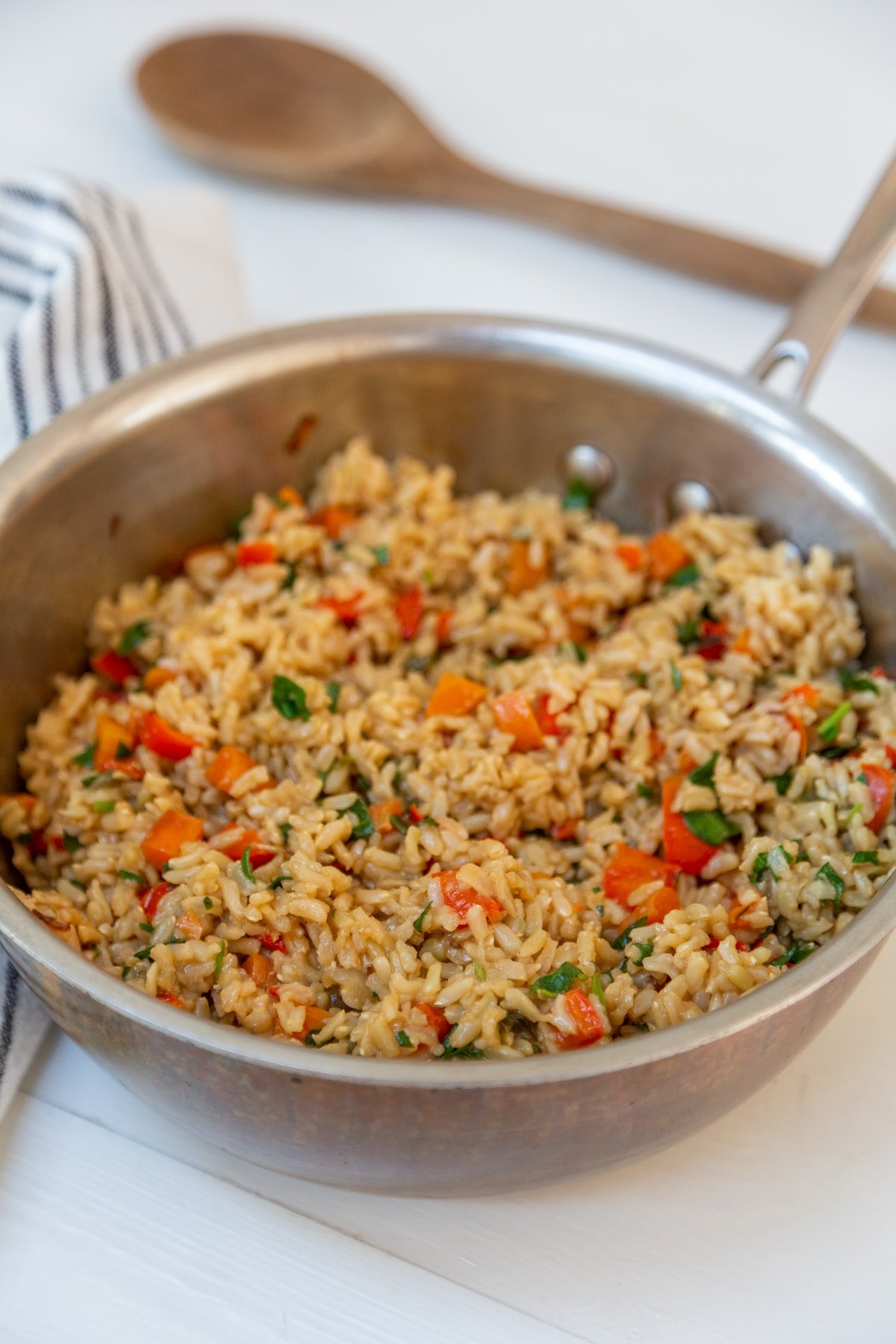 STEP THREE
Fold in the beans and add some fresh cilantro and a squeeze of fresh lime juice.
That's it, easy, fast, affordable, healthy, and delicious food for you and your family in less than thirty minutes. You're welcome.
HOW TO COOK BLACK BEANS
As convenient as it is to open a can of cooked black beans, nothing compares to cooking beans from scratch.
The texture and the flavor is so much better, and it's so easy, why wouldn't you? Follow these easy steps to make homemade black beans.
Rinse and sort through the beans to look through any rocks or other debri that may have made its way into the package. 
In a stock pot, cover the beans with several inches of water and soak for at least six hours. Overnight is best. 
Drain and rinse the beans once they've expanded in size and have softened. They should be plump and firm. 
Put back in the stock pot and cover with several inches of water and bring to a boil. Reduce the heat to a simmer and cook for approximately 90 minutes,to 2 hours or until the beans are soft and puffy. Check the water level often and replace the water if you need to. Beans absorb water quickly, so keep a close eye on them. 
For more information on cooking beans, click Here.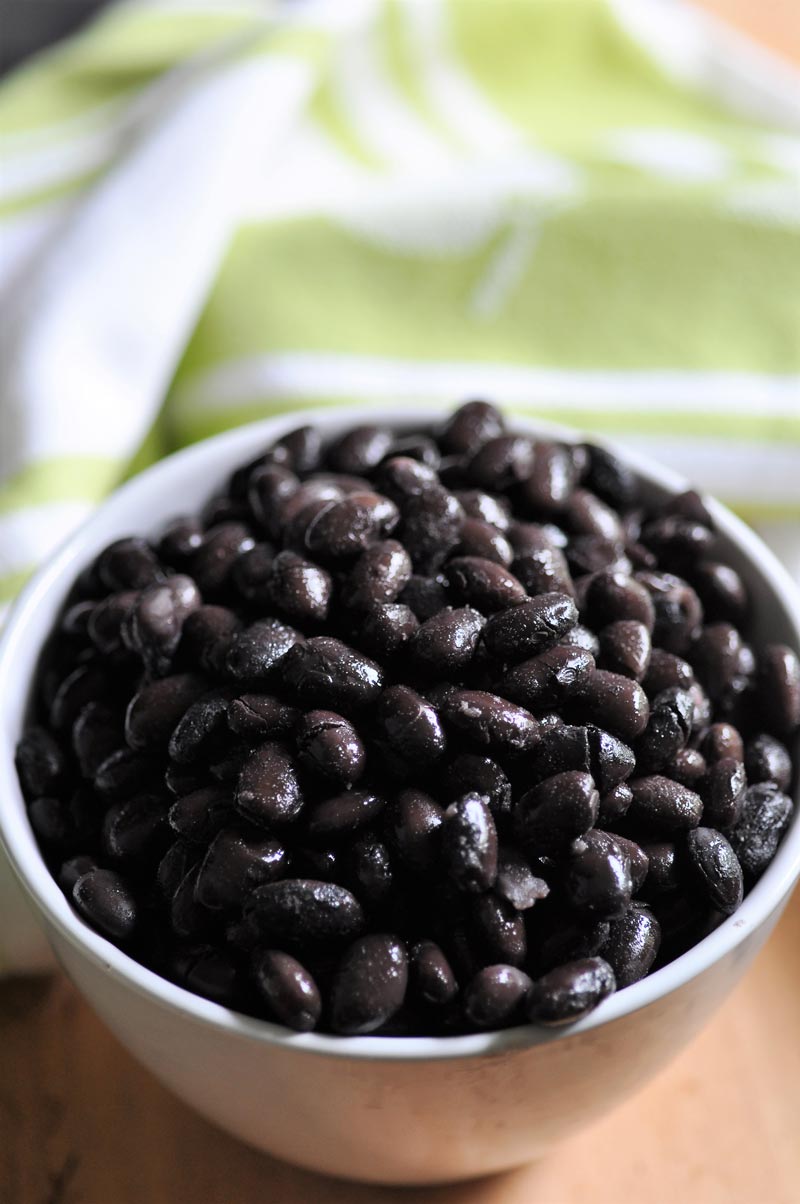 How to serve
This makes a great meal on its own because it has protein, healthy carbohydrates, and vitamins and minerals.
It also makes a great side dish. Serve it with tacos, enchiladas, or grilled vegan seitan chicken.
Top it with sliced tomatoes and avocado.
Storage
Cooked rice shouldn't be left out for more than an hour after cooking it, because there's a lot of moisture in rice and it has the potential of developing bacteria quickly.
Cover it and store in the refrigerator for up to 3 days or freeze it in a freezer safe container for up to 3 months.
Make our healthy and easy veggie loaded black beans and rice recipe and let us know what you think. We love to hear from you! And, don't forget to take a picture of your gorgeous creation and tag us @veganosity on Instagram.
Let's connect on Instagram and Twitter. You'll get a peek into our everyday lives in our stories and see what we're sharing in our feed.
And, don't forget to SUBSCRIBE to the blog so you never miss a recipe. Scroll below the recipe or in our side bar to become a Veganosity subscriber.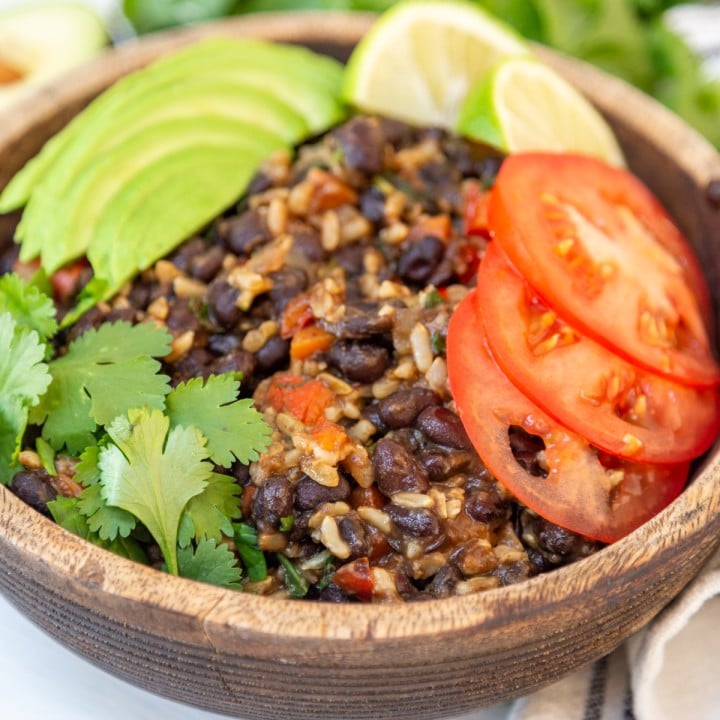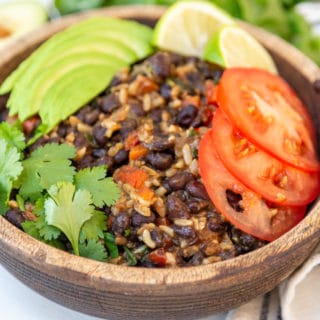 The Best Veggie Loaded Black Beans and Rice
A quick, easy, healthy, and delicious meal with brown rice, black beans, and bell peppers, spinach, and onions.
Print
Pin
Rate
Ingredients
15

ounce

black or red beans

canned or cooked from scratch

1 ½

cups

vegetable broth

Use water if desired. We recommend the broth for extra flavor.

1

cup

dry quick cooking brown rice

1

tablespoon

plus 1 teaspoon chili powder – divided

1 ½

teaspoon

cumin – divided

1

teaspoon

smoked paprika

1

teaspoon

of avocado or extra virgin-olive oil or 2 tablespoons of vegetable broth

1

medium onion

finely chopped

1

jalapeno pepper

seeded and chopped

1

red bell pepper – removed and chopped

3

garlic cloves

minced

3

cups

spinach

chopped (measure the spinach before chopping)

½

cup

cilantro

chopped

1

Lime
Toppings
avocado slices

tomato slices

cilantro leaves
Instructions
Drain and rinse the beans and put them in a medium sauce pan and cover with water. Bring to a boil at high heat, once the water is boiling reduce the heat to simmer. Add 1 tablespoon of chili powder, 1 teaspoon cumin, 1 teaspoon smoked paprika, and ground pepper to taste and stir well to combine. Simmer for 20 minutes, stirring occasionally. Stir in the salt to taste at the end.

In a large skillet with a lid, heat the oil, or, 2 tablespoons of vegetable broth if you don't cook with oil, on medium heat. When the oil/broth is hot, add the onion, bell pepper, and jalapeno and sauté until tender, approximately 5 to 7 minutes. Stir frequently. Pour the 1 and ½ cups of vegetable broth (or water if you're not using broth) over the vegetables and bring to a boil. When the broth is boiling stir in the rice, cover, and reduce the heat to simmer for the amount of time directed on the package. Usually 20 minutes.

When the rice is done, remove the lid, add the spinach and cilantro and squeeze the whole lime over the rice and beans and stir to combine. Put the lid back on. Let sit for 5 minutes.

Use a slotted spoon (to avoid adding extra water) to add the beans to the vegetables and rice, sprinkle on the remaining teaspoon of chili powder and ½ teaspoon of cumin, and grind more sea salt and black pepper on top if desired. Fold the beans and spices into the rice and veggies until well combined. Serve with fresh cilantro, sliced avocado, and tomato slices.

Enjoy!
Notes
Nutrition
Serving:
1
cup
|
Calories:
254
kcal
|
Carbohydrates:
49
g
|
Protein:
10
g
|
Fat:
2
g
|
Saturated Fat:
1
g
|
Sodium:
40
mg
|
Potassium:
566
mg
|
Fiber:
10
g
|
Sugar:
2
g
|
Vitamin A:
2719
IU
|
Vitamin C:
38
mg
|
Calcium:
68
mg
|
Iron:
3
mg