Veggie Loaded Black Beans and Rice is a healthy and easy meal made with brown rice, black beans, bell pepper, spinach, onion, and savory and spicy seasonings. Make a big batch and eat it as a meal or serve it on the side with our "Honey" BBQ Ribz, Smoky Southern Style Meatloaf, or our Black Bean & Mushroom Enchiladas. 

Hi there! Thanks for visiting us, we're so happy you're here. If you're looking for Southern inspired vegan comfort food recipes, you've come to the right place.
We love vegan comfort food and we're really good at making it. Take a tour through our site and you'll find all of the recipes that scream, stretchy pants required!
The good news, they're all plant-based recipes, so you don't need to feel guilty eating them. Now sit back, relax, and eat happy. 🙂
Also, in case you didn't know, we're published cookbook authors. We've written two vegan cookbooks that will help you make amazing vegan BBQ (you don't even need a grill) and everyday meals, from breakfast to dessert.
Click on the titles to check them out. GREAT VEGAN BBQ WITHOUT A GRILL
and THE ULTIMATE VEGAN COOKBOOK
.
WHY THIS EASY RICE AND BEANS RECIPE IS THE PERFECT MEAL
Life is busy, you want to eat healthy, you want food that tastes good, you don't want to spend a lot of time in the kitchen making healthy food that tastes good, so what should you do? Two words: Beans and Rice.
I've been incredibly busy lately, and this food blogger needed something fast, easy, and healthy black bean recipe to make for my ravenous husband, so I made my go to meal, beans and rice with veggies.
Dinner doesn't get any more basic and lively than this.
Basic, because it's made with five whole foods that will nourish and satisfy you and your family.
Lively, because it's filled with spices and color that makes an otherwise visually boring dish, strikingly appetizing.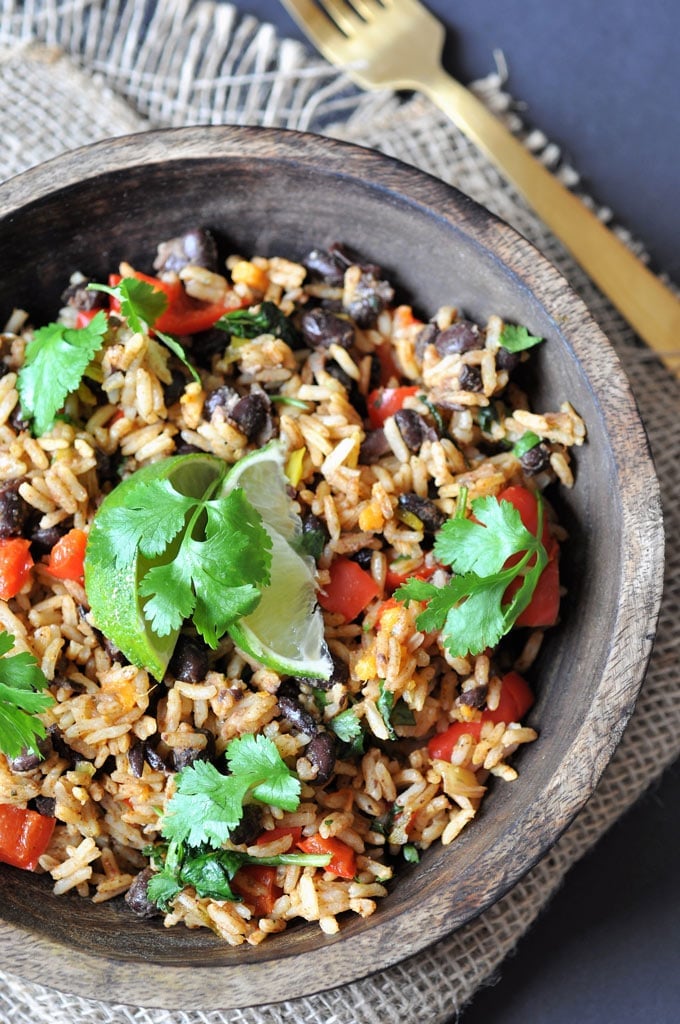 WHAT INGREDIENTS ARE IN VEGETABLE BLACK BEANS AND RICE? 
Black Beans
Brown Rice
Red Bell Peper
Onion
Spinach
Chili Powder
Cumin
Turmeric
Black Pepper
Salt
IS BLACK BEANS AND RICE HEALTHY?
Let's talk about what's in this rice with vegetables recipe. The base of this healthy vegetarian rice and beans recipe begins with black beans and brown rice.
Black beans

are filled with protein and fiber, and they add an earthy flavor and a creamy texture.

Brown rice

is also a good source of protein and fiber, so you're covered in those departments.
Layer it with more nutrients, add

red bell pepper, onion, and spinach

, then sprinkle in the magic.

Chili powder, cumin, turmeric, black pepper

, and sea salt, not only jazz up the flavor, they lend their own health benefits. This is one of the most delicious well rounded recipes ever, folks.
Additionally, this is an inexpensive way to feed your family a healthy and complete meal.
All of the ingredients are easy to obtain and affordable. You could double or triple the amount and have enough for the week.
Serve it as a side dish with this veggie burger, or pack it for a healthy plant-based lunch.
How to Make Beans and Rice with Vegetables
STEP ONE
Open a can of black or red beans and drain and rinse them. Cover with water and bring to a boil, then add chili powder, cumin, turmeric, and black pepper. Simmer for 20 minutes.
STEP TWO
Chop the onion and bell pepper and sauté until they're tender. Add vegetable broth and rice to the veggies, cover, and simmer until done.
STEP THREE
Fold in the beans and add some fresh cilantro and a squeeze of lime juice.
That's it, easy, fast, affordable, healthy, and delicious food for you and your family in less than thirty minutes. You're welcome.
HOW TO COOK BLACK BEANS
Dry Beans
As convenient as it is to open a can of cooked black beans, nothing compares to cooking beans from scratch.
The texture and the flavor is so much better, and it's so easy, why wouldn't you? Follow these easy steps to make homemade black beans.
Rinse and sort through the beans to look through any rocks or other debri that may have made its way into the package. 
In a stock pot, cover the beans with several inches of water and soak for at least six hours. Overnight is best. 
Drain and rinse the beans once they've expanded in size and have softened. They should be plump and firm. 
Put back in the stock pot and cover with several inches of water and bring to a boil. Reduce the heat to a simmer and cook for approximately 90 minutes,to 2 hours or until the beans are soft and puffy. Check the water level often and replace the water if you need to. Beans absorb water quickly, so keep a close eye on them. 
For more information on cooking beans, click Here.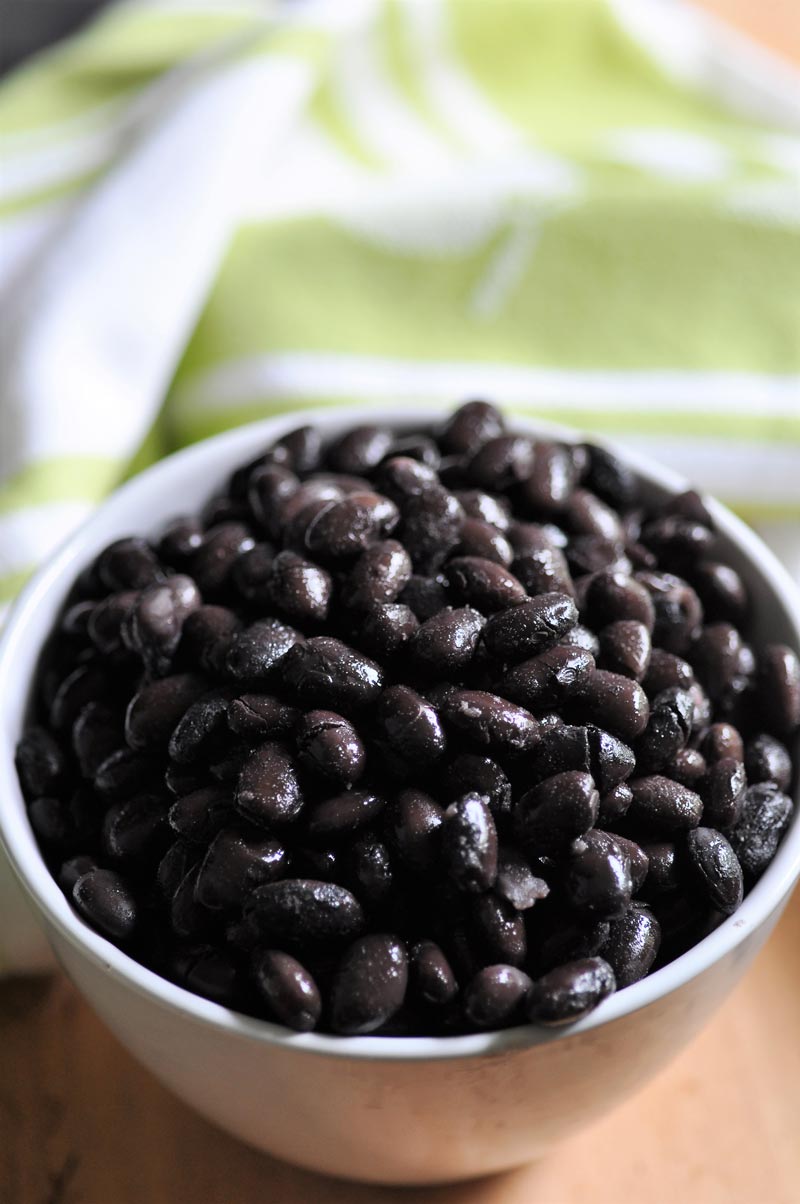 Let's connect! Hop on over to our Facebook page and give it a like, and follow us on Instagram and Twitter, and follow us and share this and other Veganosity recipes on Pinterest. We'd be so grateful if you did. If you like this recipe and can't wait to see what we're going to share next, subscribe to Veganosity. Just fill in the subscription box above our picture in the top right corner of the page. And, Alex and I love hearing from you, please leave a comment and let us know what you think of our recipes.
VEGGIE LOADED BLACK BEANS AND RICE
A quick, easy, healthy, and delicious meal with brown rice, black beans, and bell peppers, spinach, and onions.
Ingredients
15

oz

black or red beans

1 ½

cups

vegetable broth

1

cup

dry quick cooking brown rice

1

tablespoon

plus 1 teaspoon chili powder – divided

1 ½

teaspoons

cumin – divided

1

teaspoon

turmeric

2

teaspoons

ground sea salt – divided

add more or less as desired

½

teaspoon

of ground black pepper

add more or less as desired

1

medium onion – chopped

1

red bell pepper – removed and chopped

3

cups

spinach

1

teaspoon

of avocado or extra virgin-olive oil or 2 tablespoons of vegetable broth

½

cup

of chopped cilantro

optional

Lime wedges

optional
Instructions
Drain and rinse the beans and put them in a medium sauce pan and cover with water. Bring to a boil at high heat, once the water is boiling reduce the heat to simmer. Add 1 tablespoon of chili powder, 1 teaspoon cumin, turmeric, and ground pepper and stir well to combine. Simmer for 20 minutes, stirring occasionally. Stir in the sea salt at the end.

In a large skillet with a lid, heat the oil, or, 2 tablespoons of vegetable broth if you don't cook with oil, on medium heat. When the oil/broth is hot, add the onion and bell pepper and sauté until tender. Pour the 1 and ½ cups of vegetable broth over the vegetables and bring to a boil. When the broth is boiling stir in the rice, cover, and reduce the heat to simmer for the amount of time directed on the package. Usually 20 minutes.

When the rice is done, remove the lid, add the spinach, and put the lid back on. Let sit for 5 minutes.

Use a slotted spoon (to avoid adding extra water) to add the beans to the vegetables and rice, sprinkle on the remaining teaspoon of chili powder and ½ teaspoon of cumin, and grind more sea salt and black pepper on top if desired. Fold the beans and spices into the rice and veggies until well combined. Serve with fresh cilantro and lime wedges.

Enjoy!
Recipe Notes
The nutrition calculations are only an estimate. They will change depending on whether or not you use oil or broth to saute the vegetables, and if your measurements are exact. 
Nutrition Facts
VEGGIE LOADED BLACK BEANS AND RICE
Amount Per Serving
Calories 360
Calories from Fat 27
% Daily Value*
Fat 3g5%
Sodium 1981mg86%
Potassium 789mg23%
Carbohydrates 70g23%
Protein 12g24%
Vitamin A 3955IU79%
Vitamin C 49.7mg60%
Calcium 99mg10%
Iron 4.9mg27%
* Percent Daily Values are based on a 2000 calorie diet.