Chocolate and banana are such a great combination, and these vegan muffins are filled with delicious chocolate and chunks of banana! The perfect breakfast.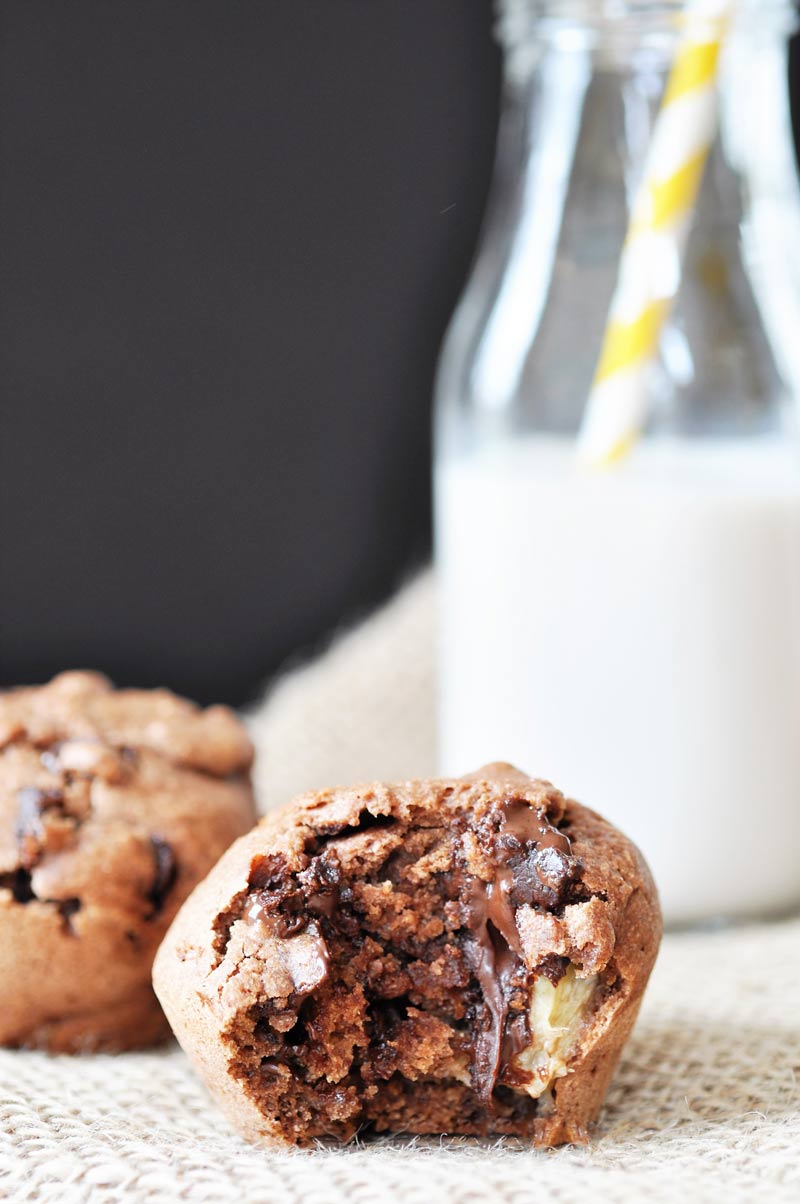 Good morning ladybugs and gentlebugs! Sorry to smack you in the face with the vision of a chocolate waterfall pouring down that chunky monkey chocolate banana muffin so early in the morning.
And can you even stand the chunk of banana cozying up to that melted chocolate? Just look at the texture of that muffin!
Drool….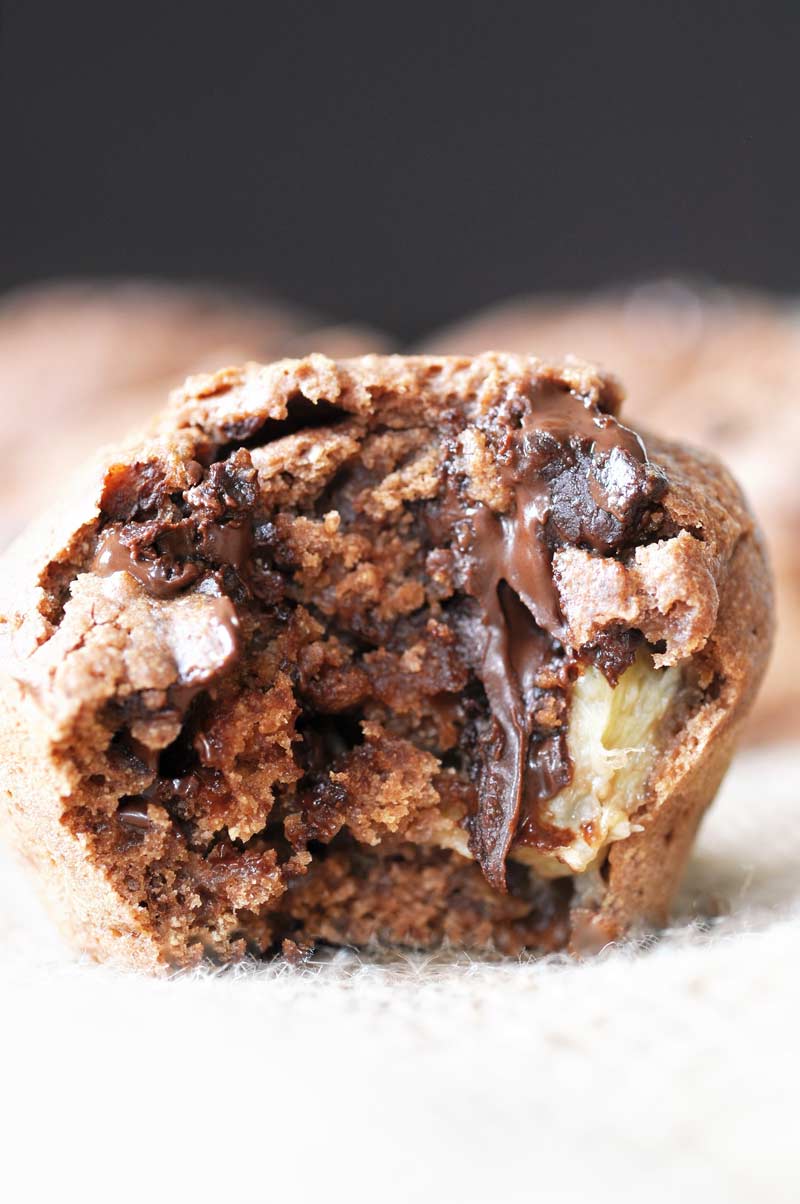 It took me a little while to get this recipe right. And before I finally did, I had a little meltdown. The Breakfast King [BK] had to talk me off of the ledge. I was ready to jump off the Veganosity Mountain and never come back. It was one of those mornings.
It started out on the wrong foot and somersaulted down, down, down, until my sweet husband picked me up and made me stand tall.
I was having an identity crisis. My recipes, and our blog, has always been written for people who are looking for food that tastes like conventional food, but is healthier and vegan. Our focus has never been to jump on a trend. Cough, cough, gluten-free-paleo-refined sugar-free-oil-free….. Yet, I've been trying to create more and more recipes that cater to said trends, and I started to get lost.
I've always been health conscious. I work out five to six days a week. I avoid processed foods. I eat tons of vegetables, whole grains, and fruit. I take my vitamin D and B12 daily. I drink tons of water. I don't consume much sugar. I cook with little oil. Darn it, I'm a flipping poster child for what a healthy fifty plus woman looks like. So WHY did I get so worried about following the latest food fads?
That question and my frustration came to a head on Saturday morning, after I had to toss a batch of these muffins in the trash because I didn't follow what I know to be tried and true.
Sad first batch of muffins in the garbage can. 🙁
The BK walked into the kitchen as I was tasting the first batch of muffins and he could tell by the look on my face that they weren't great. They weren't bad, but they weren't good enough for me to share with all of you beautiful people. They were flat, heavy, and dull.
He tasted one and his right eyebrow went up. He asked me how I made them and I told him that I used maple syrup to sweeten them instead of granulated sugar. He rolled his eyes and asked me—for the millionth time—why I keep trying to use maple syrup, dates, and coconut sugar in recipes that turn out so much better with granulated sugar? That's when I lost it.
My answer was the same as it had always been. Because it's supposed to be healthier, the glycemic index is lower, and that's what people want right now!!!
Then I started to cry and said that I probably should just quit developing recipes for the blog because I don't know what I'm doing when it comes to making healthy food.
He smiled and shook his head and reminded me of why Alex and I started the blog to begin with. We wanted to share all of our favorite family recipes that we had converted to vegan versions that tasted just as good—if not better—than the dishes that used to contain animal products. We didn't start Veganosity to make food that catered to any other dietary restrictions other than vegan.
And you know what? He was absolutely right. I don't have Celiac Disease or a gluten intolerance, so why drive myself crazy trying to make gluten-free baked goods, when frankly, I'm not good at it, and I don't really like most vegan gluten-free baked foods. Sorry if you do. I just don't. Every one that I've had has either been dry, and/or, loaded with sugar.
I also don't have a problem with baking or cooking with sugar when it's the best ingredient for the dish I'm preparing. Maple syrup didn't cut it for these muffins. I could have put a full cup of syrup in them instead of a half of a cup, but seriously, pure maple syrup is expensive. And, no matter how you cut it, that's a LOT of sugar that your body has to process. I could have used coconut sugar, xylitol, stevia, or date sugar, but again, some are expensive and some may be hard to find for my rural readers.
Don't get me wrong, there are certain recipes that I prefer using maple syrup, dates, or coconut sugar to sweeten, because they work better and the flavor is better. But there are times when those things don't work well, and I'm not going to compromise because there's a big debate going on in some circles about what sweetener is better for you. The truth is, the jury is still out on that one. Besides, muffins are a treat, not something that you should be eating for breakfast or a snack every day. So if you're going to eat a muffin, eat the best darn muffin you can eat, and enjoy it!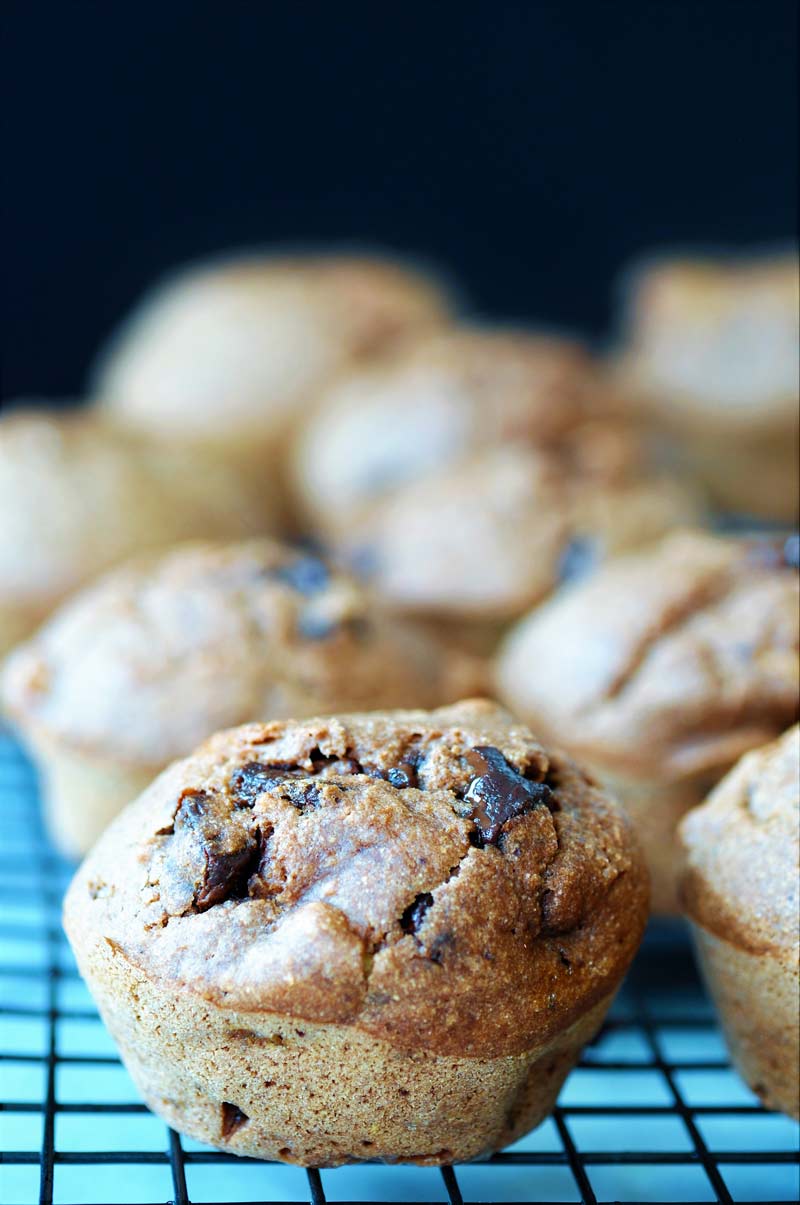 I feel the same way about oil. There are times when a little bit of coconut oil, olive oil, or avocado oil adds depth and flavor, and makes food taste better. You can always leave it out in most of my recipes and the food will still be good. But I like to give you great, and in these muffins, the little bit of coconut oil added a crispiness to the exterior of the muffin that you wouldn't get without it.
To summarize my melt down, I was starting to get lost in the sea of dietary fads that are floating around the web. I felt like I needed to cater to all of them to keep up and grow this little blog of mine. But that's not me. I'm not a trend follower. If something works for me, I don't try and fix it. Will I try and make it better, of course, but I eat so healthy already that I'm not going to cut out all of the things that make my food taste better.
Veganosity is a blog for people who want to eat really good food that happens to be vegan and healthy, with the occasional treat thrown in for good measure. If you're a vegan you can be sure that you'll be able to serve my recipes to non-vegans and they won't run for the hills. If you're not a vegan, but you want to incorporate more whole food plant-based meals in your life, I promise you that I won't make it hard.
You're already giving up eating things that you've eaten and loved your entire lives, I'm not going to shock your system by cutting out animal products, and gluten, sugar, and oil all in one fell swoop. What I will do is create recipes that are nutritiously rich and tasty. Because life is too short not to be delicious.
Back to the chunky monkey chocolate banana muffin.
YUM! That's all.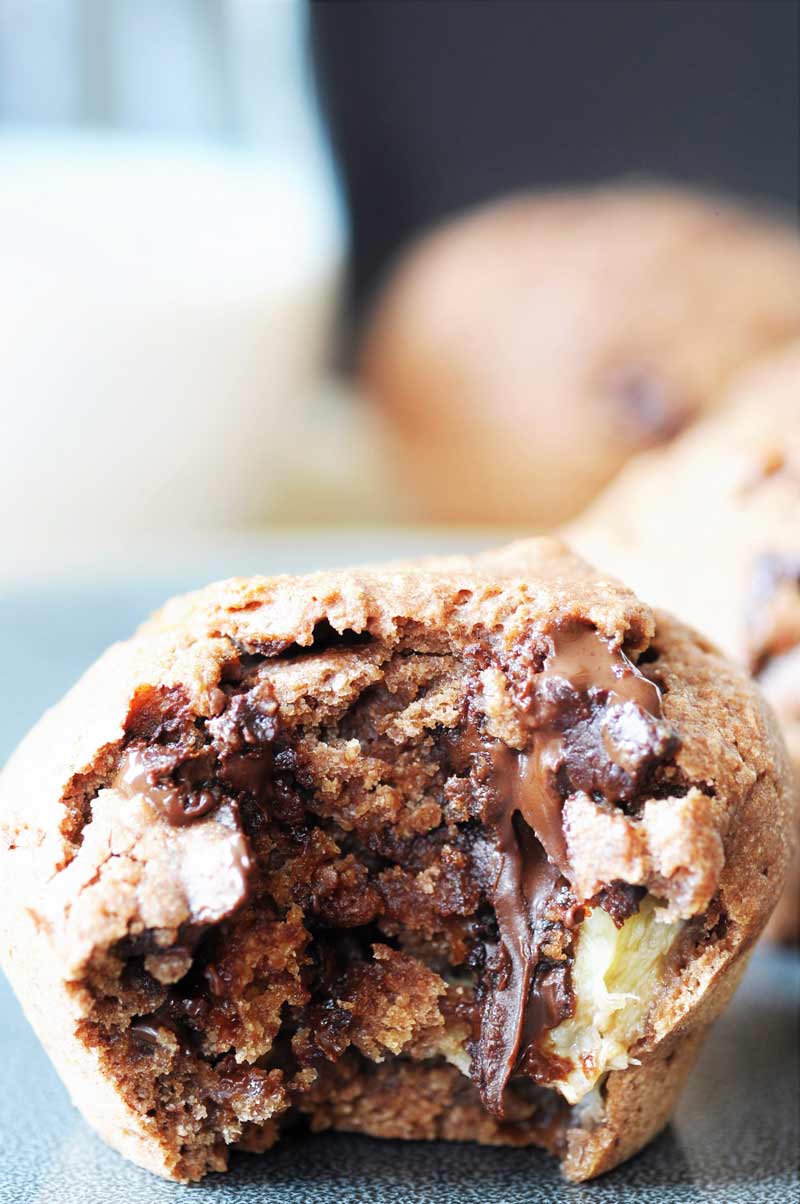 Tell me:
What kinds of recipes would you like to see from Veganosity?
Do you think muffins should be a daily breakfast staple or a treat?
How bad do you want to reach in and grab that muffin?
Do us a favor, if you like this recipe and can't wait to see what we're going to share next, subscribe to Veganosity. Just fill in the subscription box above our picture in the top right corner of the page. Alex and I love hearing from you. Please leave a comment and let us know what you think of our recipes. And let's connect! Hop on over to Facebook page and give it a like, or follow us on Instagram or Twitter, and follow us and share this and other Veganosity recipes on Pinterest. We'd be so grateful if you did.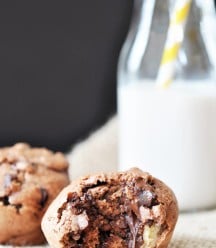 CHUNKY MONKEY CHOCOLATE BANANA MUFFINS (VEGAN)
A delicious vegan muffin filled with chocolate and bananas.
Ingredients
2 1/2

cups

of stone ground flour

2

teaspoons

of baking powder

1

teaspoon

of salt

1/4

cup

of cocoa powder

1/2

cup

of sugar

1

teaspoon

of pure vanilla extract

1/2

cup

of unsweetened apple sauce

1

tablespoon

of melted coconut oil

1

cup

of non-dairy milk

I used cashew milk but almond milk will work too

1

large banana – diced into small pieces

1/2

cup

of vegan chocolate chunks or chips

I use Enjoy Life brand
Instructions
Preheat the oven to 350° and grease and flour or line a muffin tin with liners

In a large mixing bowl whisk the flour, baking powder, salt, cocoa powder, and sugar together until well blended and the cocoa is evenly distributed.

Add the apple sauce, vanilla, coconut oil, and non-dairy milk and stir until just combined. Don't overdo it or the batter will get tough. Gently fold in the banana and chocolate chips until evenly combined.

Spoon the batter into the muffin tins until 3/4 of the way full. Bake for approximately 20 minutes or until the tops are puffy and cracked and a toothpick comes out clean.

Cool on a wire rack for five minutes and then remove the muffins from the tin and cool on the rack until they're cool enough to eat.

Store in an airtight container for up to two days or freeze for up to a month.
Recipe Notes
You can add a half cup of chopped nuts of your choice to this recipe for added texture and protein.
The nutrition facts are only an estimate.
Enjoy!
Nutrition Facts
CHUNKY MONKEY CHOCOLATE BANANA MUFFINS (VEGAN)
Amount Per Serving
Calories 201
Calories from Fat 36
% Daily Value*
Total Fat 4g 6%
Sodium 205mg 9%
Potassium 190mg 5%
Total Carbohydrates 38g 13%
Protein 4g 8%
* Percent Daily Values are based on a 2000 calorie diet.