The BEST Vegan Pumpkin Pecan Muffins! These soft pillows of pumpkin and pecan deliciousness are the best we've ever eaten. We think you'll agree once you make a batch of your own.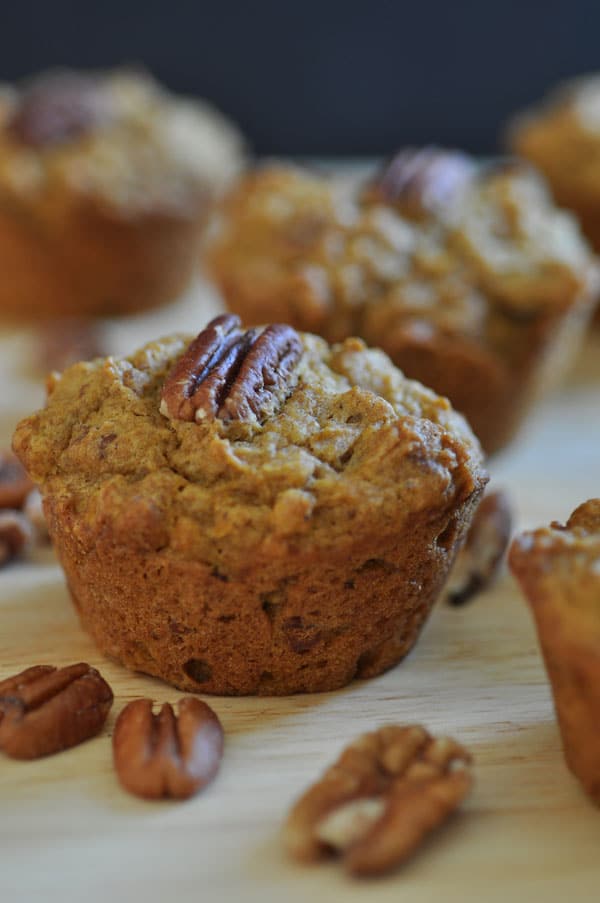 You can thank my son for this recipe. He was home to watch Alex and I run the Chicago Marathon. Yes, we did it, and it was the most fun I've had all year. Anyway, he came home to watch us and he suggested that I create a pumpkin muffin recipe for the blog. Of course, I wondered why I hadn't thought of that? I love pumpkin. I love muffins. Really, why hadn't I thought of that?
So here we are, a week later, and I'm noshing on these delicious pumpkin muffins with pecans. They truly are the best muffins I've ever eaten. The pumpkin puree adds so much flavor and moisture and denseness to the batter, yet, they're soft and fluffy all at the same time. The pecans (my favorite nut) lend sweetness and crunchiness to make them so much fun to eat.
Take one bite and fall in love with a muffin. It sounds ridiculous, but you will. They taste like fall. Like walking through a path of crackly and colorful dried leaves as a crisp breeze makes you zip up your jacket a little tighter. Like running through a pumpkin patch as you look for that perfect gourd to carve into your next jack-o-lantern. Like sipping a maple pecan latte on your front porch on a sunny autumn morning. That's what these lovely, portable, best pumpkin muffins I've ever eaten taste like.
If that description didn't make you want to run to your kitchen and whip up a batch of these homemade pumpkin pecan muffins, then bye Felicia. Talk to the hand, because I'll never understand you. For the rest of you sane people, let's make some magic.
HOW TO MAKE PUMPKIN PECAN MUFFINS FROM SCRATCH
This easy pumpkin muffin recipe is made with good old all-purpose flour. I was feeling old-fashioned. If you reject or can't eat gluten, then feel free to use all-purpose gluten-free flour. We like to use King Arthur Flour Gluten-Free Multipurpose Flour
 It always yields the best results.
First – Whisk the flour, salt, baking soda, baking powder, and spices together until well blended. It's going to smell really good, so take it all in.
Second – Whisk the apple sauce and baking powder together until it's foamy. This is your egg-replacer. Cool, right?
Third – Beat the vegan butter and sugar until it's nice and creamy. Add the apple sauce, vanilla, maple syrup, and pumpkin puree and beat it for two minutes at a high speed.
Fourth – Stir in the flour mixture and chopped pecans until just blended. Don't overwork it or you'll end up with tough muffins. No good.
Fifth – Use an ice-cream scoop or a large spoon to fill the greased muffin tins ¾ of the way full and press a whole pecan on the tops. Bake for 30 to 35 minutes, or until a wooden toothpick comes out clean when inserted in the center.
Five simple steps will gift you with approximately 16 delicious pumpkin pecan muffins, made from scratch in your kitchen. Bonus, your house is going to smell better than a candle could ever make it smell.
You probably won't have to worry about storing these because they won't last more than a day, but if there are leftovers you can store them in an air-tight container and reheat in the microwave. Or, you can freeze them in a freezer bag for up to 3 months.
Make the BEST vegan pumpkin pecan muffins for you and your family and friends today and gather around the table with mugs of coffee and take a minute to catch up with one another. And don't forget to come back and let us know how much you liked them. We love to hear from you.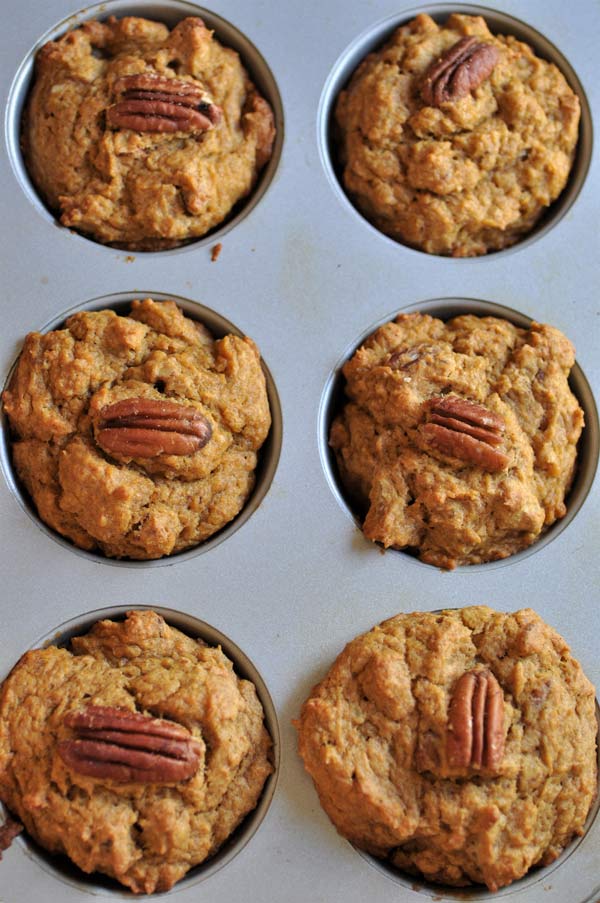 Let's connect! Hop on over to our Facebook page and give it a like, and follow us on Instagram and Twitter, and follow us and share this and other Veganosity recipes on Pinterest. We'd be so grateful if you did. If you like this recipe and can't wait to see what we're going to share next, subscribe to Veganosity. Just fill in the subscription box above our picture in the top right corner of the page. And, Alex and I love hearing from you, please leave a comment and let us know what you think of our recipes.
The above links are affiliate links. Any Amazon purchases made through these links help support Veganosity.com at no additional cost to you.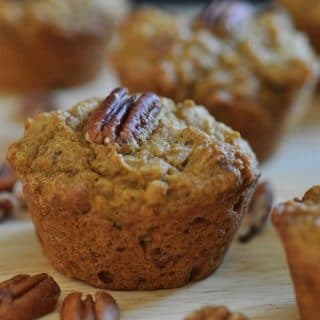 THE BEST VEGAN PUMPKIN PECAN MUFFINS
Perfect pumpkin pecan muffins that are as easy to make as they are to eat.
Print
Pin
Rate
Ingredients
½

cup

unsweetened apple sauce plus ½ tsp aluminum-free baking powder

2

cups

all-purpose flour (See Note)

1

tsp

ground cinnamon

1

tsp

ground nutmeg

½

tsp

ground ginger

½

tsp

ground allspice

½

tsp

ground sea salt

½

tsp

aluminum-free baking powder

½

tsp

baking soda

¼

tsp

ground cloves

10

tbsp

vegan butter at room temperature (we use Earth Balance)

1

cup

granulated vegan white sugar

¼

cup

pure maple syrup

1

tsp

pure vanilla extract

1

15 oz

can of pumpkin puree

1

cup

chopped pecans plus approximately 16 whole pecans for garnishing
Instructions
Preheat the oven to 350°F (176°C) and lightly grease the individual cups of a muffin pan

Whisk the apple sauce and baking powder until foamy. Set aside

In a medium bowl, whisk the flour, spices, salt, baking powder, and baking soda until combined. Set aside

In a large mixing bowl, beat the butter and sugar until creamy and smooth. Add the applesauce, vanilla, maple syrup, and pumpkin puree and beat on a high speed for 2 minutes. It won't be smooth and creamy, that's okay.

Stir in the flour and pecans until just combined.

Use an ice-cream scoop or a large spoon and fill each muffin cup ¾ of the way full and press a whole pecan on the tops. Bake for 35 to 40 minutes , or until a wooden toothpick comes out clean when inserted in the center.

Let cool for 5 minutes and invert on a wire baking rack to cool completely.
Notes
If you prefer a gluten-free version we suggest using King Arthur All-Purpose Gluten-Free flour.
The Nutrition Facts are an estimate only.
Nutrition
Calories:
230
kcal
|
Carbohydrates:
30
g
|
Protein:
2
g
|
Fat:
11
g
|
Saturated Fat:
1
g
|
Sodium:
195
mg
|
Potassium:
78
mg
|
Fiber:
1
g
|
Sugar:
16
g
|
Vitamin A:
325
IU
|
Vitamin C:
0.2
mg
|
Calcium:
23
mg
|
Iron:
0.9
mg