If you love mushrooms, garlic, and good olive oil, you're going to adore this roasted mushroom recipe. It's so simple, yet so flavorful and elegant. It makes a great appetizer or a topper for a big bowl of pasta.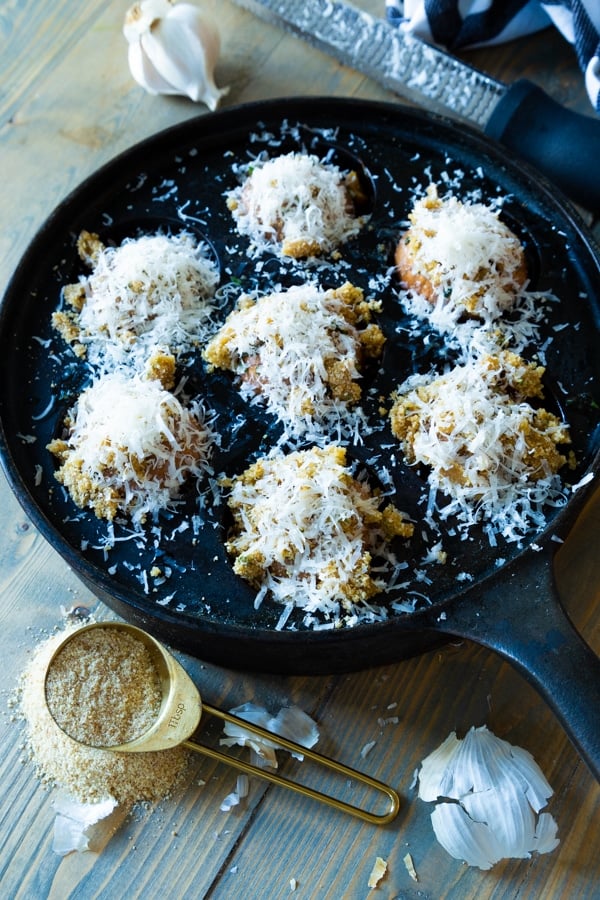 What I love about this blog is that it allows us to create vegan versions of favorite foods we've always loved and share them with you! We've recreated old favorites like vegan lasagna, vegan chocolate cake, and vegan enchiladas.
We've also created a whole bunch of BBQ recipes that you can find in our first cookbook, Great Vegan BBQ Without a Grill: Amazing Plant-Based Ribs, Burgers, Steaks, Kabobs and More Smoky Favorites
.
And we're not stopping there, we love traveling and creating vegan versions of our favorite foods from every region of the world, and the inspiration for this recipe comes from France.
WHERE WE FOUND OUR INSPIRATION
Any guesses as to where the inspiration for this recipe came from? Well, flashback about six years ago when I was traveling throughout Europe and flashback further to eleven years ago when I first had this French delicacy and you'd figure out that the food is: escargot. Yes. Before I was vegan I actually enjoyed snails.
Now, at this point in my life the idea of putting an actual snail down my throat makes me feel queasy, but… the way the French flavor their namesake dish is incredible and worth some time in the kitchen to recreate.
CREATING THE VEGAN VERSION OF ESCARGOT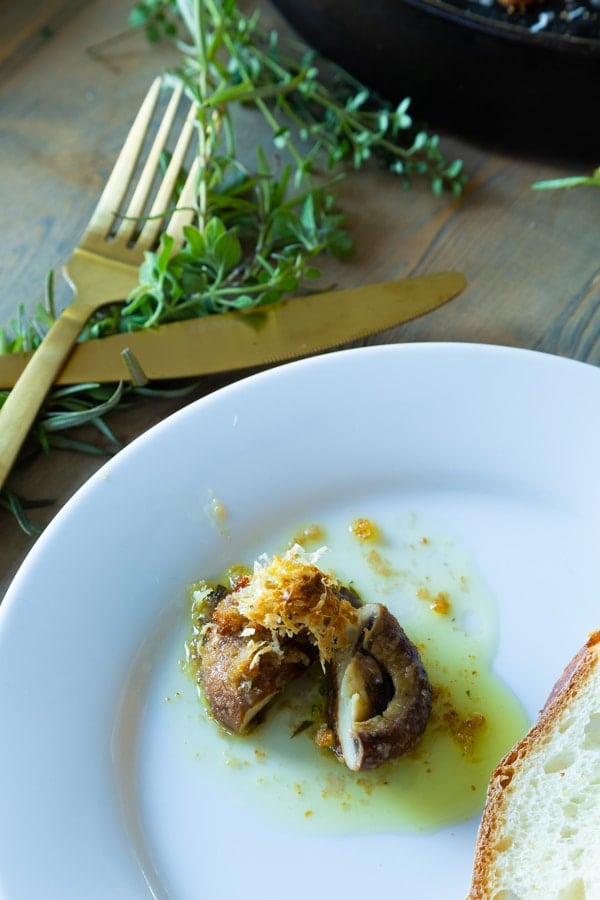 The first thing we had to decide when making this dish was what we were going to replace snails with? My initial concept was to use hearts of palm. Needless to say, that crashed and burned. They didn't have enough bite to resemble even slightly the texture of escargot. That idea was out the window.
Finally, after about an hour on the phone with my wonderful mother and co-collaborator, Linda, I gave in to her idea of using mushrooms. Mushrooms aren't my favorite and it's safe to say that if left alone I would've never come up with the idea.
I tried the mushrooms out, and WOW! Brilliant idea and the credit of this recipe goes to the wonderfully creative Linda Meyer. It's true what they say, mother knows best.
Now that I had my snail substitute ready to go, it was time to twiddle around with the seasoning to really make it Veganosity's own recipe.
The original calls for butter, garlic, pine nuts, and thyme. We wound up keeping the garlic and thyme but replaced the butter with olive oil and added some bread crumbs mixed with vegan Parmesan on top.
Not to sound like an annoying school girl, but OMG YOU GUYS! This stuff is legendary. I am never again shirking away from the mushroom dish at a party… well, as long as it's this mushroom dish!
The garlic infused olive oil envelops the mushrooms to create a perfectly cooked, tender, and flavorful bite. Keeping the thyme allowed the dish to be fresh and have that traditional nod to French cuisine. Finally, the use of bread crumbs and vegan Parmesan took this dish to the next level. The bread crumbs crunch along perfectly with the tenderness of the mushrooms, while the vegan Parmesan gives that unique bite which takes this dish over the top!
HOW TO MAKE ROASTED MUSHROOMS WITH GARLIC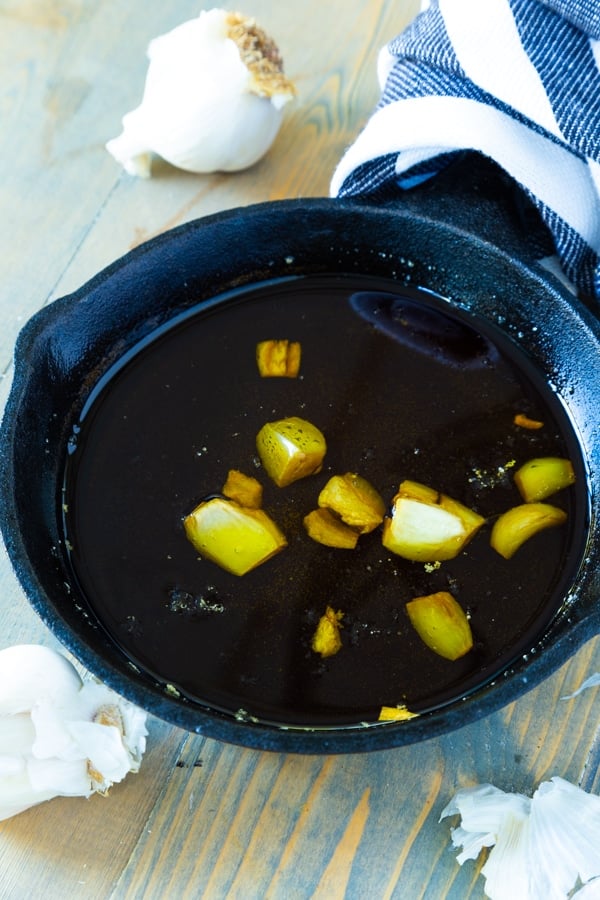 STEP ONE
Slow roast 5 cloves of garlic in the olive oil for about twenty minutes.
STEP TWO
2. Whisk the fresh rosemary and thyme, and the sea salt into the garlic and oil.
STEP THREE
3. Spoon half of the garlic infused oil evenly over the mushroom caps.
STEP FOUR
4. Mix the remaining oil with the breadcrumbs and dollop a bit on top of each mushroom.
STEP FIVE
5. Grate vegan Parmesan over the mushrooms and roast for approximately 15 minutes, or until they're tender and browned.
Grate a little more Parmesan on top and eat them while they're hot.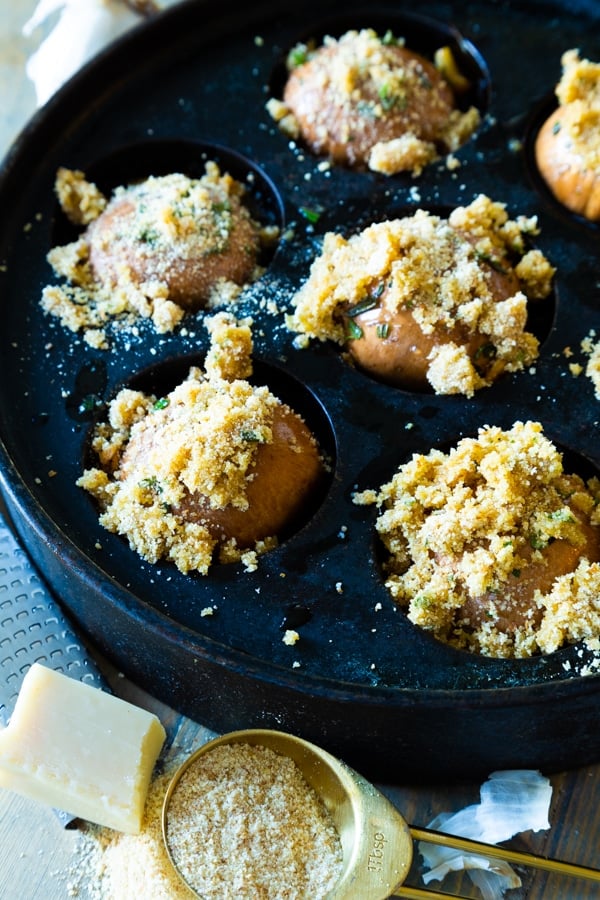 HOW TO SERVE OUR MUSHROOM ESCARGOT
There are many ways to serve these delectable garlic roasted mushrooms with vegan Parmesan. However, our favorite way is from an Aebleskiver pan
. Don't have one? To be honest, we didn't even remember we did until we went diving through kitchen cupboards. If you don't, you can find one at any cooking store or even on Amazon! Click the underlined link above to order one.
The reason why we love the Aebleskiver pan
, is because it's so closely reminiscent of the escargot serving dish. Plus, the little wells in the Aebleskiver pan are the perfect size for button mushrooms, baby bellas, and even crimini! They sit right in the little well while allowing room for the olive oil, bread crumbs, and vegan parmesan.
Just toss some small forks to the side of the pan and your guests will love the creativity and accessibility of this dish! Extra bonus: when you serve the mushrooms in the pan, they stay heated a lot longer than they would sitting on a plate.
Don't forget to add a hot loaf of crusty bread to soak up that amazing garlic olive oil!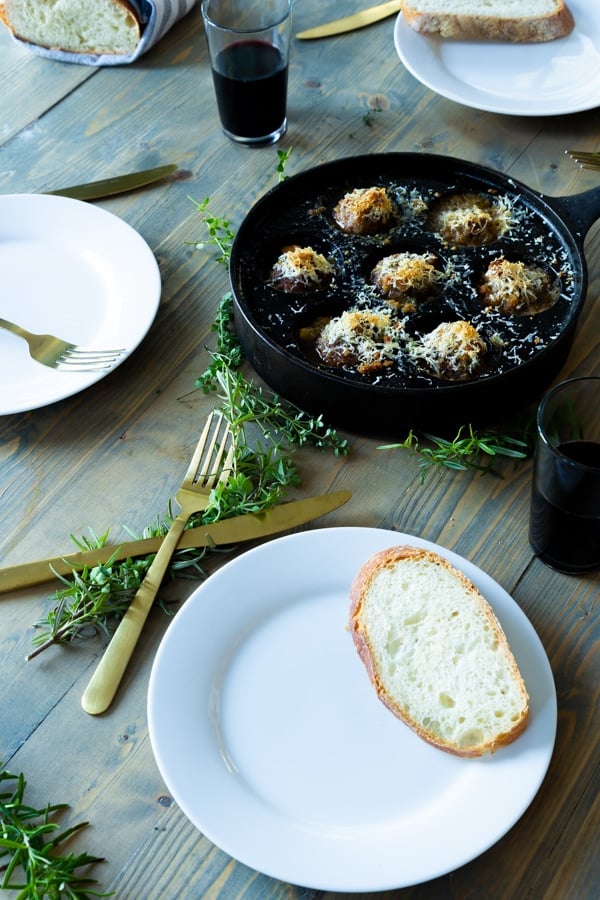 Make our delicious roasted mushrooms with garlic and Parmesan and let us know what you think. Follow and tag us on Instagram so we can see your beautiful creations.
Let's connect! Hop on over to our Facebook page and give it a like, and follow us on Instagram and Twitter, and follow us and share this and other Veganosity recipes on Pinterest. We'd be so grateful if you did. If you like this recipe and can't wait to see what we're going to share next, subscribe to Veganosity. Just fill in the subscription box above our picture in the top right corner of the page. And, Alex and I love hearing from you, please leave a comment and let us know what you think of our recipes.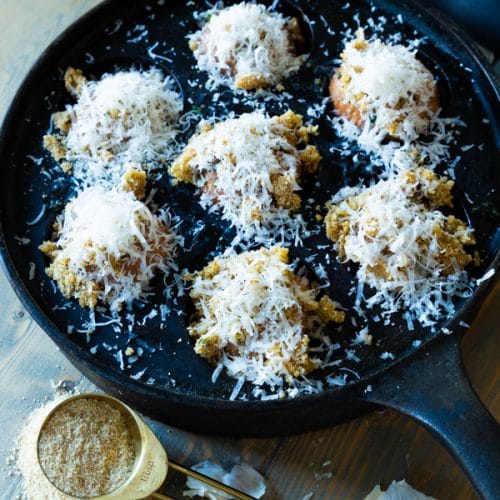 Roasted Garlic Parmesan Mushrooms
This delicious and simple roasted mushroom and garlic recipe is similar to escargot, only better, because no snails were harmed in the making of it.
Print
Pin
Rate
Ingredients
7

large Portobello or white mushroom caps

stems removed

5

garlic cloves

minced

½

cup

extra-virgin olive oil

1

tablespoon

fresh rosemary

minced

1

teaspoon

fresh thyme

minced

½

teaspoon

ground sea salt

3

tablespoon

bread crumbs

2

tablespoon

grated vegan Parmesan
Instructions
Preheat oven to 350°F (175°C)

Put the garlic and olive oil in a oven safe bowl or sauce pan and roast for 20 minutes.

Increase the oven temperature to 400°F (204°C)

Carefully whisk the herbs and salt in the oil and evenly spoon half of it over the mushrooms (stem side up).

Stir the breadcrumbs into the remaining garlic infused olive oil and put a dollop on top of each mushroom.

Sprinkle the grated Parmesan over the mushrooms and roast for approximately 15 minutes or until they're tender and golden.

Grate more Parmesan on top if desired and serve hot.
Notes
The Nutrition Facts are an estimate only.
If you don't have an Aebleskiver pan you can roast the mushrooms in a baking dish.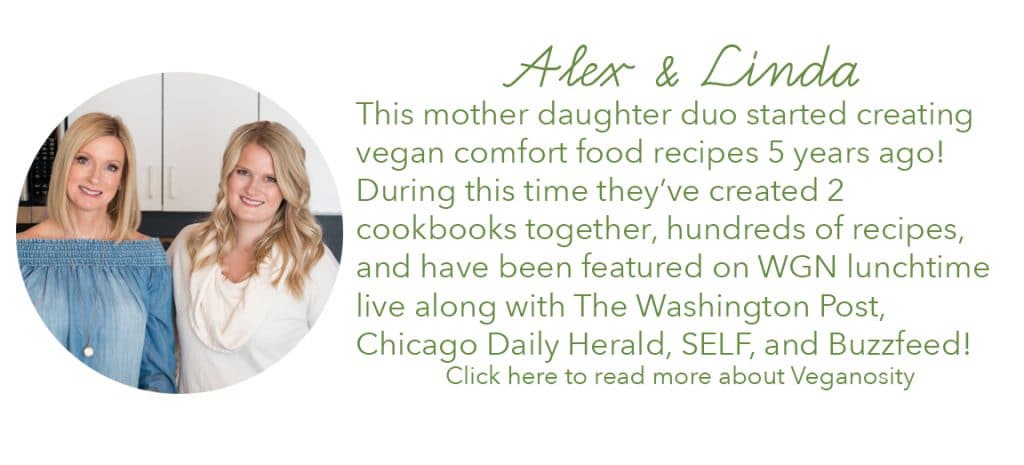 This post may contain affiliate links which won't change your price but will share some commission.