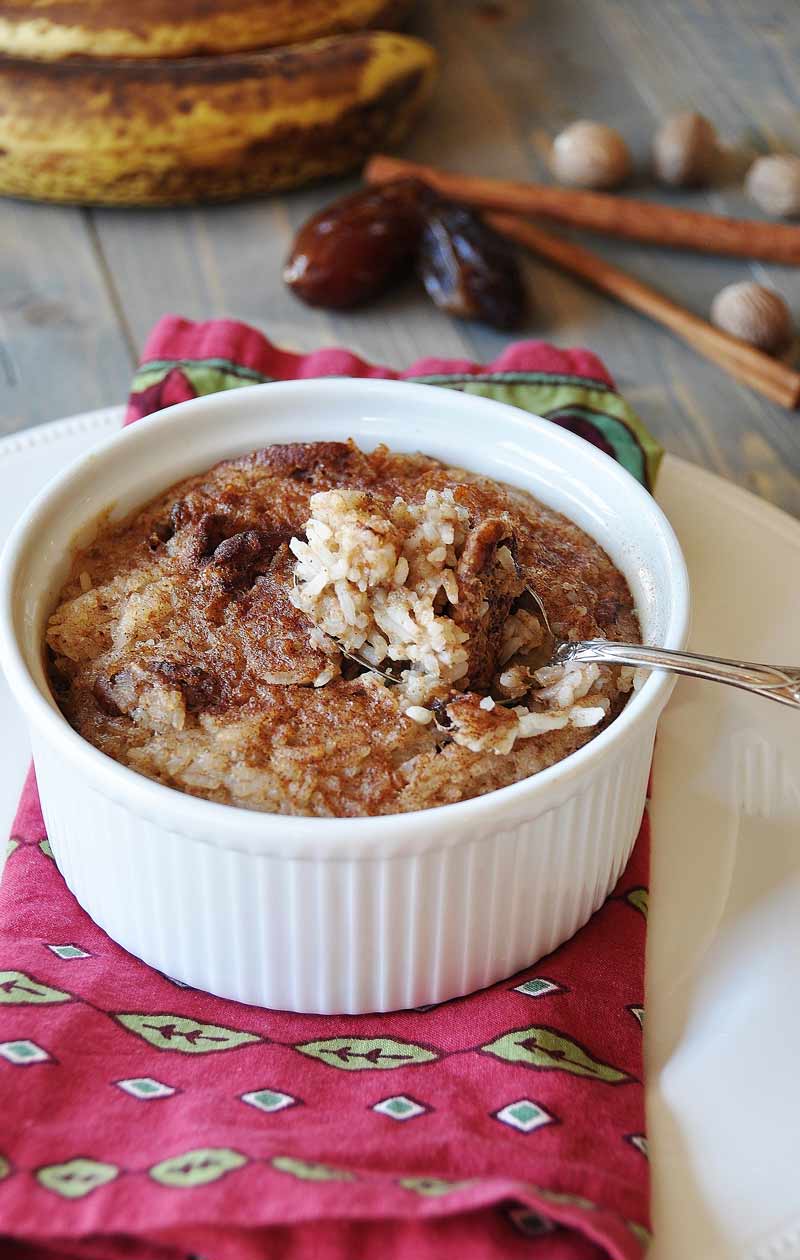 You caught me. I succumbed to the let's push Christmas down the throats of consumers marketing geniuses. Those buffoons. My weakness has been exposed, so instead of pretending like it didn't happen, I'm just going to play along and pass the spirit along to you with my first holiday recipe of the season: Vegan Nog Rice Pudding.
What made me crack? Nog. We all have our breaking points and nog is mine. I was minding my own business in the supermarket when BAM, there it was. I turned a corner to find a refrigerated case of Silk Nog, and suddenly, Burl Ives started singing Holly, Jolly Christmas in my head and I was done. The Christmas bug bit me, and before I knew it I was walking out of the store with a container of nog in my grocery bag.
The hubby and I have been enjoying it in our morning coffee, that's a no brainer. But leave it to the breakfast king (my husband) to use that nog in one of my favorite things ever, rice pudding.
We ordered Thai food the night before and had two cartons of rice left over. All my guy had to do was look in the fridge, spot two boxes of rice and a container of Silk nog, and he was off to the races. Thirty minutes later we had two steaming ramekins of sticky nog rice pudding to fill our bellies with. Jingle Bells!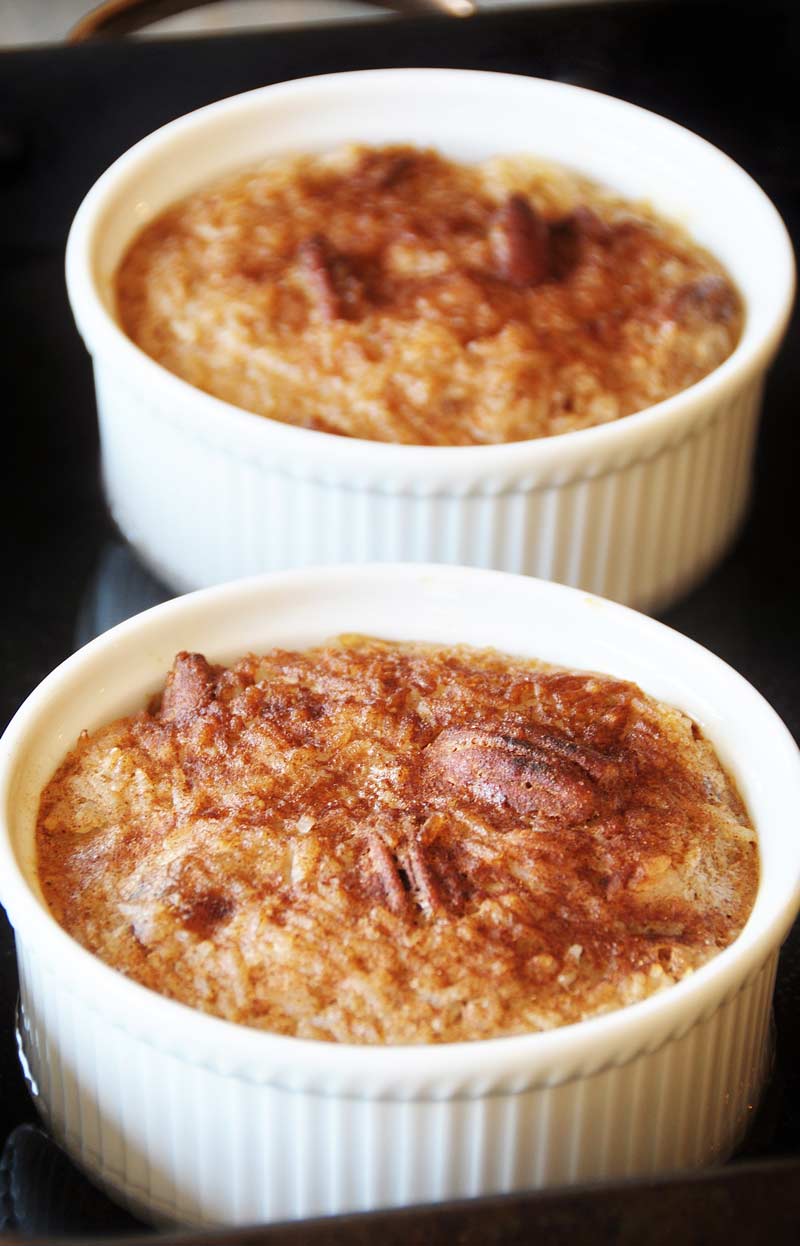 My mom used to make our family rice pudding all of the time and it was one of my favorite desserts. This dish takes me back to snuggling on the couch in my jammies with a big bowl of rice pudding in my hand while I watched the Brady Bunch. Those sweet memories make me love this breakfast/dessert/snack even more. Don't you find that food that's attached to special moments always tastes better?
Of course, my mother's rice pudding was made with cream and maybe an egg—I don't remember—so it wasn't the healthiest treat, but it was good. Imagine how happy I was yesterday morning when I took a big bite of the creamiest, most delicious rice pudding that was 100% plant-based. Happiness overload.
This is probably one of the easiest desserts you'll ever make. All you'll need are four cups of leftover rice (or you can make some fresh), a cup of Silk nog, dates, toasted pecans, bananas, spices, and a little vegan butter.
Puree the bananas and dates in a food processor and then mix all of the ingredients in a large bowl, scoop the mixture into two four-inch ramekins, sprinkle with a little cinnamon sugar and some melted vegan butter, and bake in a roasting pan with a layer of water for twenty minutes.
The cinnamon sugar and melted butter will give the pudding a nice caramelized crust and the water in the baking pan will ensure that the rice doesn't dry out and that the pudding cooks from the bottom up.
This would make such a wonderful Christmas morning breakfast paired with a fruit salad. Or, maybe a little bedtime snack on Christmas Eve. This delicious vegan nog rice pudding is bound to make you dream of sugarplums.
These are really good the next day because the spices really soak into the rice!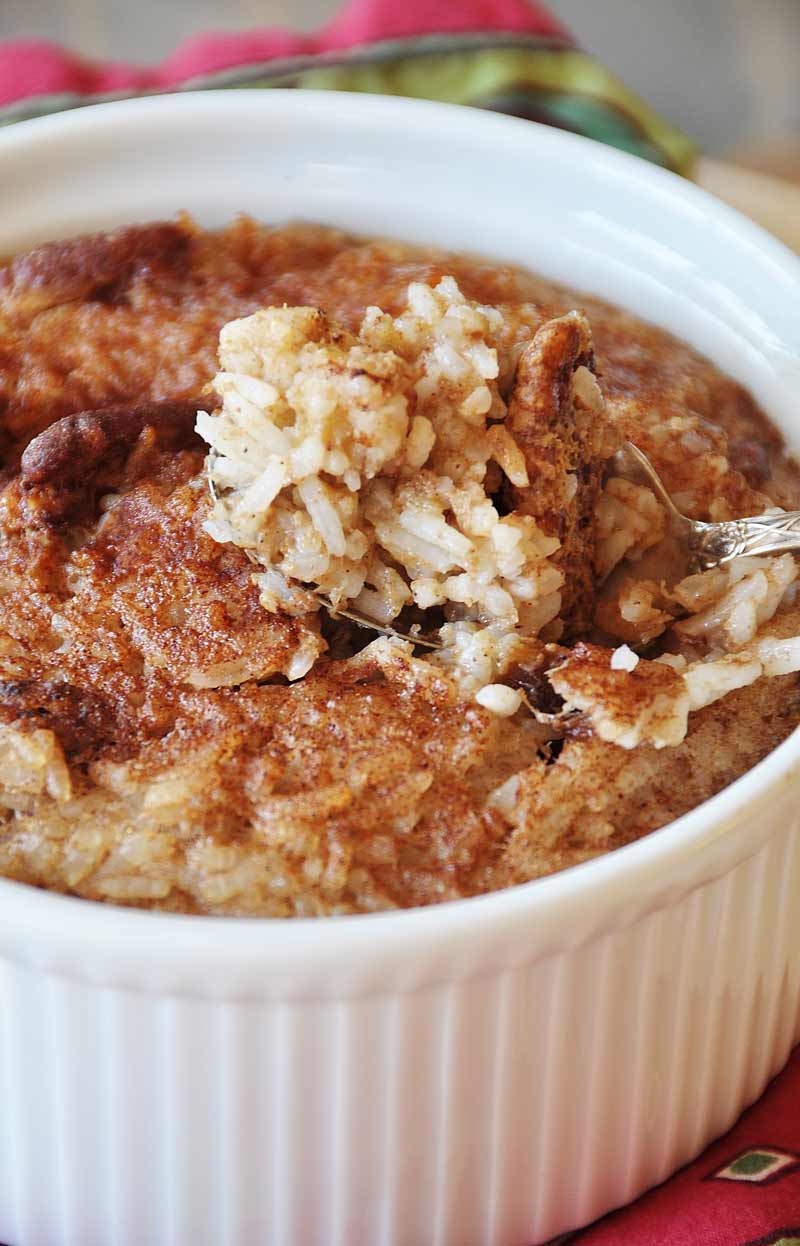 Tell me:
What is the one thing that will make you break and go full on into Christmas mode?
Do you love nog as much as I do?
Do you love rice pudding as much as I do?
Do you like what you've seen so far? I sure hope so! Do me a favor, take a trip over to my Facebook page and give it a like, or follow me on Instagram or Twitter, and follow me and share this and other Veganosity recipes on Pinterest. I'd be so grateful if you did.


This post may contain affiliate links which won't change your price but will share some commission..

Vegan NOG Rice Pudding (Dairy and Egg Free)
A sweet and creamy treat made with Silk nog, rice, and savory spices. Perfect for Christmas morning.
Print
Pin
Rate
Ingredients
4

cups

of cooked rice

follow the instructions on the package of rice for cooking and the correct measurement. Typically 1 cup of dry equals 3 cups cooked.

2

dates – pitted

2

bananas – pureed

½

cup

of toasted pecans

1

cup

of vegan nog

I use Silk brand

1

tablespoon

of pure vanilla extract

1

teaspoon

of cinnamon

¼

teaspoon

of nutmeg

⅛

teaspoon

of cloves

A pinch of finely ground sea salt

To top the pudding

2

tablespoons

of cinnamon sugar

1

tablespoon

of vegan butter – melted

2

cups

of water
Instructions
Preheat the oven to 350° and heat two cups of water

Cook the rice according to the directions on the package.

Toast the nuts in a dry pan over medium heat until they begin to brown. Remove from heat.

Puree the banana and dates in a food processor and transfer to a large bowl. Add the rice, pecans, nog, vanilla, and spices to the banana and dates and stir until well combined. Spoon into two 4 inch ramekins or a 9 inch pie plate and sprinkle with the cinnamon sugar and vegan butter.

Put the ramekins in a roasting pan that's covered with about an inch of hot water and bake for approximately 20 minutes or until the top has a nice caramelized crust. Let cool for five minutes.

Enjoy!

Cover and store in the refrigerator for up to three days.