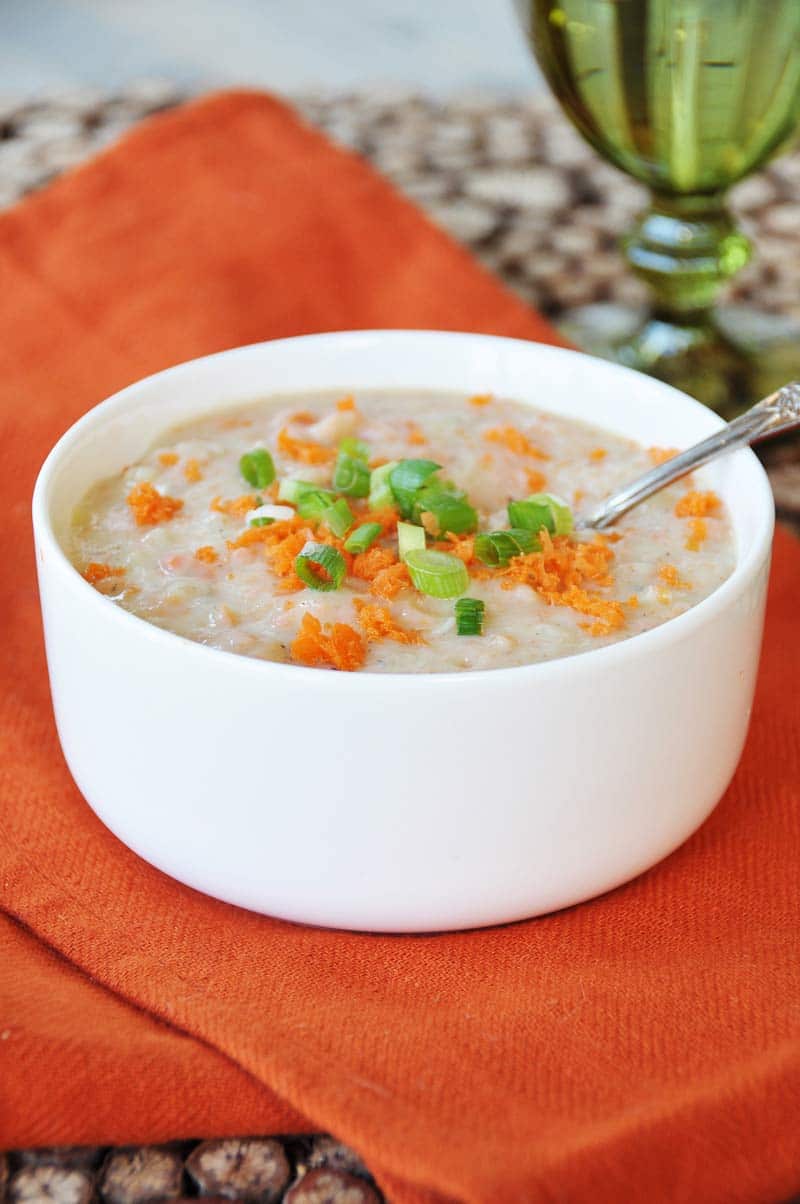 8 ingredient chunky potato and carrot soup is soooooo easy to make and it will warm your body and soul. This is comfort food at its best.
Why? Why am I telling you that it's the best comfort food; because it's hot, easy, comforting, and healthy. Haha, you didn't know where I was going with that at first, did you?
This soup was inspired by the fact that the produce in my refrigerator and pantry was running on empty. I had a few carrots that looked sad and lonely in the vegetable drawer, and potatoes that were beginning to look less like Mr. Potato Head and more like a science experiment. They needed to be turned into something delicious that minute or planted for next year's harvest thrown into the woods for the animals. So I made this.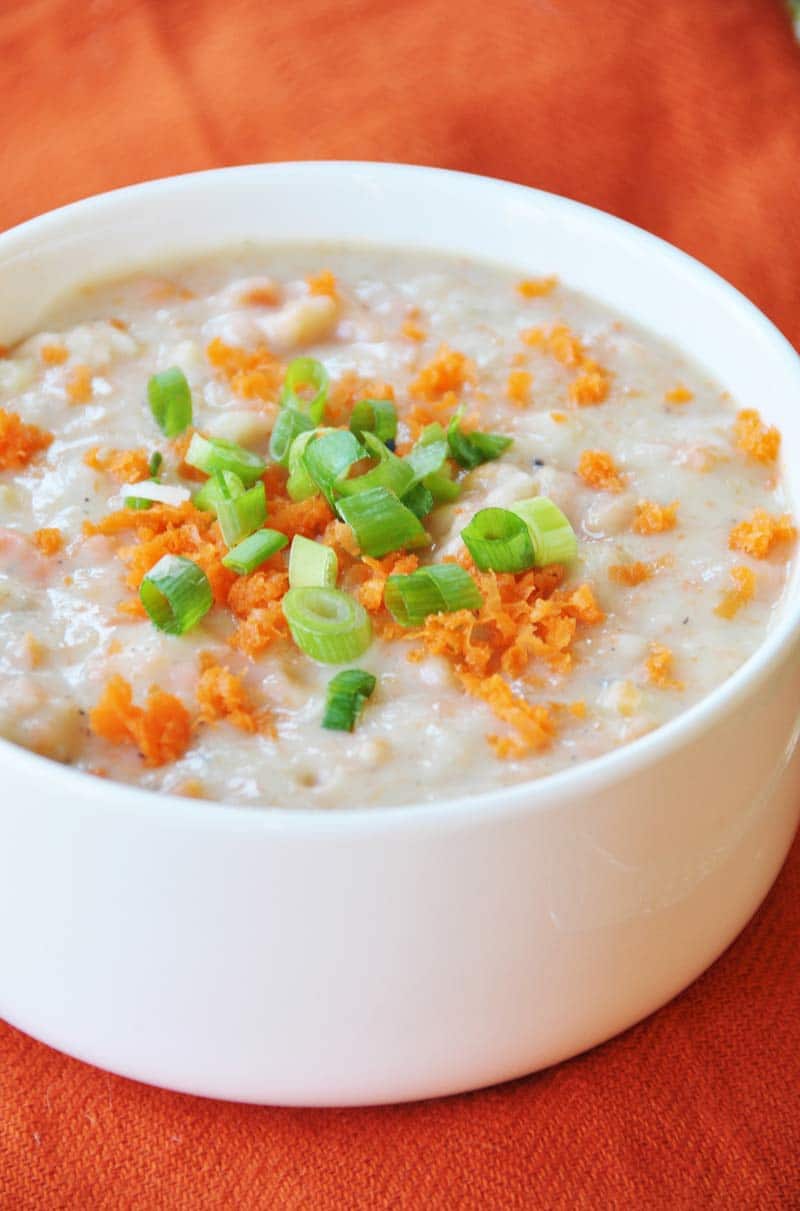 Isn't it funny how sometimes the best recipes are created from desperation? This 8 ingredient chunky potato and carrot soup is now one of my favorites, I'll be making it a lot this winter. The texture is fabulous, it's creamy and chunky at the same time, and the flavor is soft and savory, thanks to the dried Italian seasonings.
As I mentioned before, it's also really healthy. Potatoes get such a bad rap. They have the reputation of being a fattening food. They are if you're eating them fried or pouring a ton of butter and cheese on them. But when eaten in their purest form, potatoes are an excellent source of vitamins B-6, B-3, and C. They're also a great source of potassium, manganese, and copper. The carrots in this soup also add a whole lot of healthy vitamin A and K, and biotin, among other nutrients.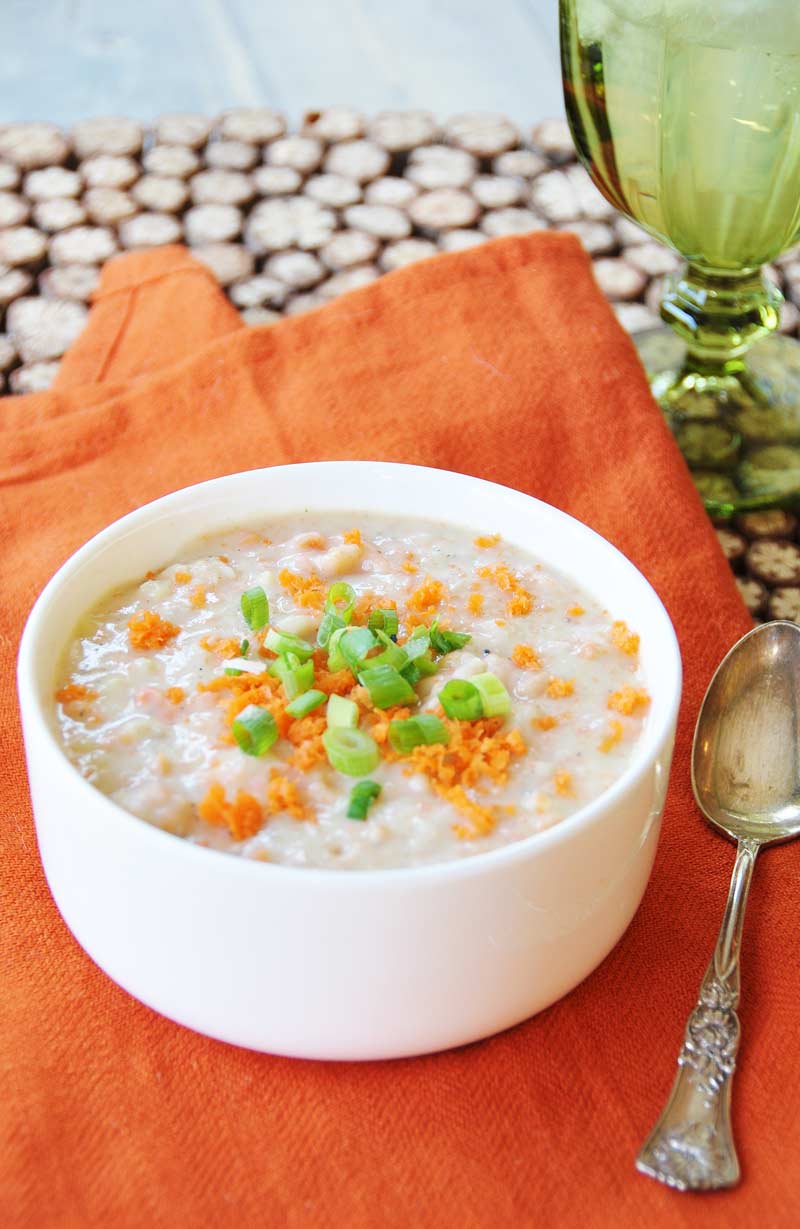 This is a soup that you can feel good about eating because it will make you feel good!
I actually had a big steaming bowl of it for breakfast yesterday. That's how much I love this soup. It gave me a ton of energy and it kept me satisfied until late afternoon. Try this 8 ingredient chunky potato and carrot soup, and come back and tell me how much you like it. I'll be waiting right here.
Don't miss tomorrow's recipe. I made an AMAZING Cuban black bean dip from Better Bean beans. I'm also starting a GIVEAWAY!!!
Tell me:
Do potatoes scare you, have you bought into the negative hype?
Do you love a chunky soup?
Is it getting cold where you live?
Do you like what you've seen so far? I sure hope so! Do me a favor, take a trip over to my Facebook page and give it a like, or follow me on Instagram or Twitter, and follow me and share this and other Veganosity recipes on Pinterest. I'd be so grateful if you did.
8 Ingredient Vegan Chunky Potato and Carrot Soup (Gluten-Free)
A warm and comforting potato and carrot soup with a wonderful creamy and chunky texture. Healthy, easy, and delicious.
Print
Pin
Rate
Ingredients
2

large carrots - peeled and cut into 3 inch pieces

4

large potatoes – peeled and quartered

1

vidalia onion – peeled and diced

1

tablespoon

vegan butter

1

tablespoon

of Italian seasonings

Salt to taste

Ground black pepper to taste

2 to 3

cups

of almond milk or until you get the desired consistency
Instructions
Bring two large pots of water to a boil.

Add the carrots to one pot, cover, and reduce the heat to simmer. Simmer for approximately 15 to 20 minutes or until the carrot is easily pierced with a fork.

Add the onion to the second pot of boiling water. Peel and quarter the potatoes and add them to the pot with the onions. Reduce the heat to simmer and simmer for approximately 20 minutes or until the potatoes are easily pierced with a fork.

When the carrots and potatoes are soft drain the water in both pots and transfer the carrots to the pot with the potatoes and onions. Mash the carrots, potatoes, and onion with a potato masher until the mixture is mostly mashed but there are still chunks of carrots and potatoes. Add the milk (add one cup at a time until you get the consistency that you like), vegan butter, Italian seasonings, salt and pepper and heat on medium low until the soup begins to boil. Remove from the heat and serve.

Enjoy!

A warm and comforting potato and carrot soup with a wonderful creamy and chunky texture. Healthy, easy, and delicious.