This vegan carrot and ginger soup is so savory, rich, warm and creamy. The perfect soup for a cold winter's night!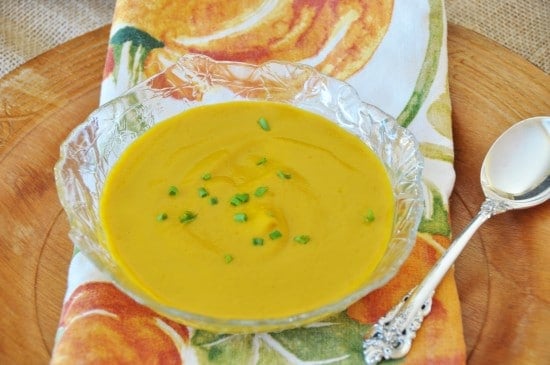 Remember when the only reason you would eat a carrot was because you didn't want to go blind? No? Then you probably didn't have a mom who told you that you needed to eat carrots or your eyesight would go bad. She also told my brother that corn was Boy Scout corn so he would eat it. Huh? But you know what, if she had served me this incredibly savory, gingery, creamy, hot vegan carrot ginger soup, she wouldn't have had to make up silly excuses to get me to eat them. Sorry mom, I know you did your best. Love you!
This recipe was invented out of necessity. It was 0° today, and I had about two pounds of baby carrots that needed to be eaten pronto, and I had a small piece of fresh ginger that was threatening to wilt if I didn't use it immediately. Soup was the obvious choice.
Truth be told, I've never made carrot soup, but I knew it couldn't be hard. All I needed to do was cook the carrots with some onions, the ginger, and spices, then blend them all together in my Blendtec until they were all smooth and velvety. So that's what I did.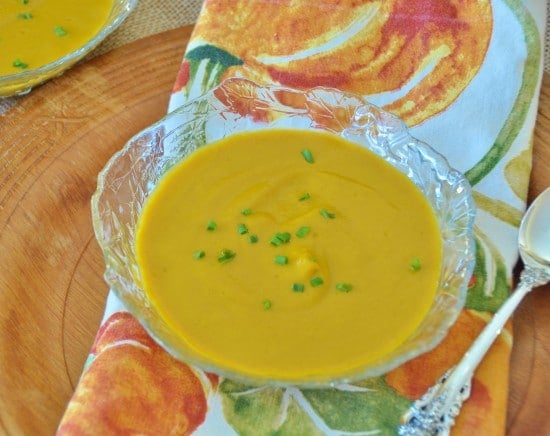 I steamed the carrots for ten minutes while I caramelized a red onion, then I transferred the carrots to the pan with the onions to brown them a bit. While they were browning I opened up several of my spice bottles and smelled them to get a feel for where I wanted this soup to go.
Because I was using fresh ginger in the soup the spices needed to compliment that distinctive flavor. The oregano, sage, coriander, and Italian seasonings just didn't smell like winning combinations to me. Then I opened up the bottle of Chinese Five Spice, and it was like magic. The aroma of the star anise, cinnamon, cloves, Sichuan pepper, and fennel seeds sang to me. This was the perfect medley of spices to go with the carrots and ginger!
It took me a while to get the measurements right, but it was worth all of the tweaking. This vegan carrot ginger soup is so creamy and velvety soft, and the flavor is savory and rich. It's the kind of soup that makes you want to sit around the table for hours, just dipping your spoon into the bowl and enjoying every last bit. That's what my husband and I did.
Make a big, fresh green salad and heat up a loaf of whole grain bread to go with it. What a perfect winter dinner, right?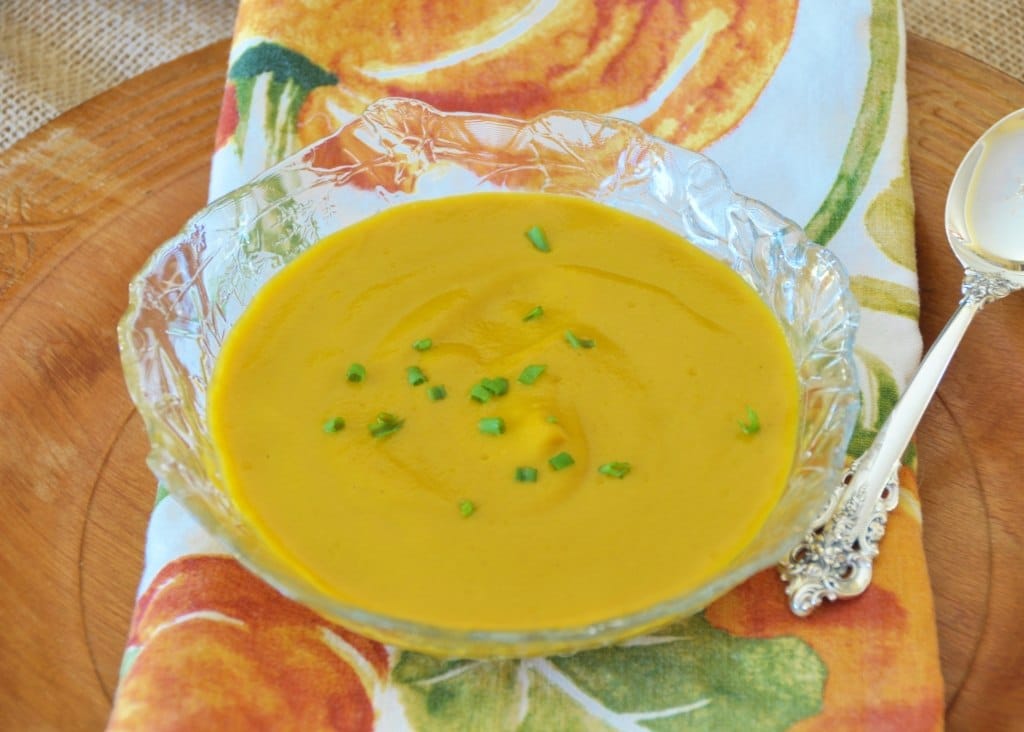 Vegan Carrot & Ginger Soup
This vegan carrot and ginger soup is so savory, rich, and creamy. Perfect for a winter night!
Print
Pin
Rate
Ingredients
6

cups

of carrots – cut into 1 inch pieces

1

red onion – chopped

1

tablespoon

of coconut oil

2

teaspoons

of grated fresh ginger

1

and ¼ teaspoons of Chinese Five Spice

1

teaspoon

of brown sugar

2

teaspoons

of sea salt

¼

teaspoon

of white pepper

4

cups

of almond milk – add more if you want the soup to be thinner
Instructions
Steam the carrots for 10 minutes or until they're soft.

While the carrots are steaming, heat the coconut oil in a large cast iron skillet. When the oil is hot add the onions and turn the heat to medium. Cook until they begin to brown. Add the carrots to the pan and cook until the carrots begin to brown.

Add the ginger, spice, salt, and pepper and stir to combine.

Remove from the heat and let cool for 10 minutes

Put 1 cup of almond milk in a blender* and 2 cups of the carrot mixture. Blend until smooth and creamy and pour the mixture into a large soup pot. There shouldn't be any pieces of the carrots or onions. Continue the process until you've pureed all of the solid food.

Add 1 and ½ cups (adjust the creaminess of the soup with more almond milk if necessary) of almond milk to the soup pot and stir well. Heat more if necessary.

• Be careful when blending hot food. Only fill the blender half way and put a towel over the lid to prevent burning yourself in the event that it overflows.