These are so pretty, delicious, healthy, and easy to make.  Little phyllo cups filled with savory onions, asparagus, herbs, walnuts, and vegan cheddar cheese, yes please!
I spent a day playing around with asparagus recipes last week, and these vegan caramelized onion and asparagus cups won. I love the combination of flavors and the festive look of them. I also like that they are the perfect size to just pop one in your mouth and eat it.  They're savory with a nice fresh burst of asparagus, crunchy walnuts, creamy vegan cheese, and a crispy little phyllo cup. The recipe for these delicious little savory cups is at the bottom of the page.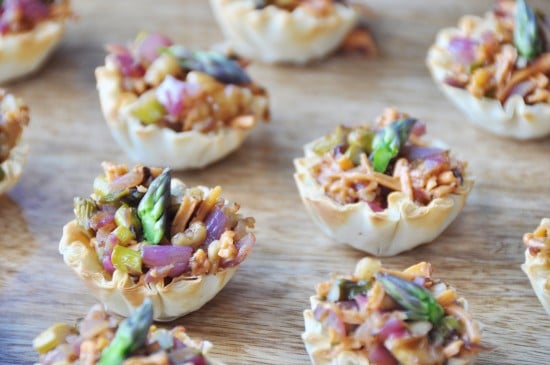 Since New Year's Eve is only one day away, and I didn't have enough hours in my life to create a bunch of new appetizer recipes for you all, I thought I'd share some of our favorite appetizers from our first year of Veganosity. There are also some fabulous cocktail recipes included to help you say goodbye to 2014 and hello to 2015.
We wish you a Healthy, Happy, and Fabulous, New Year!
If you can't find baby artichokes you can use regular chokes. This is a simple recipe that is as healthy as it is delicious.
Cucumber Boats with Spicy Hummus
A fresh, crunchy baby cucumber stuffed with creamy, slightly spicy hummus.
The avocado takes the place of the mozzarella in this modern, vegan twist on a Caprese salad.
Creamy polenta with black olives, onion, and tomato. Serve it in individual serving spoons.
Stuffed mushrooms are awesome, add mango to make them even more enticing.
Cocktails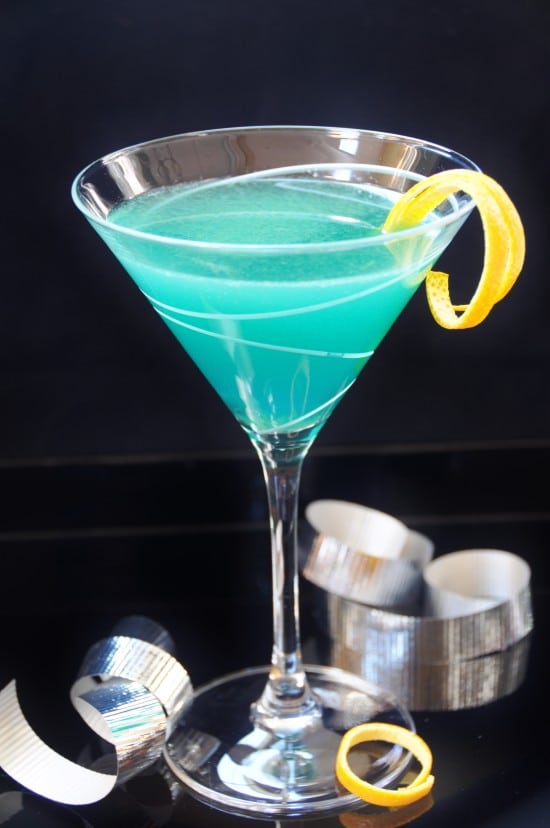 Raspberry Lemon Champagne Cocktail
Linda and Alex at Veganosity
Yields 16
Vegan Caramelized Onion and Asparagus Cups
A savory, crispy, crunchy, healthy, and easy to make appetizer. Perfect for New Year's Eve.
20 minPrep Time
20 minCook Time
40 minTotal Time
Ingredients
1 tablespoon of olive oil
1 and 1/2 cups of asparagus – finely diced
1 red onion – finely chopped
1/3 cup of toasted chopped walnuts
1/2 teaspoon of oregano
1/2 teaspoon of sage
1/4 teaspoon of sea salt
Pepper to taste
Splash of dry white wine – approximately 3 tablespoons
1/4 cup of shredded vegan cheddar cheese
16 phyllo dough cups (see note)
Instructions
Heat the oil in a large skillet on medium-high heat. When the oil is hot add the onions and cook until they become translucent. Turn the heat down to medium and add the asparagus and cook for 10 minutes. Add the walnuts, herbs, salt, pepper, and wine. Cook until the wine evaporates. Turn off the heat and add the cheese, stir well until combined. Fill the phyllo dough cups with the mixture.
Enjoy!
Notes
The phyllo dough cups can be found in the frozen food section of your local grocery store.
7.6.6
70
https://www.veganosity.com/vegan-caramelized-onion-asparagus-cups/