Vegan Beet Veggie Burgers Made with Aquafaba!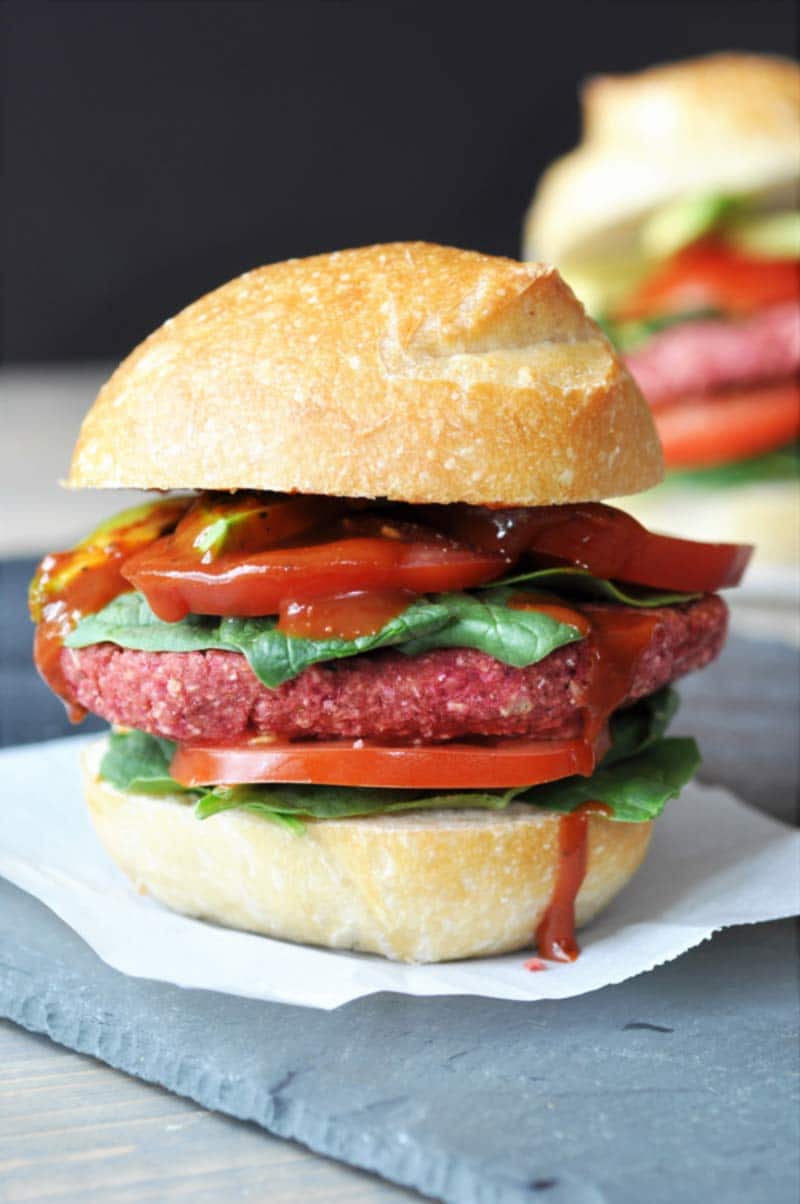 One of the biggest challenges that I've had with making vegan veggie burgers from scratch has been getting them to hold together. If you've made them you know what I mean. Flax "eggs" work okay, but they don't really bind as well as real eggs. You have to be extra careful when flipping them so they don't crack in half and crumble, and grilling can be difficult. Until now.
The other day I was in the mood for a veggie burger made with leftover beets from the night before. I wanted to add protein so I included a can of chickpeas. As I was draining the brine, aka aquafaba, it occurred to me that I should try and use it as the binder for my burgers. I'm so happy that I did because I finally mastered a veggie burger that sticks together as well as the ones that I used to make with eggs.
Aquafaba is really cool. I don't understand the chemistry of the stuff, but I've read that it's similar to egg whites, that's why you can whip it into meringue, like this.
Magic, right?
The minute I added it to the beet burger mixture I knew that I had finally uncovered the holy grail of making veggie burgers that will survive grilling. You don't have to handle these burgers with care, they're staying together until you sink your teeth into them.
Just look at the texture of this delicious vegan beet burger.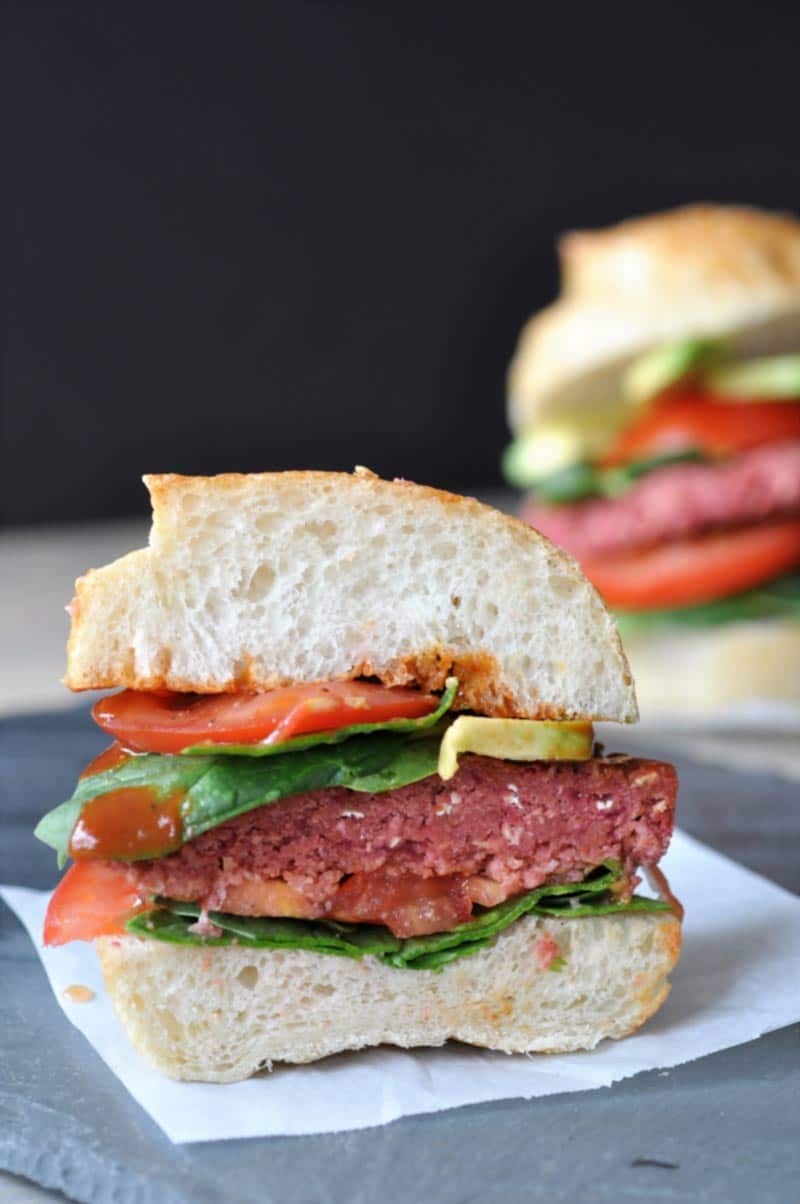 It was juicy, and chewy, and spicy. So delicious and satisfying.
My husband was actually a bit freaked out by the color and texture because it reminded him of a beef patty. You could serve this to your omnivore friends and they wouldn't miss the meat. What a great way to prove to them that they can give up eating animals and still eat a thick and juicy burger.
How to Make a Vegan Veggie Burger with Beets and Chickpeas
All you'll need to make these beautiful and healthy patties is a food processor and the following ingredients:
Whole oats
Breadcrumbs – gluten-free if desired
Roasted Beets
Chickpeas
Aquafaba
Salt and Pepper if desired
This is as simple as it gets. Grind the oats in the processor until it looks like course flour, then add the rest of the ingredients and pulse until it forms a stiff ball. Roll the batter into patties and pan fry or grill them. You'll want to brush them with a bit of oil to prevent them from sticking.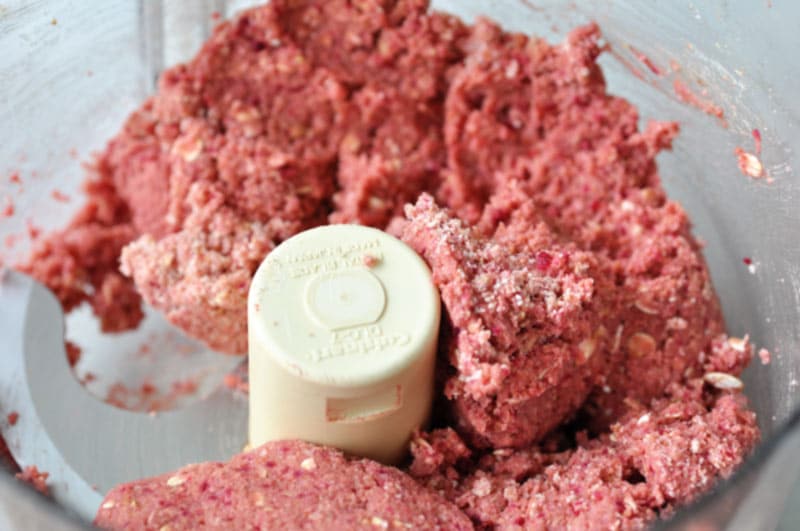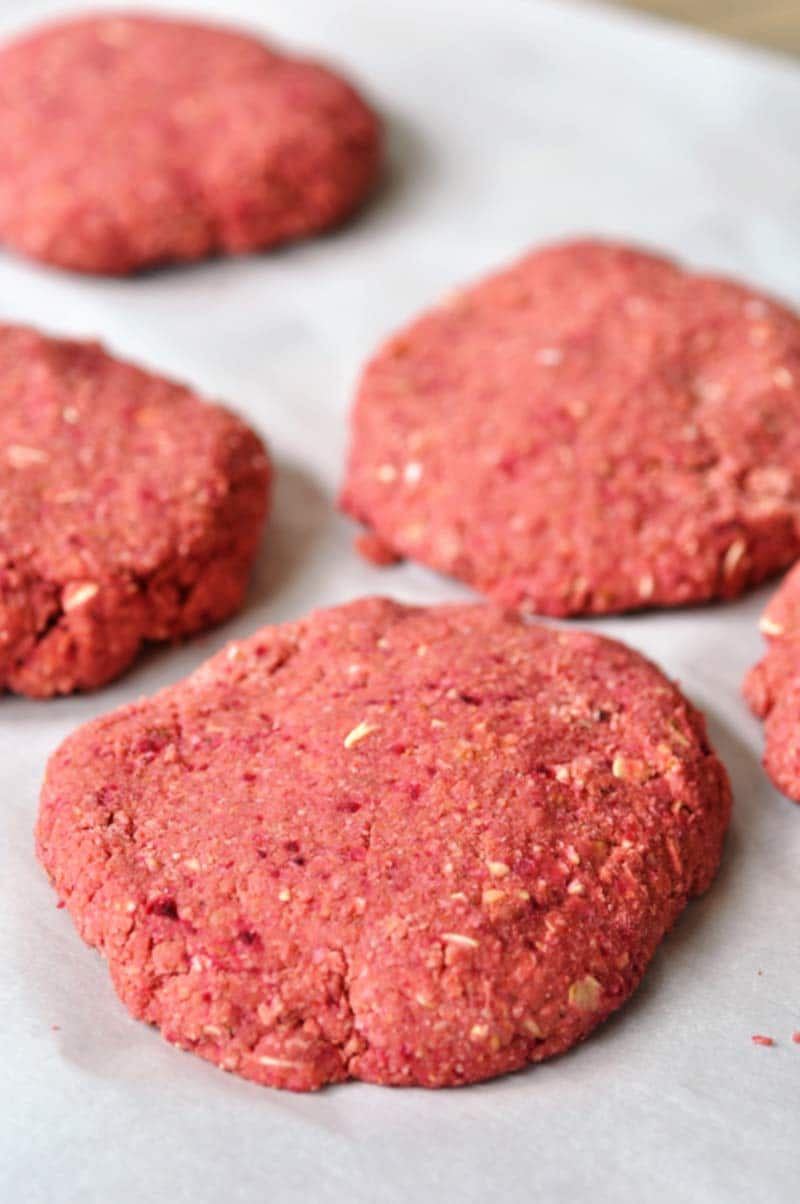 Easy Vegan Beet Burgers
A spicy, delicious, and healthy vegan veggie burger made with beets, chickpeas, and aquafaba. Finally, a vegan burger that won't fall apart on the grill!
Print
Pin
Rate
Equipment
1 food processor

1 grill or stove
Ingredients
1

cup

of whole oats ground into a course flour

½

cup

of breadcrumbs – gluten-free is desired

15

ounces

cooked chickpeas drained and rinsed– reserve the bean juice

aquafaba

2

medium roasted beets

1 to 2

teaspoons

of Cajun seasoning – use as much or little as you like. It's spicy.

⅓

cup

of aquafaba

Ground sea salt and black pepper to taste
Instructions
Grind the oats into a course flour in the food processor. Add the breadcrumbs, chickpeas, beets, Cajun seasoning, aquafaba, and salt and pepper to the processor and pulse until the ingredients form a stiff ball.

Carefully remove the blade from the bowl and form the mixture into patties. I made five large patties, you can make them smaller or larger if you like.

Heat them all the way through (approximately 8 minutes) on a skillet or on the grill on medium heat, flipping every two minutes. Brush them with a thin layer of oil to prevent sticking. Don't overcook or they'll dry out.

You can store them in an airtight container in the refrigerator for up to a week or in the freezer for one month.

Enjoy!
Notes
Store covered in the refrigerator for up to 4 days. 
Freeze in a freezer safe container for up to 2 months. Thaw in the refrigerator. 
Nutrition Disclaimer
Nutrition
Serving:
5
oz
|
Calories:
258
kcal
|
Carbohydrates:
45
g
|
Protein:
12
g
|
Fat:
4
g
|
Saturated Fat:
1
g
|
Polyunsaturated Fat:
2
g
|
Monounsaturated Fat:
1
g
|
Sodium:
112
mg
|
Potassium:
434
mg
|
Fiber:
10
g
|
Sugar:
7
g
|
Vitamin A:
34
IU
|
Vitamin C:
3
mg
|
Calcium:
75
mg
|
Iron:
4
mg