The best spicy & crispy tofu bites recipe will make even the biggest tofu skeptic ask for seconds. This tofu is crispy, firm, and delicious. Serve it with your favorite veggies, or if you're not into spicy food, swap the soy chili garlic sauce for our homemade teriyaki sauce and make our teriyaki broccoli. Add fluffy jasmine rice for a delicious and easy tofu bowl. It's also gluten-free, so dig in!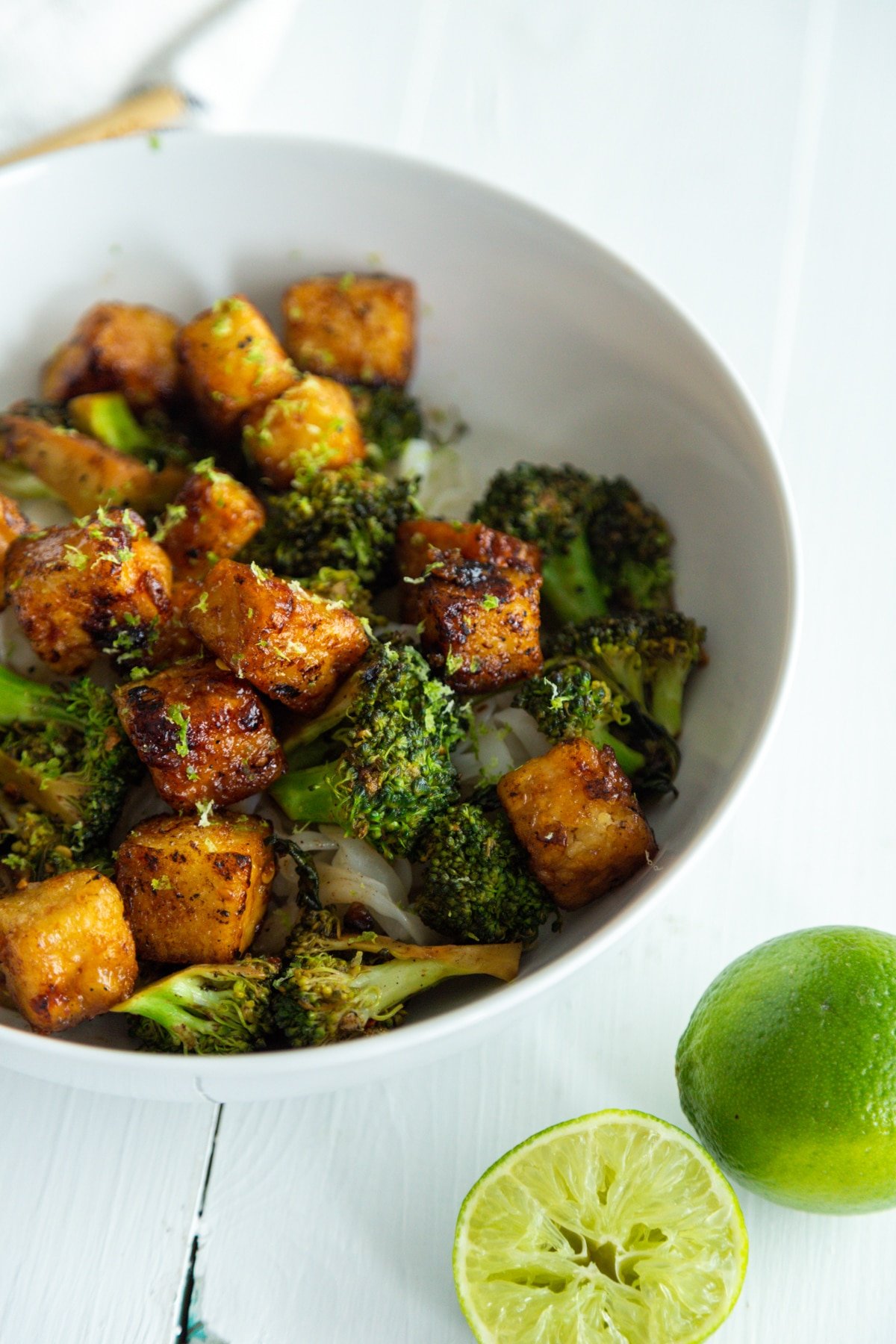 Is Tofu Good for You?
Before we get to the recipe, let's talk about whether or not tofu is healthy.
There have been numerous debates regarding the health benefits of soy. Some studies say that it's not good for us, and others say that it is.
Within the past few years more and more research claims that it may actually be very good for us, and, it may even lower bad cholesterol and reduce the risk of breast cancer in women.
Additionally, tofu contains so many important nutrients, such as iron, calcium, protein, amino acids, and other micronutrients.
Ultimately, whether or not you consume soy is up to you. We just wanted to provide you with some of the scientific research we've discovered on the topic.
More Crispy Tofu Recipes You'll Love
Easy Tofu Lettuce Wrap with Avocado Tzaziki
Almond Crusted Tofu Bites with Lemon Ginger Dip
Vegan Oven Fried Fish and Chips
Pro Tips for Making Tofu Crispy
When our readers tell us they don't like tofu, it's usually because of the texture.
Tofu can be spongy or mushy, depending on the type of tofu you're talking about.
Silken tofu is very soft and is great for making smoothies, pudding, and sauces, but not crispy tofu.
Firm tofu is good for tofu scramble and sofritas lettuce wraps.
For crispy tofu, extra-firm tofu is key. It won't fall apart and it isn't mushy on the inside when cooked properly.
You also want to press the excess water out of the tofu. This is an important step for crispy tofu.
Starch is a vital ingredient for getting a crispy crust. Tapioca, potato, or corn starch are all good choices.
Canola or grapeseed oil have a high smoke point and will help develop the crispiest tofu.
How to Make it
A wok or cast-iron pan is essential for making it super crispy.
STEP ONE
Press the tofu in a tofu press or between paper towels on a plate with something heavy on top. Press for at least fifteen minutes.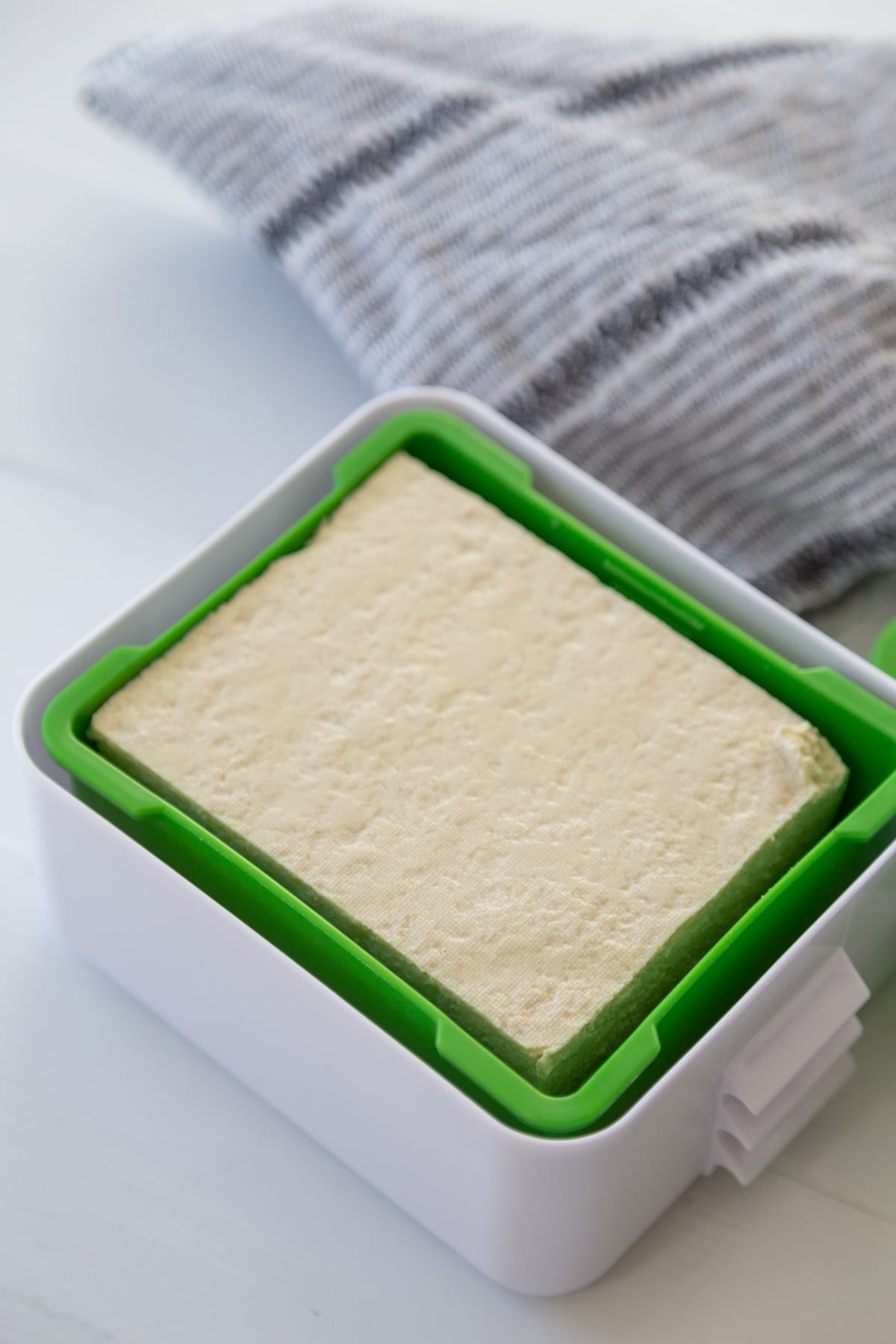 STEP TWO
Cube the tofu into bite sized pieces and then toss it in the tapioca starch. You can also use potato or corn starch.
STEP THREE
Heat the wok or a cast-iron skillet on high heat.
When the pan is hot, add the oil, then when the oil thins and spreads throughout the pan, add the tofu.
It should sizzle and pop when the tofu hits the oil. Use a metal spatula to move the tofu around the pan.
Continuously flip the tofu so all sides get crispy and browned.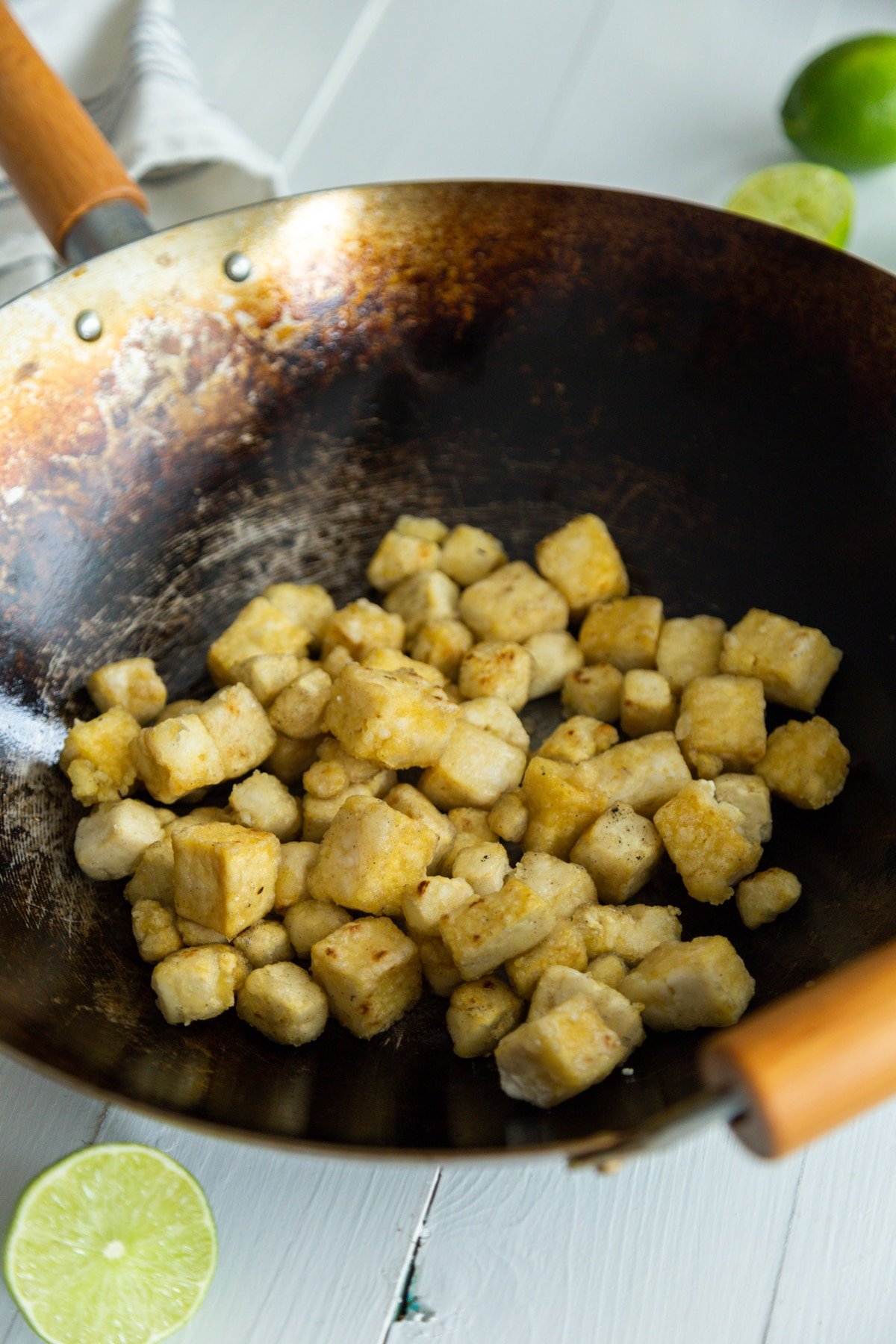 Oven Fried Tofu
For crispy baked tofu the oven should be heated to 425˚F (218˚C) before adding the tofu.
For best results, spray a thin layer of oil on the top of the tofu and turn it twice while it bakes. This will help all sides to crisp up.
Toss the tofu in the sauce ten minutes before it's done and put it back in the oven to finish cooking.
Gluten-Free
If you want to make this gluten-free, use tamari instead of soy sauce. The flavor will be the same, so don't worry about that.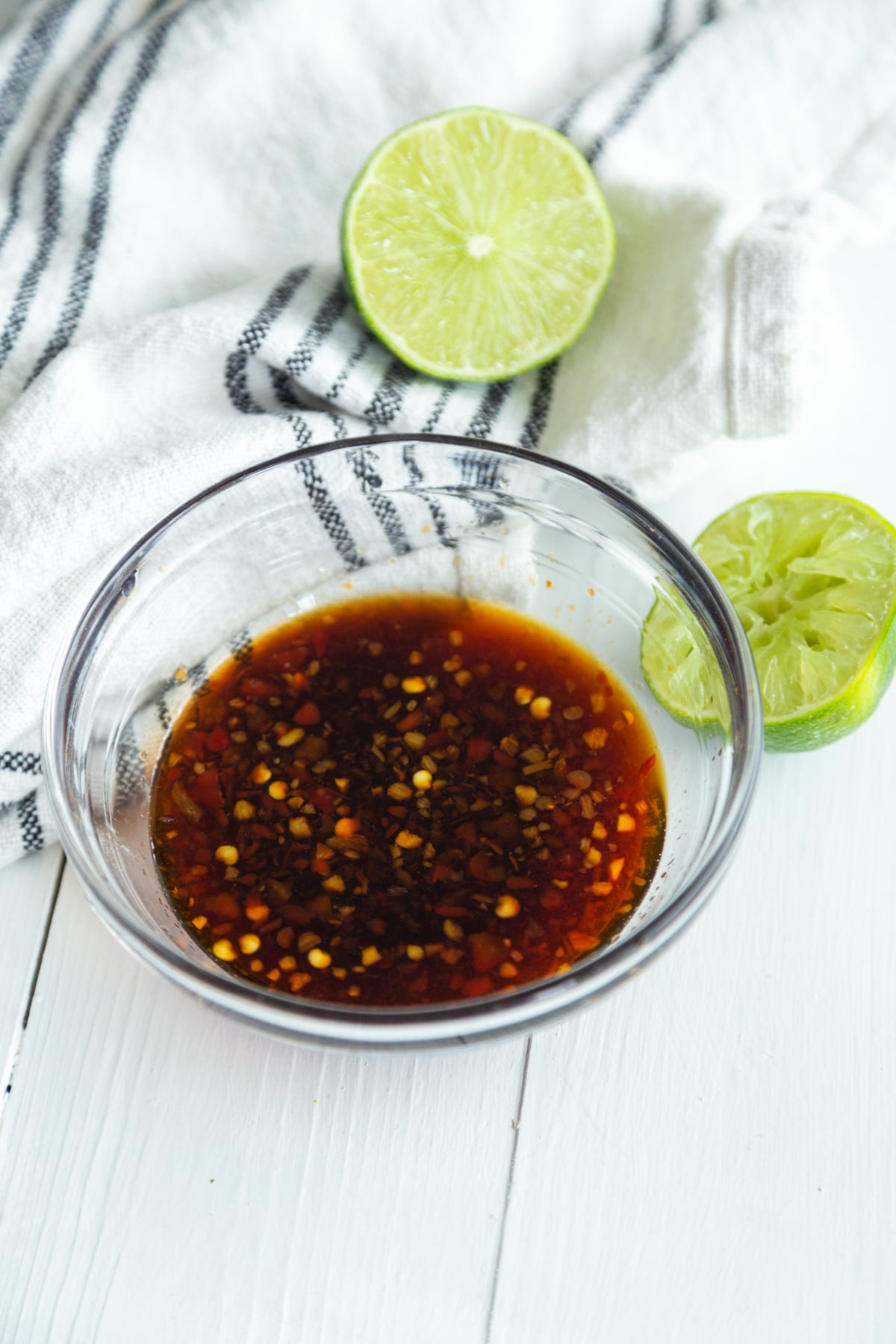 Spicy Soy Chili Garlic Sauce
This spicy sauce is so perfect with crispy tofu bites. It's spicy, sour, savory, and has a hint of sweet.
It's also super easy to make!
Just whisk the tamari or soy sauce with fresh lime juice, water, chili garlic sauce, and a tiny bit of maple syrup.
Taste a bit of it and add more of whatever ingredient you think it may need more of.
Sometimes you may want more acid from the lime, or maybe a little more maple syrup to cut the heat.
It's your sauce, do what you want!
NOTE: If you're not keen on spicy food, add one teaspoon of the chili garlic sauce and taste. Slowly add more if you want it to have more heat.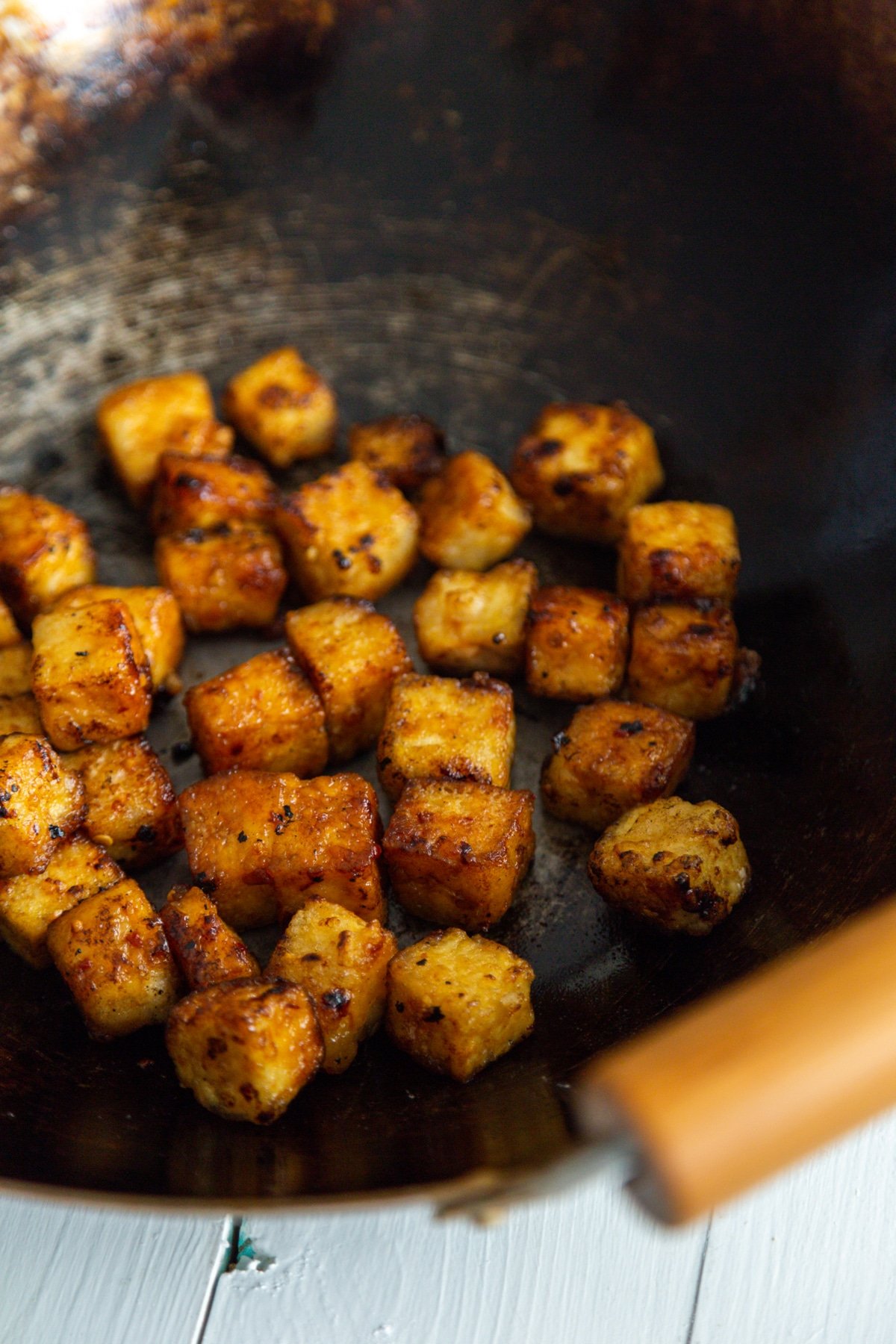 What to Serve With it
This delicious plant-based protein goes well with most vegetables and grains. Here are some of our favorite accompaniments.
Broccoli
Bell Pepper
Bok Choy
Mustard Greens
Spinach
Carrots
Mushrooms
Jasmine rice
Quinoa
Rice noodles
The vegetables are best when they're stir-fried and coated in some of the soy chili garlic sauce before serving.
Make our spicy and crispy tofu bites recipe and let us know what you think. We love to hear from you! And, don't forget to take a picture of your gorgeous creation and tag us @veganosity on Instagram.
Let's connect on Instagram and Twitter. You'll get a peek into our everyday lives in our stories and see what we're sharing in our feed.
And, don't forget to SUBSCRIBE to the blog so you never miss a recipe. Scroll below the recipe or in our side bar to become a Veganosity subscriber.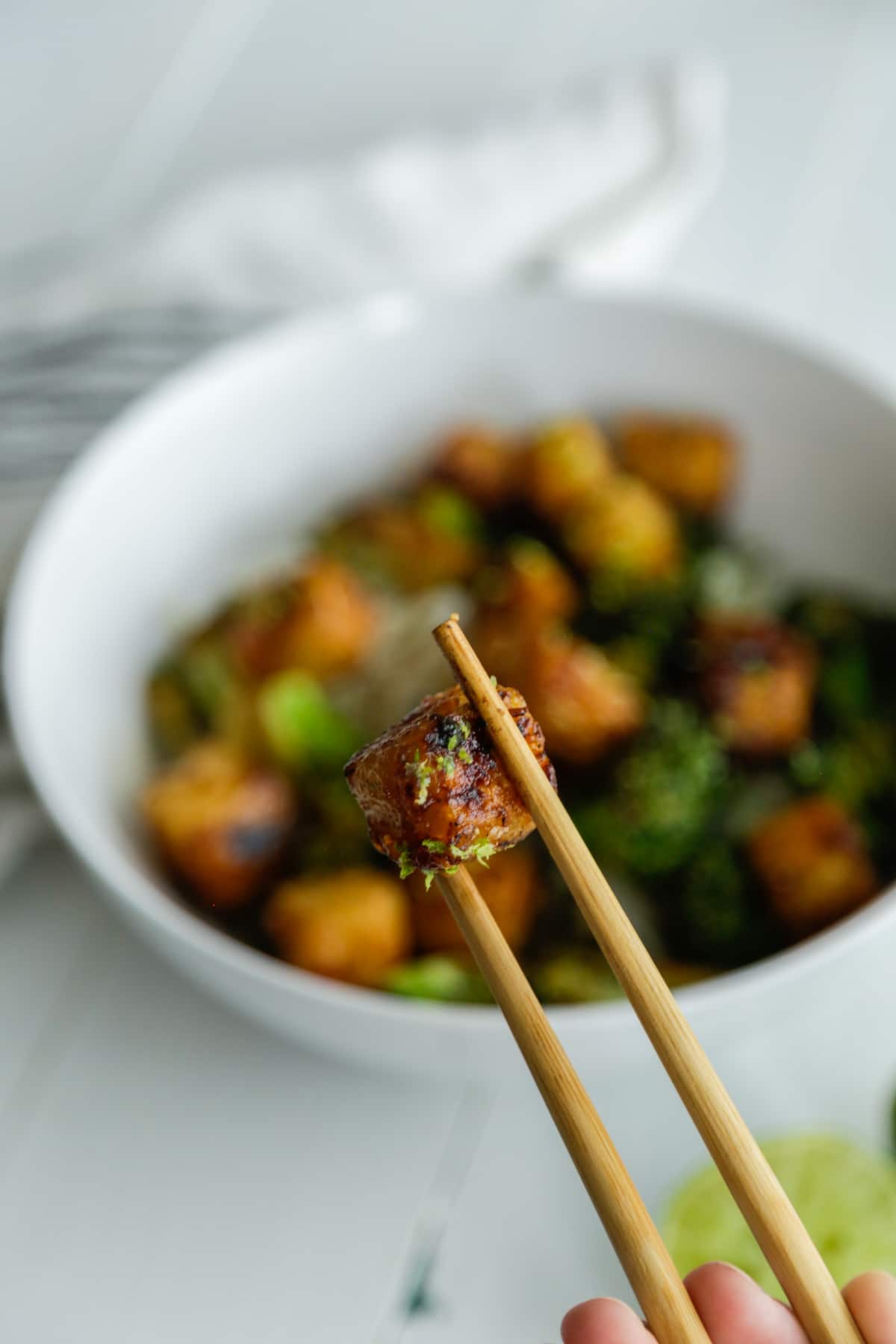 The Best Spicy & Crispy Tofu Bites
This delicious crispy tofu recipe takes less than 30 minutes to make, and it will make you fall in love with tofu.
Print
Pin
Rate
Ingredients
15

ounce

extra-firm tofu

Pressed for at least 15 minutes

1

cup

tapioca starch

See Note

¼

cup

vegetable oil

See Note

½

cup

soy sauce or tamari

See Note

¼

cup

water

2

tablespoon

fresh squeezed lime juice

1

tablespoon

chili garlic sauce

See Note

2

teaspoon

pure maple syrup or agave syrup
Instructions
FOR THE SAUCE
In a medium bowl, whisk the ½ cup tamari or soy sauce, ¼ cup water, 2 tablespoon lime juice, 1 tablespoon chili garlic sauce (see note), and 2 teaspoon maple syrup together until fully combined.
FOR THE TOFU
Place the tofu in a tofu press, or on a plate between paper towels with something heavy on top, and press for at least 15 minutes to remove the excess water. The less water in the tofu the better the texture.

Slice the tofu into cubes. See the photos in the content above.

In a large bowl, toss the cubed tofu with the 1 cup of tapioca starch until all sides are coated in the starch.

In a wok or a cast-iron skillet, heat the ¼ cup of vegetable oil on high heat. When the oil is hot (add a bit of extra starch from the bowl to the pan, if it sizzles, it's ready), add the tofu evenly in the pan. Use a metal spatula to turn the tofu often. You want all sided to get crispy and brown. Add a tablespoon of extra oil if needed.

After about 10 minutes, the tofu should have a lightly browned and crispy crust. Now add half of the chili garlic sauce and use the spatula to gently toss the tofu to coat all sides in the sauce. If you're not stir-frying vegetables, use all of the sauce for the tofu, otherwise, use half of the sauce for the vegetables.

If you're going to stir fry vegetables, remove the tofu from the pan and add another tablespoon of oil and cook the veggies. When they're done, coat them in the other half of the sauce and add the tofu back to the pan to heat it.
TO OVEN FRY
Preheat the oven to 425˚F (218˚C)

In a large bowl, toss the cubed tofu with the 1 cup of tapioca starch until coated on all sides.

Spread the tofu on a parchment lined baking sheet and spray a light layer of oil on top.

Bake for 10 minutes and turn the tofu. Bake for another 10 minutes and evenly drizzle half of the chili sauce on the tofu and carefully toss to coat all sides. Bake for another 10 minutes, or until the tofu is crispy.

Use the other half of the sauce to coat stir-fried vegetables or for dipping the tofu bites.

ENJOY!
Notes
NUTRITION DISCLAIMER
You can use tapioca, potato, or corn starch for this recipe. We prefer tapioca starch.
Canola or grapeseed oil works best for this recipe because of the high smoke point.
To make this recipe gluten-free, use tamari. To make it lower in sodium, use low sodium soy sauce.
If you don't like spicy food, add 1 teaspoon of the chili garlic sauce, taste it, and continue to slowly add if needed.
Nutrition
Serving:
4
oz
|
Calories:
257
kcal
|
Carbohydrates:
34
g
|
Protein:
2
g
|
Fat:
14
g
|
Saturated Fat:
11
g
|
Sodium:
1272
mg
|
Potassium:
57
mg
|
Fiber:
1
g
|
Sugar:
5
g
|
Vitamin C:
2
mg
|
Calcium:
5
mg
|
Iron:
1
mg