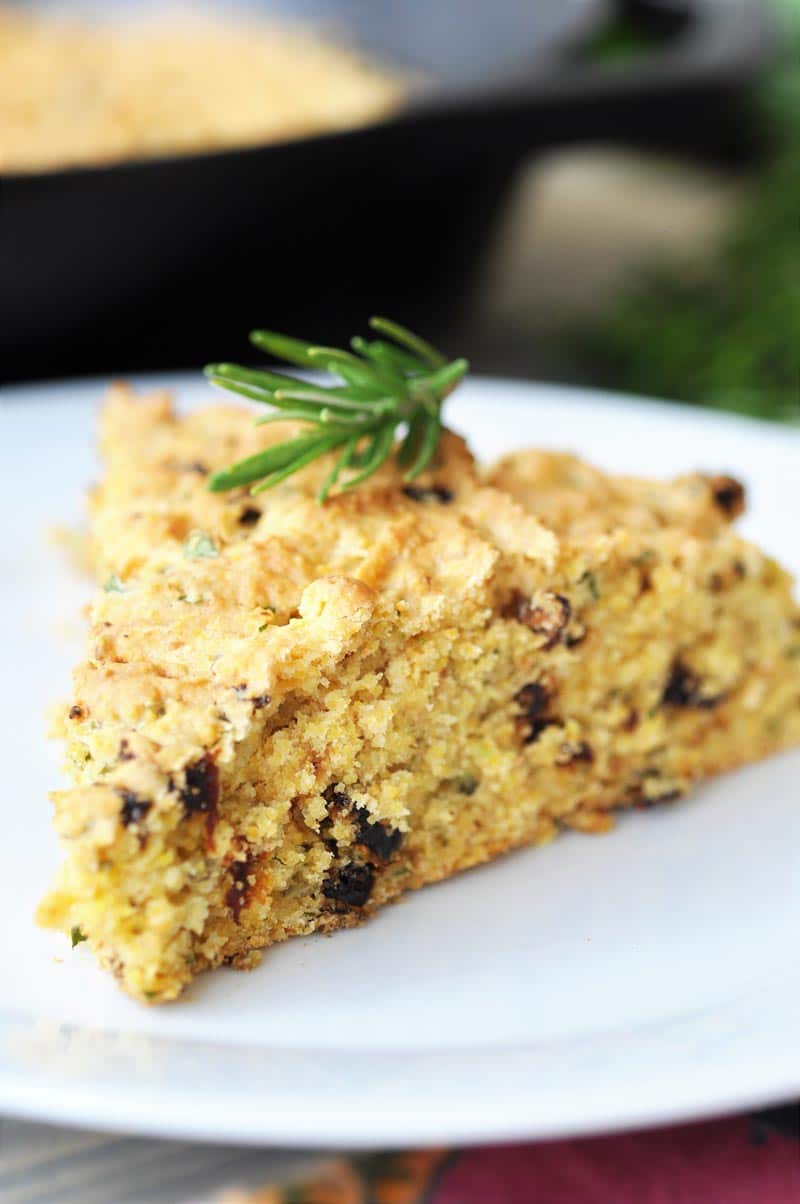 Can I hear a big and boisterous, MANGIA!
EAT! EAT! Your mouth, stomach, and brain are going to tell you to keep eating this super yummy savory vegan Italian skillet cornbread. Disclaimer: I will not be held responsible if you eat the entire skillet, so call up your willpower before you take that first bite.
Trust me, I speak from experience. I have willpower on speed dial and I had to make an emergency call after I ate that second piece of this savory Italian cornbread recipe.
Just take a look at the gorgeous pieces of sun dried tomatoes, rosemary, and basil and you'll see why I needed to check myself before I ate the entire pan. Those sweet herbs, they're fresh, not dried. Hello flavor, glad to meet ya!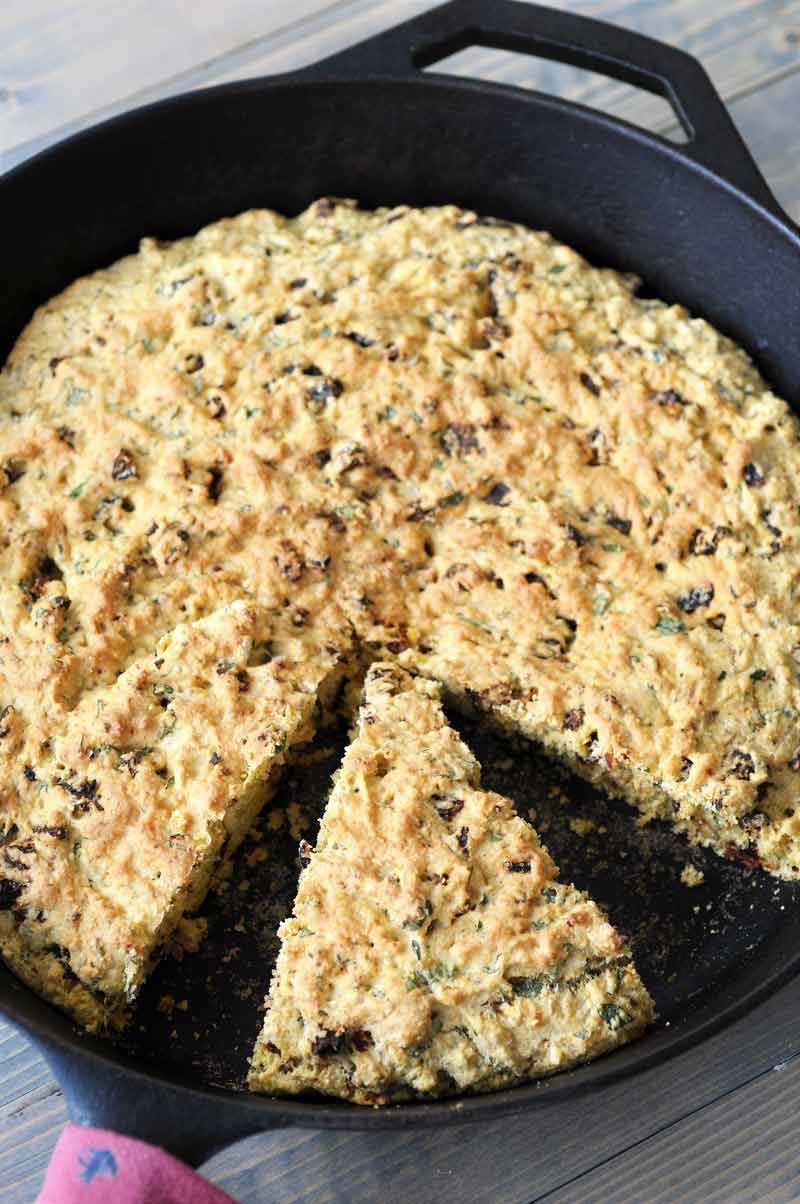 This is not your grandma's cornbread; it's jacked, and you can do so many amazing things with it. You can cut it into cubes and bake them until they're croutons. Put them in your favorite salad, and you'll want to dance under the Tuscan sun.
You can also turn it into the base for a deep dish zeetzah (pizza for those who don't speak the Breakfast King's language). That fanfreakingtastic recipe is going to be on the blog on Monday. Trust me, you won't want to miss it. Here's a sneak peak: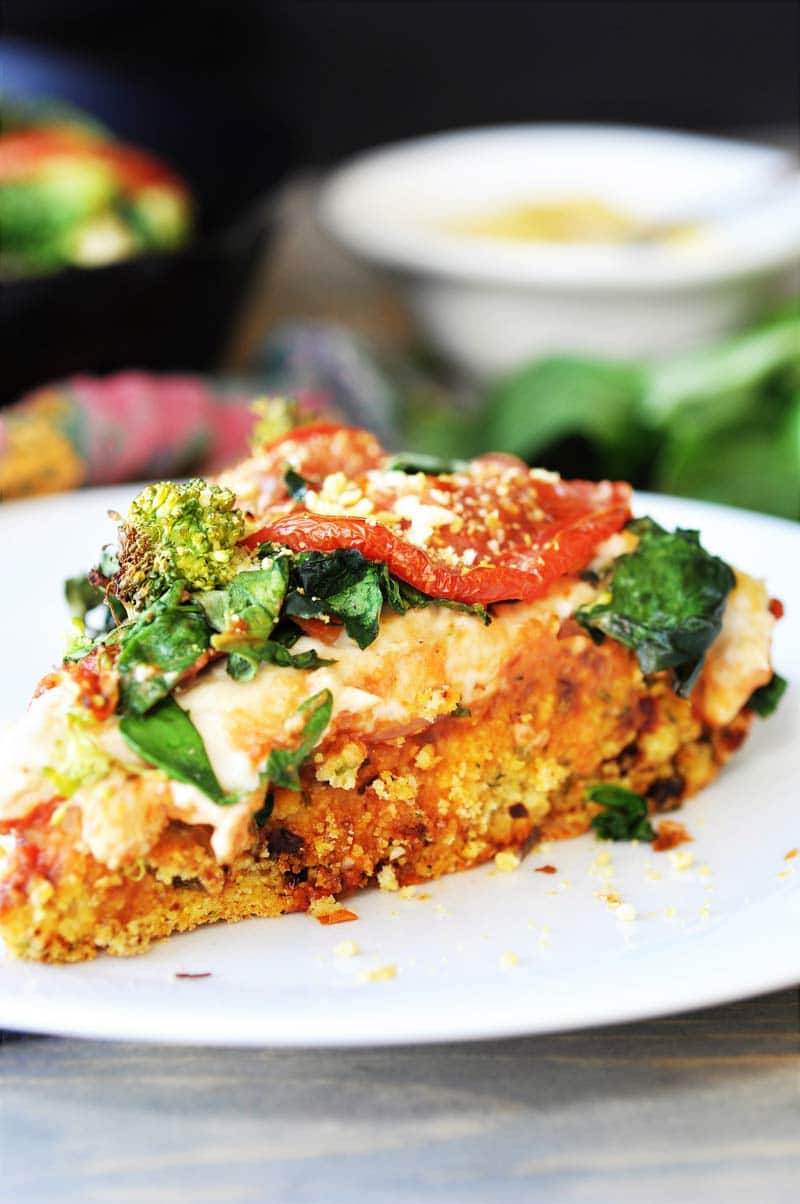 So yeah, this is an exciting recipe that took three attempts to get right. It was inspired by an episode of The Pioneer Woman. My Saturday tradition of watching Ren and Stimpy and Spongebob with the kids and hubby has changed; I now enjoy watching cooking shows with Gizmo and Coco. But I digress.
Last Saturday morning on the Food Network, Ree Drummond made Italian cornbread, and her secret was to put the batter into a hot oiled cast-iron skillet on the stove top before baking it. The ideas was that the outer crust would get really crispy. Well, she had me at crispy—and Italian—so I finished watching the episode and ran into my kitchen to whip up a batch for lunch.
Then I realized that I didn't have fresh rosemary so I had to ask my hubby to pick some up on his way home from tennis.
Batch number one was a bomb, and I don't mean that in a good way. It was uneven, flat, and had a super chewy texture.
Batch two was the same, even though I added an extra teaspoon of baking powder and lemon juice to the almond milk. Instead of throwing this one out I used it to make croutons, and they were awesome!
I was beginning to think that pouring the batter in a hot skillet on the stove top was not the thing to do if I wanted a fluffy and moist cornbread, so this time I just put the batter in a cool skillet and popped it in the oven to bake like I usually do.
Success! This batch of savory vegan Italian cornbread turned out exactly the way I like it.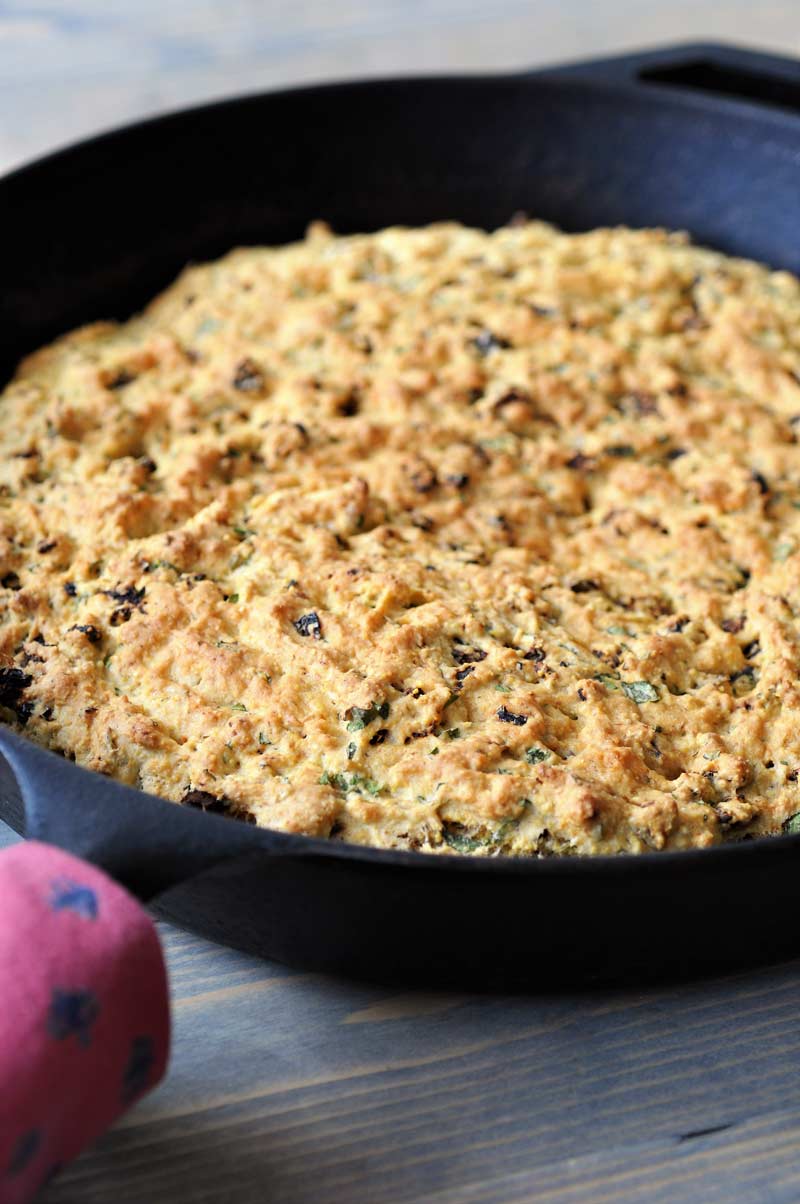 You're going to love this. It's so full of savory flavor, and those fresh herbs taste so good.
I'd love eating this with vegan minestrone soup. Or you could pair it with a salad. Of course, cornbread is always good with chili. This one would be a perfect choice.
If you love Italian flavors, you're going to be all over this Italian style cornbread recipe, and you're really going to love the deep dish pizza recipe that I made with it. I can hardly wait until next Monday to share it with you!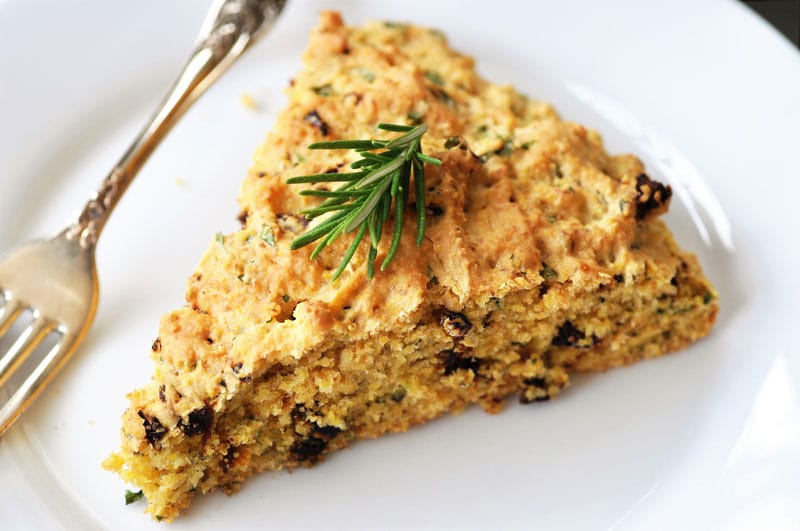 Tell me:
What do you like to watch on Saturday morning? Cartoons, cooking shows, the birds in your backyard?
Have you ever had Italian style cornbread?
Do us a favor, we want to show the world that plant-based foods are delicious and exciting. So let's connect and share all of this awesomeness with the world. Hop on over to our Facebook page and give it a like, and follow us on Instagram and Twitter, and follow us and share this and other Veganosity recipes on Pinterest. We'd be so grateful if you did. If you like this recipe and can't wait to see what we're going to share next, subscribe to Veganosity. Just fill in the subscription box above our picture in the top right corner of the page. And, Alex and I love hearing from you, please leave a comment and let us know what you think of our recipes. Veganosity. Just fill in the subscription box above our picture in the top right corner of the page. And, Alex and I love hearing from you, please leave a comment and let us know what you think of our recipes.
This post may contain affiliate links which won't change your price but will share some commission.
Savory Vegan Cornbread
A savory Italian cornbread filled with sun dried tomatoes and fresh rosemary and basil. Dairy-free and egg-free.
Print
Pin
Rate
Equipment
1 skillet or 9-inch round cake pan

1 Oven
Ingredients
Make the flax egg first with 1 tablespoon of ground flax seed and three tablespoons of water. Mix until well combined.

1

and ¼ cup all-purpose flour

¾

cups

of yellow cornmeal

3

teaspoons

of baking powder

1

teaspoon

of sugar

1

teaspoon

of ground sea salt

½

teaspoon

of ground onion powder

½

teaspoon

of ground garlic powder

1

and ¼ cups of non-dairy milk

I used unsweetened almond milk

1

tablespoon

of lemon juice – stirred into the non-dairy milk

2

tablespoons

of extra virgin olive oil

1

cup

of sun dried tomatoes – finely chopped

2

tablespoons

of finely chopped fresh rosemary

2

tablespoons

of finely chopped fresh basil
Instructions
Preheat the oven to 400°F

Whisk the flour, cornmeal, baking powder, sugar, sea salt, onion powder, and garlic powder together in a large bowl.

Mix the lemon juice and the milk together.

Add the milk, flax egg, olive oil, sun dried tomatoes, rosemary, and basil to the dry mixture and stir with a spoon until just combined. Don't over mix or the bread will be tough.

Lightly grease a 9-inch cast iron skillet or a round 9" pan and evenly spread the batter in the pan.

Place the pan in the center of the oven and bake for 20 minutes or until a wooden toothpick inserted in the center comes out clean. Cool on a wire rack.

Enjoy!
Notes
Store covered at room temperature for up to 3 days.
Freeze in a freezer safe container for up to 2 months. 
Nutrition Disclaimer
Nutrition
Serving:
60
g
|
Calories:
105
kcal
|
Carbohydrates:
16
g
|
Protein:
3
g
|
Fat:
4
g
|
Saturated Fat:
1
g
|
Polyunsaturated Fat:
1
g
|
Monounsaturated Fat:
2
g
|
Sodium:
246
mg
|
Potassium:
547
mg
|
Fiber:
3
g
|
Sugar:
5
g
|
Vitamin A:
130
IU
|
Vitamin C:
5
mg
|
Calcium:
71
mg
|
Iron:
2
mg