Shredded Carrots with Homemade BBQ Sauce! If you love pulled BBQ then you're going to love this healthy and delicious recipe.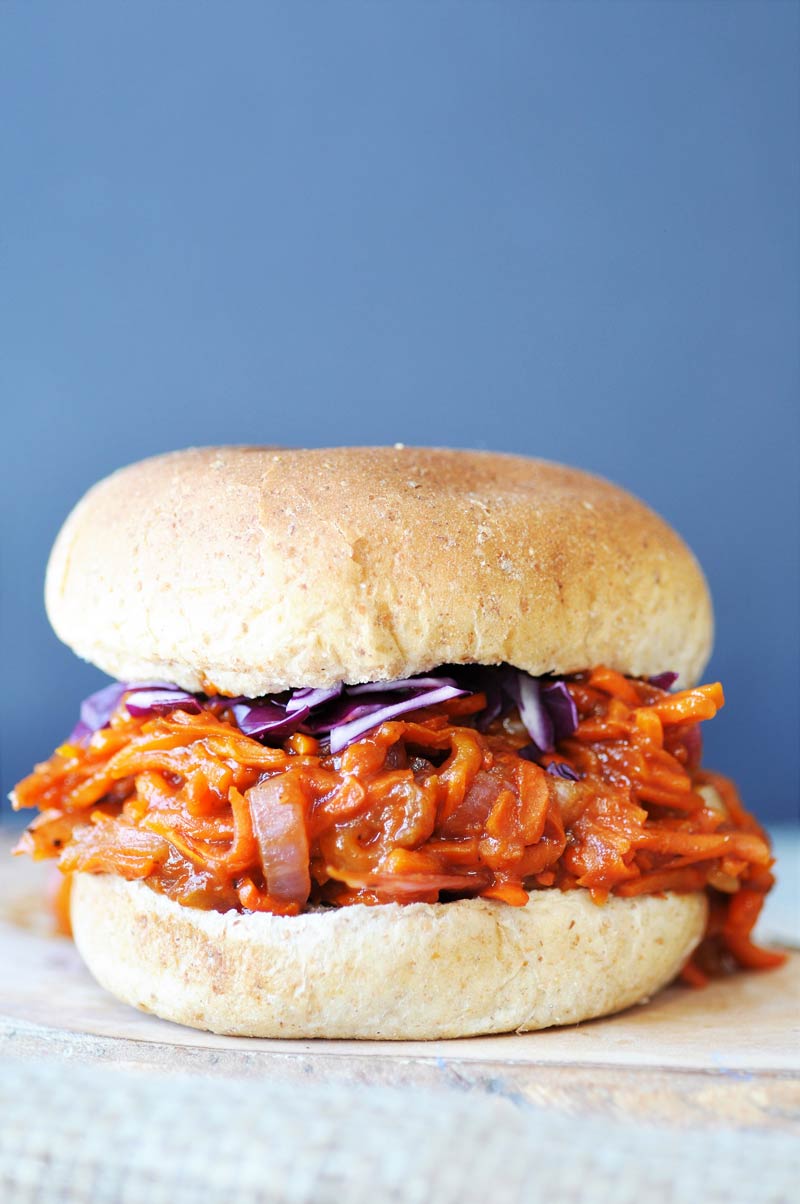 This post may contain affiliate links which won't change your price but will share some commission.
Hi there! Thanks for visiting us, we're so happy you're here. If you're looking for Southern inspired vegan comfort food recipes, you've come to the right place.
We love vegan comfort food and we're really good at making it. Take a tour through our site and you'll find all of the recipes that scream, stretchy pants required!
The good news, they're all plant-based recipes, so you don't need to feel guilty eating them. Now sit back, relax, and eat happy. 🙂
Also, in case you didn't know, we're published cookbook authors. We've written two vegan cookbooks that will help you make amazing vegan BBQ (you don't even need a grill) and everyday meals, from breakfast to dessert.
Click on the titles to check them out. GREAT VEGAN BBQ WITHOUT A GRILL
and THE ULTIMATE VEGAN COOKBOOK
.
A VEGAN BARBECUE RECIPE THAT MEAT EATERS WILL LOVE
Pulled BBQ carrots. You think I'm kidding? I'm not. But before we start talking about this DELICIOUS recipe, let's dish.
January first was my fifth vegan anniversary! That decision has been life changing.
I feel great, I've saved so many animals, Alex and I founded Veganosity, We've written two cookbooks and I've run two marathons, I've met an amazing group of vegan blogger friends, and this little blog is thriving.
All of that because I made the conscious choice to go vegan. Life is good! Pun totally intended. 😉
How Many Animals Does a Vegan Save Each Year?
According to Animal Equality, "Over 56 billion farmed animals are killed every year by humans. More than 3,000 animals die every second in slaughterhouses around the world." 56 BILLION!
In two years Alex and I have saved approximately 800 animals combined. Just a speck when you look at the astronomical number of animals killed every second, but I bet those 800 animals are grateful.
ADOPT DON'T SHOP
We're also pro-adoption when it comes to adding a furry friend to the family. There are so many beautiful animals sitting in cages right now just waiting to be loved. Please adopt.
WHY THIS BBQ CARROT RECIPE WORKS
Y'all, won't believe how incredibly chewy roasted shredded carrots are. When you cook a whole carrot for too long it can get mushy, but when you shred them and roast them, they get a little crispy on the edges and super chewy. 
This is what makes them the perfect vegetable for making pulled vegan barbecue.
We also add some shredded onion to the pan when we roast the carrots because it adds a great flavor.
Y'all, you just don't know how fabulous carrots are until you turn them into chewy, meaty, slightly spicy, pulled BBQ deliciousness.
WHERE THE INSPIRATION CAME FROM
I thought of the idea of making pulled BBQ carrots during a visit to The Wonderland Express exhibit at The Chicago Botanic Garden.
There was a spirits and wine tasting at the event and I needed to eat. Unfortunately, and true to the Standard American Diet, everything had meat, cheese, or cream in it.
They had a beef sandwich with slaw on the menu, so I got creative and asked if I could have a slaw sandwich, which gave me the idea to create a pulled BBQ veggie recipe.
Carrots seemed like the obvious vegetable because they shred easily, they're the color of BBQ sauce—more or less—and they have a sweetness that would rock with the spicy sauce.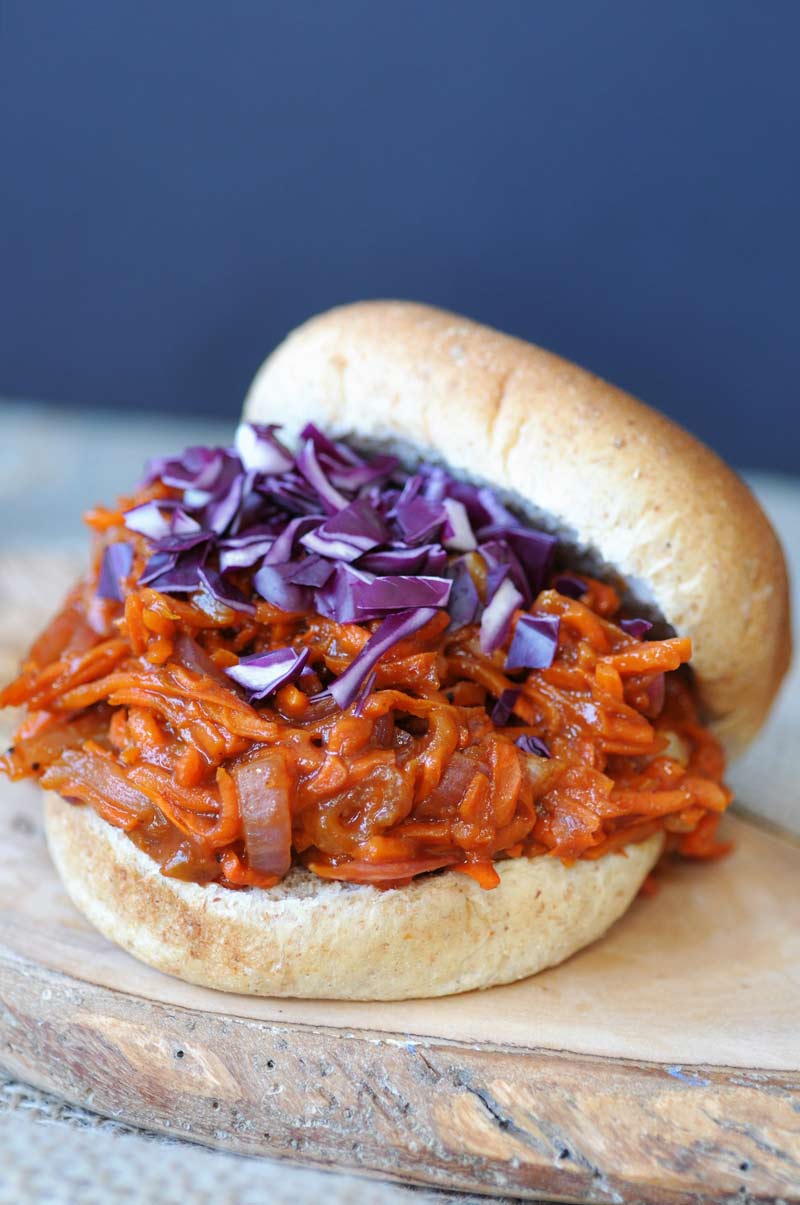 HOW TO MAKE  BBQ PULLED CARROTS
This is sooooo good. And it's easy to make. If you have a food processor it's even easier.
STEP ONE
Make the Carrots and Onions.
Shred four or five large carrots and thinly slice a large red onion.
Spread evenly on a parchment lined baking sheet and drizzle the tiniest amount of olive oil on them, toss to coat.
Cover the pan with foil, and roast for approximately thirty minutes. Make sure you shake the carrots and onions in the pan every ten minutes so they roast evenly.
Take the foil off during the last 10 minutes so the edges get crispy.
Put them in the pan of BBQ sauce and simmer for approximately 10 to 15 minutes.
While the carrots and onions are roasting—it smells so good—make the BBQ sauce. Or, if you're feeling lazy you can use a vegan sauce, such as Amy's or Stubbs.
Once the carrots and onions are roasted to a soft texture and are slightly caramelized, you can put them in a medium sauce pan with a cup of barbecue sauce and simmer for ten minutes.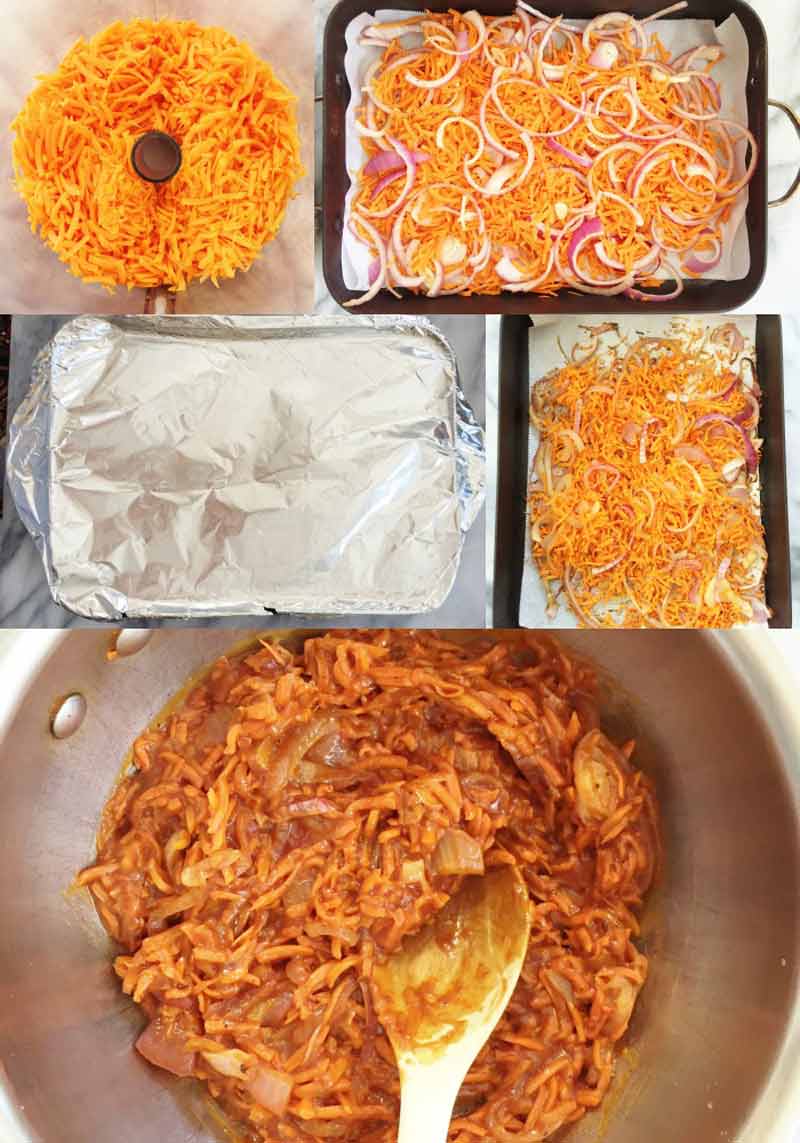 HOW TO MAKE THE BEST HOMEMADE BBQ SAUCE
Our sauce is the best! We rarely make those kinds of statements, and we're making an exception this time.
Our readers love it, our friends and family love it, and we love it. Enough said. 🙂
STEP ONE
Add the BBQ sauce ingredients to the blender and blend until fully combined.
STEP TWO
Put the sauce in a pan and bring to a boil, then reduce to simmer and let it cook for about 15 minutes.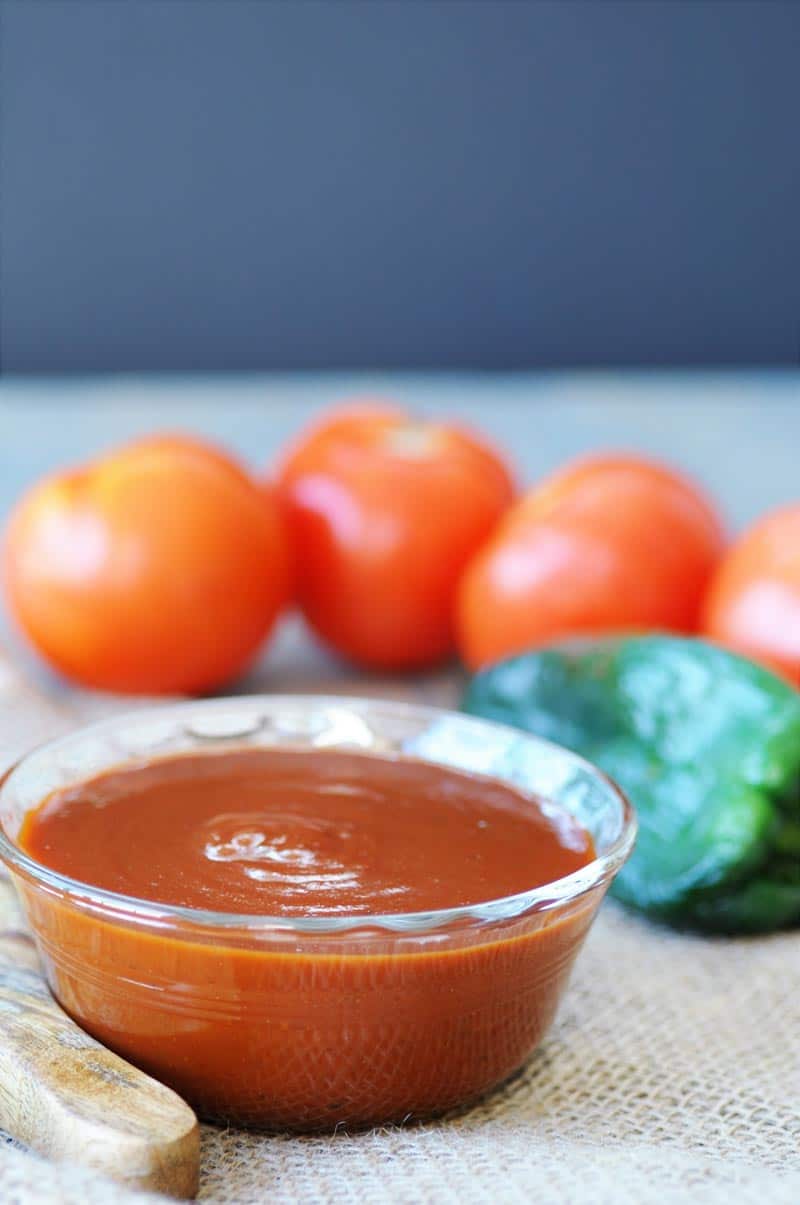 HOW SHOULD I SERVE WITH VEGANOSITY PULLED BBQ CARROTS? 
We're so glad you asked. Here is a list of some of our favorite side dishes to serve with this vegan BBQ sandwich.
Vegan Southern-Style Creamy Potato Salad
Greg's Lemon & Dill Potato Salad
Smoky Baked Beans from our cookbook, Great Vegan BBQ Without A Grill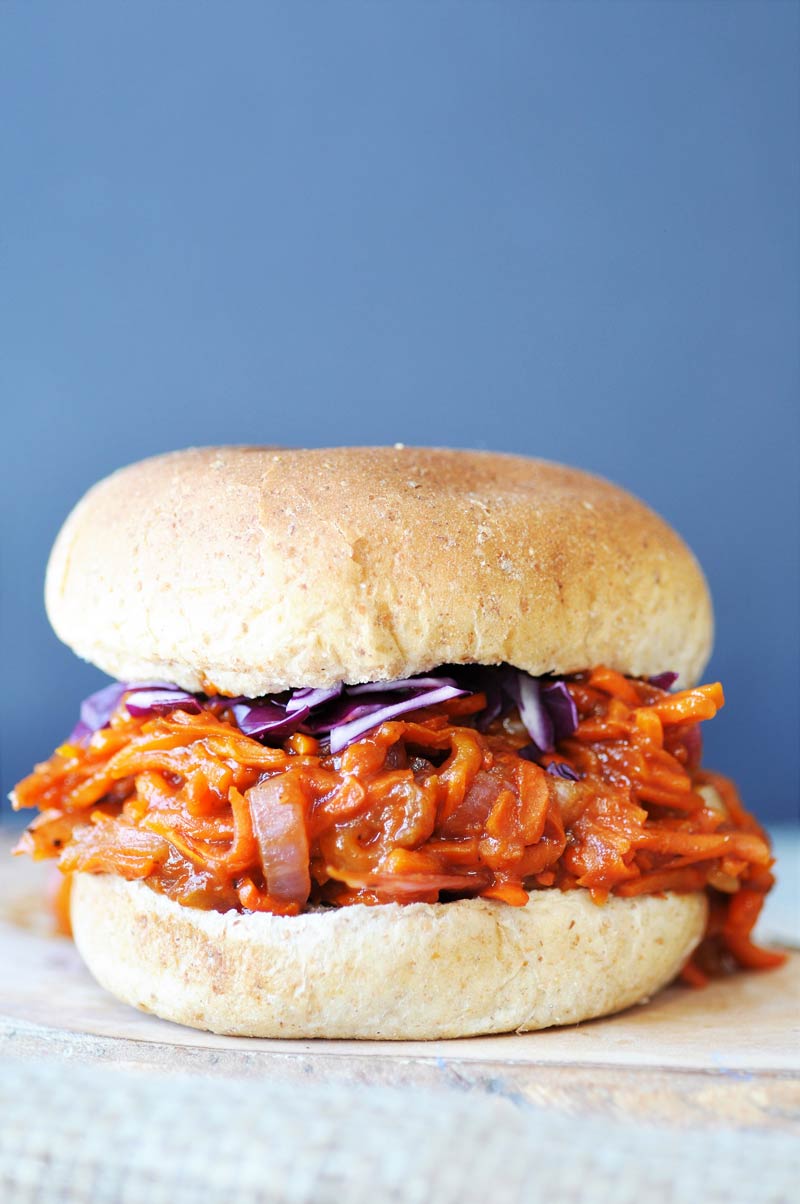 Make this and let us know what you think. We love to hear from you! And, don't forget to take a picture of your gorgeous creation and tag us @veganosity on Instagram.
Let's connect on Instagram and Twitter. You'll get a peek into our everyday lives in our stories and see what we're sharing in our feed.
And, don't forget to SUBSCRIBE to the blog so you never miss a recipe. Scroll below the recipe or in our side bar to become a Veganosity subscriber.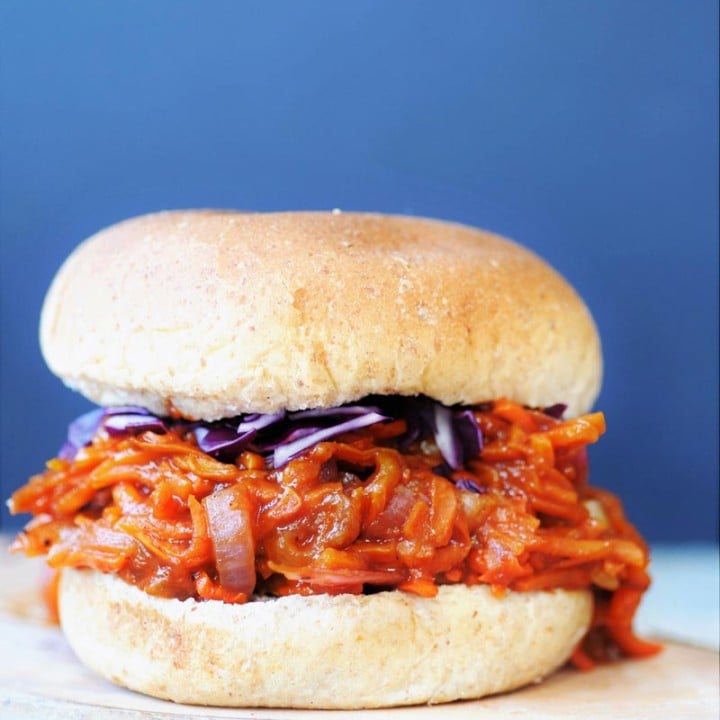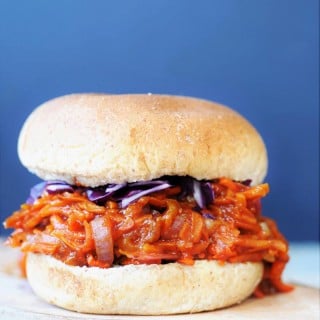 Pulled BBQ Carrots
You have to try these pulled BBQ carrots with homemade BBQ sauce! They're so meaty, chewy, and delicious. And they're healthy!
Print
Pin
Rate
Equipment
1 food processor

1 Oven

1 stove
Ingredients
5

large carrots – peeled and shredded

1

large red onion – peeled and thinly sliced

½

teaspoon

of olive oil

Sea Salt and Black Pepper to taste
For the BBQ sauce:
1

cup

of tomato sauce

3

cloves

of garlic

¼

cup

of apple cider vinegar

1

tablespoon

of dark molasses

¼

cup

of brown sugar

See Note

1

teaspoon

of salt

1

teaspoon

of paprika

1

teaspoon

onion powder

¼

teaspoon

cumin

¼

teaspoon

of cayenne pepper

see note in instructions

¼

teaspoon

of white pepper

1

tablespoon

of lime juice

1

pepper from a small can of peppers in adobo sauce – remove the seeds

the pepper is optional, this will make the sauce extra spicy, if you use it, make sure to remove the seeds

1

teaspoon

olive oil

1

tablespoon

cilantro
Instructions
Preheat the oven to 385°F and line a baking pan with parchment paper. If you don't have parchment paper you can line it with lightly oiled aluminum foil or lightly grease the bottom of the pan to avoid sticking.

Shred the carrots with the shredder attachment of your food processor or with a box or hand held grater.

Thinly slice the onion.

Put the carrots and onion in the baking pan and drizzle the olive oil over them. Toss well to coat and then spread them evenly in the pan. Sprinkle ground sea salt and ground pepper evenly over the top. Cover the pan with aluminum foil and roast for twenty minutes (shake the pan every ten minutes to ensure even roasting), remove the foil and roast for ten more minutes. The carrots and onions should be nice and soft, and lightly caramelized.

NOTE: If you are sensitive to spicy food blend the BBQ sauce without the cayenne pepper first, then add it slowly until you find the heat that's good for you. Also, if you don't tolerate spicy food, skip the pepper in adobo sauce

While the carrots and onions are roasting, put the sauce ingredients in a blender and blend until fully combined and smooth. Pour into a medium sauce pan and bring to a boil. Reduce to a low simmer and cook for twenty minutes, stir occasionally to avoid scorching the sauce.

Add the roasted carrots and onions to the sauce and stir well to coat. Simmer for fifteen minutes.

Enjoy!
Notes
Two vegan brown sugar options are Imperial Sugar or GW Sugar. You could also use coconut sugar.
Store covered in the refrigerator for up to 5 days. 
Freeze in a freezer safe container for up to 2 months. Thaw in the refrigerator. 
NUTRITION DISCLAIMER
Nutrition
Serving:
0.5
cup
|
Calories:
120
kcal
|
Carbohydrates:
26
g
|
Protein:
2
g
|
Fat:
2
g
|
Saturated Fat:
1
g
|
Polyunsaturated Fat:
1
g
|
Monounsaturated Fat:
1
g
|
Sodium:
797
mg
|
Potassium:
489
mg
|
Fiber:
3
g
|
Sugar:
19
g
|
Vitamin A:
10701
IU
|
Vitamin C:
11
mg
|
Calcium:
58
mg
|
Iron:
1
mg