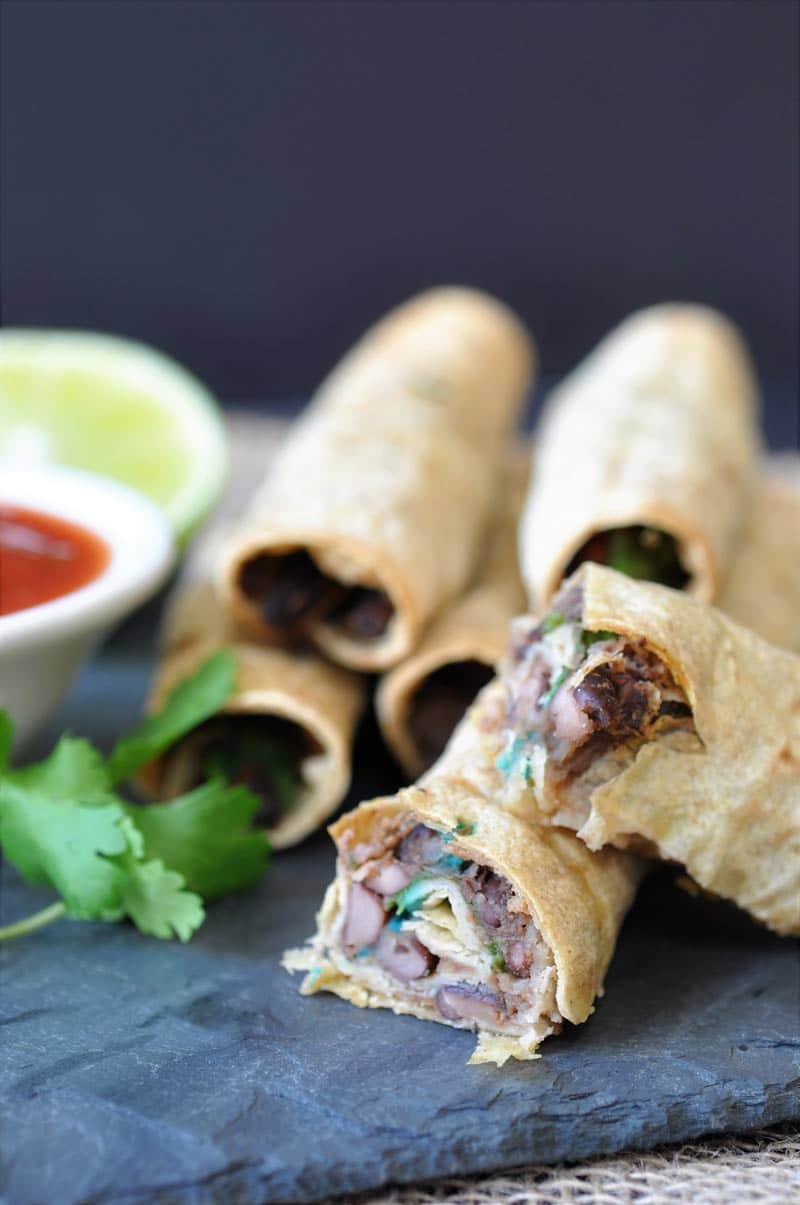 Happy Friday ladybugs!
How cute is that little term of endearment? I was shopping at Whole Foods with my sister from another mother a few days ago, and she struck up a conversation with the sweetest woman in front of the kale display. I walked up midway through and my SFAM introduced me and told her that I eat a lot of kale. The woman looked me over and said, "Well of course she does, just look at her!" Hail to the Kale!
The sweet lady then proceeded to ask a hundred questions about how to eat kale—she hadn't been removing the stem and thought it was just too fibrous. My SFAM and I set her straight, we taught her about removing the leaves from the stem and massaging them to break down the fibers. She was so grateful. When she left us she gave us the most gorgeous smile—kale is working for her—and said, "Have a wonderful day ladybugs."
Awwww, I just loved being called a ladybug. I loved it so much that I needed to greet you with the same sweet nickname this morning. Even if you're a man, embrace it, because male ladybugs are still ladybugs. It's all good.
Speaking of good, have you ever had a homemade black bean & spinach taquito? SO. GOOD! They're light and crispy on the outside and savory and chewy on the inside.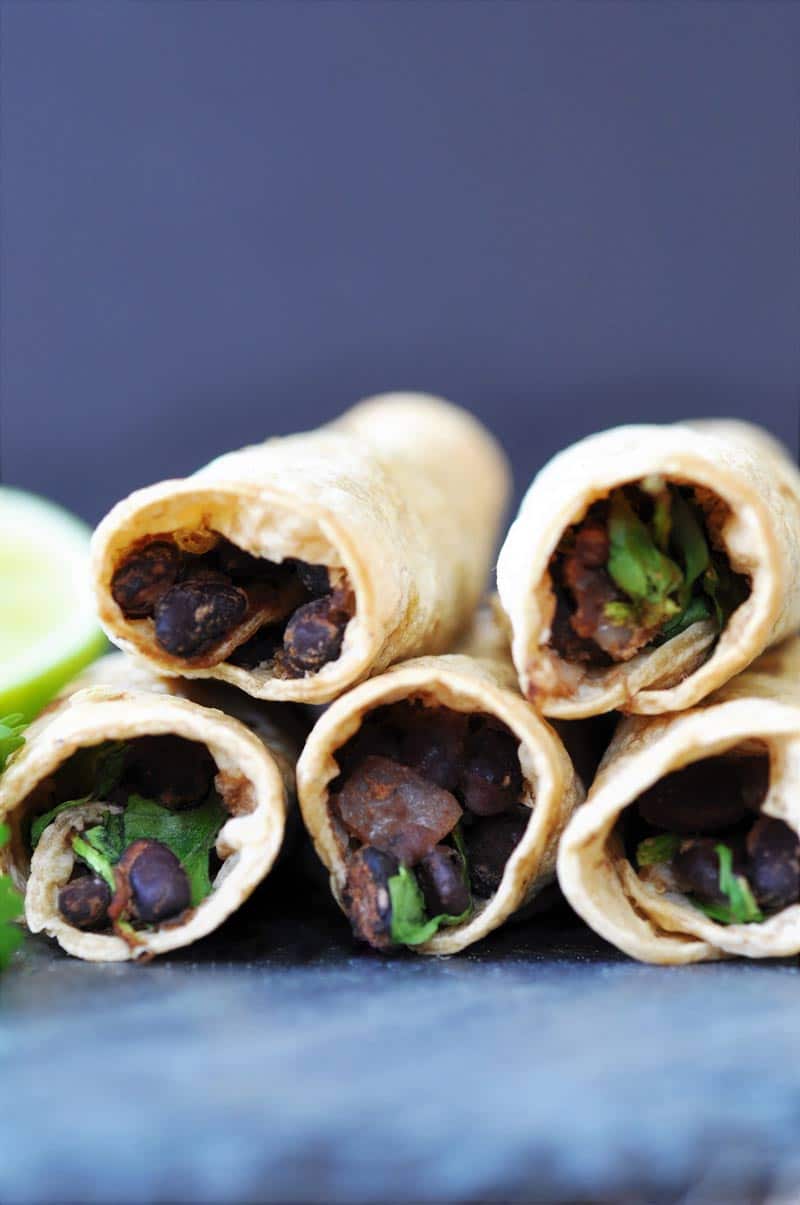 When you make your own you get to spice the beans the way you like them. If you like them to be en fuego (I went masculine for the men who didn't like being called a ladybug. Truce.), spice those babies up to ten. If you like mild, go light on the chili powder. They're your taquitos, do what you like.
Another great thing about homemade taquitos is that they aren't filled with preservatives, alarming levels of sodium, and a crap ton of oil. I brushed a tiny layer of oil on the outside of mine to make them extra crispy, but you don't have to do that if you have an aversion to oil.
To cheese or not to cheese? Again, when you make your own taquitos you get to choose your cheese. Or not. Vegan cheese, of course.
By now you're getting the picture. Homemade means having control of what you're eating, or not eating. And for those of you who know me, mama likes to be in control. Wink, wink.
Here are a few tips to make your homemade black bean & spinach taquito making experience as easy and pleasant as it can be:
Dampen two paper towels and fold them over the corn tortillas and microwave for 1 minute and 10 seconds. This will make the tortillas malleable, so they won't crack when you roll them.
Don't overfill them, a little filling goes a long way.
Make sure you have salsa or this guacamole, or both, for dipping. Dipping makes them even better.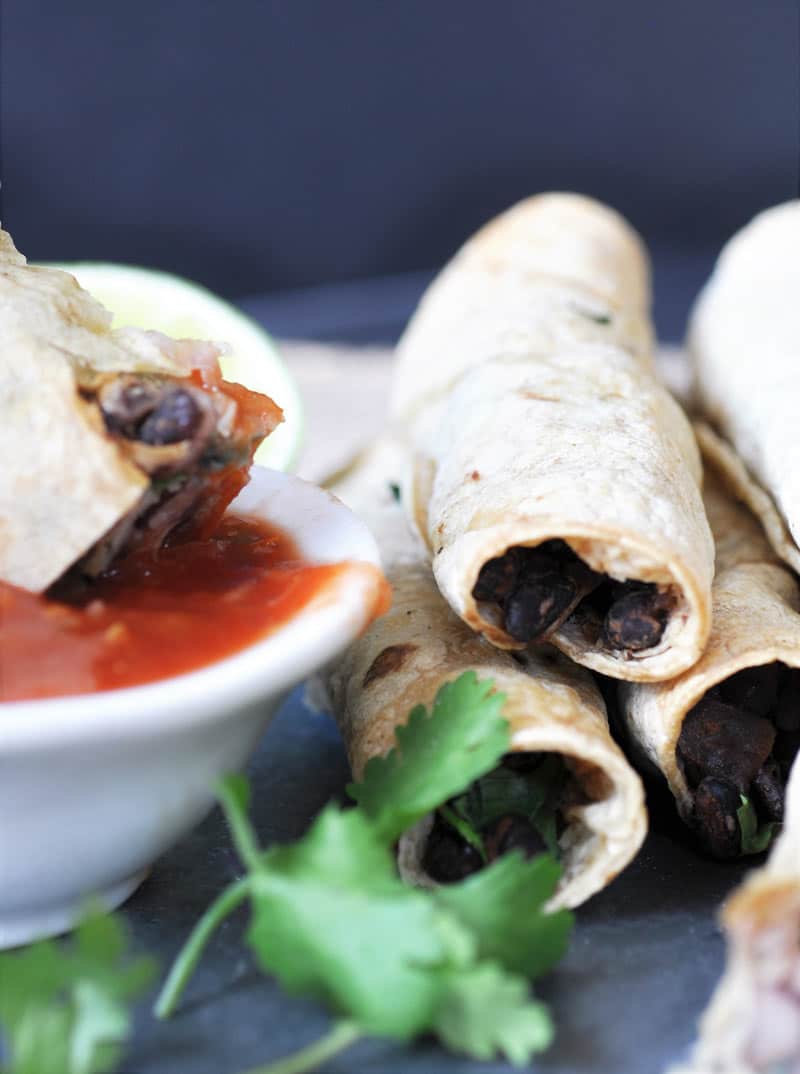 Make a huge batch of beans so you have leftovers for later in the week. Bean dip is good for taquitos too. You can never have enough beans.
That's it, everything else about making your own vegan taquitos is super simple.
Homemade black bean & spinach taquitos would be a fabulous happy hour appetizer, or make them a meal with a side salad and this tortilla soup recipe.
Do us a favor, if you like this recipe and can't wait to see what we're going to share next, subscribe to Veganosity. Just fill in the subscription box above our picture in the top right corner of the page. Alex and I love hearing from you. Please leave a comment and let us know what you think of our recipes. And let's connect! Hop on over to Facebook page and give it a like, or follow us on Instagram or Twitter, and follow us and share this and other Veganosity recipes on Pinterest. We'd be so grateful if you did.
Tell me:
Have you ever made your own taquitos?
What's your favorite Mexican food?
Do you have any fun plans for the weekend?
Vegan Black Bean & Spinach Taquitos
Crispy on the outside and savory and chewy on the inside. Delicious and perfect for an appetizer or part of a meal.
Print
Pin
Rate
Equipment
1 saucepan

1 stove

1 baking sheet

1 Oven
Ingredients
Black beans:

30

ounces

cooked black beans – drained and rinsed well

1

onion – finely chopped

2

tablespoons

of chili powder

2

teaspoons

of smoked paprika

1

teaspoon

of cumin

salt to taste

Black pepper to taste

1

package of corn tortillas

approximately 12 per package

1

tablespoon

of avocado or olive oil

optional

2 to 3

cups

of baby spinach – torn into small pieces

Vegan cheese of your choice

optional
Instructions
Make the beans:

Put the beans and the onion in a medium saucepan and cover with water. About a half inch over the beans. Bring to a boil and reduce to simmer. Add the spices and combine. Cook until the water evaporates and the beans are thick and creamy. Approximately 30 to 40 minutes. Stir frequently.

Preheat the oven to 375°

Dampen two paper towels and fold them over the corn tortillas and microwave for 1 minute and 10 seconds. This will make the tortillas malleable, so they won't crack when you roll them.

Brush the outside of the tortilla with a thin layer of oil (optional, this will make the taquito crispier) and put two tablespoons of beans and a layer of torn spinach leaves on top and spread evenly on the tortilla. Roll it as tightly as possible and leave the seam side down. If you have trouble keeping them closed use a toothpick to hold them shut. Remove after baking.

Put the rolled taquitos on a baking sheet and bake for approximately 15 to 20 minutes or until they're a light golden brown and they have a crispy surface. Let cool slightly before eating and remove the toothpicks if you used them.

Dip in guacamole or salsa and enjoy!
Notes
Best when consumed immediately. 
Store covered in the refrigerator for up to 4 days. Freeze in a freezer safe container for up to 3 months. 
Reheat in a 350F oven until heated through and crispy. 
Nutrition Disclaimer
Nutrition
Serving:
12
g
|
Calories:
178
kcal
|
Carbohydrates:
30
g
|
Protein:
10
g
|
Fat:
3
g
|
Saturated Fat:
1
g
|
Polyunsaturated Fat:
1
g
|
Monounsaturated Fat:
1
g
|
Trans Fat:
1
g
|
Sodium:
43
mg
|
Potassium:
500
mg
|
Fiber:
11
g
|
Sugar:
1
g
|
Vitamin A:
1552
IU
|
Vitamin C:
3
mg
|
Calcium:
52
mg
|
Iron:
3
mg