Healthy vegan & gluten-free banana muffins that aren't dry or gritty, and they taste good!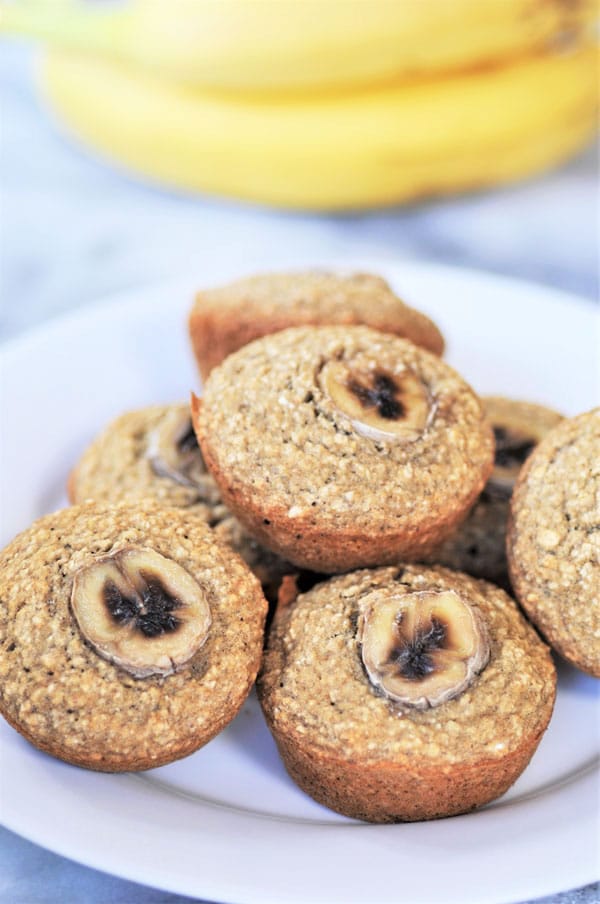 Gorgeous? No. These are one of those, don't judge a book by its cover, kind of muffins. We could have dolled them up for you and placed a fresh banana slice on the top of each one. The pictures would have been prettier, but that wouldn't have portrayed how they really looked when they came out of the oven, all hot and steamy, with a slightly brown banana slice on top, and perfectly delicious. And delicious they are were. I had two and my son had ten. In two hours. I'm not kidding. #onlya23yearoldmancaneat10muffinsandstillhavea6pack #lifeisunfair
Alex created this gluten-free and refined sugar-free recipe on Monday morning. She was craving a muffin to go with her tea, so she had two choices. She could walk around the corner to the coffee shop and buy a 600-calorie muffin, or, she could make her own, low calorie muffins. Clearly, you can guess the outcome.
After hearing all about them, I had to make some too. After eating one, I had to share them with you.
As we head into January, or Veganuary as we vegans like to call it, we're reevaluating some of the ingredients that we have been consuming, such as refined sugar, white flour, and oil. We eat a pretty healthy diet, and compared to most, we'd be considered in the top one percent when it comes to our food choices. However, we're of the mindset that there's always room for improvement. So in the new year, we're going to take the next step and reduce, or eliminate, those three evils from our diet. Starting with these no white flour, no sugar, banana muffins.
Are you ready to make some too? Let's go!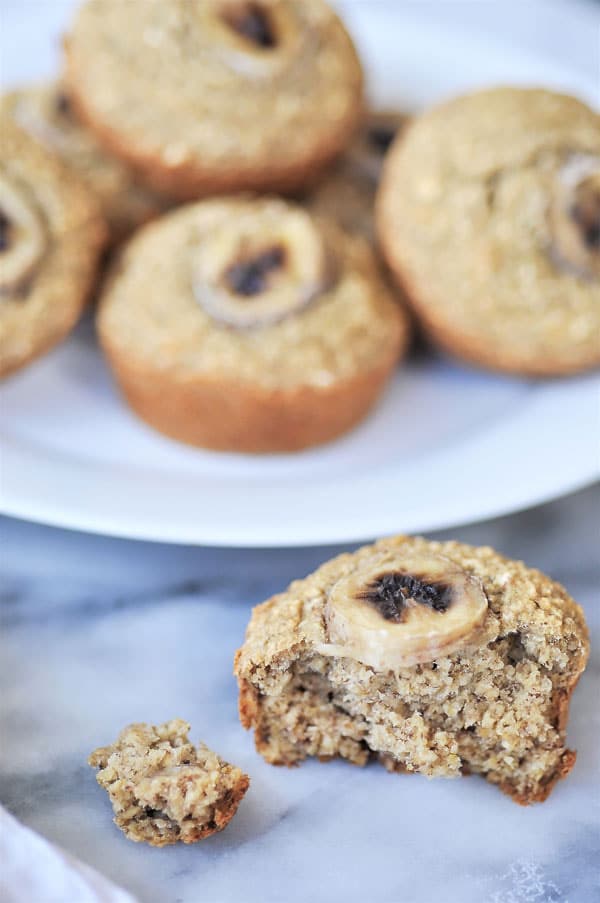 HOW TO MAKE HEALTHY BANANA OAT MUFFINS WITHOUT OIL, GLUTEN, OR SUGAR
First – Make sure that your bananas are ripe. The peel should be almost or mostly brown. This makes for a sweeter muffin.
Second – Grind the oats into a fine flour in your food processor and put them in a large mixing bowl with the other dry ingredients.
Third – Blend the bananas and the wet ingredients in the food processor until it's smooth and creamy. It will be thin and watery, not thick.
Fourth – Stir the banana into the dry ingredients until you don't see any dry flour and then fill the muffin tins three quarters of the way full. Place a slice of banana in the center of each muffin and bake for about 15 minutes, or until a wooden toothpick comes out clean when inserted in the middle.
These gluten-free banana muffins have an amazing texture. They're not dry and crumbly and they're not soggy. They're absolutely perfect. My husband, who is a gluten-free bakery skeptic couldn't believe that they weren't made with white flour. And, as I mentioned earlier, my son ate ten of twelve. I'd say that's a pretty good testament to how delicious these whole food banana muffins are.
They're also refined sugar-free muffins. The ripe bananas create their own sweetness, so you'll only have to add three tablespoons of maple syrup to the batter.
Now that you know how to make these quick and healthy banana muffins (it takes less than 30 minutes to whip them up and bake them), it's time to get baking!
Once you make them, come back and let us know what you think. We love hearing from you.
Let's connect! Hop on over to our Facebook page and give it a like, and follow us on Instagram and Twitter, and follow us and share this and other Veganosity recipes on Pinterest. We'd be so grateful if you did. If you like this recipe and can't wait to see what we're going to share next, subscribe to Veganosity. Just fill in the subscription box above our picture in the top right corner of the page. And, Alex and I love hearing from you, please leave a comment and let us know what you think of our recipes.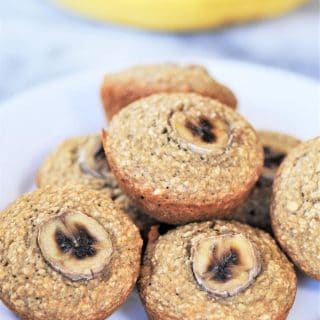 Vegan & Gluten-Free Banana Muffins
Healthy and delicious whole food, gluten-free, refined sugar-free, vegan banana muffins! Easy to make and easier to eat.
Print
Pin
Rate
Equipment
1 food processor

1 large mixing bowl

1 muffin tin

1 Oven

1 wire cooling rack
Ingredients
1 ½

cups

rolled oats, or oat flour

1

teaspoon

baking soda

2 ½

ripe bananas

divided

3

tablespoon

aquafaba (liquid from chickpeas) or 1 egg equivalent Egg Replacer

3

tablespoon

Maple Syrup

1

teaspoon

vanilla extract

1

teaspoon

sea salt

¼

cup

unsweetened almond milk
Instructions
Preheat the oven to 350 °F (176°C) and lightly grease or line a muffin tin with liners.

In a food processor, blend the oats until they have the texture of a flour, approximately 45 seconds. Add the baking soda and salt and pulse until well incorporated. Pour the dry ingredients into a separate bowl. Add the gluten free flour to the mixture and mix until well incorporated.

Prepare the egg replacer while blending 2 ½ of the bananas in the food processor until they are smooth and creamy. Add the egg replacer, maple syrup, vanilla extract, and almond milk to the bananas and blend until all the ingredients are well incorporated. Pour the wet ingredients into the flour mixture and stir until all the ingredients are completely incorporated and you don't see any dry flour.

Evenly divide the batter into each muffin tin. Slice the rest of the banana and add to the top of every muffin. Bake for approximately 15 minutes, or until a wooden toothpick comes out clean when inserted in the center.
Notes
Store covered in the refrigerator for up to 4 days. 
Freeze in a freezer safe container for up to 3 months. Thaw in the refrigerator. 
Nutrition Disclaimer
Nutrition
Serving:
38
g
|
Calories:
106
kcal
|
Carbohydrates:
21
g
|
Protein:
3
g
|
Fat:
2
g
|
Saturated Fat:
0.3
g
|
Polyunsaturated Fat:
1
g
|
Monounsaturated Fat:
0.5
g
|
Sodium:
295
mg
|
Potassium:
155
mg
|
Fiber:
2
g
|
Sugar:
6
g
|
Vitamin A:
16
IU
|
Vitamin C:
2
mg
|
Calcium:
23
mg
|
Iron:
1
mg