This is the wrap of all wraps, and it's bound to become your favorite. Packed tight with curried quinoa, baked tofu, sweet mango and crunchy sunflower seeds, our flavorful wrap has all the flavors and textures that you could ask for in one delicious meal.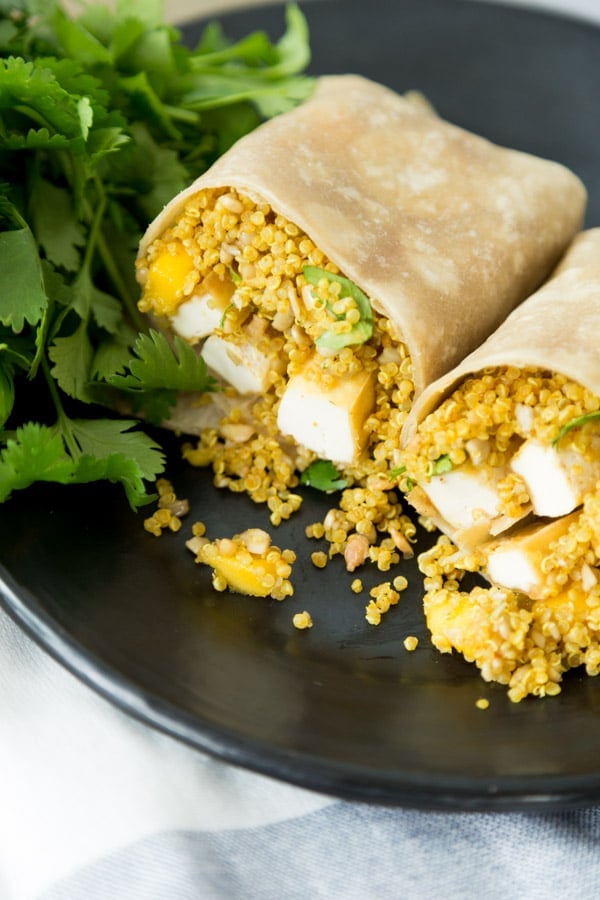 Oh lordy lordy, y'all (this is me channeling my Southern relatives), if ever there was a wrap that was worthy of gold, this is it. It has gold medal flavors, gold medal color, and gold level nutrition. Yep, we have a triple crown winner here, my friends.
This curried quinoa wrap is inspired by a similar one that I had at Left Coast in Chicago. After one bite, I knew that I had to create my own version. It took me a few tries to get the spice blend just right, but once I did, well, let's just say that I'm a bit obsessed with this healthy vegan wrap.
HOW TO MAKE THE PERFECT VEGAN CURRY MANGO TOFU WRAP WITH QUINOA
First – Press the excess liquid out of the tofu while you make the quinoa.
Second – Once the quinoa is done, put it in a bowl that's large enough to allow you to stir in the spices and other ingredients without having to worry about it falling out of the bowl. This is also the time to slice the tofu into sticks and bake it until it's slightly crispy on the outside and nice and firm on the inside.
Third – Combine the spices with the quinoa and stir until it's evenly coated. You don't want to see any dry spices, it should melt into the warm quinoa. Next, stir in the mango, cilantro, and sunflower seeds until combined.
Fourth – Wrap the filling in a wrap and and enjoy!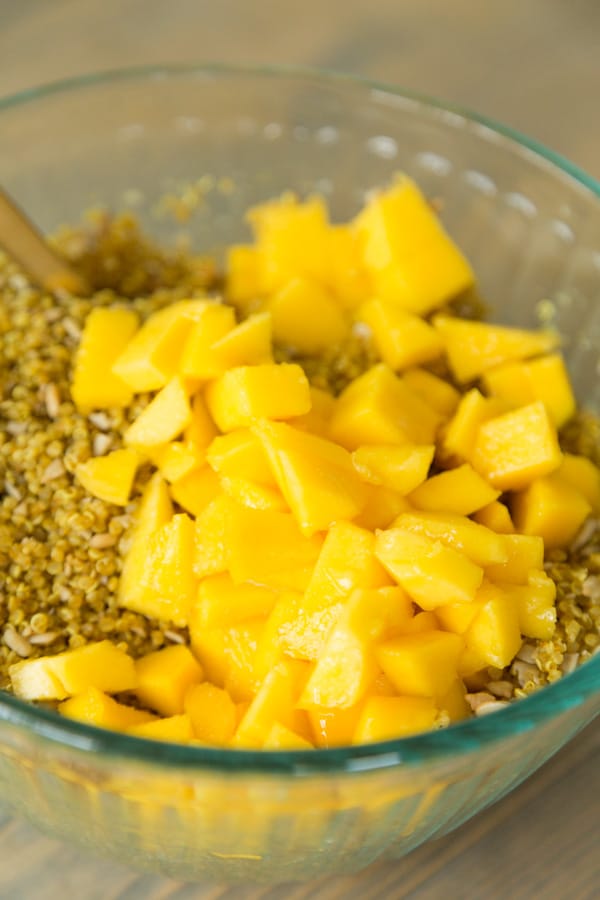 HOW TO FOLD THE PERFECT WRAP
We love making wraps and burritos (they're really the same thing), so we've become pretty proficient with this skill. I think my love of wrapping burritos started when Alex was born. One of the nurses in the hospital was teaching my husband how to swaddle her in a blanket and he said, "She's a baby burrito! " Lol! Well, that nickname stuck, and to this day, we refer to her as our baby burrito.
Back to the recipe.
The trick to making the perfect wrap is not under or over filling it. Too little filling, and you have an anemic wrap that won't be very satisfying. Over fill it, and you'll have an explosion on your hands. It's really a matter of how large the tortilla is and eyeballing exactly how much filling it will need. The good news is that you can always adjust as you're building.
You'll want to fill the center, leaving enough room on all sides for wrapping.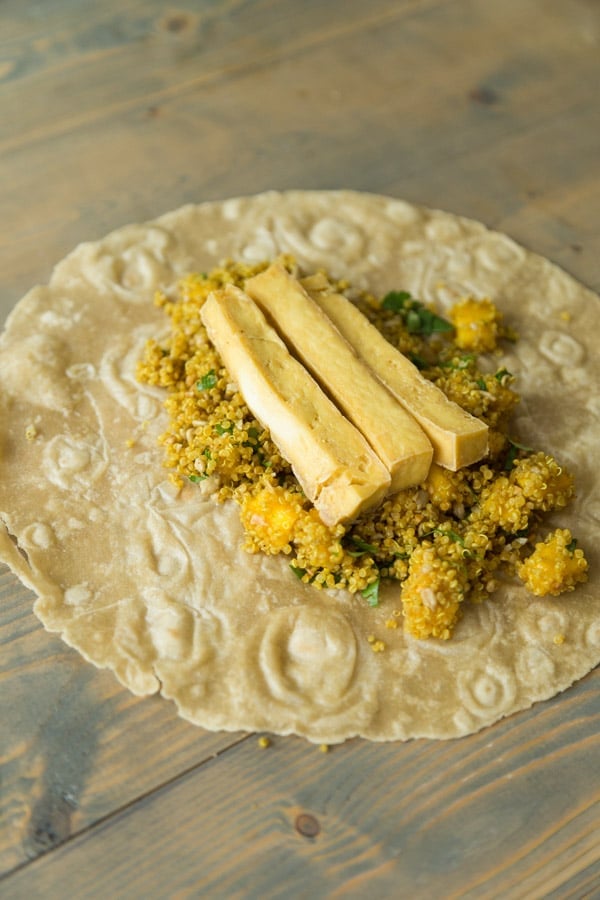 Fold the bottom half of the tortilla over the filling, then the top half, and then roll the sides.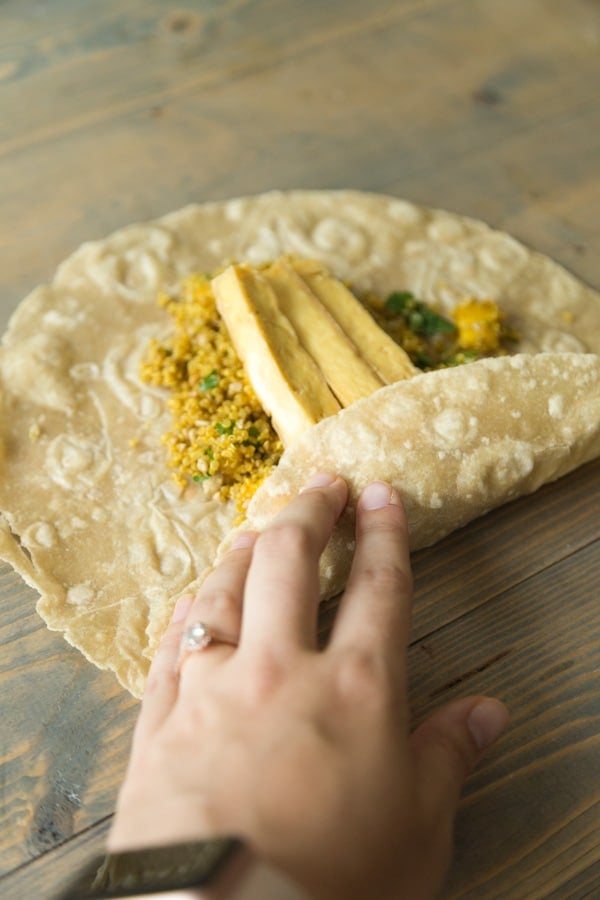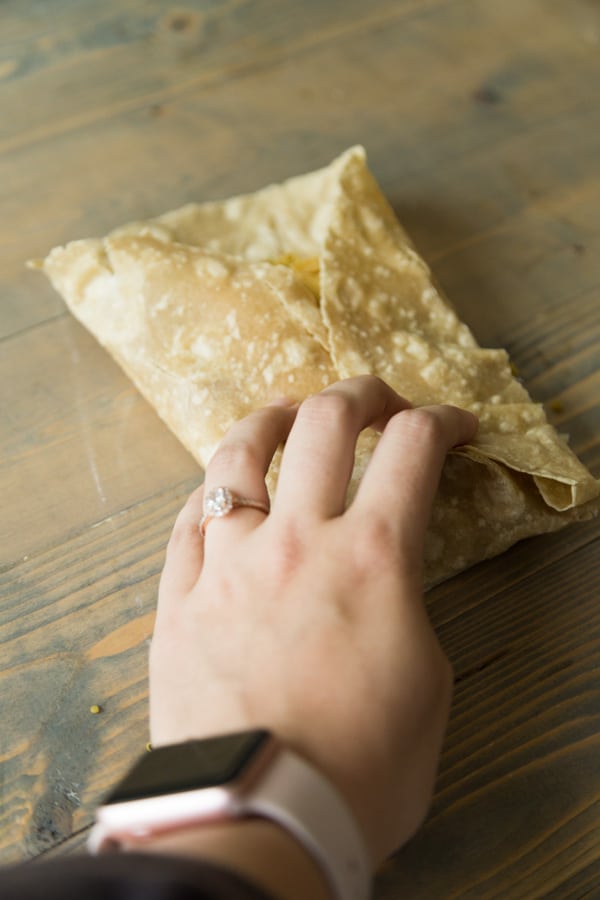 If you're making a quinoa and tofu wrap with curry for later, you can roll it up in foil so you can take it with you.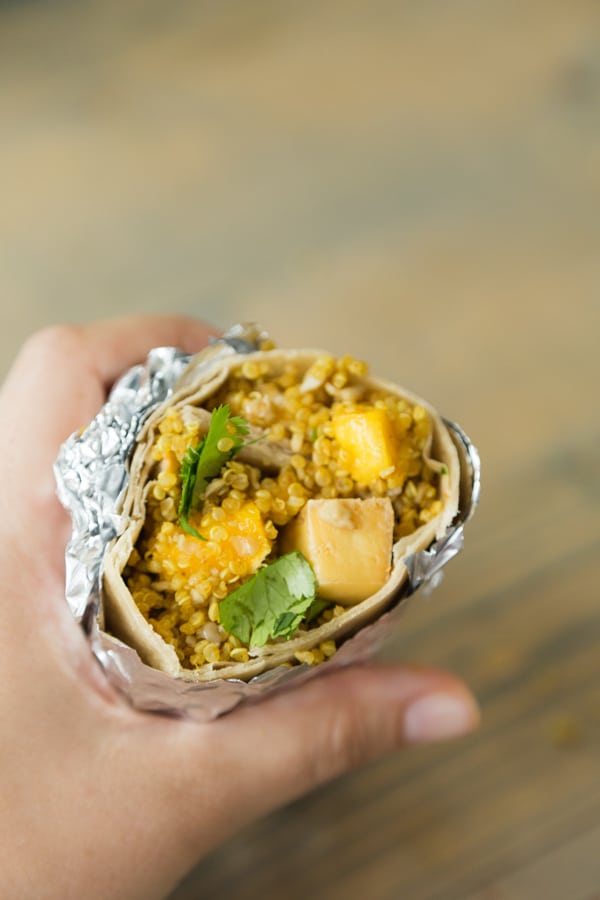 If you're all about huge flavor and great texture, then you're going to LOVE this wrap. It's super easy to make and if you're not into wraps, you can always eat it as is. It makes a great meal regardless of how you eat it.
Flavors
Curry
Cumin
Ginger
Nutmeg
Sweet mango
Salty sunflower seeds
Textures
Fluffy and chewy quinoa
Chewy tofu
Firm mango
Crunchy sunflower seeds
Make this and let us know what you think. We love to hear from you! And, don't forget to take a picture of your gorgeous creation and tag us @veganosity on Instagram.
Let's connect! Hop on over to our Facebook page and give it a like, and follow us on Instagram and Twitter, and follow us and share this and other Veganosity recipes on Pinterest. We'd be so grateful if you did. If you like this recipe and can't wait to see what we're going to share next, subscribe to Veganosity. Just fill in the subscription box above our picture in the top right corner of the page. And, Alex and I love hearing from you, please leave a comment and let us know what you think of our recipes.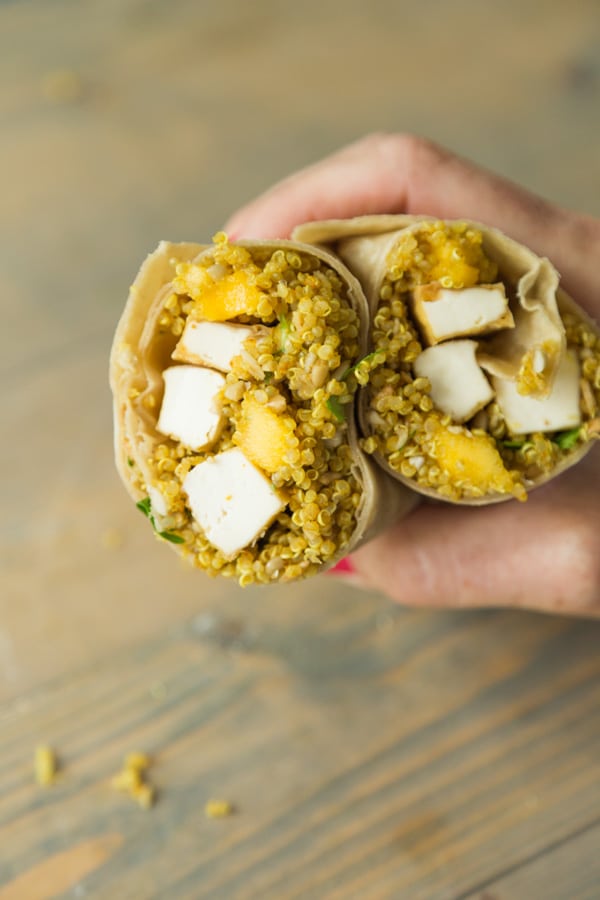 SHOP THIS RECIPE
The above links are affiliate links. Any Amazon purchases made through these links help support Veganosity.com at no additional cost to you.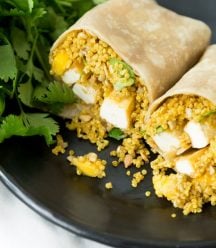 Curried quinoa mango and tofu wrap
A healthy, flavorful and easy curried quinoa, mango and tofu salad wrap that's perfect for any meal of the day.
Course:
Entree, Main Course, Salad
Cuisine:
American, Indian, Vegan
Keyword:
curry wrap, healthy wrap, vegan wrap
Ingredients
16

oz

firm tofu

pressed

2

cups

cooked quinoa

1

tbsp

curry powder

½

tbs

ground cumin

¼

tsp

ground ginger

¼

tsp

ground nutmeg

1

tbs

pure maple syrup

1

mango

chopped

¼

cup

sunflower seeds

¼

cup

cilantro leaves

finely chopped

4 to 6

wraps

buy gluten-free if required for your dietary needs (see note)
Instructions
Preheat oven to 375°F (190°C)

Press the excess water out of the tofu, approximately 20 minutes.

Once pressed, slice the tofu into sticks and bake for approximately 15 to 20 minutes, or until the exterior is slightly crispy and the center is firm.

Cook the quinoa according to the instructions. We measured out a ½ cup (105 g) of uncooked quinoa and saved leftovers for later.

Transfer the quinoa to a bowl that's large enough to allow you to stir in the rest of the ingredients without spillage. Stir in the spices and maple syrup until fully combined. You don't want to see traces of dry spices, they should melt into the quinoa.

Stir in the mango, sunflower seeds and cilantro until fully combined.

Build the wraps. Spoon filling into the center of the wrap, leave enough room on each side to fold. Put a few pieces of tofu on top of the quinoa. The amount will depend on how large the wrap is. See instructions and visuals in the post. Fold over the bottom of the wrap (the bottom should be where the ends of the tofu are for easier folding), then the top, then one side and roll. Tuck the ends. See the photos in the post for visual instruction.

Enjoy!
Recipe Notes
The Nutritional Facts are an estimate only If you want to make this gluten-free, you can buy GF wraps, just know that they're more prone to breaking as they're not as flexible as those made with gluten. You can also eat it as a salad if you don't want the carbs from the wrap.
Nutrition Facts
Curried quinoa mango and tofu wrap
Amount Per Serving
Calories 302
Calories from Fat 99
% Daily Value*
Total Fat 11g 17%
Sodium 15mg 1%
Potassium 331mg 9%
Total Carbohydrates 34g 11%
Protein 16g 32%
* Percent Daily Values are based on a 2000 calorie diet.