This post is sponsored by Nielsen-Massey Vanillas, and the opinions and recipe are one hundred percent ours. If you made our delicious Almond Crusted Tofu Bites & Lemon Ginger Dip, then you know that we love cooking with Nielsen-Massey's pure extracts. They truly are the best, and when it comes to creating good food, you don't want to skimp. When you taste our orange chik'n bowls, you'll understand what we're talking about. 
Let's just get right to it, our seitan chicken bowls are the BOMB DIGGITY!
Can I just say, that if I'm using expressions that can be found in Urban Dictionary, you can be confident that I'm really excited about something. And I'm really excited about these vegan "chicken" bowls.
It took a few tries to get the spicy orange sauce just right, and once I did, it became my new obsession. It's the perfect balance of sweet and spicy. The orange flavor shines without slapping you in the face, and the fresh ginger gives it a bold flavor that compliments the citrus.
It. Tastes. Amazing! And, I'm going to give you options in this recipe, so you can customize it to your liking. I realize that most people don't like to sweat when they eat, unlike me, who loves to bring on the heat. I also realize that some people like their sweet and spicy sauce to be sticky sweet, unlike me. So, in the spirit of diversity, you're going to get options.
Let's make this!
HOW TO MAKE SWEET & SPICY ORANGE SAUCE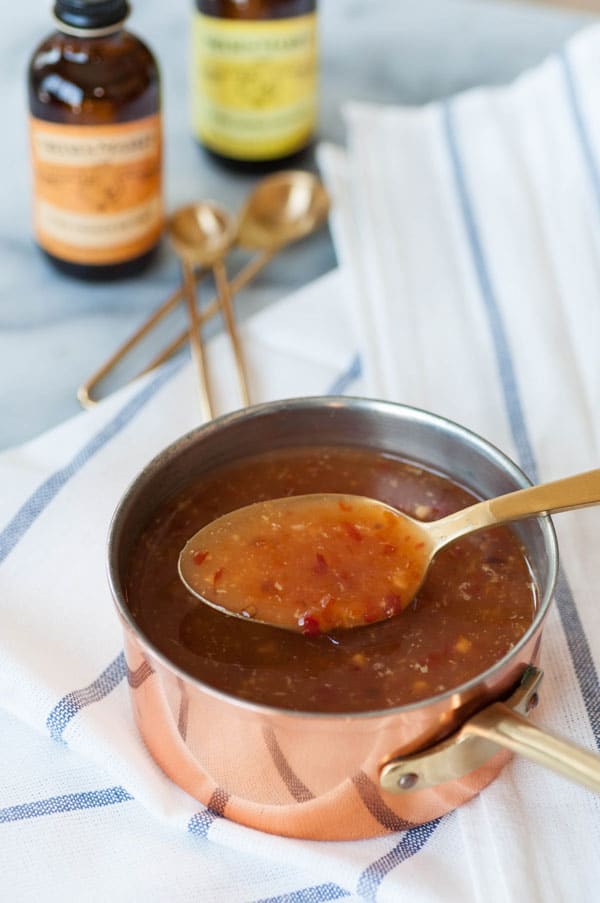 You may be surprised to learn that I didn't use orange juice to make this, and there are a few reasons for this. 1. I like to eat my oranges, not drink them. Using pure orange extract allows me to get a stronger orange flavor without squeezing the life out of an orange that I'd rather eat. 2. Store bought OJ (even concentrate) is often times fortified with vitamin D that's not vegan. Even when the label doesn't state that it's fortified, it might be. Read this to learn more.
It's easier to use pure extracts when you're cooking because you can control the amount of liquid and flavor that you're looking for. And let's be real, if you're using PURE extract, not flavorings, you're getting the best flavors of real fruit.
Now, let's make the sauce.
First – Mince the garlic and grate the ginger
Second – Whisk the water and corn starch until it dissolves.
Third – Add all of the ingredients, except the corn starch mixture, to a small saucepan and bring to a boil. Whisk in the corn starch mixture and reduce the heat and simmer for a few minutes until it thickens.
If you like a sticky sweet sauce, add ⅓ of a cup of maple syrup.
If you like a tamer sauce, add the chili sauce by the teaspoon until you get the level of heat desired.
If you like a sauce that's even spicier than this one, well you keep adding that chili sauce, you party animal, you! You have our utmost respect.
HOW TO MAKE A HEALTHY VEGAN "CHICKEN" BOWL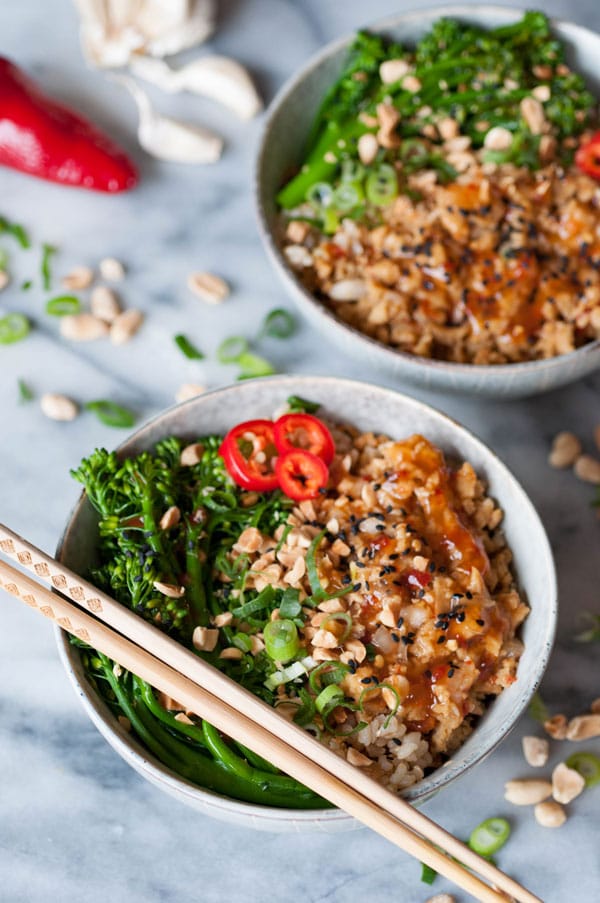 First – Make the orange sauce.
Second – Grind chicken flavored seitan in a food processor or with a chef's knife.
Third –  Steam the broccolini for three minutes, or until the stalks are fork tender.
Forth - Add a teaspoon of sesame oil (you can use another vegetable oil, but sesame oil gives the best flavor) to a wok or iron skillet and heat on medium-high. When the oil is hot, add the onion and sauté for approximately five minutes, or until it becomes translucent. Add the garlic, ground seitan and the broccolini and cook for five minutes. Stir frequently to prevent the seitan from sticking to the pan.
Can you only imagine how incredible this dish smells while it's cooking? Orange, garlic and onion intertwined in one mouthwatering aroma. My husband came home from work while I was cooking it and he couldn't sit down for dinner fast enough after getting a whiff of the orange chik'n.
WHY WE THINK NIELSEN-MASSEY PRODUCTS ARE THE BEST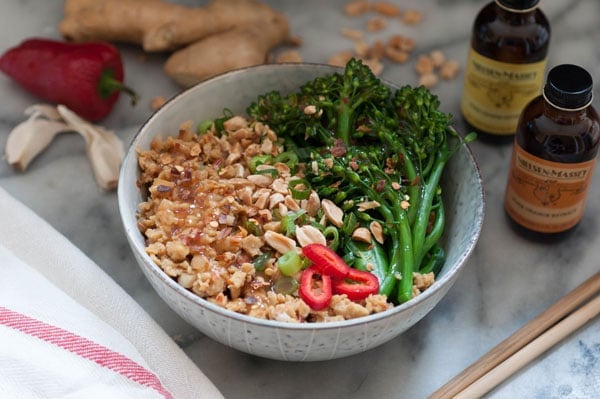 Yes, we were paid to create this recipe using Nielsen-Massey Pure Orange Extract and their Pure Lemon Extract, however, we used their products long before we partnered with them.
When they approached us to work with them we were beyond excited and didn't have to think twice, because we knew that their products are the highest quality and tried and true. It was a no brainer.
Aside from using the best quality ingredients, their products are All Natural, Gluten-Free Certified, Kosher Certified, Allergen-Free and GMO-free.
The company has been family owned since 1907 and they're socially and ethically responsible, which means a lot to us. Their corporate headquarters are also a hop, skip, and a jump from our hometown, which gives us a neighborly feeling about them.
WHY USE PURE EXTRACTS?
As I mentioned before, using pure orange extract allows you to have more control over the flavor of your dish. They extract the oil from the fruit, so you're guaranteed a fresh, bright and citrusy flavor.
I also used their Pure Lemon Extract to add a bit of tanginess to the sauce. It totally finished the flavor profile.
Serve the orange "chicken" and broccolini over a bed of rice, and don't forget to garnish with crushed peanuts, chopped green onion, and a sprinkle of  sesame seeds on top for a little crunch and added nutrients.
Make this and let us know what you think. We love to hear from you. And don't forget to take a picture and tag @veganosity on Instagram!
Let's connect! Hop on over to our Facebook page and give it a like, and follow us on Instagram and Twitter, and follow us and share this and other Veganosity recipes on Pinterest. We'd be so grateful if you did. If you like this recipe and can't wait to see what we're going to share next, subscribe to Veganosity. Just fill in the subscription box above our picture in the top right corner of the page. And, Alex and I love hearing from you, please leave a comment and let us know what you think of our recipes.
Spicy Vegan Orange Chik'n Rice Bowls
Homemade spicy orange sauce that's so good you'll want to eat it with a spoon. Poured over ground sietan chicken and broccolini, it's a quick, easy, healthy, and delicious meal.
Print
Pin
Rate
Ingredients
ORANGE CHILI SAUCE
1

cup

water

3

tablespoon

pure maple syrup

See Note

2

tablespoon

chili sauce

See Note

1

tablespoon

fresh ginger grated

1

tablespoon

Nielsen-Massey Pure Orange Extract

See Note

½

teaspoon

Nielsen-Massey Pure Lemon Extract

¼

cup

water plus 1 tablespoon corn starch
CHIK'N MIXTURE
1

teaspoon

sesame oil

optional See Note

1

small yellow onion finely diced

3

garlic cloves minced

14

ounce

chicken flavored seitan

ground

1

bunch broccolini

1

cup

uncooked rice cook according to directions on the package

Sesame seeds

optional
Garnish
crushed peanuts

chopped green onion

sesame seeds
Instructions
Orange Sauce
Whisk the ¼ cup (60 ml) water and corn starch in a small bowl until the corn starch is fully dissolved.

In a small saucepan, Whisk the water, maple syrup, chili sauce, ginger, orange extract and lemon extract until combined. Bring to a boil and whisk in the corn starch mixture. Reduce the heat to simmer and cook for 3 to 5 minutes, or until it thickens. Remove from the heat.

Steam the broccolini for approximately 5 minutes, or until the stalks are fork tender.
Chik'n Seitan
Grind the seitan in a food processor or with a chef's knife.

In a large skillet, heat the oil and add the onions when the oil is hot. Cook for approximately 5 minutes, or until they begin to become translucent. Stir often. Add the seitan and garlic and stir to combine, cook for 2 minutes. Add the sauce and stir to coat the seitan. Add the broccolini and sauté for 2 to 4 minutes, or until heated through.

Build your bowl to suit your style. Garnish with peanuts, green onion, and sesame seeds for extra crunch.
Notes
If you like a sweeter, stickier sauce, add ⅓ cup of maple syrup or more. Make sure you taste it as you add to make sure you can still taste the other ingredients.
If you don't like spicy food, add the chili sauce 1 teaspoon at a time until you reach the desired heat. If you like it super spicy, add more chili sauce until you reach the desired heat.
I found that 1 tablespoon of Nielsen-Massey Pure Orange Extract was the perfect amount. The orange flavor was the star of the show, but it didn't overpower it. If you're sensitive to strong flavors, I suggest adding 1 teaspoon of the extract at a time and taste it. Keep adding until you reach the desired flavor.