Smoky Mushroom "Bacon" that Non-Vegans Will Love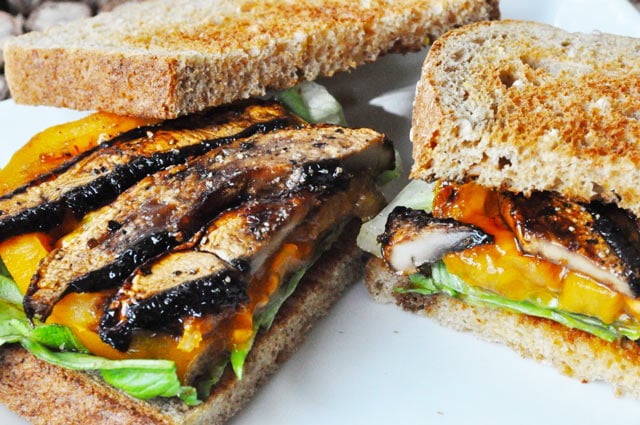 When I was a kid one of my favorite sandwiches was a bacon, lettuce, and tomato. A good BLT rocked my world. I loved the smoky, salty flavor of the bacon. Today, the thought of eating a sweet and intelligent pig makes me feel horrible, but I was raised to believe that meat and dairy was an important part of a healthy diet. I gave up eating mammals over twenty years ago, and I've never looked back. However, I never lost the craving for smoky and salty food.
Since Alex and I began this blog we've been working hard to find alternatives to animal products that will convert even the most hard core carnivore to a plant based only diet. And I think that this Portobello mushroom "bacon" recipe will lure meat eaters into the light. It may not transform them, but I bet that it will make them crave the shroom over Babe.
The story of Portobello Mushroom "Bacon"
As I was cruising the condiments section of my local supermarket (I spend a lot of time looking for different ingredients these days)  I stumbled upon across liquid smoke. I'd never heard of the stuff before, so I picked up a bottle and looked at the label. A little jolt of excitement ran through me the moment I realized that I had struck culinary gold. I thought, hmmm, I could use this in veggie burgers to give them a little extra something, or, I could try making a vegan bacon that mimics the flavor of the real stuff! My imagination had shifted into fifth gear and there was no slowing it down.
I cruised through the aisles looking for that special ingredient that would put a thick and juicy BLT back into my world. Tofu? No, too squishy. Tempeh? No, not a big fan. And then, I saw a big pile of Portobello mushrooms, and I thought, why not? It could work.
Round One
For my first attempt at making mushroom "bacon" with liquid smoke and maple syrup, I dipped the mushrooms in the liquid smoke and then immediately fried them. They were all right. Not great, not horrible.
Round Two
The second time I marinated them in the liquid. They were better, they had a good flavor, but it was almost too much of a good thing. I think I let them soak too long. A little bit of liquid smoke goes a long way.
Round Three – Ding-Ding-Ding, WINNER!
How to Make Vegan Portobello Mushroom "Bacon"
Finally, I got it right. I thought about the kind of bacon that my mom used to cook. Maple flavored bacon. I added maple syrup to the liquid smoke and it was perfect. The syrup gave it just enough sweetness, and it gave the mushrooms a stickier coating, which gave them a tiny bit of crispness . This my friends, is really, really good.
I couldn't wait to put that BLT together and take a bite. Ahhhh, it was as good as I had hoped it would be. Smoky, mapley, salty, yummy goodness, all without harming one living being. That made it taste even better.
Honestly, this is an easy recipe, it doesn't require any special culinary skills. I promise. As you can see, it makes a fantastic BLT, and you could also dice the mushrooms and put them in a salad, or put the slices on the side of a tofu scrambler. Anything that bacon can be added to, you can add these mushrooms to. How about putting the strips on a grilled veggie burger for a "bacon" burger?
When you try this, let me know what you thought,  write a comment. I'd love to hear from you.
Shop for liquid smoke on Amazon.com

Veganosity is a participant in the Amazon Services LLC Associates Program, an affiliate advertising program designed to provide a means for sites to earn advertising fees by advertising and linking to amazon.com. We make a small commission when you order from Amazon. It helps us afford the groceries to develop all of our recipes, and to pay for the maintenance of our site. We thank you in advance for your consideration.
Do us a favor, we want to show the world that plant-based foods are delicious and exciting. So let's connect and share all of this awesomeness with the world. Hop on over to our Facebook page and give it a like, and follow us on Instagram and Twitter, and follow us and share this and other Veganosity recipes on Pinterest. We'd be so grateful if you did. If you like this recipe and can't wait to see what we're going to share next, subscribe to Veganosity. Just fill in the subscription box above our picture in the top right corner of the page. And, Alex and I love hearing from you, please leave a comment and let us know what you think of our recipes.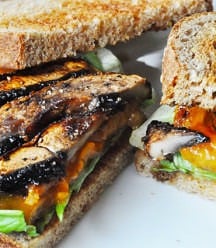 Portobello Mushroom Bacon – Vegan Bacon
Smoky, savory, Portobello bacon. Makes a great BLT.
Ingredients
1

tablespoon

coconut oil

One large Portobello mushroom – washed and patted dry

1/4

cup

maple syrup

2

tbsp

liquid smoke

sea salt to taste

Pepper to taste
Instructions
In a bowl that is large enough to marinate the mushroom slices combine the liquid smoke, maple syrup, salt, and pepper.

Cut the mushroom into thin strips, no more than a 1/4 of an inch thick, and marinate both sides in the liquid mixture. At least 15 minutes per side.

Heat the oil in a medium skillet and cook the mushrooms for 3 minutes, flip and cook for 3 more minutes. They should be browned and the edges should look crispy.

Notes

For a Bacon Lettuce and Tomato sandwich toast two pieces of whole grain bread. Add lettuce, sliced tomato, the mushroom bacon, and salt and pepper if desired. You can also spread some vegan mayo on the toast for added flavor.
Recipe Notes
For a Bacon Lettuce and Tomato sandwich toast two pieces of whole grain bread. Add lettuce, sliced tomato, the mushroom bacon, and salt and pepper if desired. You can also spread some vegan mayo on the toast for added flavor.
Nutrition Facts
Portobello Mushroom Bacon – Vegan Bacon
Amount Per Serving
Calories 338
Calories from Fat 126
% Daily Value*
Total Fat 14g 22%
Sodium 73mg 3%
Potassium 181mg 5%
Total Carbohydrates 54g 18%
* Percent Daily Values are based on a 2000 calorie diet.