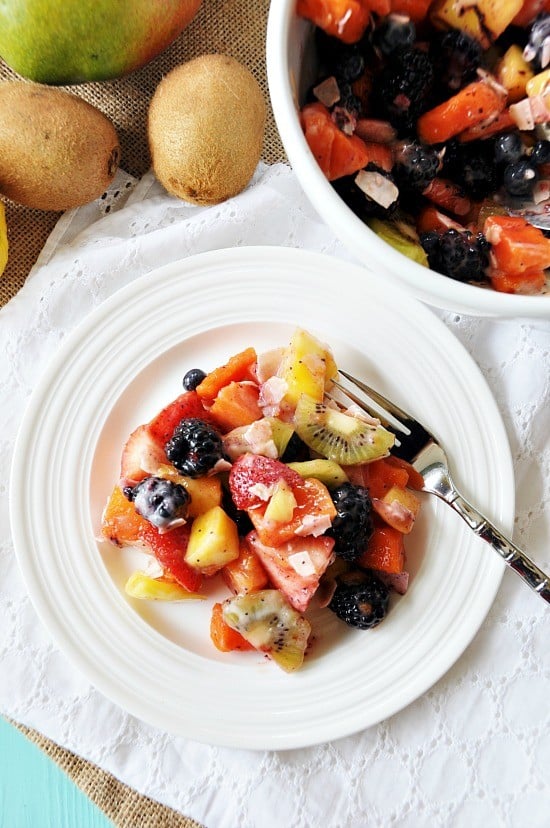 Hello gorgeous! Did you have a wonderful Mother's Day? If you're a mom I hope you were pampered and spoiled for the entire day, not just the first hour or two. You know how that goes – you get breakfast in bed and then everything goes back to business as usual. I've had a few of those, but not this year, lucky me.
My day began with a kiss from my handsome husband, more kisses from my furry babies, and a big mug of coffee in my favorite cup. Then Alex and Hooper arrived and I got more doggy kisses and big hugs from my sweet girl. Then she made this for me.
Tropical fruitpallooza! Papaya, mango, coconut, kiwi, blackberries, blueberries, strawberries, oh my! All of that colorful, sweet, stunning fruit was smothered with a coconut yogurt lemon poppy seed dressing that tasted like the ambrosia fruit salad of yesteryear. Hahaha-the best part (I lie, the best part was eating it) was that the dressing wasn't a billion calories of heavy cream, sour cream, mini marshmallows, and carcinogenic maraschino cherries. That red food dye is no good.
Alex's healthy vegan ambrosia fruit salad was better than the sticky salads that I remember from my childhood. First of all, hers was so much more colorful and filled with the best of the best tropical fruits. Who doesn't like papaya and mangoes? If you don't, you could always swap them out for pineapple and/or bananas. Why would you do that?
She also added big, plump, blackberries, and sweet blueberries, and juicy strawberries, because why wouldn't you? She sprinkled flakes of meaty coconut on top and then tossed it with the pièce de résistance, the coconut yogurt lemon poppy seed dressing. OMG!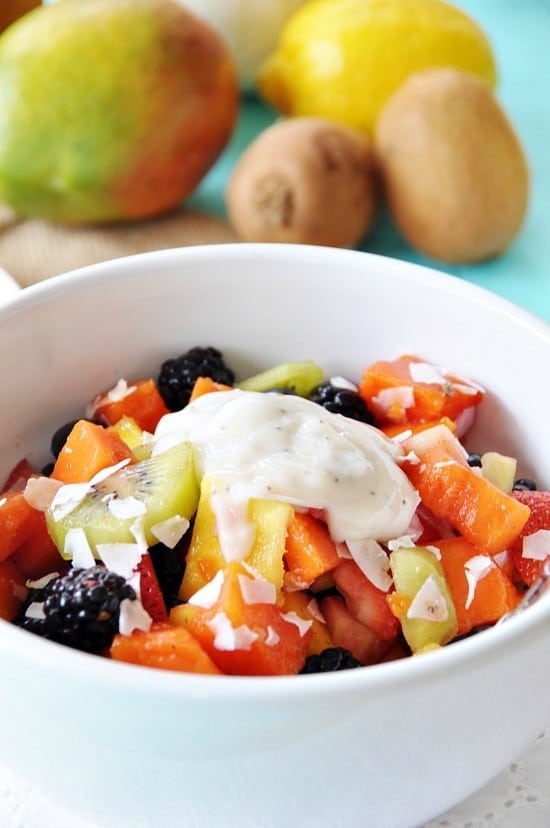 If you've ever made the non-vegan version of ambrosia salad you know that the dressing is made from heavy cream, sour cream, and sugar. The salad usually consists of pineapple, clementines, mini marshmallows, toasted pecans, coconut, and maraschino cherries. SWEET alert! Can't you just feel a cavity and sugar crash in your future after you eat that version? Not to mention, a spike in your cholesterol.
Save yourself! Eat this healthy vegan ambrosia fruit salad instead.
Is the fruit salad really a recipe? No, anyone can put an assortment of fruit in a bowl, that's not a recipe. But the dressing that goes on top of this salad and takes it to another level is a recipe. A freaking good one. I can say that because Alex made it for me.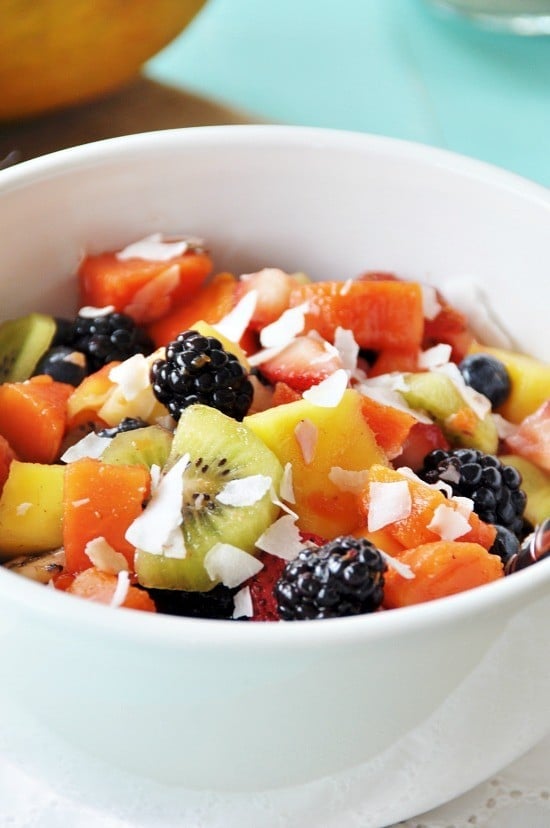 To make this light, creamy, and tangy dressing you need four ingredients and three minutes. Yes, it's delicious and easy. You'll need one cup of plain coconut yogurt. So Delicious is our yogurt of choice. One lemon, a half of a teaspoon of pure vanilla extract, and a teaspoon of poppy seeds. Put the yogurt in a small bowl, squeeze the lemon juice over the yogurt, add the vanilla and the poppy seeds, stir until smooth and creamy, and pour over the fruit and toss.
Help yourself to seconds, because you can. It's a guilt free treat that is delicious and healthy. Thank you Alex!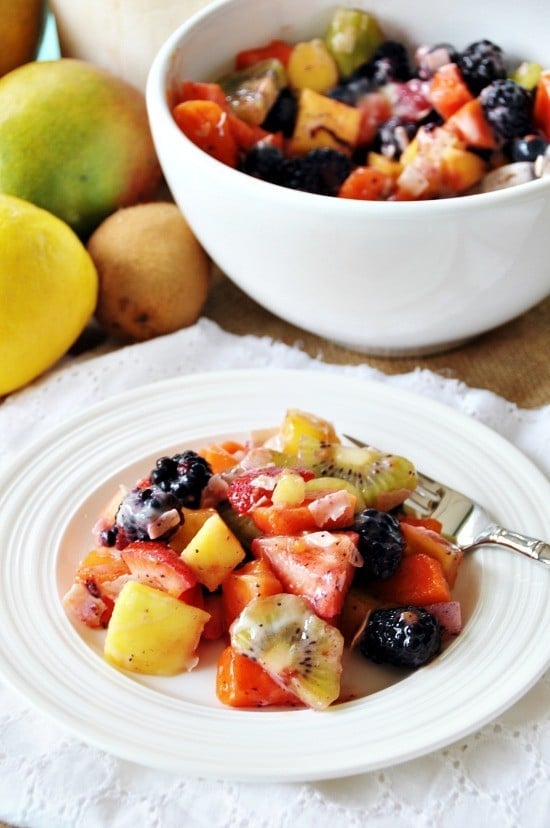 Healthier Vegan Ambrosia Fruit Salad
If you're looking for a lower calorie, healthier version of ambrosia, then try our healthier vegan ambrosia fruit salad. It has all of the taste without the heavy cream and sugary marshmallows.
Print
Pin
Rate
Ingredients
1

papaya – seeded and cut into 1 inch cubes

2

mangoes – cut into 1 inch cubes

3

kiwis – peeled and sliced

2

cups

of blackberries

1

cup

of blueberries

1

dozen large strawberries – thinly sliced

1

cup

of shredded coconut

Dressing

1

cup

of plain coconut yogurt

So Delicious is our favorite

Juice from 1 lemon

½

teaspoon

of pure vanilla extract

1

teaspoon

of poppy seeds
Instructions
Put the fruit in a large bowl

Mix the dressing ingredients together in a small bowl until smooth and creamy. Pour on the fruit and toss well.