This Panera copycat soba noodle bowl with edamame is filled with vegetables, red miso, and a spicy kick of red chili. The perfect vegan meal!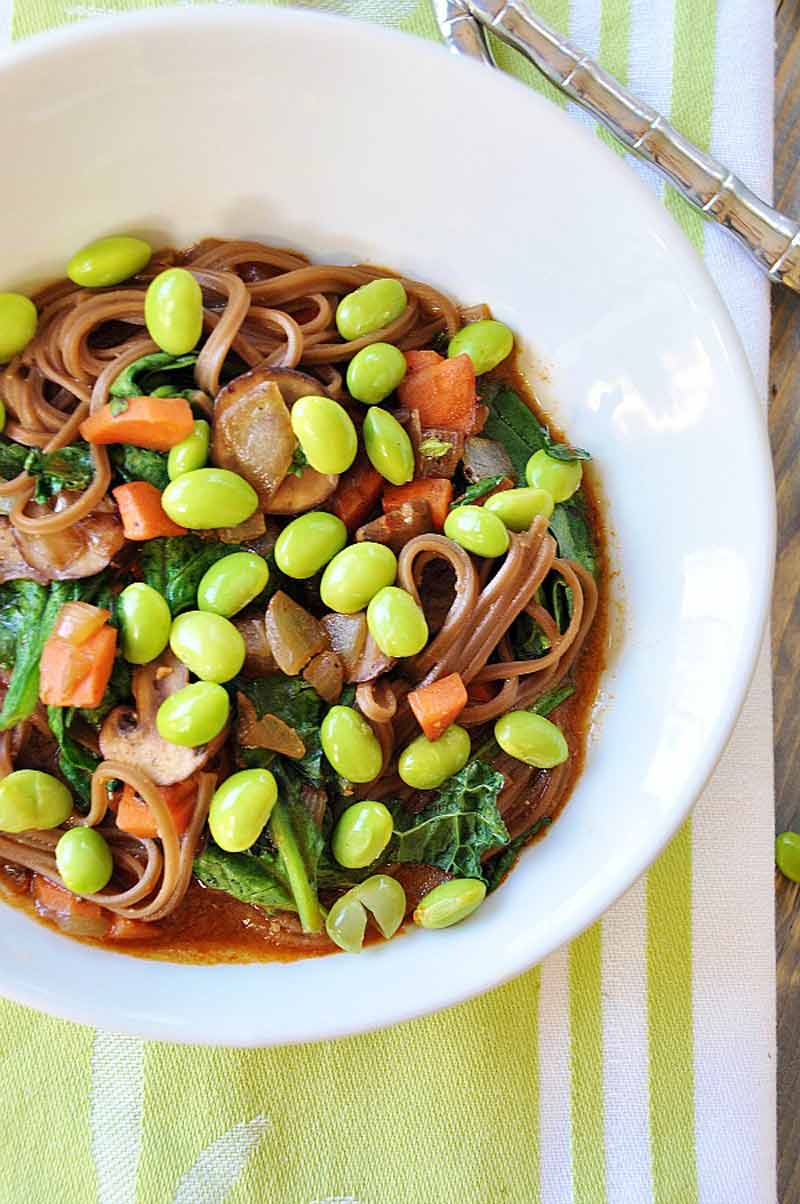 Thank you Panera for coming up with another vegan friendly option! I love you.
Have you all tried their soba noodle bowl with edamame yet? If you haven't you really should. But, if you don't live close to a Panera, or, if you prefer to make your food from scratch, you can make your own.
I've made this copycat soba noodle bowl twice in one week and it's so flipping good that I had to share the recipe with you. My recipe turns up the heat a little more, and there's more edamame and veggies in mine, but that's a good thing. Who wouldn't want more when it comes to sautéed mushrooms, onions, spinach, kale, and carrots?
I went to Panera's website before I made my bowl because I really wanted to make this taste like theirs. They're really transparent when it comes to their ingredient lists. And to be honest, I was quite surprised to see how long the list was for a simple bowl of noodles, broth, and veggies. But I appreciate how they break down the ingredients. They actually tell you what's in the miso. Nice.
Of course my version isn't exactly like Panera's, I had to add my own twist. I put some nutritional yeast in the miso broth, and I used harissa to turn up the heat. I also squeezed some lime juice over the bowl to add a little zing.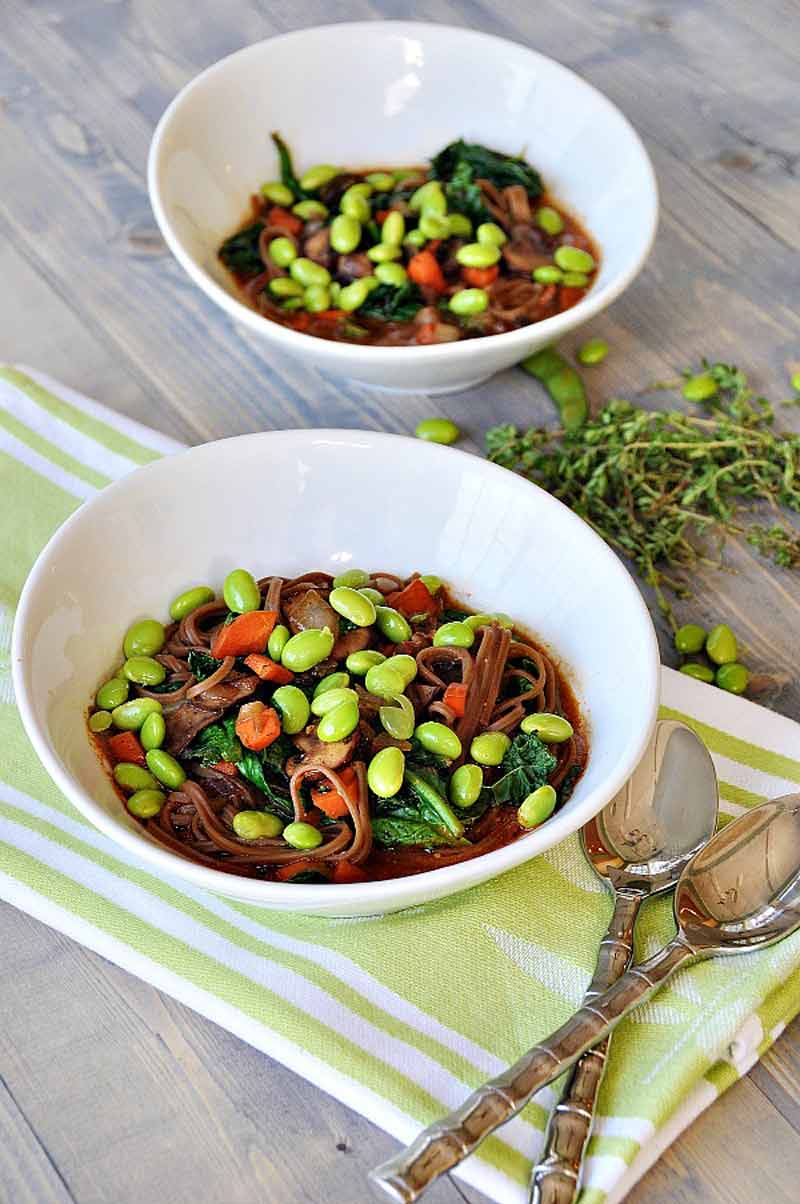 While I was photographing my bowls my husband walked in and started hovering. Nothing kicks me in the ass and motivates me to finish my work like a hungry hovering man. Well, maybe a puppy that wants to help me type is a little more motivational. Right this very minute I'm dealing with a five pound ball of energy who's insisting on putting her paws on the keyboard. Sigh.
When I finally finished taking the pictures he grabbed a bowl and threw it in the microwave. He has an asbestos tongue, he loves really hot food. The only sound I heard for the next ten minutes was the slurping of soba noodles and happy mmmmms.
Just so you know, slurping, open mouth chewing, and talking with food in the mouth is a huge pet peeve of mine. HUGE. However, you can't help but slurp when you're eating soba noodles in red miso broth. You just can't. So slurp away my friends!
Here's another tip for you – you'll need a fork and a spoon to eat this. The fork is to wind up the tender soba noodles and to pierce the delicious sautéed mushrooms, carrots, and onions, and the kale, spinach, and edamame. The spoon is to ensure that you get every last drop of that flavorful red miso broth. Trust me, you'll want to finish off everything in your bowl.
Like I said before, I made these copycat soba noodle bowls with edamame twice last week, and looking at the pictures, and writing about how darn good these are, is making me think that I just might be going for round three today.

Do you like what you've seen so far? We sure hope so! Do us a favor, take a trip over to our Facebook page and give it a like, or follow us on Instagram or Twitter, and follow us and share this and other Veganosity recipes on Pinterest. We'd be so grateful if you did.

Linda and Alex at Veganosity
Yields 4-6
Copycat Soba Noodle Bowl with Edamame
Delicious and healthy red miso, fiery chili peppers, sauteed mushrooms and carrots, and more come together for a fabulous soba noodle bowl with edamame.
20 minPrep Time
15 minCook Time
35 minTotal Time
Ingredients
1 14 ounce bag of frozen or fresh edamame
6 cups of water
3 tablespooms of red miso paste
3 teaspoons of rice vinegar
1/2 teaspoon of harissa or cayenne pepper (if you don't like spicy, start with 1/4 teaspoon and adjust to taste)
1/2 teaspoon of paprika
3 teaspoons of chili powder
2 teaspoons of ground sea salt
1 tablespoon of nutritional yeast
1 teaspoon of avocado oil
1 small white onion – finely diced
2 medium carrots – peeled and finely diced
2 cups of sliced baby Portobello mushrooms
1 cup of baby spinach leaves
1 cup of kale – remove from stems, massage, and coarsely chop
1 and 1/2 teaspoons of minced fresh thyme
1 bunch of soba noodles
1/2 cup of chopped cilantro (optional)
Lime (optional)
Ground sea salt and ground black pepper to taste
Instructions
Edamame
Frozen – bring a pot of water to a boil and add the edamame. Boil for 5 minutes then drain in a colander and rinse with cold water until cool. Remove the beans from the pods. You may have some left over. If you do, lightly salt and eat as a snack.
Red miso broth – Bring the six cups of water to a boil in a medium sauce pan and add the miso. Stir until completely dissolved. Add the vinegar, harissa or cayenne, paprika, chili powder, sea salt, and nutritional yeast and stir well. Reduce the heat to a low boil. When you add the mushrooms to the skillet (see below) turn the heat up and bring the broth to a medium boil.
Heat a large skillet on medium high heat and add the oil. When the oil's hot add the onions and carrots and sauté for five minutes, stirring occasionally. Add the mushrooms and grind a pinch of sea salt over them. Cook until nicely browned. Add the spinach, kale, and thyme and grind a little salt and pepper over the mixture if desired. Cook until the spinach and kale are slightly wilted.
After you put the spinach and kale in the skillet put the soba noodles in the broth and boil for three minutes or until the noodles are tender.
Add the noodles and broth to a deep bowl and top with the mushroom mixture, edamame, cilantro, and a bit of fresh squeezed lime juice. Enjoy!
7.8.1.2
129
https://www.veganosity.com/copycat-soba-noodle-bowl-with-edamame/