Our Cilantro Lime Rice just like Chipotle's is so light and fresh, and easy to make. It's made with four simple ingredients and it goes well with everything from tacos to meatloaf. 
Hi there! Thanks for visiting us, we're so happy you're here. If you're looking for Southern inspired vegan comfort food recipes, you've come to the right place.
We love vegan comfort food and we're really good at making it. Take a tour through our site and you'll find all of the recipes that scream, stretchy pants required!
The good news, they're all plant-based recipes, so you don't need to feel guilty eating them. Now sit back, relax, and eat happy. 🙂
Also, in case you didn't know, we're published cookbook authors. We've written two vegan cookbooks that will help you make amazing vegan BBQ (you don't even need a grill) and everyday meals, from breakfast to dessert.
Click on the titles to check them out. GREAT VEGAN BBQ WITHOUT A GRILL
and THE ULTIMATE VEGAN COOKBOOK
THE BEST CILANTRO LIME RICE EVER! 
When it comes to Mexican Rice, Chipotle does it best. It's light, it's bright and it's so darn good. I always ask for extra when I order a sofritas bowl, and I can't believe that I'm writing this, but yes, I like it better than their guac.
????
Call me crazy, but I dream about that rice. It's just that good.
Now here's the thing, I can't eat at Chipotle every week, because I'm not down with eating fast food on the regular. So my best option was to create a rice that mimics theirs so I can make it at home whenever I want.
This was an easy task, as all it took was five (four if you skip the jalapeno pepper)  super simple ingredients and 20 minutes.
HOW TO MAKE CILANTRO LIME RICE LIKE CHIPOTLE'S
The key to making this recipe is to make sure that you use a basmati rice and that you prep it before cooking it.
STEP ONE
Make the rice.
Why Basmati Rice is the best rice for making Mexican Rice
Basmati is a long grain rice that creates a lovely fluffy texture,

which is what you want for this recipe.
Medium grain rice, such as Arborio, is great for a risotto or a paella (recipe coming soon), but it's too dense for this recipe.
Short grain rice, such as sushi rice, is even worse for this recipe because it's sticky.
Stick with l

ong grain Basmati rice

and you'll get the perfect texture.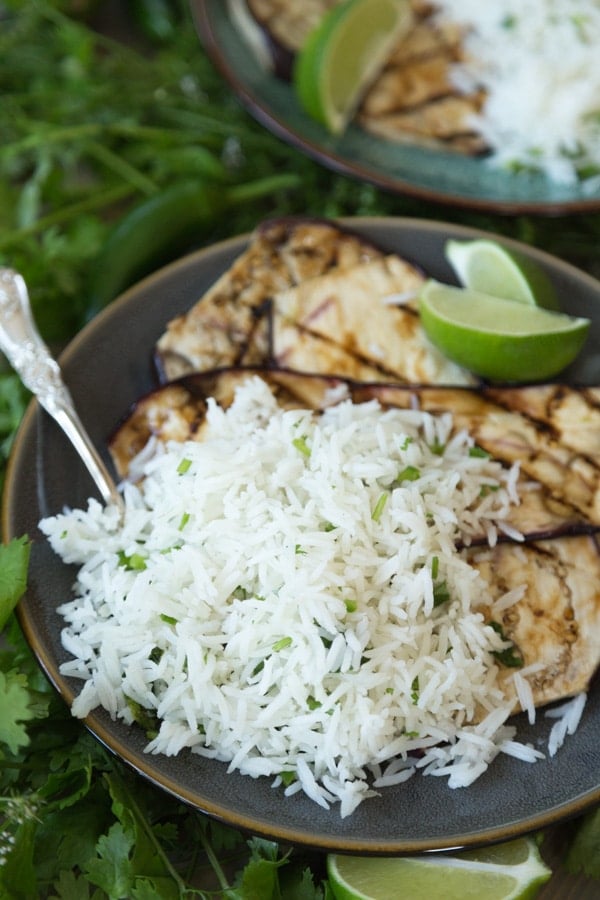 How to cook perfect Basmati rice
RINSE TWICE

- Rinsing it twice will make the difference between good rice and great rice.
Rinsing the rice in a colander removes the excess starch, thus creating a light and fluffy rice that will pair perfectly with tacos, enchiladas, ribz, meatloaf, or anything that you want to serve this rice with.

SALT THE WATER

– Salting the water adds just the right amount of saltiness to the rice. You don't want to salt it after it's cooked.

ADD BOILING WATER

– Boil some water in a tea pot and use the hot water to start the boiling process of the rice. This helps to ensure that the rice is cooked to perfection.

COVER WITH A TIGHT LID

– The water should evaporate slowly and a tight fitting lid will ensure just that.

COOK ON A LOW SIMMER FOR 15 MINUTES

REMOVE FROM THE HEAT AND KEEP COVERED FOR 5 MINUTES

– This will make the rice even more tender.
STEP TWO
While the rice is simmering, chop the cilantro and seed and chop the jalapeno pepper. If you don't like spicy food, skip the pepper or just put half of it in.
Slice the lime in half and squeeze the juice into the rice and stir in the cilantro and jalapeno until they're completely combined.
Serve it with your favorite entrée.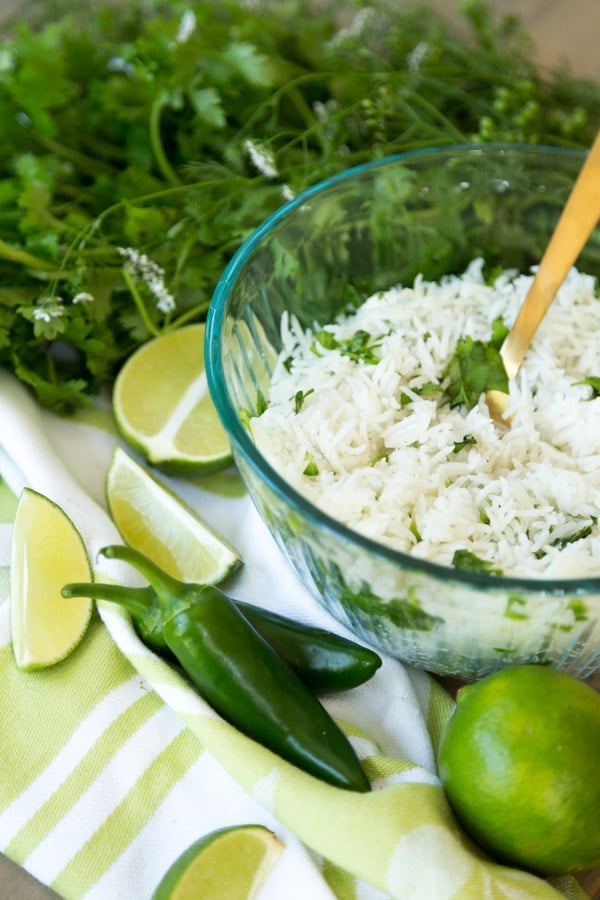 I'm obsessed with this rice, and I've been known to eat several servings at a time.
If you know me, you know that's a true indication of a spot on recipe.
Make this and let us know what you think. We love to hear from you! And, don't forget to take a picture of your gorgeous creation and tag us @veganosity on Instagram.
Let's connect! Hop on over to our Facebook page and give it a like, and follow us on Instagram and Twitter, and follow us and share this and other Veganosity recipes on Pinterest. We'd be so grateful if you did. If you like this recipe and can't wait to see what we're going to share next, subscribe to Veganosity. Just fill in the subscription box above our picture in the top right corner of the page. And, Alex and I love hearing from you, please leave a comment and let us know what you think of our recipes.
Cilantro Lime Mexican Rice Like Chipolte's
A fresh, bright, spicy and delicious rice recipe like Chipolte's! Only 5 ingredients and 20 minutes to make!!
Print
Pin
Rate
Ingredients
1

cup

basmati rice

½ to 1

teaspoon

sea salt

salt to taste

1 ½

cups

boiling water

½

cup

cilantro

chopped

1

large lime

juiced

1

jalapeno pepper

seeded and finely chopped (See Note)
Instructions
In a fine mesh colander, rinse the rice twice to remove excess starch. See the content above to learn more.

Add the rice and salt to a medium sauce pan, then pour the boiling water in the pan. Bring to a boil then cover and reduce the heat to a low simmer for 15 minutes. Remove from the heat and keep covered for 5 more minutes.

Stir in the cilantro, jalapeno and lime juice until fully combined.

Enjoy!
Notes
If you don't like spicy food, leave the pepper out or put half of it in the rice. The Nutrition Facts are an estimate only.
Nutrition
Calories:
172
kcal
|
Carbohydrates:
37
g
|
Protein:
3
g
|
Fat:
0
g
|
Saturated Fat:
0
g
|
Cholesterol:
0
mg
|
Sodium:
3
mg
|
Potassium:
63
mg
|
Fiber:
0
g
|
Sugar:
0
g
|
Vitamin A:
175
IU
|
Vitamin C:
6.9
mg
|
Calcium:
13
mg
|
Iron:
0.4
mg