Four ingredient and oil-free blueberry basil salad dressing. So good you could drink it with a straw.
Hello gorgeous! Grab a spoon and pull up a chair because this just happened.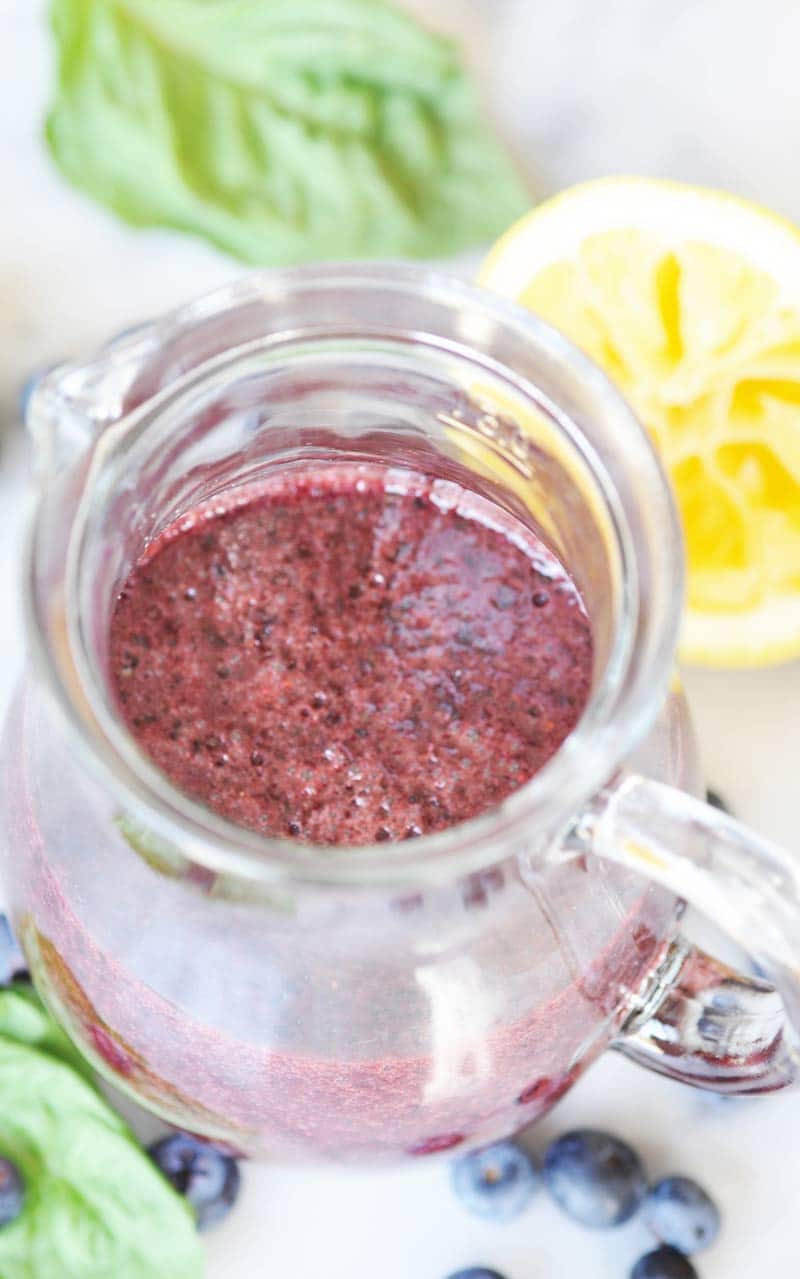 That's right, my blender just whipped up the tastiest salad dressing this side of Lake Michigan, and you're going to have to dial up all of your self-control to stop yourself from drinking it or eating it with a spoon.
This sexy little number was inspired by the boutique salad dressing section in the organic produce aisle of my local supermarket. There were colorful rows of specialty dressings with exciting combinations of ingredients that spoke to me. I can't give them away because I have a long list of dressings that I'm going to share with you from now until September. Stay tuned.
The blueberry basil dressing was the first one to catch my eye because of its vibrant color. I'm not a bottled salad dressing girl, so I surprised myself when I realized that I was holding a bottle of dressing in my hands and was actually contemplating purchasing it. Then I read the ingredients.
Oil was the first ingredient. So. Much. Oil.
Why?
I don't freak out over using a little bit of oil for cooking, and sometimes I do put a little in salad dressing if it needs it, but I use it moderately. There's nothing worse than a greasy mouthfeel and aftertaste that results from a heavy on the oil recipe. I prefer being left with the flavor of the fresh fruit or vegetables in a dish. My arteries fancy that too.
So after reading the long list of ingredients in that bottle of salad dressing, I decided to make my own version. One that was lighter in texture, calories, and fat, and one that celebrated the flavor of the blueberries and basil.
And this my friends, is the result.
You won't want your dressing on the side when you try this delicious sweet basil salad dressing with blueberries. You won't have to, because it's good for you. It's made from fresh blueberries, sweet green basil, tangy lemon juice, a pinch of onion powder, sugar, salt, and ground black pepper. All of it blended into a vibrant concoction of salad boosting happiness.
It's so good that I had a few spoonfuls—the trials and tribulations of recipe development—while I was tweaking the recipe. Then I drowned a big bowl of baby spinach leaves, cucumber, and avocado with it and did a happy dance in my chair while I ate it. Sorry about that visual.
This four ingredient (I don't count water, sugar, salt, and pepper as ingredients because they're kitchen staples) blueberry basil salad dressing can be whipped up in a matter of minutes and stored in an airtight container in the refrigerator for up to a week. You can also freeze it for up to six months.
Here's a fun hack for you:
Freeze the dressing in an ice cube tray, then remove the frozen cubes and store them in a freezer bag, take a few out at a time and pack them with a salad for lunch. A great way to brown bag it the fresh and healthy way.
This dressing would be so good on this salad, or this one. It would also be terrific on a warm salad like this one.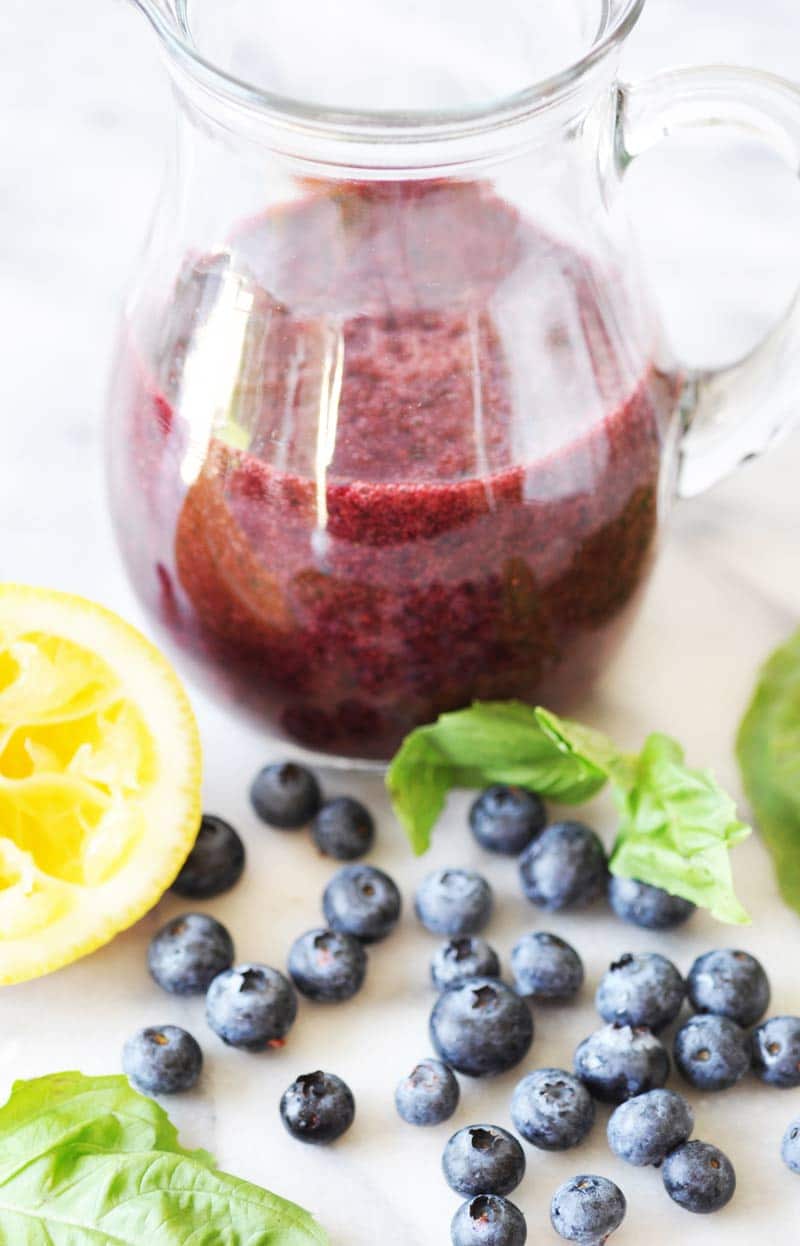 Tell me:
What's your favorite salad dressing?
Oil or oil-free?
Bottled or homemade?
Do us a favor, if you like this recipe and can't wait to see what we're going to share next, subscribe to Veganosity. Just fill in the subscription box above our picture in the top right corner of the page. Alex and I love hearing from you. Please leave a comment and let us know what you think of our recipes. And let's connect! Hop on over to Facebook page and give it a like, or follow us on Instagram or Twitter, and follow us and share this and other Veganosity recipes on Pinterest. We'd be so grateful if you did.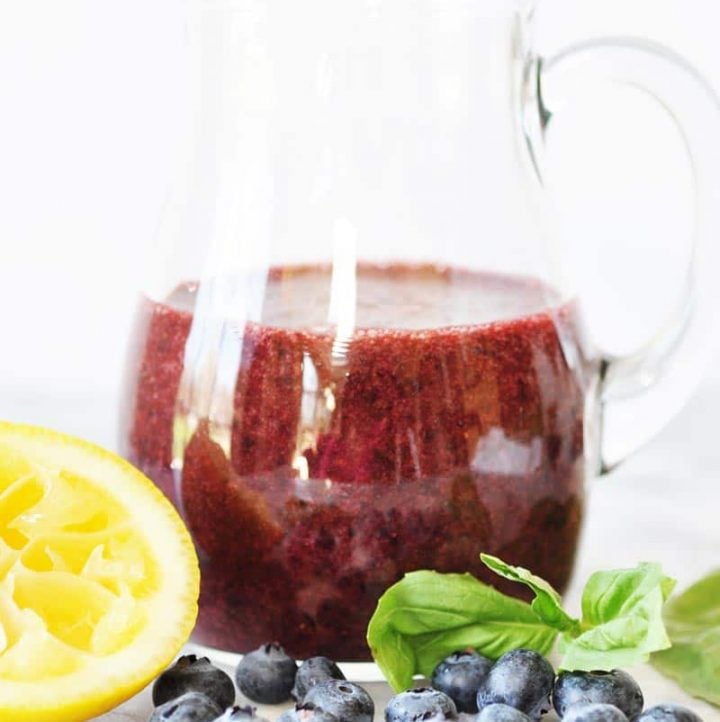 Easy Blueberry Basil Salad Dressing
Just four simple ingredients and a few minutes and you'll have a delicious and fresh blueberry basil salad dressing. Oil-free!
Print
Pin
Rate
Ingredients
½

cup

of water

1

cup

of fresh blueberries

¾

cup

of basil leaves – pack them into the cup

Lemon juice from one large lemon – approximately ⅓ of a cup

1

teaspoon

of sugar or sweetener of your choice

if you use anything other than sugar make sure you add slowly, tasting as you go.

½

teaspoon

of ground sea salt

¼

teaspoon

of fresh ground black pepper

¼

teaspoon

of ground onion powder
Instructions
Put all of the ingredients into a blender and blend until smooth and frothy. You will see tiny pieces of the blueberry skin.

Pour over your favorite salad and enjoy!
Nutrition
Serving:
3
tablespoon
|
Calories:
26
kcal
|
Carbohydrates:
7
g
|
Protein:
1
g
|
Fat:
1
g
|
Saturated Fat:
1
g
|
Polyunsaturated Fat:
1
g
|
Monounsaturated Fat:
1
g
|
Sodium:
293
mg
|
Potassium:
43
mg
|
Fiber:
1
g
|
Sugar:
5
g
|
Vitamin A:
257
IU
|
Vitamin C:
4
mg
|
Calcium:
12
mg
|
Iron:
1
mg