Happy St. Patrick's Day!!!
I don't think there are many people on this planet who could resist the taste of a Shamrock shake, well, OUR shamrock shake! This fresh and healthful take on a traditionally high calorie drink will blow your mind!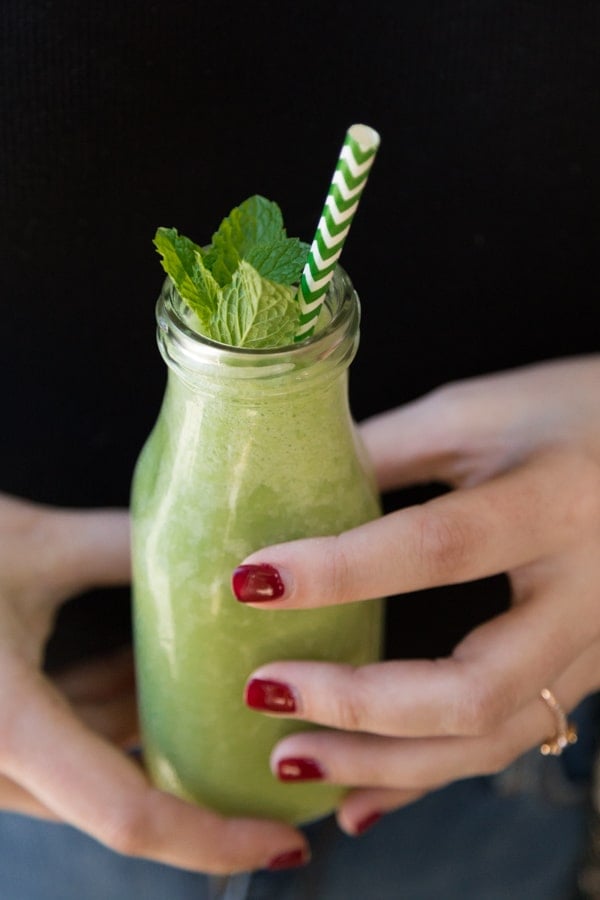 So a normal shamrock shake has approximately 550 calories, no fiber, and 82 mgs of sugar in a 16 oz serving. Our version is definitely better for you with actual fruit fiber, natural sugars, and fresh mint!
What inspired this recipe? (Most of you probably have this same memory). I distinctly remember getting so excited for March to roll around because of Shamrock Shakes. My brother and I would get so pumped up to down those sugary beverages that we would ask to go grab one almost every day in March. (Hats off to Mom for not letting us actually drink one every day)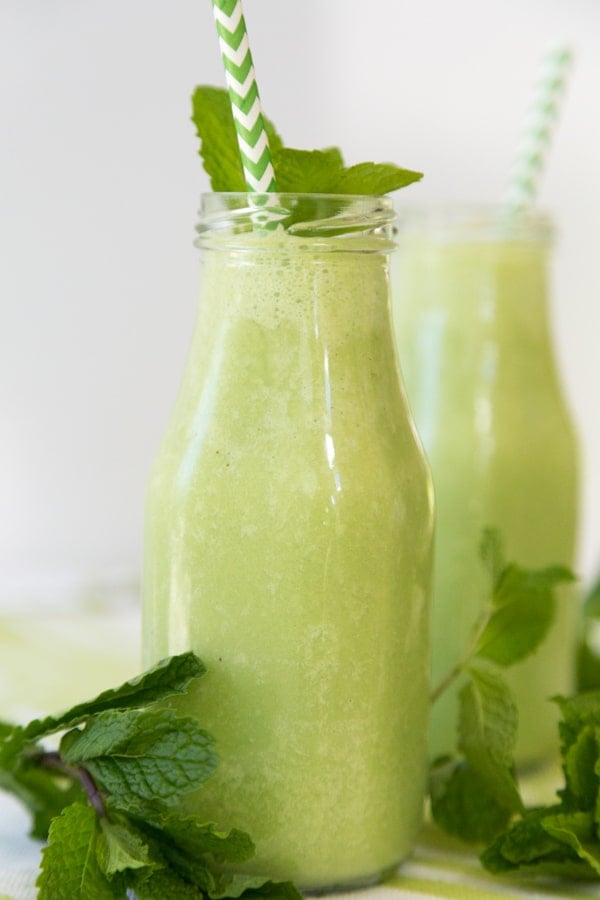 For years I was OBSESSED with that minty ice-cream drink. Then I decided to go vegan. No longer could I just run through the drive thru to pick up a shamrock shake. So, what did I do instead? I started making equally unhealthy versions at home. For years that sufficed, but no longer!
I haven't really announced this publicly, or made a big deal out of it, but I'm trying to go more whole-foods plant based and lose some extra lbs. What does this have to do with this recipe you ask? Well, it was time to cut out the unhealthy version of the minty Shamrock shake , and either make a whole-foods plant based version or call it quits. Obviously I wasn't calling it quits.
Here's what I came up with:
How to Make a Healthy Shamrock Shake
First- Throw some bananas, fresh mint leaves, spinach, hemp milk, water and vanilla into a blender.
Second- Blend on high until the drink is smooth and creamy.
Third- Down it.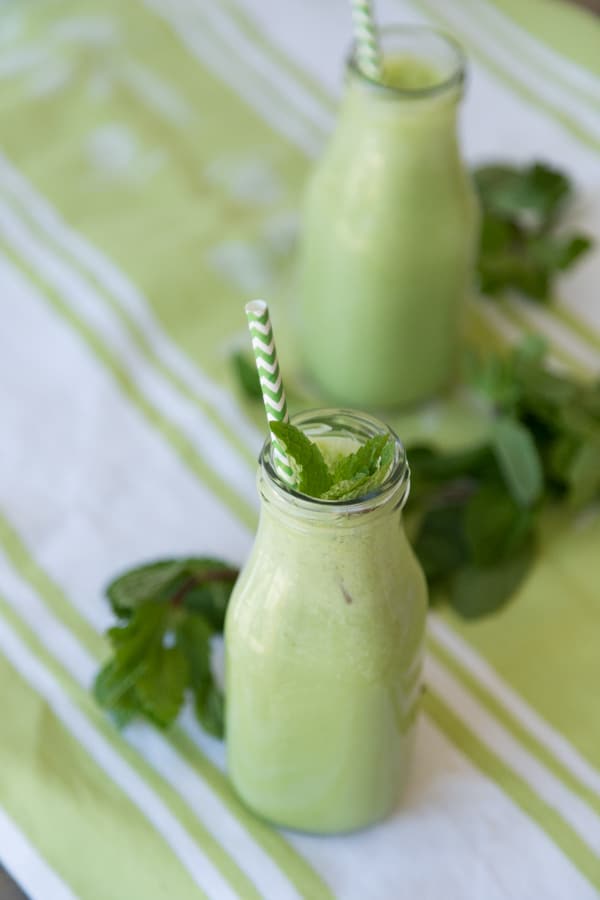 This thick and creamy frozen mint sensation not only tastes delicious, it's actually good for you! Now you can quench your shamrock shake craving every day if you want to . It' a not guilt treat!
Make one and let us know what you think. We love hearing from you. And, don't forget to take a picture of your gorgeous creation and tag us @veganosity on Instagram so we can see it.
Let's connect! Hop on over to our Facebook page and give it a like, and follow us on Instagram and Twitter, and follow us and share this and other Veganosity recipes on Pinterest. We'd be so grateful if you did. If you like this recipe and can't wait to see what we're going to share next, subscribe to Veganosity. Just fill in the subscription box above our picture in the top right corner of the page. And, Alex and I love hearing from you, please leave a comment and let us know what you think of our recipes.
ONLY 3 DAYS LEFT UNTIL THE RELEASE OF OUR COOKBOOK!!! HAVE YOU PRE-ORDERED IT YET SO YOU CAN GET THE 3 BONUS RECIPES THAT WE CREATED JUST FOR YOU? HAVE YOU ENTERED THE AMAZING GIVEAWAY? CLICK THIS LINK AND DO IT BEFORE IT'S TOO LATE! WE DON'T WANT YOU TO MISS OUT.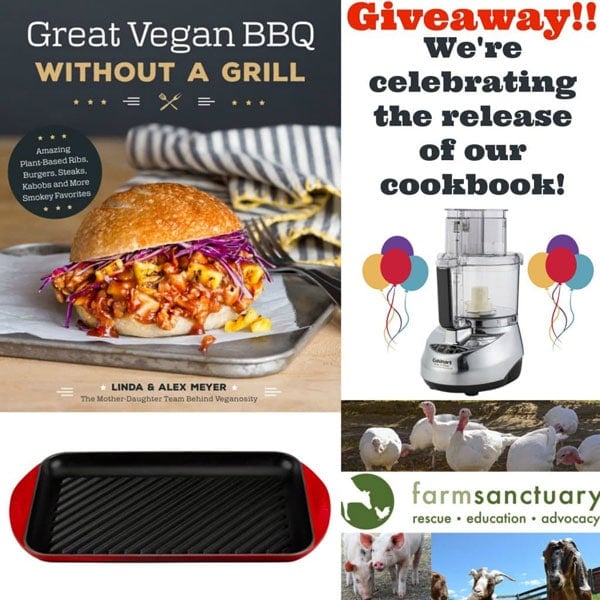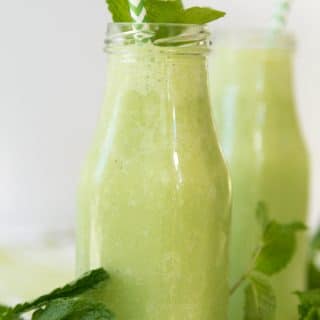 Whole Foods Plant-Based Healthier Shamrock Shake
Our vegan version of the Shamrock Shake is made with whole foods, such as bananas, fresh mint, spinach, and hemp milk. It's thick and creamy, delicious, and actually good for you!
Print
Pin
Rate
Ingredients
2

frozen bananas

4

mint leaves

1 ½

cups

baby spinach

½

cup

hemp milk

or any plant-based milk

⅛

teaspoon

pure vanilla extract

water

if you want to thin it out
Instructions
Add all of the ingredients to a blander and blend until it's smooth and creamy, approximately 90 seconds. If you like a thinner consistency, add water, 1 tablespoon (15 ml) at a time until you get it to your liking.
Notes
The Nutrition Facts are an estimate only.