This shop has been compensated by Collective Bias, Inc. and its advertiser. All opinions are mine alone. #SilkSipToSpoon  #CollectiveBias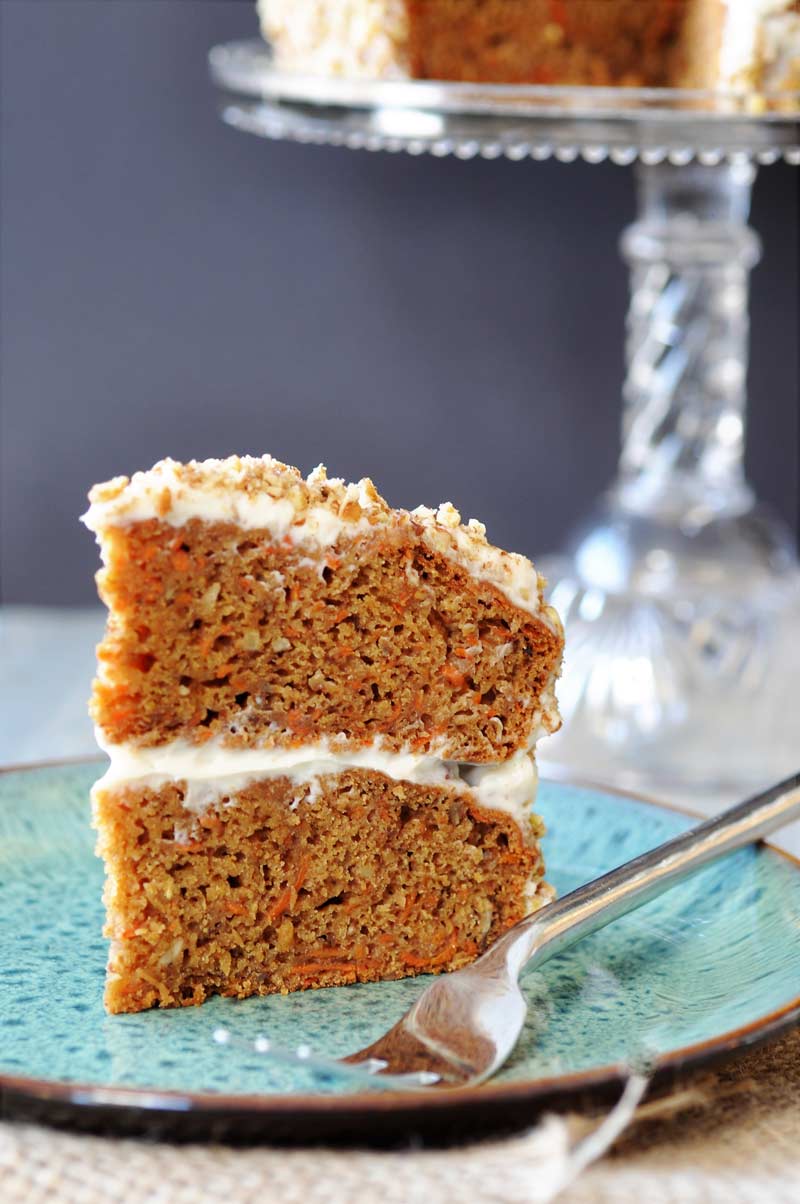 Vegan Carrot Cake – Have Your Cake and Eat it Too!
Do you love carrot cake as much as I do? I'd hop to the moon and back for a delicious slice of bunny cake. The only problem I used to have with traditional carrot cake was that I couldn't hop back home after eating it, because of the heavy cream, eggs, and cream cheese frosting that made up half of the cake. Think saturated fat and cholesterol. Womp, womp.
Therein lies one of the biggest dietary problems of life for those who still consume dairy.  To eat a big ole' slice of carrot cake slathered with cream cheese frosting, and then feel like you have rocks in your shoes; or to not eat a big ole' slice of carrot cake slathered with cream cheese frosting, so you won't feel like you have rocks in your shoes? First world problems, I know. But come on, we're talking about carrot cake!
I say EAT! Because, guess what? I've come up with a vegan hazelnut carrot cake recipe that will let you eat ALL a big slice of carrot cake, while still maintaining your ability to hop all over the place.
My secret weapons are the following ingredients:
I used coconut palm sugar and reduced the amount from 1 and 1/2 cups to 3/4 of a cup.
Applesauce replaces the egg and the hazelnut creamer replaces the heavy cream, and it adds a wonderful flavor.
Stone-ground flour replaces heavily refined white flour.
Cream cheese made out of nuts replaces the dairy.
Just a few tweaks turned a cake that was once full of cholesterol and saturated fat into one that is lighter and completely plant-based. It also provides protein, vitamins, and antioxidants, thanks to all of the nuts and carrots.
So how does it taste? Like a dream. The texture is dense and moist, just like the cake I used to make with dairy and eggs. The cinnamon, nutmeg, allspice, fresh ginger, and hazelnut creamer all marry into a lovely explosion of savory goodness. The chopped pecans and the sweet shredded carrots add a crunchy texture and more flavor. This is truly the kind of cake that will make you want one slice after another.
And let's not forget the cashew cream cheese frosting. It gives the cake a tangy, creamy zing that helps make carrot cake, carrot cake. But it's made from cashews and lemon juice, and other things that are awesome for you.
Are you excited to make this cake? Let's do this!
Whisk the dry ingredients.
Shred the carrots.
Chop the pecans, or buy them chopped to save a step.
Mix the applesauce, vanilla, and sugar until well blended.
Add one quarter of the dry ingredients and a quarter of the  hazelnut creamer from the container. Continue that process until you've added all of the flour and creamer.
Fold the carrots and the nuts into the batter.
Pour into the cake pans and bake.
Cool, frost, cut, and eat.
Say mmmmmm…….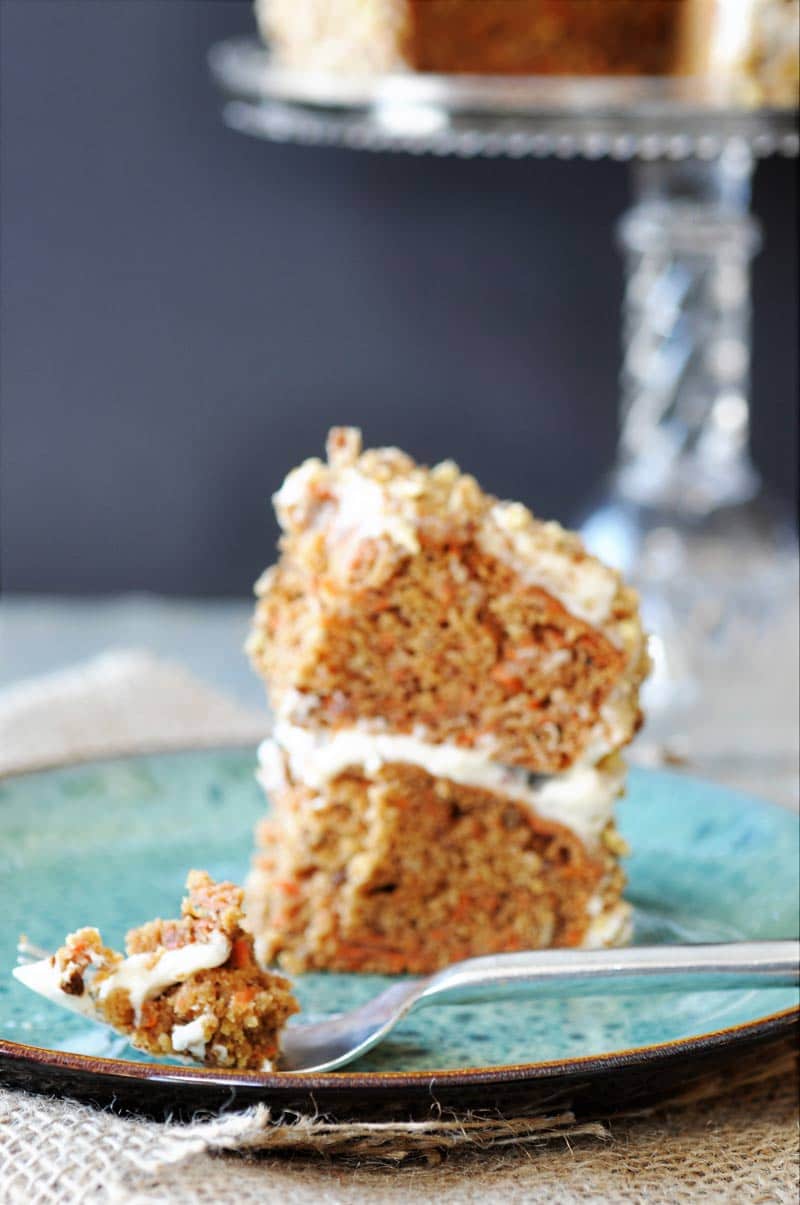 This cake is so good. It's such a treat and it would be perfect for Easter. Because carrots. And bunnies.
To get the gorgeous texture and flavor that this vegan hazelnut carrot cake deserves, you need to use Silk Hazelnut Creamer.
The creamer is so rich and creamy, and it has a light nutty flavor, and, there's not a hint of cholesterol, saturated fat, artificial colors or flavors in it. Winning!  Of course I love it in my coffee when I'm craving something slightly sweet in the morning. That's where the inspiration for this cake came from. As I was sipping on a hazelnut latte a few days ago, it dawned on me that the creamer would be an excellent addition to my carrot cake recipe. And boy, was I right.
Tell me:
What's your favorite kind of cake?
Are you ready for spring?
MORE VEGANOSITY CAKES
If you like this recipe and can't wait to see what we're going to share next, subscribe to Veganosity. Just fill in the subscription box above our picture in the top right corner of the page. Alex and I love hearing from you. Please leave a comment and let us know what you think of our recipes. And let's connect! Hop on over to Facebook page and give it a like, or follow us on Instagram or Twitter, and follow us and share this and other Veganosity recipes on Pinterest. We'd be so grateful if you did.
Linda and Alex at Veganosity
Vegan Hazelnut Carrot Cake with Cashew Cream Cheese Frosting
This delicious hazelnut carrot cake has been lightened up by reducing the sugar, using stone-ground flour, and replacing the dairy and egg ingredients with plant-based ingredients.
Ingredients
3 cups of shredded carrots – approximately 5 large carrots
2 cups of pecans - finely chopped (1 cup for the batter + 1 cup for garnishing)
Cake Batter:
Dry Ingredients:
3 cups of stone ground flour
1 teaspoon of baking powder
1 teaspoon of baking soda
1 teaspoon of ground cinnamon
1 teaspoon of ground nutmeg
1/2 teaspoon of ground allspice
1/2 teaspoon of freshly ground ginger or 1/4 teaspoon of ground dry ginger
1/2 teaspoon of finely ground sea salt
Wet ingredients:
3/4 of a cup of unsweetened applesauce + 1 teaspoon of baking powder
3/4 of a cup of coconut palm sugar
1 teaspoon of vanilla
1 teaspoon of lemon juice
1 pint of Silk brand hazelnut almond creamer (Set aside 1 tablespoon for the frosting)
Frosting:
1/2 c. cashews
1/2 c. macadamia nuts ( I used walnuts)
1 c. coconut milk
1 tablespoon of creamer
1/2 c. melted coconut butter
1/4 c. agave nectar (I used maple syrup)
1 tbsp. vanilla extract
1 tbsp. lemon juice
Instructions
NOTE: The frosting needs to be refrigerated for 2 hours so make it first.
Preheat the oven to 350° and grease and flour two 8 inch cake pans
Shred the carrots in a food processor or with a box grater. Set aside
Chop the pecans with a food processor or a knife. Set aside. (You can purchase chopped nuts but they're generally more expensive than whole nuts.)
Whisk the dry ingredients together in a medium bowl.
In a large mixing bowl mix the applesauce and baking powder together until the apple sauce becomes light and foamy. Add the sugar, vanilla, and lemon juice and mix on medium high until light and fluffy. Approximately one minute.
On a low speed add one quarter of the dry ingredients to the sugar mixture and blend until just combined. Add one quarter of the creamer while blending the flour into the sugar. Continue adding one quarter of flour and one quarter of the creamer until all of the flour mixture and creamer is combined. Don't over beat the mixture or the batter will become tough.
When the dry and wet ingredients are just blended fold the carrots and one cup of the pecans into the mixture until evenly combined.
Pour half of the batter into one cake pan and the other half into the second cake pan. Each pan should be filled to just below the rim of the pan. Don't fill to the top.
Tap the pans on a hard surface a few times to remove air bubbles and bake for 35 to 40 minutes or until the tops are firm and slightly cracked and a toothpick comes out clean.
Cool on a wire rack for ten minutes and then remove the cake from the pans and let them cool completely before frosting.
To make the frosting: Place the cashew, macadamia (or walnuts) nuts, coconut milk, creamer, coconut butter, agave nectar, vanilla extract, and lemon juice in a blender and blend until smooth. Pour into a medium bowl, cover, and place in the refrigerator until firm enough to scoop, about 2 hours.
If you don't want to make the frosting from scratch you can purchase an 8 ounce container of non-dairy cream cheese and blend it with 1 cup of confectioner's sugar.
To assemble: Frost the outer edge of the cake and roll in the chopped nuts. Spread a thin layer of frosting on the top of the bottom layer of the cake. Frost the outer edge of the top layer of the cake and roll in the nuts. Place on top of the bottom layer and frost the top of the cake and sprinkle the remaining pecans on top.
Enjoy!
NOTE: This cake needs to be refrigerated. Cover it with a plastic wrap or foil. It will keep for four to five days.
7.8.1.2
244
https://www.veganosity.com/vegan-hazelnut-carrot-cake-cashew-cream-cheese-frosting/