One of our favorite, and I mean FAVORITE, meals is gumbo. Just because we're vegan doesn't mean that we have to miss out on this incredibly flavorful and satisfying Creole stew, we just had to adjust some of the ingredients to make it plant-based, and that we did!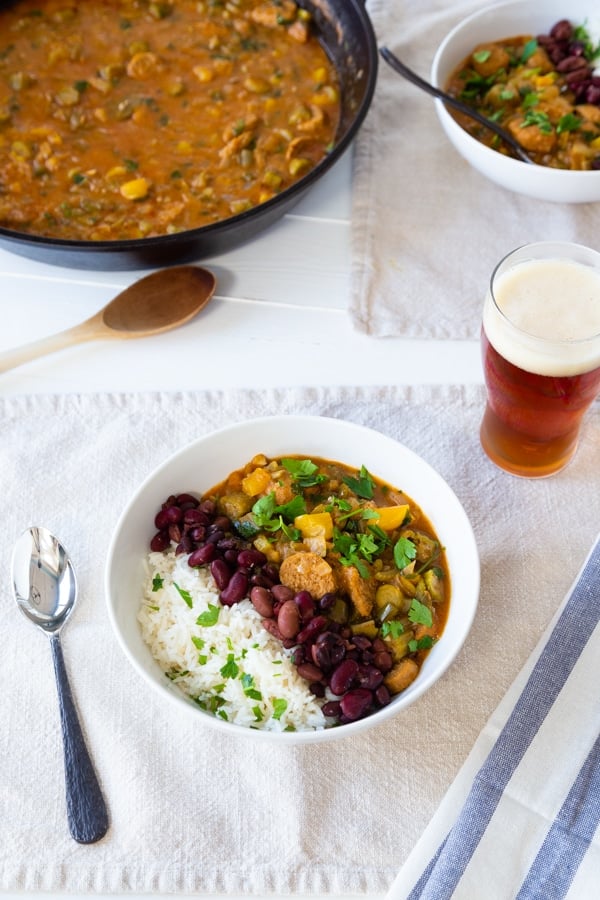 This recipe has been updated to make it even better! 
My husband, aka The Breakfast King,  makes the best gumbo I've ever eaten. Seriously, the stuff will knock you off your chair, make you sweat, and scream WHOOOOOEEEEE!!!!!
However, we realize that few people can handle that much heat, and truthfully, too much cayenne dulls the flavors of the other ingredients, so we've tamed it down and elevated the less fiery spices to make this the best vegan gumbo ever!
WHAT IS VEGAN GUMBO? 
Non-vegan gumbo is made with shrimp, chicken, and sausage, obviously that's off of the menu for us, and that's not a problem.
Since we first published this recipe five years ago, vegan food options have grown tremendously!
Thanks to companies like Field Roast, Gardein, and Beyond Meat, we can eat the foods that we used to eat, with all of the flavor and texture that we had before.
And while the protein in this flavorful dish is important, we think that the onion, celery, garlic, peppers, okra, cumin, gumbo file, bay leaves, and vegan Worcestershire sauce are what's really important when it comes to authentic gumbo.
HOW DO YOU MAKE VEGAN GUMBO WITH SAUSAGE AND OKRA?
The good news, you don't have to  shell shrimp or touch raw chicken and sausage!!! YASSSS!!!!
The even better news, you do get to include the most delicious plant-based sausage in our vegan gumbo recipe!!! That means this is as close to the real deal as you're going to get.
Let's make some!
STEP ONE
Heat the pan and add the olive oil and butter. When the butter is hot, add the onions and celery and cook until the onions begin to sweat and become translucent. Then add the peppers.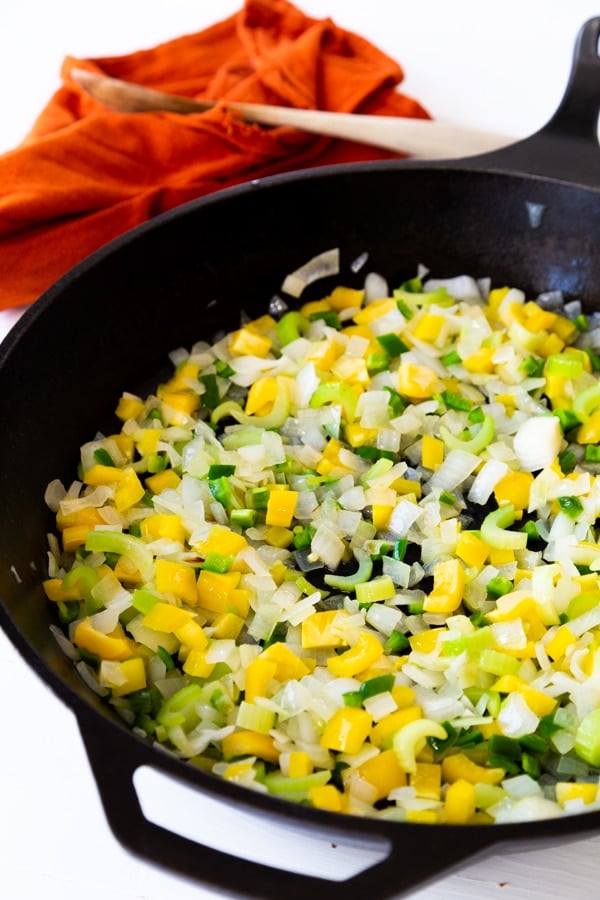 STEP TWO 
Saute the sausage and garlic, then add the broth and wine, spices, Worcestershire sauce, tomato paste, okra, and corn meal, and simmer for approximately 20 minutes, or until the vegetables are fork tender and the gumbo thickens. Add the parsley, stir it in, and serve with the rice and beans.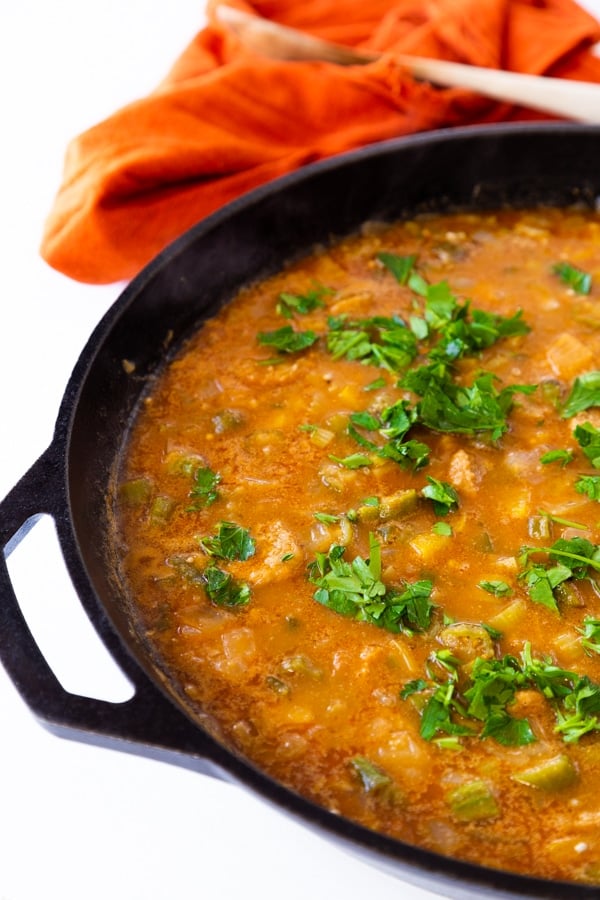 While the gumbo is cooking, prepare the rice and red beans.
HOW TO SERVE VEGAN GUMBO
Traditionally, gumbo is served with rice and red beans. The rice soaks up the broth from the gumbo and the beans add one more delicious texture. They're the perfect combination.
HOW TO PREPARE BEANS FOR GUMBO
Drain and rinse a can of red beans, or use freshly cooked red beans, cover in water in a sauce pan and bring the water to a boil.
Add 1 clove of smashed garlic and reduce the heat to a simmer. Cook while the gumbo is cooking. Add salt and pepper to taste and drain the excess water before serving.
HOW TO MAKE THE PERFECT RICE
Our favorite white rice is basmati or jasmine. You can use either for this vegan gumbo recipe.
Before cooking the rice (follow the instructions on the package to cook it), put the dry rice in a fine mesh colander and rinse twice. This removes excess starch and makes the rice so fluffy and wonderful. Cook as directed on the package and put a cup in the bowl of plant-based gumbo with a cup of the beans and dig in!
Make our spicy vegan gumbo and let us know what you think. We love to hear from you! And, don't forget to take a picture of your gorgeous creation and tag us @veganosity on Instagram.
Let's connect! Hop on over to our Facebook page and give it a like, and follow us on Instagram and Twitter, and follow us and share this and other Veganosity recipes on Pinterest. We'd be so grateful if you did. If you like this recipe and can't wait to see what we're going to share next, subscribe to Veganosity. Just fill in the subscription box above our picture in the top right corner of the page. And, Alex and I love hearing from you, please leave a comment and let us know what you think of our recipes.
The above links are affiliate links. Any Amazon purchases made through these links help support Veganosity.com at no additional cost to you.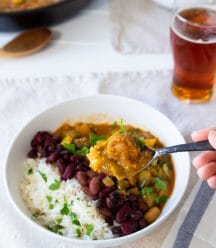 Vegan Gumbo
Gumbo with sausage, okra, and all of the spices and flavors that you expect to find in this savory dish, only it's plant-based.
Course:
Entree, Main Course
Cuisine:
American, creole, Vegan
Keyword:
gumbo, plant-based gumbo, vegan gumbo
Ingredients
1

tbsp

extra-virgin olive oil

2

tbsp

vegan butter

1

Vidalia onion

finely diced

2

celery stalks

finely chopped

1

yellow

red, or orange bell pepper, seeded and diced

2

jalapeno peppers

seeded and chopped

3

garlic cloves

minced

4

vegan sausages

, sliced into ½ inch thick pieces. spicy is best

32

oz.

no-chicken broth

use vegetable broth if you can't find no-chicken broth

1 ¼

cup

of white wine

1

tbsp

cumin

1

tsp

gumbo file

¼

tsp

cayenne pepper

add more if you like it super spicy

3

tbsp

tomato paste

3

tbsp.

vegan Worcestershire sauce

2

bay leaves

4

cups

frozen okra

¼

cup

corn meal

Salt and pepper to taste

½

cup

cilantro

chopped
For the Rice
Follow the instructions on the box to make the amount you need.
For the Beans
15

oz

red beans

drained and rinsed

1

garlic clove

peeled and smashed

Salt and pepper to taste
Instructions
Heat a large stock pot or iron skillet on medium-high heat. When the pan is hot add the oil and butter and let the butter melt. Add the onion and celery and sauté until the onion begins to sweat and looks translucent, approximately 7 minutes. Stir frequently. Add the jalapeno peppers and bell peppers, stir and cook for 5 to 6 minutes. Add the vegan sausage and garlic, stir and cook for 5 minutes. Stir frequently.

Pour the no-chicken broth and wine into the pan and bring to a boil. Add the spices, tomato paste, and Worcestershire sauce and stir until the tomato paste has dissolved into the liquid. Stir in the okra and bay leaves and bring back to a boil.

Add the corn meal and reduce the heat to a simmer and cook until the gumbo thickens and the vegetables are cooked through, approximately 20 minutes.

When the gumbo has thickened and the vegetables are fork tender, add salt and pepper to taste and stir in the cilantro and serve.
For the Rice
Rinse the rice twice in a fine mesh colander and cook according to the instructions on the rice package.
For the Beans
In a sauce pan, cover the beans in water and put the smashed garlic in the water with the beans and bring the water to a boil. Once the water is boiling, reduce to a simmer and cook for 20 minutes. Salt and pepper to taste then drain the water.
Recipe Notes
The Nutrition Facts are an estimate only.
Nutrition Facts
Vegan Gumbo
Amount Per Serving
Calories 315
Calories from Fat 54
% Daily Value*
Fat 6g9%
Sodium 1084mg47%
Potassium 851mg24%
Carbohydrates 42g14%
Protein 14g28%
Vitamin A 1345IU27%
Vitamin C 29.9mg36%
Calcium 122mg12%
Iron 5.6mg31%
* Percent Daily Values are based on a 2000 calorie diet.