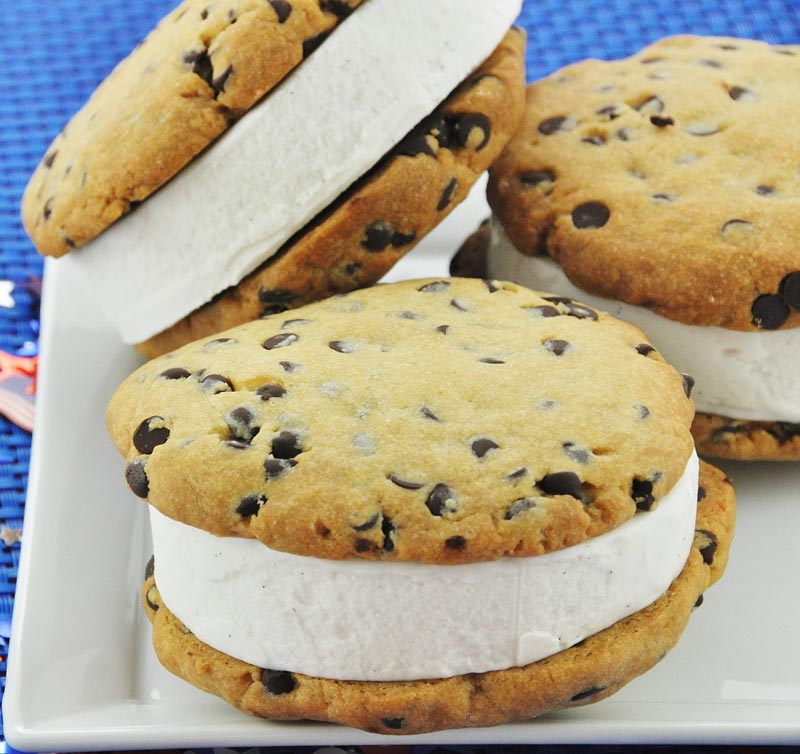 Vegan Chocolate Chip Ice Cream Sandwiches
Bring on summer! Bring on sunshine, hot days, balmy nights, and a vegan chocolate chip ice cream sandwich or two. Memorial Day weekend is here y'all, let's kick it off with some good food, drinks, and ice cream. Of course I'll be flying my flag, and taking many moments out of the hoopla to think about the men and women who have (and are) defended our freedom so that we can sit back and enjoy ourselves. But I'll also be cooking, laughing with friends and family, and soaking up the sunshine that The Weather Channel has promised. Fingers crossed.
What says summer more than a cold and creamy ice cream sandwich? Were these a staple in your childhood summer diet like they were in mine? My brother and my friends used to rid our bikes to the swimming pool every day when we were kids and I think I had a chocolate chip ice cream sandwich every one of those days. Sometimes I had two, then a strawberry shake from the Dairy Queen! I was as skinny as a rail despite my propensity to consume ice cream on the daily. Those were the days.
Unfortunately it's hard to find pre-made vegan ice cream sandwiches in most places, but that's okay because you can make your own. And we all know that homemade tastes better anyway.
These couldn't be any easier to make. If you can make chocolate chip cookies then you can make these. One batch of cookie dough will make approximately twelve large cookies, which will make six sandwiches.
Are you ready to do this? All right, all right, all right, let's go. Yes I did just channel Matthew McConaughey. What about it? 🙂
Get your cookie dough batter ingredients together and make the cookie dough. I use Enjoy Life mini chocolate chips to make these. Take a one quarter measuring cup and scoop out the cookie dough. Roll it into a ball and press it into a large thin disk on a parchment lined baking sheet. I like using parchment because the cookies won't stick and the pan won't get dirty. Now bake them for approximately fifteen minutes or until they are light brown. Don't over bake them or they'll be too hard and crispy. Make sure you cool them completely before making the sandwich.
While the cookies are baking you can cut the ice cream disks. I use So Delicious coconut vanilla bean ice cream. My favorite flavor for this dessert is vanilla, but you can get as creative as you like—strawberry, chocolate, anything goes. The So Delicious container is made out of paper so it's super easy to cut through. Let the ice cream sit out until it's slightly thawed and then use a serrated knife and cut the disks. Peel the paper off and stack them with a square of parchment paper in-between and put them back in the freezer until you're ready to assemble the sandwiches.
Kids and adults alike will enjoy this fun and delicious dessert. And you, you brilliant chef, you will enjoy getting major kudos from your fans, and, you'll love how easy these vegan chocolate chip ice cream sandwiches are to make. Enjoy!
Products I used to make this and a new flag to fly:
               
This post may contain affiliate links which won't change your price but will share some commission.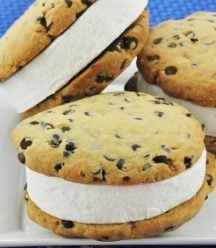 Vegan Chocolate Chip Ice Cream Sandwiches
Cold, creamy, delicious vegan chocolate chip cookie ice cream sandwiches. Perfect for a summer day!
Print
Pin
Rate
Ingredients
2¼

cups flour

1

teaspoon

baking soda

2

teaspoons

corn starch

1

teaspoon

salt

1

cup

2 sticks vegan butter – softened (you can use coconut oil if you prefer)

¼

cup

vegan cane sugar

¼

cup

brown sugar

⅔

of a cup apple sauce

1

tablespoon

pure vanilla extract

1

bag vegan chocolate chips

1

pint

of So Delicious vanilla bean coconut ice cream

or any vegan ice cream
Instructions
Preheat the oven to 350°F (176C) and line a cookie sheet with parchment paper

In a medium bowl mix the dry ingredients together. I use a whisk so they blend well until the mixture looks fluffier.

In a mixing bowl beat the butter and the sugar until light and fluffy. Medium high setting for approximately four minutes. Add the applesauce and vanilla and mix for two minutes.

Slowly add the flour to the butter mixture. I like to add ⅓ of the mix, blend, then another third, and so on.

When the flour is completely blended into the butter mixture stir the chocolate chips in by hand. Use a one quarter measuring cup to measure out each cookie. Roll the dough in a ball and flatten into a thin disc. You should be able to make twelve cookies for six sandwiches.

Bake for 14 to 15 minutes or until they begin to brown. Remove the pan from the oven and let the cookies rest for 2 minutes then transfer with a spatula to a cooling rack.

While the cookies are baking let the ice cream thaw slightly then cut six one inch disks with a serrated knife and peel off the paper container. Stack them with a square of parchment paper in-between and put them back in the freezer until you're ready to assemble the sandwiches.

To assemble put one cookie bottom side up on a smooth surface then add the ice cream disk and top with a cookie bottom side down.

You can form individual cookies with the dough and layer with parchment paper in a freeze tight container and freeze until you're ready to bake.

Baked cookies will keep in an air tight container in the freezer for one month.
Notes
Store in a freezer safe container in the freezer for up to 1 month. Thaw for 20 to 30 minutes in the refrigerator until the cookie softens. 
NUTRITION DISCLAIMER
Nutrition
Serving:
5
oz
|
Calories:
486
kcal
|
Carbohydrates:
42
g
|
Protein:
4
g
|
Fat:
34
g
|
Saturated Fat:
9
g
|
Polyunsaturated Fat:
8
g
|
Monounsaturated Fat:
16
g
|
Cholesterol:
21
mg
|
Sodium:
988
mg
|
Potassium:
193
mg
|
Fiber:
1
g
|
Sugar:
35
g
|
Vitamin A:
1707
IU
|
Vitamin C:
1
mg
|
Calcium:
147
mg
|
Iron:
1
mg
Don't forget to Pin it!