Vegan Beef (Irish) Stew! A rich and flavorful plant-based stew that's healthier, but just as tasty as meat based stew. The Portobello mushrooms give it it's umami flavor and meaty texture. It's also so easy to make.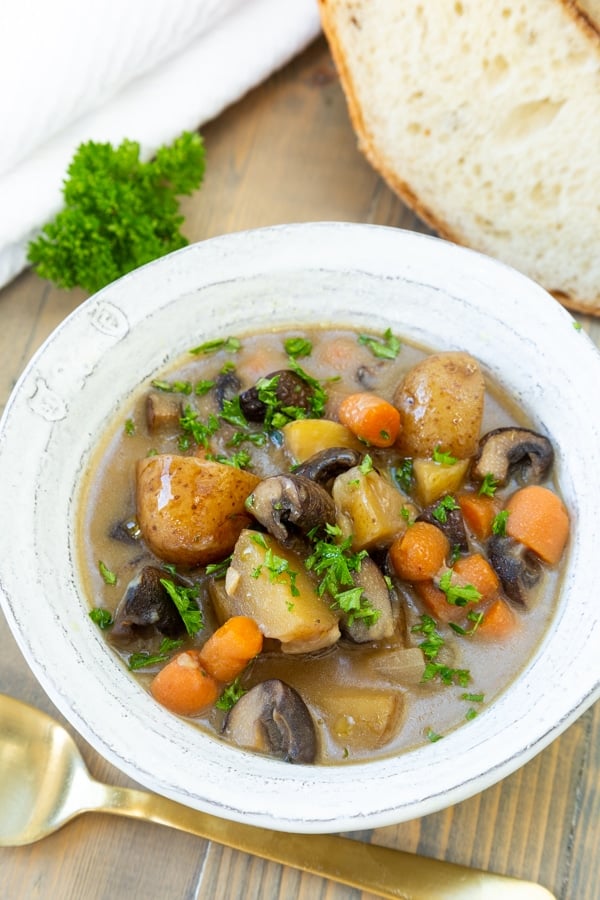 This recipe and the pictures have been updated from the original to make it even better. Enjoy!
And just like that, an entire pot of vegan beef stew was gone. There were a few potatoes and carrots to pick out of the pan, and a few spoonfuls of broth to slurp, but the rest was happily tucked away in our bellies.
No regrets, just pure satisfaction. That's the wonderful thing about plant-based food, you can eat until your heart's desire and not have room for guilt, because, why would you feel bad about eating potatoes, carrots, mushrooms, and a rich and savory broth?
It's been decades since I've eaten real beef stew. My mom's was the best, but I was also known to open up a can of Dinty Moore and blast it in the microwave. Why? Thank God I've smartened up, but that didn't mean that the flavors of one of my favorite comfort foods didn't stick in the back of my mind.
I've certainly craved the rich and savory broth that makes beef stew so delicious, and as the weather turns from warm to cold, this recipe needed to be veganized and shared.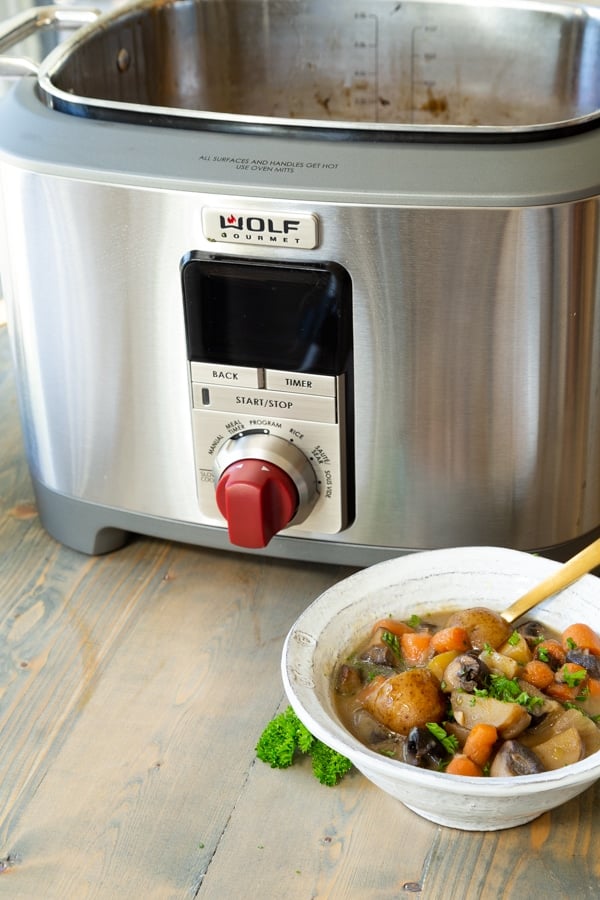 We made it in our Wolf Gourmet Multi-Function Cooker. It's so much more than a slow cooker, because it allows you to saute/sear the onions and carrots before adding the rest of the ingredients to slow cook. It also lets you sous vide and make rice. Click here to learn more.
MUSHROOMS ARE A GREAT SUBSTITUTE FOR MEAT
When I think of plant foods that make good meat substitutes, mushrooms are always first on my list, especially Portobellos. They have a meaty texture, umami flavor, and the perfect color—for those who demand meat in their bowl.
Besides ditching the beef, everything else in this beef stew recipe stayed the same. Well actually, that's not totally true, I swapped out beef broth for mushroom broth, and added more umami flavors, such as tamari, but besides those two things, everything else stayed the same.
Even though it's been a long time since I've had beef stew, the memory of how it tasted didn't escape me, and I was so pleased with the results.
The aroma that wafted through my kitchen while it simmered reminded me of my childhood. I could almost hear the scrape of a fork against the pan as my dad secretly snuck a piece of potato. Funny enough, even my meat loving dad seemed to prefer the gravy soaked potatoes in this dish.
I wish he was still with us so he could try my vegan version, I think he'd like it.
If you're looking for something delicious, easy, and healthy to make for dinner, this is it.
VEGAN IRISH STEW IS GREAT FOR ST. PATRICK'S DAY
Beef stew, also known as Irish stew, is a great dish when the weather is cold, and it's also absolutely perfect for a St. Patrick's Day dinner.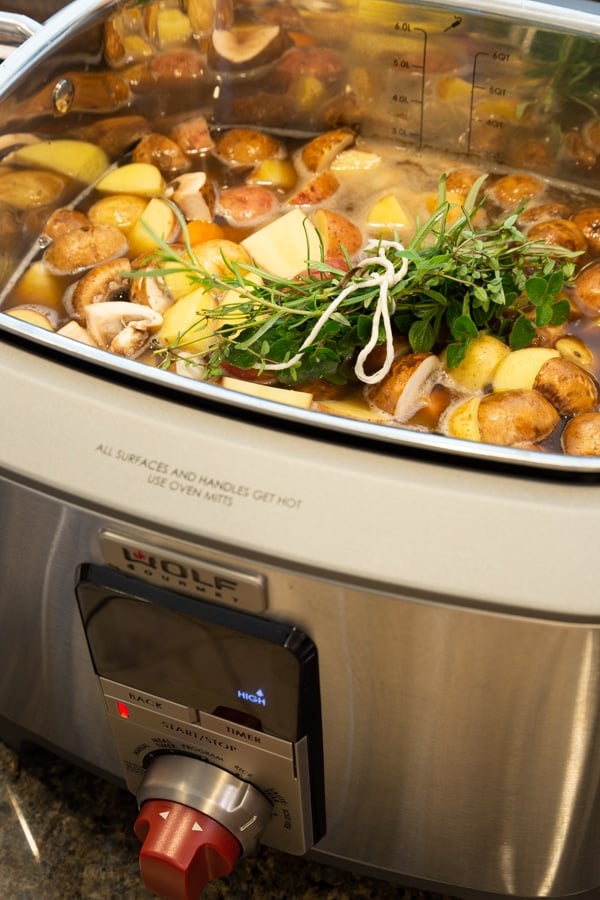 HOW TO MAKE VEGAN BEEF STEW WITH MUSHROOMS
It's so easy to make this mushroom and potato stew, it only takes a bit of chopping and sauteing.
STEP ONE
Heat the olive oil or the mushroom broth in a large stock pot, Dutch oven, or your Wolf Gourmet Multi Cooker (Wolf gave us a cooker to try and we loved it! All opinions are ours). Once the oil or broth is hot, add the onions and carrots and saute until the onions are translucent.
STEP TWO
2. Add the garlic and mushrooms and stir to combine. Cook until it becomes fragrant.
STEP THREE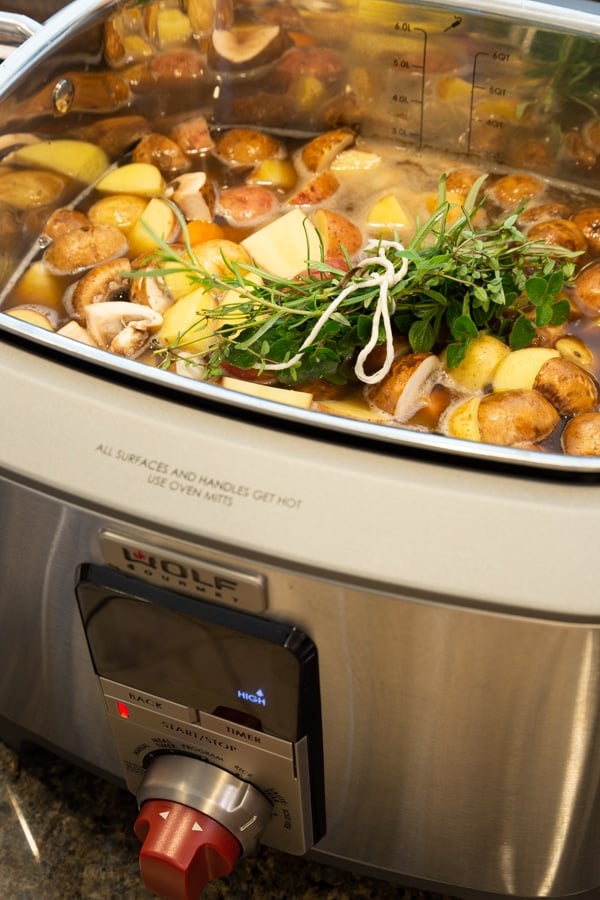 3. Add the mushroom broth (we love Pacific Foods brand), mushrooms, potatoes, the rest of the seasonings, and the bouquet of herbs and stir to combine. Bring to a boil then reduce the heat and simmer for 60 to 90 minutes, or until the potatoes are fork tender.
STEP FOUR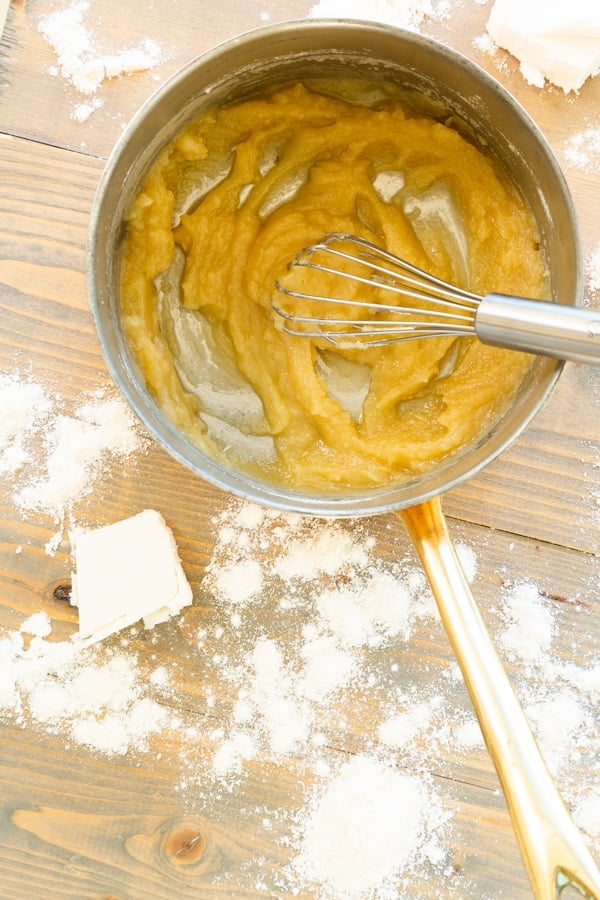 4. Make the roux and add it to the stew and stir until the broth thickens.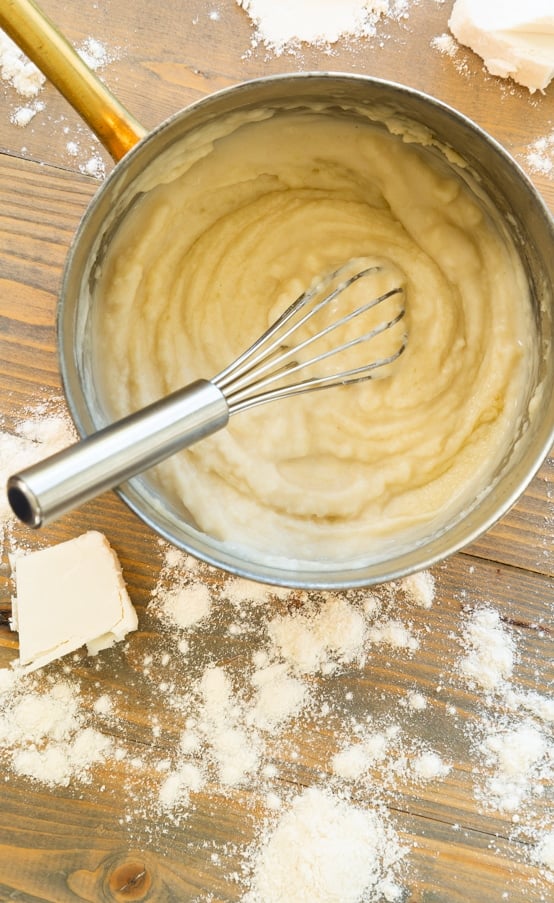 That's all you'll need to do to make a delicious and hearty vegan beef stew.
WHAT TO SERVE WITH VEGAN STEW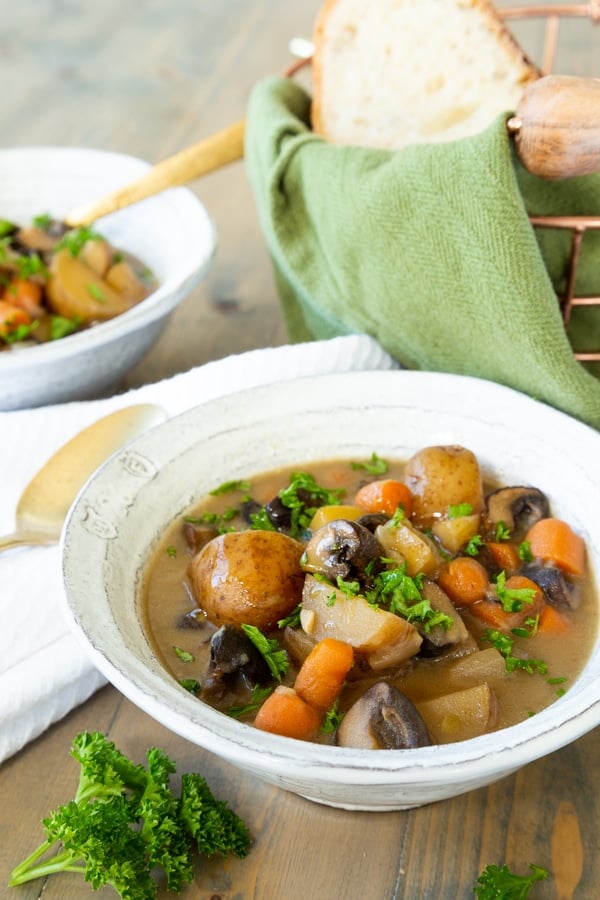 We our slow cooker or stove top vegan beef stew and serve it with a warm loaf of bread and a fresh and crisp side salad. This one is perfect.
Make this and let us know what you think. We love to hear from you! And, don't forget to take a picture of your gorgeous creation and tag us @veganosity on Instagram.
Let's connect! Hop on over to our Facebook page and give it a like, and follow us on Instagram and Twitter, and follow us and share this and other Veganosity recipes on Pinterest. We'd be so grateful if you did. If you like this recipe and can't wait to see what we're going to share next, subscribe to Veganosity. Just fill in the subscription box above our picture in the top right corner of the page. And, Alex and I love hearing from you, please leave a comment and let us know what you think of our recipes.
VEGAN BEEF (IRISH) STEW
A wonderfully rich and savory plant-based version of beef stew. Made with Portobello mushrooms, potatoes, and carrots.
Print
Pin
Rate
Ingredients
1

10 oz [283 g] package of Baby Bella Mushrooms, stems removed and quartered

1

large yellow onion

chopped

2

cloves

garlic

minced

3

large carrots

peeled and sliced at an angle into 1 inch (3 cm) thick pieces

32

ounce

mushroom or vegetable broth,

divided

20

baby potatoes

cut in half

2

cups

water

2

tablespoon

tamari or soy sauce

1

tablespoon

vegan Worcestershire sauce

3

sprigs of fresh thyme

2

sprigs

fresh oregano

4

sprigs of fresh parsley

1

bay leaf

Sea salt and pepper to taste
For The Roux
4

tablespoon

vegan butter

¼

cup

flour

1

cup

plant-based milk
Instructions
Tie the thyme, parsley, and bay leaf into a bouquet with kitchen twine.

Put 2 tablespoon (30 ml) broth in a large skillet, Dutch oven or stock pot see note) and heat on medium heat. When the broth begins to boil add the mushrooms, onion and carrots and cook for five minutes. Stir frequently and add a few more tablespoon of broth if needed. Add the garlic and stir well. Cook for two minutes. 

If you are cooking this in your slow cooker, transfer the onions, carrots, mushrooms and garlic from the pan to the cooker (if cooking in a stock pot or Dutch oven, leave the onions and add the potatoes and remaining ingredients) and add the potatoes, the remaining broth, 2 cups (480 ml) water, tamari or soy sauce, Worcestershire sauce, herbs, and salt and pepper. Gently push the herbs into the broth and bring to a boil. Reduce the heat to simmer and cook for one hour, or two or more hours in your slow cooker. The longer you cook the stew the softer the potatoes will become. 
For the Roux
Melt the butter in a small saucepan on medium heat. When it's melted whisk in the flour until it's creamy and thick. Whisk in the milk until it's creamy and slurry. Stir it into the stew until it's completely combined and let it simmer for approximately ten minutes until the broth thickens. Remove the herbs. Taste and add more salt and pepper as needed.

Enjoy!
Notes
NUTRITION DISCLAIMER
If you can't saute the onions, carrots, mushrooms, and garlic in the slow cooker, saute them in a pan and then transfer them to the cooker to finish.
Nutrition
Serving:
1
cup
|
Calories:
243
kcal
|
Carbohydrates:
43
g
|
Protein:
6
g
|
Fat:
5
g
|
Saturated Fat:
1
g
|
Sodium:
818
mg
|
Potassium:
995
mg
|
Fiber:
6
g
|
Sugar:
5
g
|
Vitamin A:
4515
IU
|
Vitamin C:
43
mg
|
Calcium:
90
mg
|
Iron:
2
mg