It's finally here! The only all recipe vegan cookbook you'll ever need. This is an epic collaboration between six popular vegan food bloggers/authors (including yours truly) with over 600 recipes!! You'll find everything you'll ever need in this book, from breakfast to dessert and everything in-between.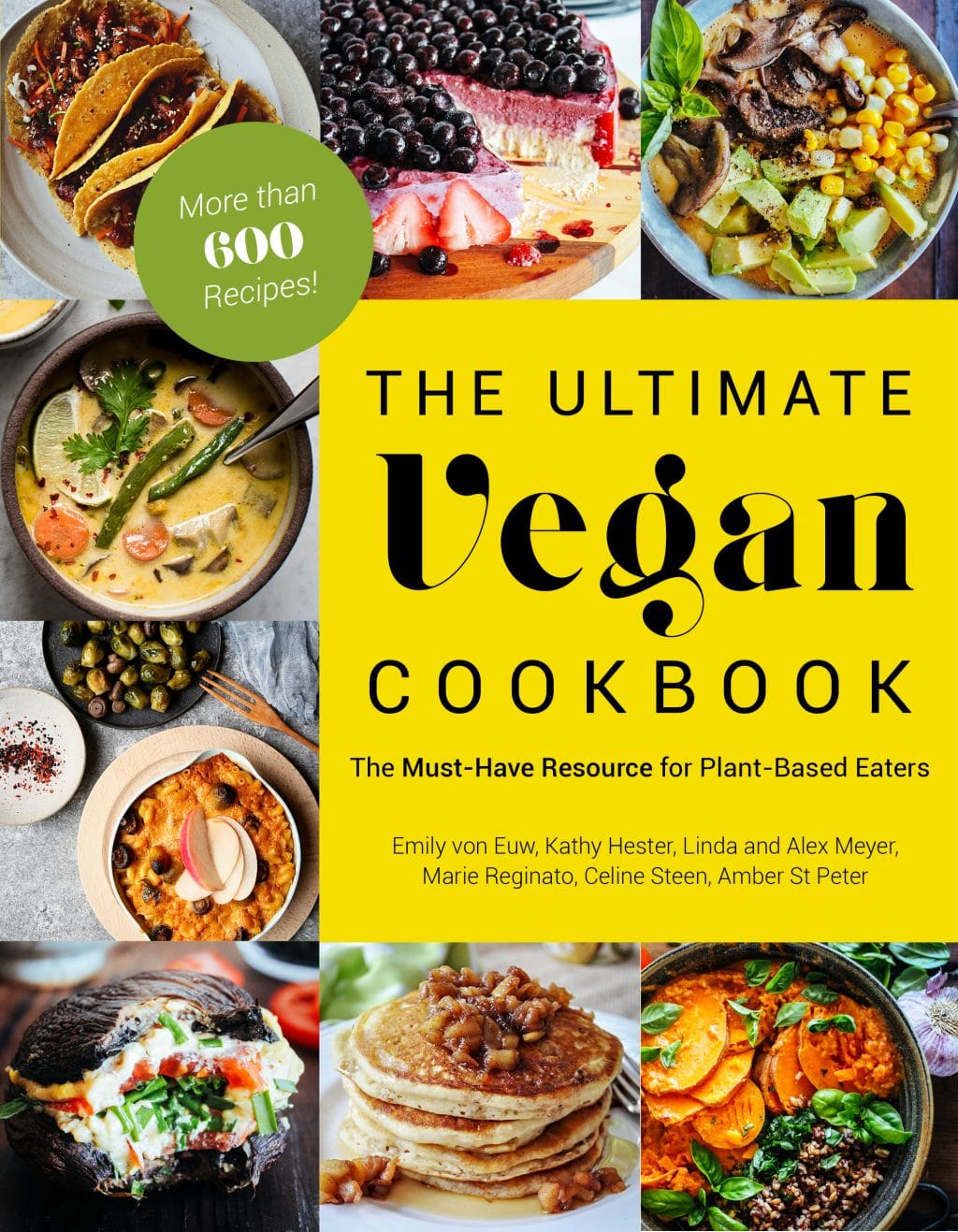 It's been a CRAZY two years for Alex and me. When we were approached by Page Street Publishing to write our first cookbook, Great Vegan BBQ Without a Grill: Amazing Plant-Based Ribs, Burgers, Steaks, Kabobs and More Smoky Favorites
, we thought someone was playing a joke on us. Most people have to hire an agent and shop their book to publishing houses. How could it be that a publishing house was actually coming to us?
Thankfully, it wasn't a joke and our first cookbook was a success.
Then came the second offer. Page Street wanted to know if we'd be interested in being a part of one of the most comprehensive vegan cookbooks ever written? It was only a month or two after we wrapped up Great Vegan BBQ, and we were still recovering from all of the hard work and hours it took to write that one. Did we have it in us to create 20+ NEW recipes while re-testing 80 0f our tried and true ones?
The answer had to be YES!!!
Once we found out who the other authors were, we couldn't say no. We took a deep breath, pulled out our comfy shoes (when you're writing a cookbook, it requires ridiculous hours of standing in your kitchen), and got to work.
It was the best decision, because we couldn't be prouder of this beauty, and we know it's going to be your go to resource for your every day meals, special party menus, and holiday events.
WHY THE ULTIMATE VEGAN COOKBOOK IS THE ONLY BOOK YOU'LL EVER NEED
Okay, that's a bit of a stretch, because there are niche cookbooks that are invaluable.
Great Vegan BBQ Without a Grill: Amazing Plant-Based Ribs, Burgers, Steaks, Kabobs and More Smoky Favorites
is all things barbecue. If you're having or going to a summer or fall game-day party. This is your book. There's nothing else like it.
My friend, Sophia's book, Vegan Burgers & Burritos: Easy and Delicious Whole Food Recipes for the Everyday Cook
is another niche book that we are happy to have on hand. I mean, who doesn't crave those two food groups?
There is also the Awesome Vegan Soups: 80 Easy, Affordable Whole Food Stews, Chilis and Chowders for Good Health
cookbook, written by my friend, Vanessa. It's our go to soup cookbook.
Then, there is The Ultimate Vegan Cookbook: The Must-Have Resource for Plant-Based Eaters
.
When you're looking for vegan breakfast ideas, look no further, we've got you covered. Here is just a sample of what you'll find.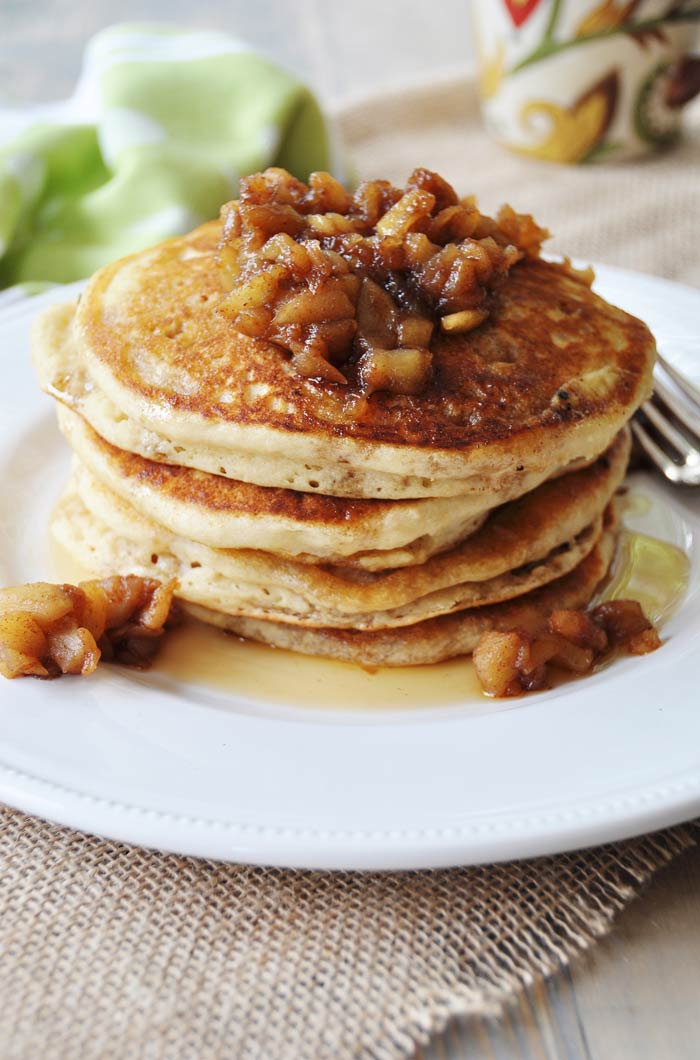 Old Fashioned Fluffy Vegan Pancakes with Apple Spice Compote from Veganosity
Old Fashioned Fluffy Vegan Pancakes with Apple Spice Compote
Overnight French Toast
Vanilla Glazed Matcha Scones
Colorful Coconut Porridge
Morning Greens Bowl
Cinnamon Raisin Granola
Strawberry Cherry Pop Tarts
Kimchi Tofu Scramble
Goji Apple Smoothie
Glorious Dairy-Free Chocolate Milk
Chocolate-Gingersnap Fall Bars, and SO. MANY. MORE.
Chocolate Gingersnap Fall Bars
Photo credit - Marie Reginato
There are so many main dishes in this book. You'll find 30 minute or less recipes, slow cooker, Instant Pot, and air fryer options, and everything from simple to fancy. Here's a teaser.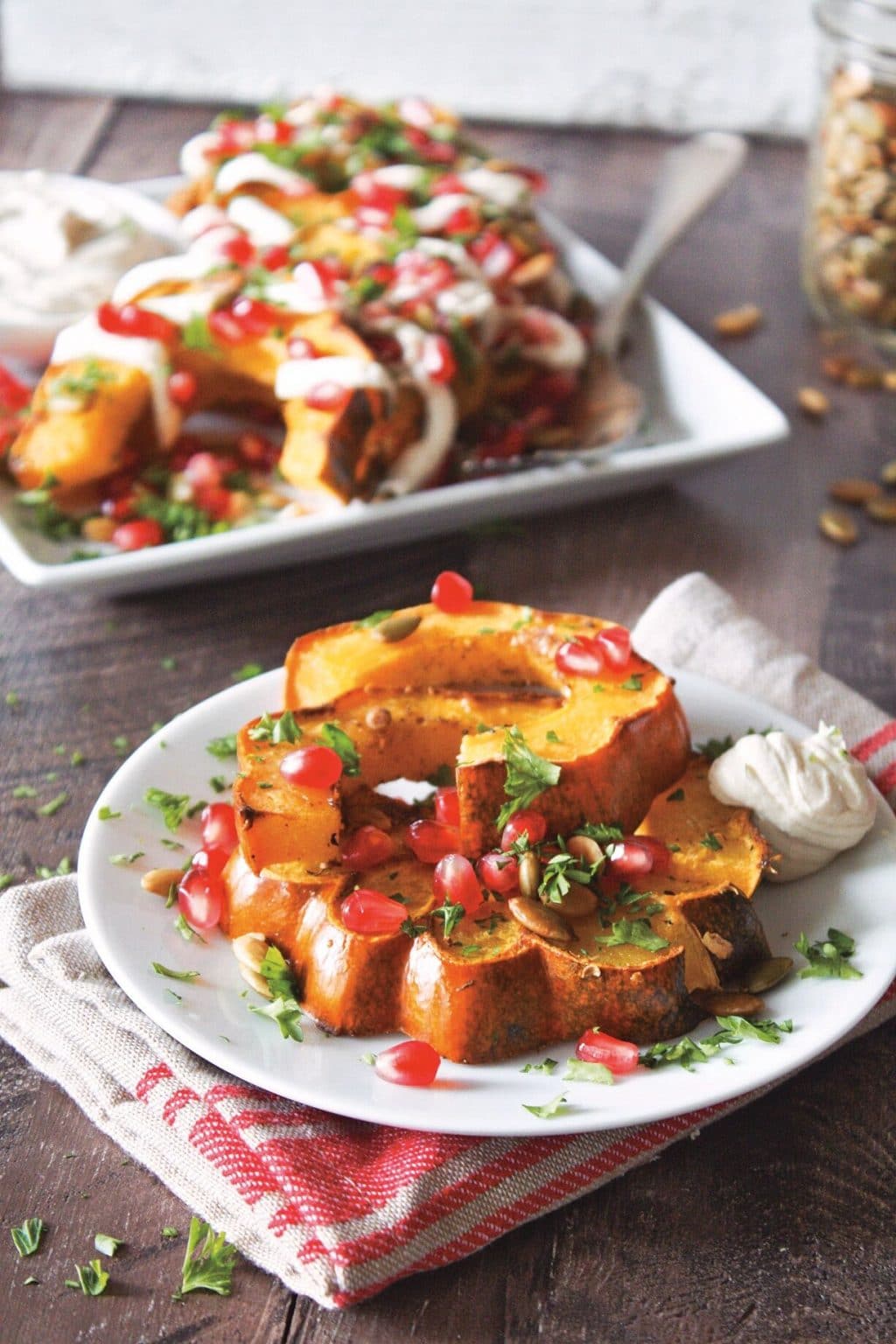 Garam Masal Roasted Butternut Squash
Photo Credit - Amber St. Peter
Forbidden Rice Sushi Rolls
Pumpkin Curry with Coconut Brown Rice
Tofu Ricotta White Pizza
Vegan Sloppy Joe
Vegan Poke Bowls
Mexican Baked Mac and Queso
Air-Fried Green Tomato Po' Boys
Instant Pot Vegan Black-Eyed Pea Jambalaya
Slow Cooker Whole Wheat Spelt Potato Rolls
Mini Potato Cakes with Mushroom Ragu
Pizza Grilled Cheese
Baked Black Bean Burgers
One Pot Pasta Arribiata
Lo-Mein with Crispy Tofu and dozens more mouthwatering recipes.
You'll also find a ton of healthy vegan soups and salads. Here are a few to wet your appetite.
Roasted Carrot, Garlic, and Rosemary Soup from Veganosity
Chik'n Tortilla Soup
Cheesy Broccoli Soup
Sooth What Ails Miso Broth
Moroccan Minestrone
One Pot Quinoa and Turmeric Soup
Emergency Broth Powder
Vegan Caesar Salad with Homemade Dill Croutons
Smoky Potato Salad
Grilled Fig and Peach Salad
Simple Grilled Zucchini Salad with Walnuts, plus many, many more.
Soothe What Ails Miso Broth
Photo Credit - Celine Steen
There are also dozens of APPETIZERS, SNACKS, SIDES, SAUCES, DRESSING, PASTES, SMOOTHIES AND DRINKS, AND OF COURSE, DESSERTS.
If you have a sweet tooth or love to make dessert for others, then you're going to drool your way through the list of vegan desserts in this cookbook. Take a look at just a few of the recipes you'll find in our book.
Maple Pecan Pie
Photo Credit - Emily von Euw
Maple Pecan Pie
Orange Chocolate Cheesecake
Strawberry Rhubarb Crumble
Raw Dark Chocolate Brownies
Simple Maple Nut Clusters
Vegan Pumpkin Gingerbread
Lemon Meringue Pie
Fudgy Tahini Cookies
Kesar Mango Cake
3-Ingredient Vegan Fudge
Maple Oatmeal Raisin Cookies
Deep Dish Caramel Apple Pie
Meyer Lemon Coconut Cream Tarts with Mint and Lavender
Chocolate Chip Skillet Cookie
Vegan Chocolate Chip Skillet Cookie from Veganosity
WHY THE ULTIMATE VEGAN COOKBOOK IS USER FRIENDLY
Now that we've got your attention, let's talk about why this cookbook is so user friendly.
The introduction of the book describes what a vegan lifestyle means, it gives you tips on how to get started, how to stock your vegan kitchen, pantry, and refrigerator, and how to read the recipes.
We created a handy key to help you quickly decide if a recipe is for you.
KEY
GF = GLUTEN-FREE
GFO = GLUTEN-FREE OPTION
SF = SOY-FREE
SFO = SOY-FREE OPTION
QP = QUICK PREP
SE = SPECIAL EQUIPMENT
All you'll need to do is look at the top of the page to determine if the recipe fits your needs.
The recipes also have the initials of the individual authors, so you'll know who created the recipe.
THE AUTHORS OF THE ULTIMATE VEGAN COOKBOOK
As I stated in the introduction of this post, Page Street Publishing hand picked their favorite vegan cookbook authors for this book. You probably already know who they are, but in case you don't, here's a quick introduction.
Emily von Euw
Emily is the creator of the popular vegan blog, THIS RAWSOME VEGAN LIFE. She is also the author of Rawsome Vegan Baking: An Un-cookbook for Raw, Gluten-Free, Vegan, Beautiful and Sinfully Sweet Cookies, Cakes, Bars & Cupcakes
; The Rawsome Vegan Cookbook: A Balance of Raw and Lightly-Cooked, Gluten-Free Plant-Based Meals for Healthy Living
; 100 Best Juices, Smoothies and Healthy Snacks: Easy Recipes For Natural Energy & Weight Control the Healthy Way
; and Rawsome Superfoods: 100+ Nutrient-Packed Recipes Using Nature's Hidden Power to Help You Feel Your Best
.
Kathy Hester
Kathy is the founder of Healthy Slow Cooking and the queen of Crockpot and Instant Pot recipes. She is the author of The Ultimate Vegan Cookbook for Your Instant Pot: 80 Easy and Delicious Plant-Based Recipes That You Can Make in Half the Time
; Vegan Cooking in Your Air Fryer: 75 Incredible Comfort Food Recipes with Half the Calories
; The Easy Vegan Cookbook: Make Healthy Home Cooking Practically Effortless
, and more.
Marie Reginato
Marie is the popular blogger behind 8th and Lake, and the author of Alternative Vegan: Healthy Plant-Based Recipes That Break the Rules
.
Celine Steen
Celine is the author of Bold Flavored Vegan Cooking: Healthy Plant-Based Recipes with a Kick; The Great Vegan Protein Book: Fill Up the Healthy Way with More than 100 Delicious Protein-Based Vegan Recipes - Includes - Beans & Lentils - Plants - Tofu & Tempeh - Nuts - Quinoa (Great Vegan Book)
; Vegan Sandwiches Save the Day!: Revolutionary New Takes on Everyone's Favorite Anytime Meal
, and more.
Amber St. Peter
Amber is the founder of Good Saint and the author of Homestyle Vegan: Easy, Everyday Plant-Based Recipes
And yours truly, Linda and Alex Meyer
Since you're here reading this post, you probably know about us. If you don't, please read our About Me pages located in the menu bar above. And, if you haven't purchased our debut cookbook, Great Vegan BBQ Without a Grill: Amazing Plant-Based Ribs, Burgers, Steaks, Kabobs and More Smoky Favorites
just click on the title of the book or scroll on up and learn more about it under Buy Our Cookbooks! in the menu bar.
HOW TO PRE-ORDER YOUR COPY OF THE ULTIMATE VEGAN COOKBOOK
You can pre-order the book on your favorite website. Just click on one of the links below and place your order. The book will be shipped to you when it's released on October 25th.
Don't forget to purchase a copy for your favorite vegan, or for anyone you know who is curious about going vegan and needs a little nudge. This will make a great holiday gift!
BOOKS A MILLION
Please let us know if you have any questions in the comment section, or drop us a note to tell us how excited you are for this amazing vegan resource.
Let's connect! Hop on over to our Facebook page and give it a like, and follow us on Instagram and Twitter, and follow us and share this and other Veganosity recipes on Pinterest. We'd be so grateful if you did. If you like this recipe and can't wait to see what we're going to share next, subscribe to Veganosity. Just fill in the subscription box above our picture in the top right corner of the page. And, Alex and I love hearing from you, please leave a comment and let us know what you think of our recipes.
This post may contain affiliate links which won't change your price but will share some commission.